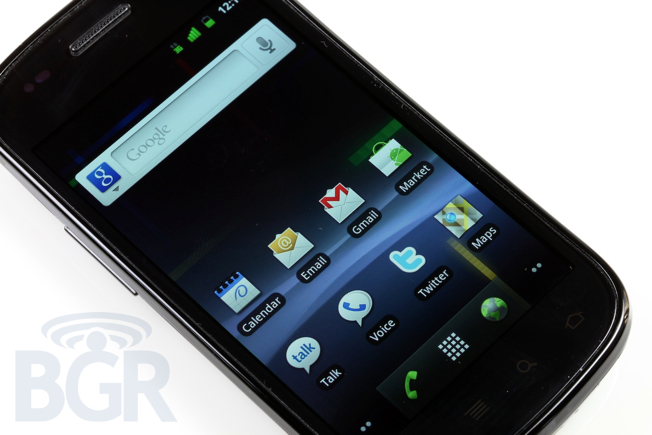 Almost a full year ago, Google offered up its vision of what a mobile phone experience should be. We're not talking about just the phone itself, funny enough, but also how consumers purchase devices, choose their carriers and sign up for service. Jump to today, and Google's back at it again, except there's one (well, not just one) very big difference — instead of being sold directly by Google online, the Nexus S is available at physical stores, letting consumers and potential customers see and feel the device before they buy it. The Samsung manufactured Google Nexus S packs a heck of a lot of features into a small figure, and it runs Google's latest Android OS, Gingerbread. Does Google's implementation of hardware and software make for the best Android phone available on the market today? Is it the perfect phone for you? Hit the break to find out what we think!













Hardware
The Google Nexus S is based on Samsung's Galaxy S line of Android devices, but there are some notable changes. For starters, the front of the device has this eerily dark vibe when the display is powered off, thanks to nothing being visible except for the ear speaker, front-facing camera, and proximity sensors. There is a volume rocker button on the left side of the phone, a power on/off button on the right, and a microUSB port and 3.5mm headset jack on the bottom of the device. Switching around back you find the 5 megapixel camera with LED flash, speaker, and this unique "hump" towards the bottom. As far as how the hardware feels… it's a mix of quality and cheap. Holding the phone in your hands feels like you have something substantial, not because the device weighs a lot (it doesn't), but because it's very thin, and it's a bit larger than a normal smartphone since it features a 4-inch display. However, the entire body of the Nexus S is typical high gloss Samsung plastic, and we can definitively say this is the worst choice for a phone. Besides feeling just plain cheap, it gets incredibly dirty, even, dare we say, skanky feeling when the phone starts getting warm and the glossy plastic is covered in fingerprints? It's not pleasant. Our back of the Nexus S review unit was lightly scratched within an hour or two of us receiving it, and that's without us leaving our desk. HTC's Nexus One feels ridiculously more high-end and solid than the Nexus S does. That's not to say the Nexus S isn't a fine phone in the hardware department, but when Google is selectively choosing a manufacturer and creating the physical product with the OEM step by step, we expected one of the best phones physically on the market, and sadly the Nexus S in our opinion is not.
Switching over to what the actual hardware contains inside, the Nexus S is one of the most competitive Android devices in this department. We're talking about a 1GHz Hummingbird CPU, 4-inch 800×480 AMOLED display, 512MB of RAM, a 5 megapixel rear-facing camera, VGA front-facing camera, 16GB of built in storage, proximity sensor, gyroscope, and even a near field communications chip. As far as connectivity, the Nexus S features a quad-band GSM/GPRS/EDGE radio in addition to a tri-band UMTS/HSPA radio with the 900/1700/2100MHz bands, Bluetooth, and Wi-Fi b/g/n.
Screen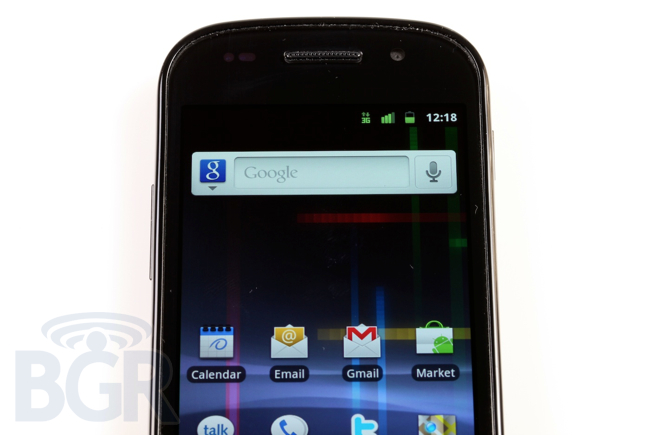 The screen on the Nexus S is very impressive. A Samsung AMOLED 4-inch display is slightly contoured on both ends to literally fit your face while you're talking on the phone. Even though it's not incredibly noticeable when you're looking at the phone, it's definitely noticeable and appreciate when you're holding the device up to your ear. The screen itself a 800×480 resolution panel with 235ppi, and offers ridiculously deep and rich colors including outstanding black levels. In fact, the black levels are so good, that we often can't tell where the physical frame of the phone ends and the screen begins thanks to Gingerbread's new all black status bar.
OS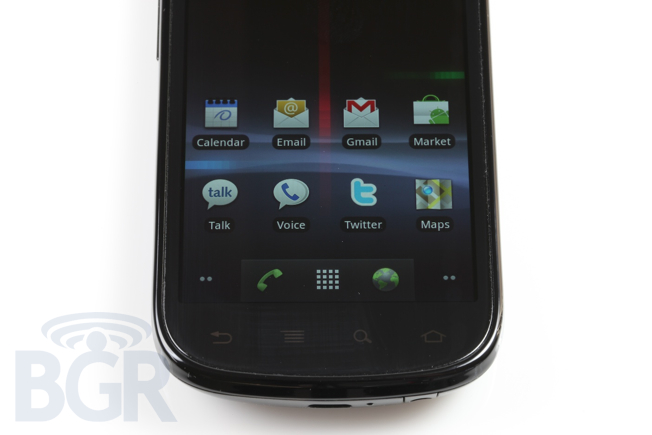 Combine some flour, brown sugar, molasses, ginger, and eggs, and… well, you have some gingerbread cookies. Google's latest operating system release — OS 2.3 — is too called Gingerbread, and it's the next step in Android's progression. While Gingerbread does offer various much-needed UI enhancements and additions, most of the changes come under the hood. If you're already on OS 2.2, you won't notice a whole lot of differences visually, but again, the ones you do notice are refreshing; behind the scenes is where most of the action lies. Google has switched from their playful and colorful design to a more professional and darker canvas. It's a welcome change as you now have this very conservative and clean slate with pops of vibrant colors — green signal indicators, green color accents, and orange highlights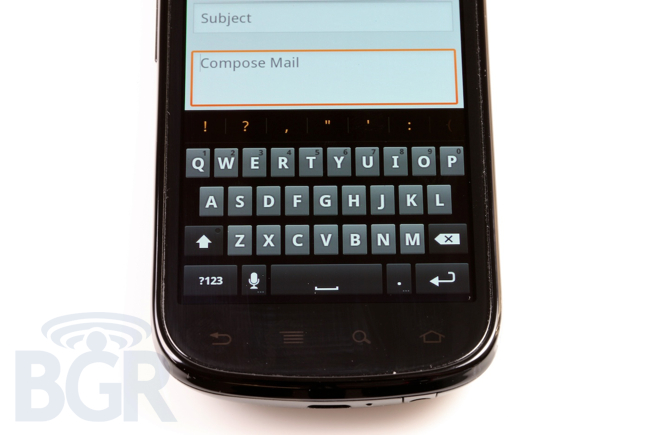 One of the most noticeable changes is the default stock Android keyboard. It's not a huge change, but on touchscreen only devices, you're going to be using this thing all day, day in and day out, and it's worth taking a good look at. On first glance, if you're an Android user, you might think that the keys on the new keyboard are actually… smaller. And you'd be right. The size of the keys have been reduced vertically and horizontally, and we're not too sure why (only explanation would be to show a bit more screen real estate when the keyboard is active). A couple positive improvements with the new keyboard? It supports multiple touch inputs simultaneously, which dramatically can increase your typing speed and ease of use, and has larger key-fonts and greater key spacing. Overall, we like the new keyboard, but it's far from perfect.
Google has finally introduced a standardized copy and paste selection system, and we do have to say that it's pretty good. It works how you'd expect most of the time — you select start and end points, and text is copied to the clipboard. There are, however, some serious faults here. For instance, getting to those text anchors varies depending on what application you're in. Selecting text in an Exchange email is different than selecting text in an email in Gmail, and selecting text from a webpage is different than selecting text in Google Reader (hint: you can't). Sometimes the only way to select text is not to hold the word (a natural gesture) but to press the physical menu button, the "more" button on the screen, and then finally the select text option. Then you can drag the start and end points to the text you'd like to copy.
Other inclusions in Android OS 2.3 are support for SIP-based VoIP calling, NFC (near-field communications), gyroscope, gravity, barometer and other sensor support, a new download manager, and new ways to manage apps, view storage, and even a built-in task manager.
Again, there isn't an insane amount of visible top-level changes in Android 2.3, but we have found using the Nexus S to be the fastest Android experience we've had and this is no doubt due in part to Gingerbread's behind the scene improvements and optimizations.
Phone / Speaker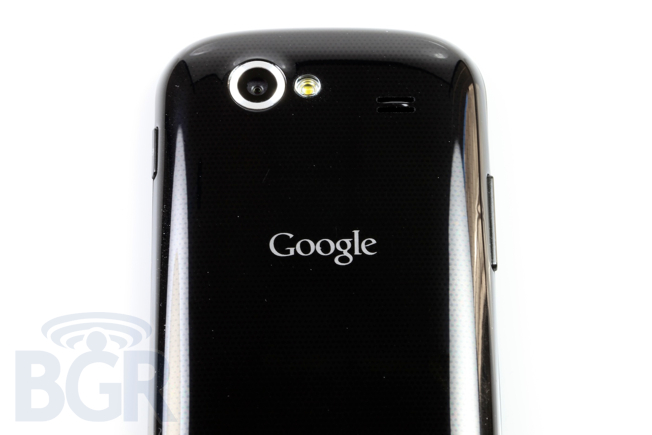 While everyone has their wireless carrier preference, the Nexus S is compatible with T-Mobile's 3G bands only (in the US). Otherwise, you're looking at using the device at EDGE speeds if you'd like to pop in a different GSM carrier's SIM card. Using the Nexus S on T-Mobile was a great experience thanks in part to the performance of the device itself. Calls we made were incredibly clear, with both the ear speaker and speakerphone performing very nicely. People on the other end, however, thought we sounded very compressed at times, and even a bit "tinny". When using speakerphone, our calls would, at times, distort the speaker on the high end, but all in all, the phone works very well as a phone.
The updated phone application in Android 2.3 is very clean and easier to use than the previous versions. It's number-heavy, with a black background and voicemail, call, and backspace keys right below.
Battery Life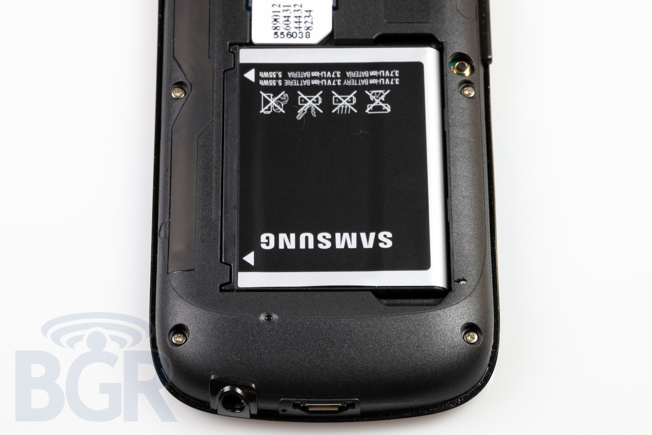 The Nexus S features a 1500mAh battery and in our testing, we have found the its life to be some of the best we have seen on an Android device. We powered through a day under heavy use with no problem — the phone even lasted for an additional half-day just sitting on our desk with push Gmail, Exchange, Twitter updates, etc. happening in the background. We're not huge voice talkers, but our limited calling on the handset did little to drain the battery as far as we can tell.
The Bottom Line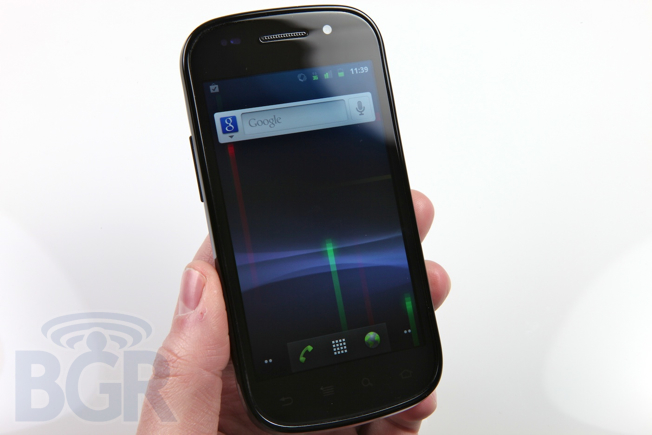 While there are some things we wish Samsung and Google did differently with the Nexus S, at the end of the day, this is, in our opinion, the finest Android device on the market. It's not the perfect phone, but Google's latest "pure vision" handset beautifully combines hardware and software together into a great package that is now more consumer and mass-market friendly than ever. Sure, part of the reasons why this phone is currently so appealing is due to the latest Android OS release, and an even bigger part is due to the fact that it's running an unmodified version of said OS (read: unmolested by carriers and manufacturers), but there is no other Android phone available that can rival the Nexus S at this point in time. If you're a Nexus One owner, a big part of us feels like you will be more than happy running Gingerbread on it and aren't missing out on too much here — in fact, the only thing we can think of would be the NFC capability which as of now isn't very useful — but if you're hopping into the Android game and are on T-Mobile (or a carrier in Europe) we would recommend picking up the Google Nexus S. It's available starting today at Best Buy stores in the US for $199 with new two-year T-Mobile service agreement and $529 with no contract, both options are for unlocked devices. The Nexus S will be available in the UK at Carphone Warehouse in the next few weeks.