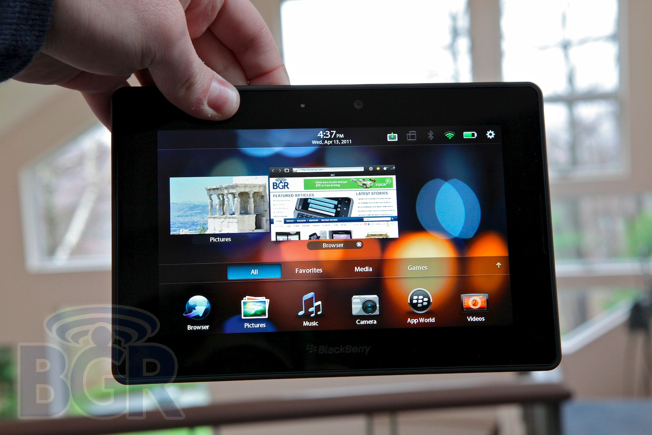 The BlackBerry PlayBook isn't just the first tablet out of Research In Motion — it's the first product to emerge from the company's new do-or-die strategy. The PlayBook combines and showcases the underlying fabric that will set RIM up for the next 10 years. With RIM rumored to have only started working on the PlayBook within the last 10-12 months, is RIM's tablet a true, viable competitor in the tablet space? I've been using a PlayBook for more than a week now, and I have to say… the PlayBook definitely surprised me in several ways. Hit the break for my full review of RIM's upcoming BlackBerry PlayBook.
Hardware / Design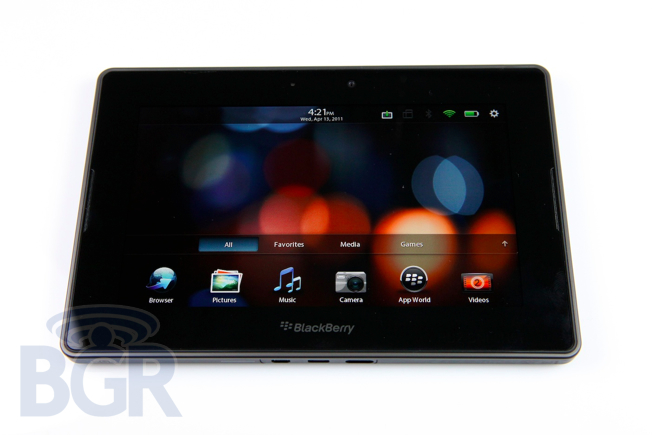 The BlackBerry PlayBook's hardware is very well put together. The 7-inch tablet features a smaller screen size for those not interested in the 9 or 10-inch alternatives, and this makes the PlayBook much more portable in my opinion. It has a great weight to it; not too heavy and not too light — it feels like a substantial and quality product when you hold it. Other things I like are the soft-touch rubberized finished on the entire unit, save for the thin brushed gun metal frame around the display. Both textures work well together and they add to the feeling that you're holding something worth spending $499.99 on (base 16GB model).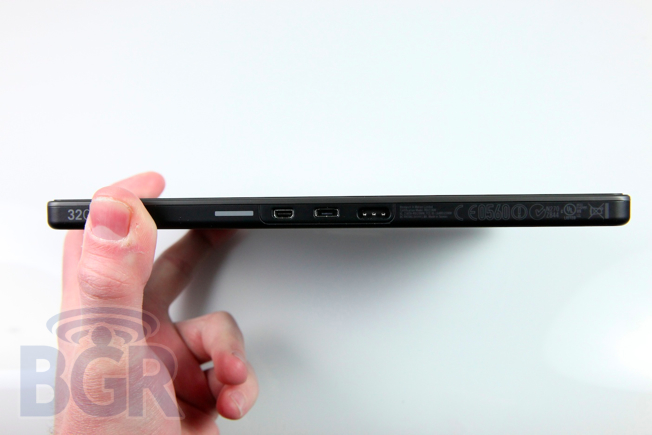 Those used to Research In Motion's old ways will be pretty shocked with the BlackBerry PlayBook's hardware specifications. This is a whole new chapter in RIM's history, and the company is coming out swinging. The PlayBook features a screaming 1GHz dual-core processor, 1GB of RAM, a 5-megapixel rear camera, a 3-megapixel front-facing camera, Wi-Fi, Bluetooth, 1080p HD video playback with an HDMI-out port, a 3.5mm headset jack and a microphone, all wrapped up in a super sleek 10mm-thin package. The PlayBook's 7-inch display is beautiful, and the 1024 x 600 resolution packs a lot of pixels into a tight space. Colors are rich and vibrant, and black levels seem quite good, as do with viewing angles.
There are stereo speakers flanking the PlayBook display, and in short, they're some of the loudest and clearest speakers I've heard on a mobile device or tablet. They rock.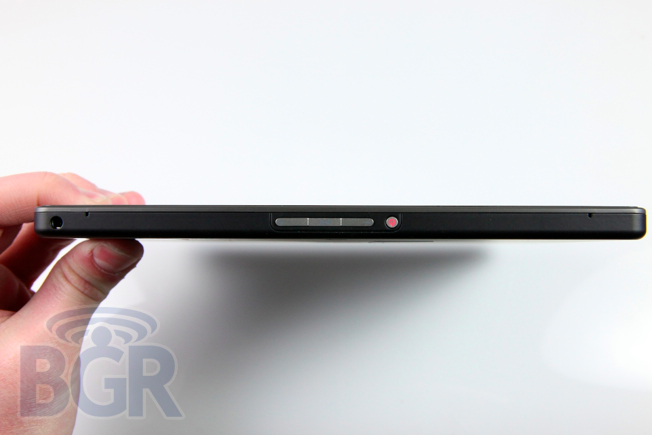 I can't let RIM off the hook completely, here, as the power button is more or less useless because of the design… it has no tactile feedback and it sits almost completely flush with the case. Additionally, the accessories RIM gave us to use with the PlayBook, like the folding case and a skin, make the situation even worse. There is a trick, however, and you can wake the PlayBook by swiping up from the bottom touch-sensitive bezel; just don't try turning the thing on or off.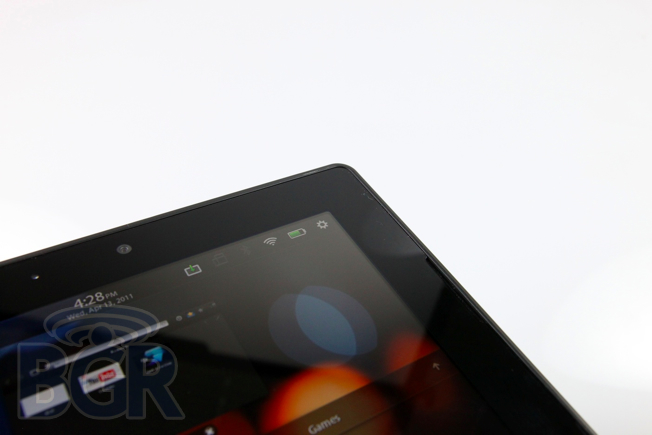 Finally — and this is something that just irks me and helps to illustrate how RIM thinks at times — unlike iOS or webOS, where the UI is rounded in the corners of the display by using a couple black pixels, RIM tried to pull a fake-out. The black bezel that sits over the rectangular LCD has rounded edges, creating the illusion of a nicely rounded UI. If you tilt the PlayBook however, you can see beyond the rounded overlay and the whole thing just comes across as a pretty bad shortcut.
Unfortunately, the rounded corners are the least of my worries when it comes to shortcuts RIM took with the PlayBook.
Software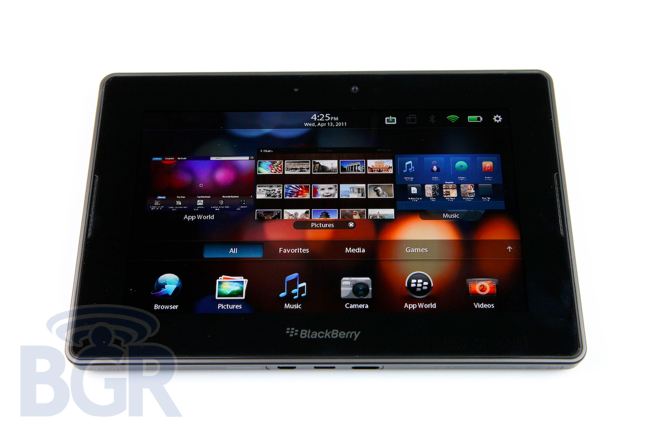 RIM hasn't just stepped things up in the hardware department, it has effectively cut the cord on its old BlackBerry operating system and started fresh here — something many people have been hoping RIM would do for quite some time. The company acquired QNX almost a year ago to the day, and has since developed a brand new mobile operating system for tablets (and soon, smartphones). In addition to a brand new, rock solid OS base, the company also recently acquired The Astonishing Tribe, a very well known and talented user interface group. I can see TAT's influences in the PlayBook already, though they weren't there from the beginning of development, and it shows a little as some parts of the UI are very inconsistent.
I'll touch on the UI in a moment, but first, I'll cover the OS in general. RIM has positioned the PlayBook as the first enterprise-grade tablet, and one that supports practically every Web standard and plug-in under the sun. The PlayBook's OS is brand new, and is chocked full of gestures and swipes, flicks and taps. In general, navigation is pretty straight forward when you get the hang of it (it only takes a couple minutes), though there is a lot going on and I feel like this could be confusing to the general consumer. With four touch sensitive regions on the bezel… combined with flicking up, down, left and right… and different gestures for swiping up from the bottom bezel, or right or left bezel, or top bezel… it can get a bit convoluted at times. Overall navigation does feel pretty natural once you get used to it, though.
Speed on the PlayBook is something you're not used to if you're an existing BlackBerry user. For lack of a better term, the PlayBook hauls ass. Unfortunately, with speed comes great code auditing, and while the PlayBook RIM gave me to review isn't running final software, it's said to be pretty close. I don't believe what normal users will see on April 19th out of the box will be that different at all from what I've been using, and that's a little concerning. For all the advancements RIM has made in the OS department, the PlayBook's software feels rushed in almost every way possible. From inconsistencies with the UI and design to random bugs and annoyances, the software on the PlayBook shows one of RIM's biggest weaknesses: its lack of ability to execute. Don't get me wrong, it's a fresh take on the UI mostly (besides the card-like webOS bits), and the underlying OS is nearly crash-proof (the OS, not the apps), but the entire package doesn't quite add up to equal the best tablet computing experience we've seen.
In daily use, RIM's own apps like the browser and video apps have crashed on me multiple times. When I log into Facebook I've even gotten out of memory errors while only one or two other apps were running. A nice part of QNX is that if there's a crash with one app, it won't bring the whole system down, most of the time — that means you won't have to restart your PlayBook device frequently, if ever, which is a good thing since the power button is useless. With different app crashes, the OS shrugged them off with ease, and in over a week I haven't had to power my device on or off.
RIM has desperately been trying to position the PlayBook as a standalone product, one that doesn't have to be used in conjunction with a BlackBerry phone in order to be useful. Unfortunately, that's just not the case. While the BlackBerry PlayBook can pair with any BlackBerry device running BlackBerry OS 5 or higher (basically every device out there, for the most part) and act as an amazing extension of your phone — one that includes all of your personal and corporate email, BlackBerry Messenger, contacts, and other important apps. But these key apps are not available without a paired phone. There is no native mail app, contacts app, or calendar app. Looking to the near future, I'm told that these are absolutely coming in the future through a free software update. I've also been told PlayBooks that launch in the coming months with 4G compatibility (WiMAX, LTE, and HSPA+), will most certainly have these apps built in. Until then, the Wi-Fi PlayBook isn't that useful to me without native apps that are extremely necessary in this day and age of mobile computing.
Something else I noticed that is extremely frustrating, is that if your finger is on one of the touch-sensitive bezels while you're trying to interact with something on the display, it will cancel out that action. For instance, if I'm not careful and my thumb is holding the PlayBook's bezel too closely to the display and is on the touch-sensitive part, a flick gesture in the Web browser won't be recognized at all. It definitely gets annoying after a while.
There's also the question of what role the PlayBook can play into your daily life and how the software can make your life easier. Is a 7-inch tablet too small to be considered a real alternative to the 9 or 10-inch tablet devices out there, and does the software properly make use of the smaller screen size? A big part of me thinks so, because there are many graphical elements on the PlayBook that don't make sense from a touch perspective — they are just too small to be useful. From the sliding switch in the browser that lets you control how much of the navigational bar you see, to the repeat and shuffle buttons in the music player, these buttons are just too, too small from a general usability standpoint.
As a final, more positive note, the PlayBook goes into a sleep mode when it's not in use and it doesn't break the Wi-Fi connection at all. This is incredibly useful as the PlayBook has a Wi-Fi sharing setting that makes it a networked drive so you can copy files back and forth to the tablet even when it's not in use.
Apps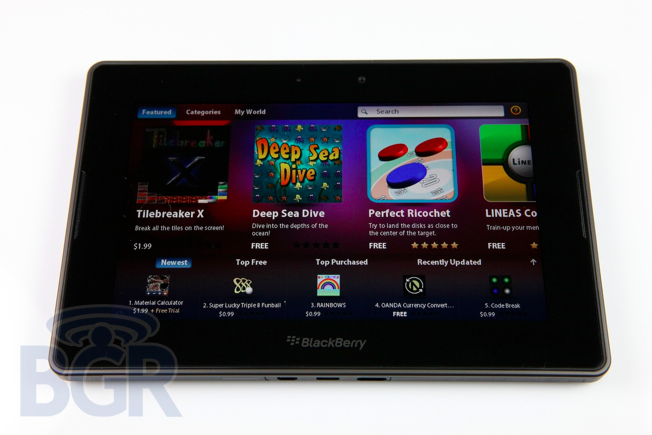 RIM told me that the PlayBook is launching with over 3,000 apps, and that's a pretty decent number for a brand new development platform. There are a multitude of ways to develop for the PlayBook, and the choices can be a little intimidating at first. The PlayBook supports WebWorks, Adobe AIR, and HTML5 apps with Java apps, Android apps, and native apps to follow shortly. I asked RIM what platform developers should develop for, and a company rep told me whatever the developer is most comfortable with using will work very well. RIM would rather give developers the opportunity to submit apps they know how to write right off the bat, and hopefully sooner or later land on native development for the PlayBook to make use of all the tools and features it offers.
The problem with this approach is not only an inconsistent user experience, but also the common denominator has been drastically lowered. The barrier of entry is effectively reduced to nothing, and while this is great in some scenarios, it isn't the best approach, I believe. Just because you can swing a baseball bat and hit a baseball doesn't mean you can play in the Majors, and after spending almost a half hour browsing through App World looking at the PlayBook apps, I'd be stretching it if I said there was more than three apps that I think I'd want to download. You can use that same example with the music industry — just because you download Fruity Loops and make a beat doesn't mean I want to listen to your horrible songs on MySpace.
So what does this mean in the end? I wouldn't say it's the end of the world as the platform is brand new and people are obviously on the sideline waiting to see what happens, but I can't say I'm exactly thrilled with what I've seen and what's available. Will things change when Android developers can port their Android apps over and experienced BlackBerry developers can get to work with native developments tools? Hopefully! For right now, however, the app situation is a non-starter unfortunately. Here are a few of the apps RIM told me would be available on or shortly after launch: Atara, eBay, Evernote, Fortune, Gameloft, The Weather Channel, TIME and an app or two by EA.
Apps are organized into different home screens, and while there are four, you can't create or edit them. You're left to make do with favorites, media, or games home screens. This isn't too much of an issue as it stands now, though with App World most likely growing very quickly, it would be nice to be able to create your own home screens or folders and organize your apps better. As far as deleting an app? Just hold down on one and they will all start pulsating, giving you the ability to reorder them or deleting one with a tap of the X button below each icon.
Browser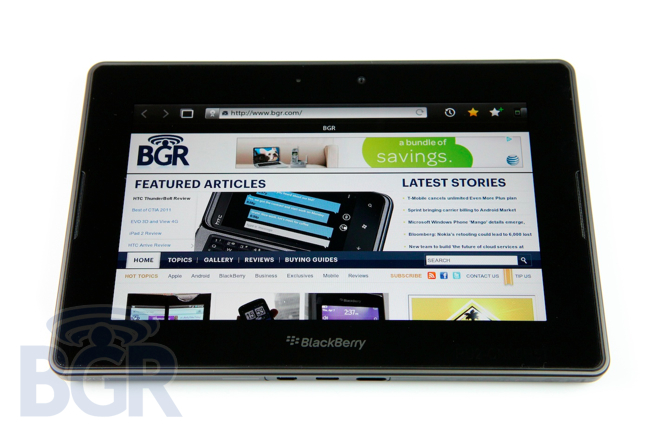 The PlayBook browser supports the full Adobe Flash experience, and RIM told us that it has been working with Adobe for years — and it shows. Flash performance is probably the best I've seen on a mobile device or tablet, and the browser in general is a much needed bump from what RIM's been featuring on its smartphones, including the BlackBerry Torch. Pages generally load extremely fast, though there are some issues here and there. For instance, I noticed some issues with Flash content when zooming in and out in the browser — Flash advertisements would oddly overlay on content in the browser, escaping out of their ad zone placements. The browser also doesn't immediately show you a progress bar while loading pages. Instead, it waits until the page is at least 50% loaded and this is a bit frustrating. Additionally — and I'm not sure why, perhaps to save memory — once you leave the browser, any open "tabs" or pages will not save. Once you return from another app, those pages are flushed and reloaded. On a device with 1GB of RAM, this is mind boggling.
BlackBerry Bridge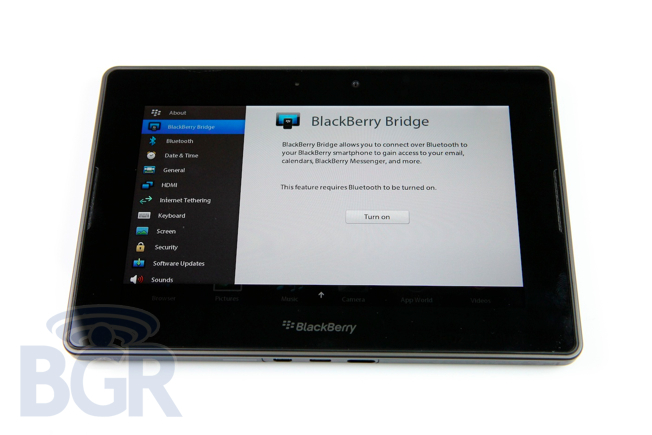 BlackBerry Bridge is software on both the PlayBook and your BlackBerry smartphone that enables the two devices to talk to each other over Bluetooth, effectively making the BlackBerry PlayBook an extension of your BlackBerry. Conceptually, this is brilliant for existing BlackBerry owners. Practically, it's not that bad but it's not that great either. It all comes down to ease of use, and comfort. With a 7-inch touch device, though, the lines between a phone and tablet aren't clear, and I just can't see myself going out of the way to use the PlayBook instead of just quickly responding to a message directly from my BlackBerry phone.
And again… without BlackBerry Bridge, you don't have an email app, contacts app, calendar app, memos, or tasks app on your PlayBook until RIM pushes out a software update in most likely a few months.
Battery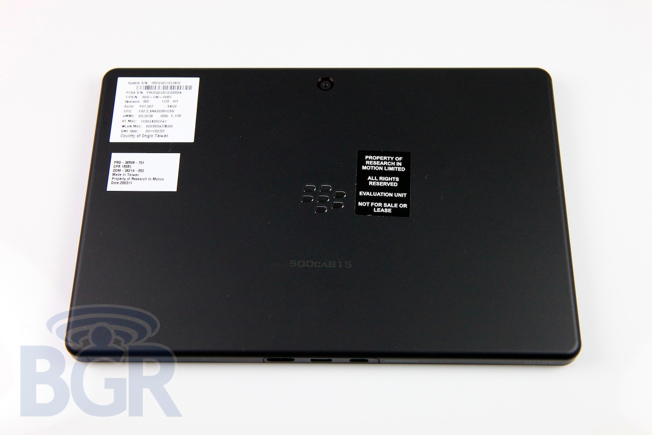 The battery life on the PlayBook has been extremely, extremely good. It lasts for days and I rarely worry about remembering to charge it. RIM includes a high capacity charger with the PlayBook as it requires more power than the standard microUSB charger that every BlackBerry user has strewn about his or her home and office. You can most certainly charge the PlayBook with your existing charger or even over USB from your computer, it will just take, much, much longer.
The battery is not user-accessible,
Accessories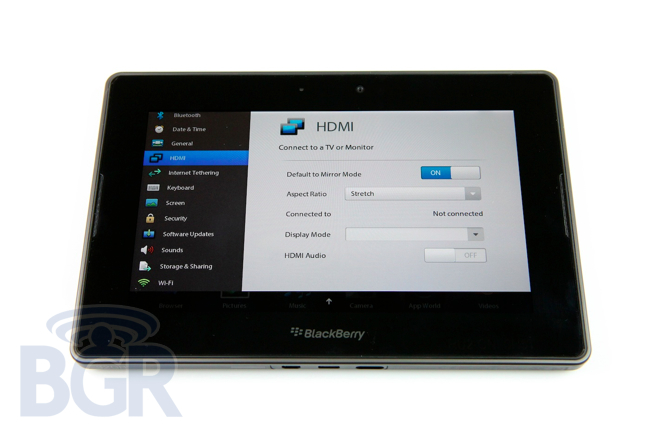 There are lots of accessories available to use with the PlayBook. One of my favorite isn't a true accessory, though — it's an HDMI cable. The PlayBook has a miniHDMI out port on the bottom and it has really come in handy for connecting the device to an HD display to share movies, photos, or other content with friends. I played back a Divx movie almost flawlessly over HDMI one night, and another day I shared photos and movies I recorded using the PlayBook.
RIM provided me with a boatload of accessories including a BlackBerry PlayBook foldable case, PlayBook skin, and charging dock. Accessories are always super personal, and I personally don't like accessories like cases or skins. I'd rather use the product how it was designed to be used than cover it up in some skin or case. With that out of the way, I'm not too fond of the PlayBook case or skin. Both obstruct the power button to the point it isn't usable, and both bulky up the device, while the case does add the ability to let the PlayBook rest on an angle so you can type.
I do like the charging dock, it uses a contact port on the bottom of the PlayBook to connect so you don't have to plug anything in, just put the PlayBook in the dock, and it will charge. The dock makes use of very large power cable, so you won't be able to use the existing charger with the dock.
Conclusion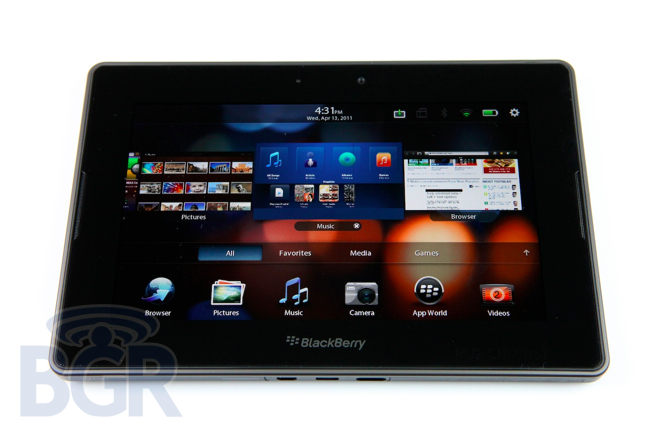 The PlayBook is a very solid product, from the hardware to brand new operating system, I love where RIM is going.
The company is entering a brand new space, and I can't wait to see future versions of the PlayBook and even smartphones that will eventually (in 2012) use the new OS as opposed to the traditional BlackBerry OS. RIM has really made big advancements by acquiring powerhouses like QNX and TAT, but there's only so much you can do with a limited time frame. I can't help but feel like the PlayBook, as it stands now, is an unfinished product. The hardware is there but the software is buggy at times,and the apps are severely lacking and almost non-existent in terms of quality. While the Web browser is extremely solid, with no native email or calendar or contact apps, the PlayBook isn't a very good standalone product. This should all change in the coming months thanks to the free software update, and what's even better is RIM no longer has to go through carriers to push out updates out since this model doesn't have a carrier partner — we should see software updates fast and often RIM told me. I just don't see a killer app on the PlayBook, and that's the real problem. It does a lot of things, but it doesn't do 90% of things better than an iPad 2 or a XOOM.
There's a much bigger picture here, and while the PlayBook is important, what's more important is that RIM skating to where the puck is going to be. The company's new strategy breathes new life into this aging Java-reliant company, and with a little more time in the oven and some smart enhancements, tweaks, and updates, RIM really does seem to be setting itself up properly for the next 10 years. The BlackBerry PlayBook goes on sale April 19th for a starting price of $499.