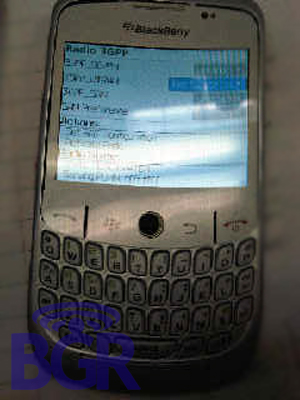 Sorry it's not the greatest picture in the world, but at least we can put a face to the specs and info. We dropped word of the BlackBerry Gemini a while back, and it looks to be cross between an 8300 and an 8900. Ugh, the madness never stops. Then again, did you really expect something different for an "updated BlackBerry Curve?" Here's the information we published earlier:
OS 5.0
320×240 resolution screen
QWERTY (really?)
Quad-band GSM/GPRS/EDGE
Wi-Fi 802.11b/g/n (again, not too sure on the n part)
2.0 megapixel camera
Again, really not too much here, just a pretty face. Yes, it's pretty. And hey, there's one thing we know… it's not Photoshopped. Not laughing? Oh whatever.