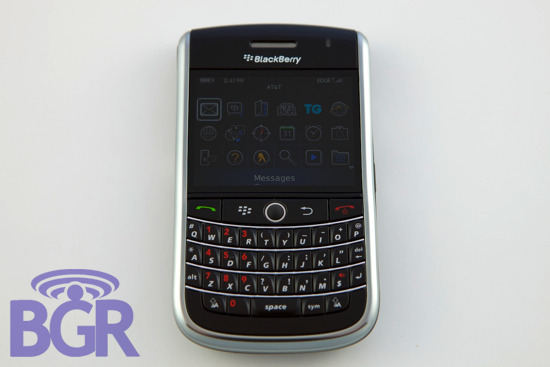 We've been playing with it non-stop all weekend. We've tastelessly shown it off with a dash of hood on video. But the review is now finally ready. We decided to split this into two parts, one now and one right before launch. That way no one will see things that aren't final and vice-versa. It will also be a nice way to keep track of what's changed/been modified. We'll also do something new here… if you have any questions, drop them in the comments and we'll edit the post and answer them in the Q&A section of the review!
UPDATE: We're re-posting this review with all photos. Enjoy!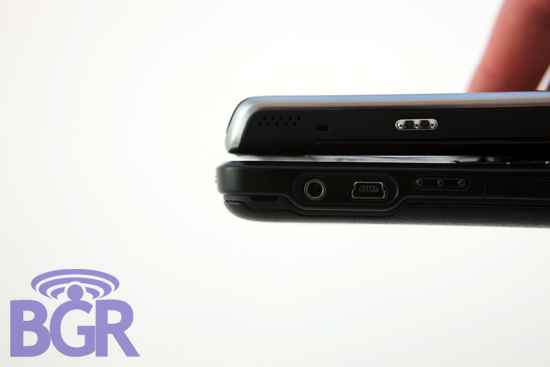 Hardware:
You can literally think of the BlackBerry 9630 as a BlackBerry Storm with a QWERTY keyboard. It's that exact. From the cell radios (quad band GSM/GPRS/EDGE, single band UMTS/HSDPA, 1X/EVDO) to even the layout of the keys on the side, it's almost identical. It definitely follows RIM's styling cues from the Curve 8900 and obviously the Storm as well. This will be tough for people contemplating switching to Verizon because it offers 90% of what every BlackBerry user has dreamed and it's on the nation's best network.
You know where we're going here, don't you? Wi-Fi. Verizon told us they really looked forward to releasing BlackBerry devices with Wi-Fi, blah, blah, blah. Cutting it short, as you all know, the 9630 doesn't have Wi-Fi. There were rumors of pre-release devices floating around with Wi-Fi, and that obviously clears up any "technical" limitations (seriously, do you honestly think "we can't fit it on the circuit board" is an excuse anymore?. This blunder is on Verizon's shoulders, RIM, we excuse you this time.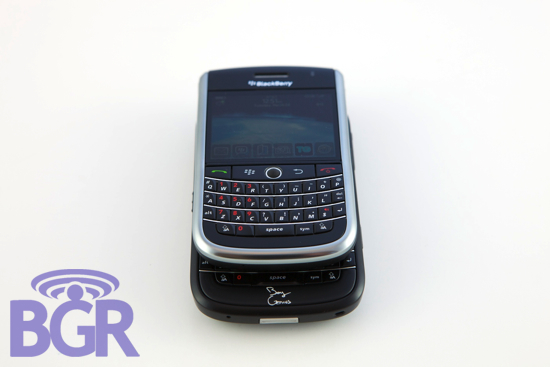 Listen, we're not going to really dive into it as our thoughts on this are pretty well documented, but, is it so difficult to stop being little bitches and just let people jam out with their Wi-Fi? We really don't understand the difficulty, not one bit, and we'd love it if someone could fill us in and make things clearer. It's just crap all around and it's really frustrating that the perfect phone on the perfect network has a glaring hole in it.
Sorry, friends. No Wi-Fi on this one.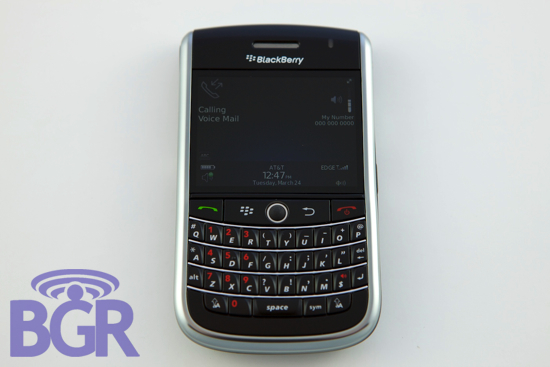 Phone:
Voice calling is an important part of any phone (duh), and it's a combination of hardware and software. As far as the hardware portion goes, this is probably the best phone we've ever used. Yeah, seriously. The speakerphone is absolutely off the ringer. It is just insane how loud and clear it is. We're not talking about phone performance like holding onto calls, and all that, just connecting the call and having a conversation. And in that area, both the ear speaker and speakerphone excel beyond almost any other phone, ever. Add in Verizon's network and you've got one bad ass piece of machinery.
This is a tried and true BlackBerry — you know by now — everything is logically arranged and organized as far as the phone goes.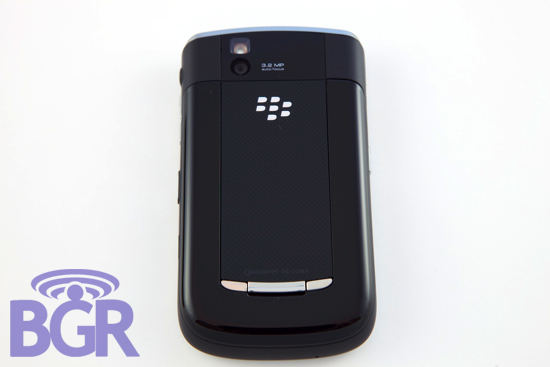 Battery:
The BlackBerry 9630 uses the same battery as the BlackBerry Curve 8900 and BlackBerry Storm; a 1400mAh cell. Since we're not running this on Verizon at the moment and the software isn't final (read: not close), take these results pretty lightly, ok?
4 hours of talk time
3 hours of video playback
8 hours of music playback
18 hours of light email, messenger, SMS, browsing.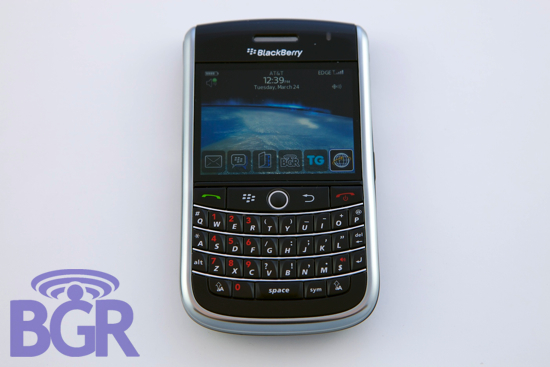 Screen:
The screen on the 9630 looks great. It really looks like a plasma display with a glass lens over it. Colors are rich, sharp, and images are crisp. One thing we don't like is the bezel around the screen. The Bold and 8900 LCD basically goes right up against the outer case of the handsets, yet with the 9630, there's a black bezel around the LCD. We would have loved for the screen to be a tiny bit bigger because as it is, the Bold is still reigning champion of BlackBerry screens, if only for size alone.
In terms of resolution, you're looking at the same res at the 8900 and Storm, 480×360.
Keyboard:
As you'll read below, the keyboard is also a mash-up of the Bold and the Curve 8900 as is the size of the phone. It's just right. We have to give credit where credit is due, and RIM still knows how to bang out some of the most perfected and usable keyboards on the planet. The keys are a smaller version of the Bold's with a bit more click like the 8900. Since the Bold is as wide as a boat, the keyboard could afford to be laid out extra roomy. On the 9630, however, things are smaller obviously. This isn't a problem for the keyboard for the most part, but one annoying thing is keys on the edge. What we mean is that the curved shape of the key is flush with the actual outer case of the device, and if you don't hit the key precisely on the right spot, you'll end up typing on the chrome bezel.
One other huge negative is the placement of the back button. We're not sure why it's so close together (well, we are) but we wish there was another way of working that out. On countless occasions we've hit the back button while pressing in the trackball.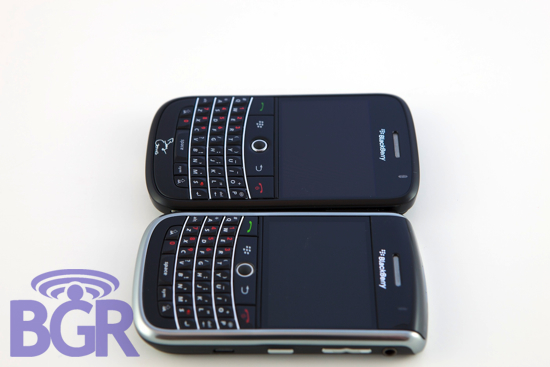 Size:
The size of the 9630 is a perfect blend between the BlackBerry Bold and the BlackBerry Curve 8900. It fits squarely in the middle. It feels great in your hand and is incredibly comfortable to use. One odd fun fact: we couldn't put our finger on it at first, but after a while it finally hit. The 9630 feels like the BlackBerry 7130 (Cingular model). Not sure why, but its like the wider 2009 version of that.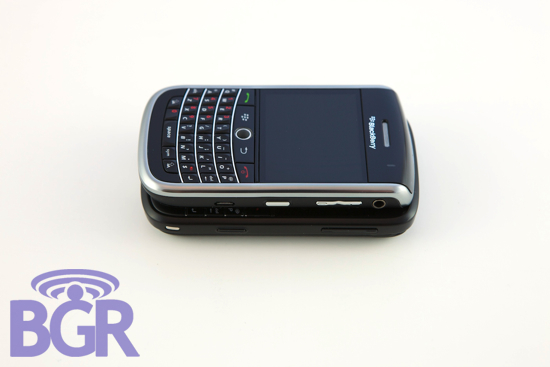 The device is a tad skinnier than the bold, less wide, and less tall too. So you're basically getting the entire Bold package without much sacrifice. Well, one big sacrifice actually — Wi-Fi. Though people could use the argument you gain Verizon so it evens out. We'll leave that up to you.
Toting the 9630 around, it really is the perfect mix of form, function and size for a BlackBerry. We would have loved for the phone to be thinner (really just a bad ass RAZR-type BlackBerry) but since RIM plans so far out (what, you missed this from a year ago?), we understand why the hardware is behind.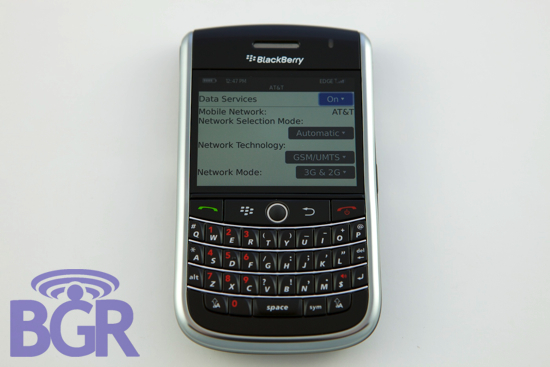 Reception:
This is mostly going to be left for Part 2: Launch Time, but on GSM, the phone even in its way buggy state performed just as good as it's cousin, the 8900, in the signal department. Literally side by side you'll see them get the same reception as far as the bars are concerned. The actual signal reading doesn't differ either.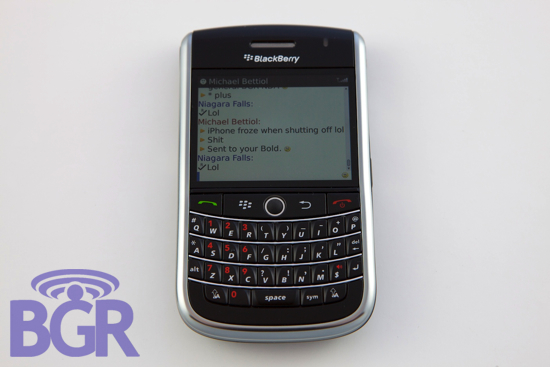 OS:
Think of 4.7.1 as the same OS the Storm uses minus the touchscreen. All the visual elements look the same — everything from highlights and gradients to slight UI changes –and even "gestures" work. We say that clearly not insinuating there's a touch screen, but if you for instance scroll left or right in the media application for example, the photos will flick left or right. It's a nice touch.
Screen animations are not in this build, so we're not sure if things like the sliding screens from right to left will make it in the final version, but we'd guess they will. Or maybe RIM realized this is more of a professional device and those cheesy animations were getting in the way of real productivity rather than helping. Just a thought.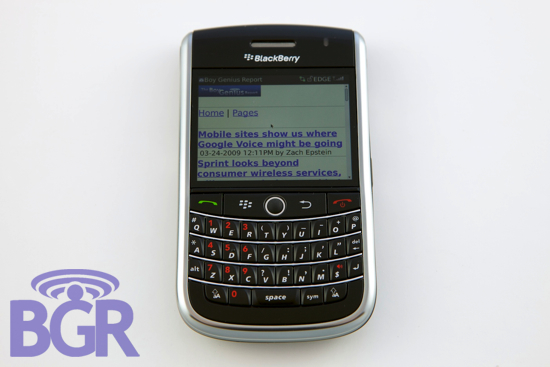 Browser:
The browser in its default mode now zooms into web pages much more than earlier versions. We're not sure if this is going to be the final way of doing things here or if it's just temporary, but it's kind of irritating. Things are so far zoomed in that it makes text look enormous and images look tiny. Another issue with this current OS build is that you can't click on any links with the mouse pointer. You have to go to menu, then hit "get link". It's not like we care, though.
The browser performs super fast over EDGE but it really isn't in a condition to be thoroughly tested. If you load a page that is decently large, then proceed to scroll down, the web page text will stick, etc. We'll leave this open-ended and update you if anything changes but look forward to a real torture test in Part 2.
For now, early, early impressions are that 4.7.1's browser would be better than all the rest (just going on it supporting newer JavaScript and obviously RIM having time to iron other things out).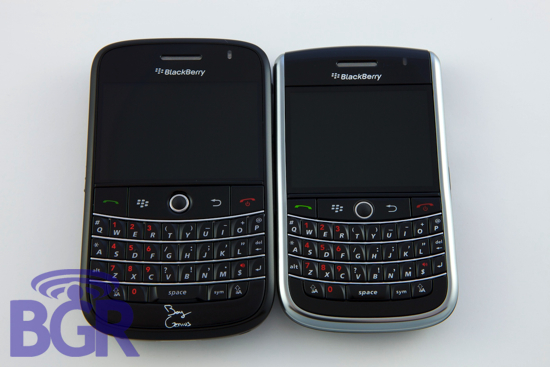 Build Quality:
The 9630 just has this Verizon "halo" all around it. Seriously. If we had never heard of the 9630 or seen pictures and you showed it to us, we'd say, "that's the one going to Verizon, right?" The build quality is great and you can tell that Verizon's getting more durable hardware than say AT&T is. Now, that's not an official statement, but when you start getting phones with speakerphones as loud as this one, something is going on and this ain't Nextel, folks.
You can tell that this phone will stand up to multiple daily beatings, and that's a really good thing.
The Bold's build quality left a lot to be desired. The 8900 feels pretty plasticky and cheap (the cheesy plastic battery door doesn't help) so the 9630's build quality is very refreshing. We, again, think it's going to stand up to various drops, punts, and drop kicks.
There's a quality feel to the device and while we wish the battery door was metal (long live the Storm), we don't see a big problem here.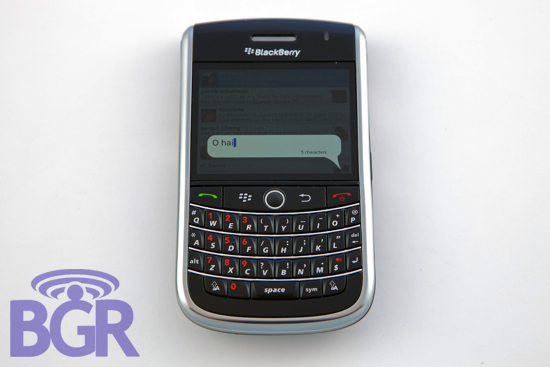 Picture courtesy of Tweet Genius. Coming soon!
Q&A:
Is it confirmed that the BlackBerry 9630 will be launching first on Verizon and then Sprint?
Nothing is confirmed at all, but we're pretty confident this will hit Verizon first and they'll get a pretty decent head-start.
Will the 9630 be able to function using AT&T's 3G network?
Sadly, no. It's the same story as the Storm — GSM/GPRS/EDGE for North America, UMTS for the rest of the world (where 2100MHz WCDMA is supported, obviously).
Will there be a U.S. version of the 9630 with U.S. 3G and Wi-Fi?
We doubt it. There just doesn't seem to be room in RIM's lineup with the Bold and Curve 8900 released. Remember there is a Curve with 3G coming, so that might be pretty similar. We wouldn't expect that for a while. Like, end of year, early next year-type while.
Questions from readers will be listed and answered here. Additionally, hit us up with anything you want to see in our real video walkthrough — we'll try and make sure it gets added in!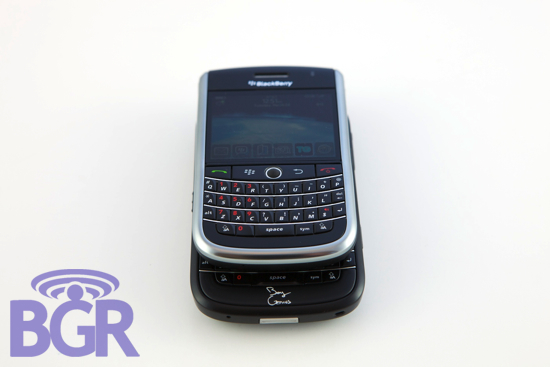 Conclusion:
We went through this with the Storm review and we told most of you to wait for the 9630. Most of you didn't listen and you're bitching everyday about your Storm. It's ok, we're here to help. Basically, to you know, not beat around the bush. Verizon + 9630 = the best BlackBerry experience on the planet. This is the phone you've been waiting for. Smash those Storms, donate them to charity, sell them on eBay or give them to your significant others you want to slowly and cruelly torture. This is it as far as Verizon goes. We said the Storm was the best phone on Verizon (hey, everything is relative, ok?) and this obviously takes it a step further. In its complete buggy state probably more than 3-4 months away from release, this is going to be the big seller on Verizon when it launches. There's not a single person who wouldn't want this phone. Young, old, black, white, rich, poor, disabled, not disab… never mind.
RIM and Verizon, congrats. This will seriously screw with AT&T's BlackBerry customers and poach more than a few. Just remember Wi-Fi is a friend and there are people that need Wi-Fi rather than want it.
We can't wait until the 9630 launches, it's going to be a great all around phone.