For anyone that thought we'd actually stop running iPhone coverage, you're crazy! Now, on to the good stuff. Thanks to an exclusively obtained leaked document, we're prepared to take you on a journey to iLand. Wondering how the lines will be handled for the Apple iPhone launch tomorrow? What accessories will we be able to buy? Perhaps the most important information is how these usually unorganized, release-date-slippin', and sometimes downright obnoxious AT&T employees will handle all of this in a four hour time frame. Well here we go! When you arrive at your local iSpot, you will be formally organized by a member of AT&T management. Once you pass the first obstacle and actually get to the cash drawer, the sales rep will then attempt to perform a credit check on you before they sell you the phone and send you packin'. Want to know about the accessories, deposit, prepaid options and more? Check 'em out after the jump!
According to the document, all AT&T reps have to at least offer to do a credit check to try and get you pre-approved for service, before they sell you the device. This is actually a kind-hearted gesture to make sure that when you get home to try and activate your iPhone, you won't have to pony up $250 as a security deposit. And it helps AT&T track the devices to receive sales compensation. Sneaky sneaky! The problem is you can't make that security deposit through iTunes, so you'll have to come back to the store to give them that $250. Worse is the 10% restocking fee if the box is opened and you decide you don't want it. If you do a credit check to get pre-approved and pass, or fail and give AT&T the security deposit, you will receive a authorization code you can enter into iTunes to speed up the activation process. AT&T employees are not allowed to so much as stare at that shiny seal on your iPhone box — you don't have to worry about some freak unboxing your baby! In fact, they literally put the iPhone into an Apple bag (classy right?), scan it, seal the Apple bag with the phone inside, and then give it to you.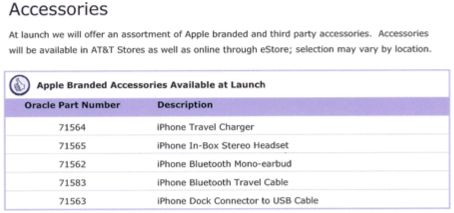 Assuming you actually make it into the store, be prepared to get offered every iPhone accessory in stock. But what accessories will be available? We gotcha' covered. Apple's Bluetooth headset will be in stock tomorrow (14 day return policy as opposed to the normal 30 days for accessories) as well as extra docks, travel chargers, headphones, USB cables, and a host of 3rd party solutions which you can find below in the document. So let's say you make it home, unbox your brand new iPhone, but wait…it's defective and DOA. Oh no! You cannot bring defective iPhones back to the AT&T store. You will have to send it to Apple directly. Regular returns can be returned to the point of purchase.
What happens if your credit isn't up to snuff? Well, after and only after you fail the iTunes credit check (or the one in the store for that matter), an option will show up on screen to activate the iPhone as a Go Phone. Huh, Go Phone? Prepaid? You're damn right, we called it! No contract required whatsoever. Mind you this is not a PAYG deal, rather it's the Go Phone Pick Your Plan option. But still, you don't have a contract! The last thing we'll touch on, is the fact AT&T stores will start selling $25 and $50 iTunes gift cards. Ain't that genius! We got a lot more info out of this 60-some page document below for your viewing pleasure. Enjoy everyone!
UPDATE: The entire 65-page Apple iPhone Launch Guide is now posted below!
Apple/AT&T iPhone Participant Training Guide Key Points [PDF link]
Apple/AT&T iPhone Participant Training Guide Full 65-page docment [PDF link]