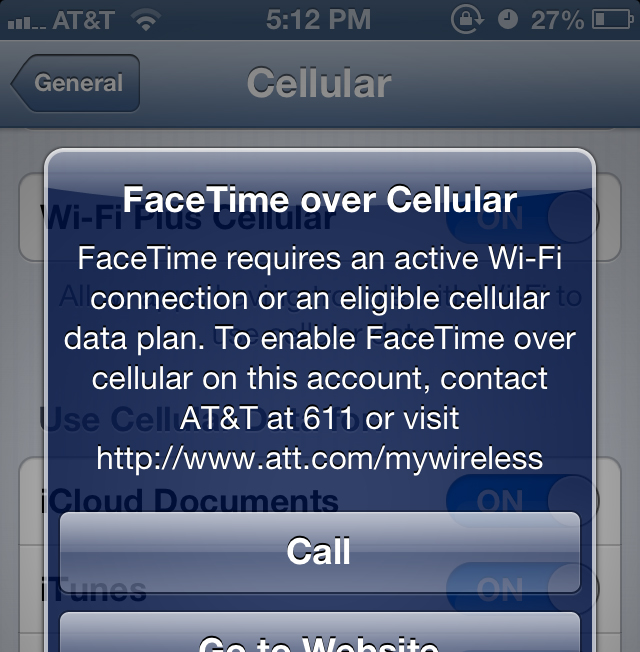 It's no secret that AT&T (T) is a terrible wireless carrier — just ask anyone who uses, or has used AT&T. Its calls drop, data is unusable in any location with more than four wireless subscribers within a square mile, and it nickel and dimes every single fucking thing. You know what set me off though? The fact that AT&T is limiting FaceTime over cellular and making subscribers switch to a new shared data plan if they want to use it. It was bad enough AT&T brazenly charges you a fee if you want to use the data you pay for on another device via tethering, but now AT&T is trying to control just what you can and can't do with your own data, which you pay for every month, down to the specific application.
Here's AT&T's full statement:
AT&T will offer FaceTime over Cellular as an added benefit of our new Mobile Share data plans, which were created to meet customers' growing data needs at a great value. With Mobile Share, the more data you use, the more you save. FaceTime will continue to be available over Wi-Fi for all our customers.
Let's look at this another way… you lease or buy a car. Could you imagine the leasing company or bank saying that you can't park your car in certain locations, can't listen to certain radio stations, and can't drive it faster than 50 MPH unless you pay more? That's what AT&T is doing — it is telling you exactly what you can and can't do with your data that you pay for every month down to the specific applications and uses. I'm tired of this shit. It's not even about the cost or new plan so much as it's about two things:
The fact that AT&T's competitors are not charging for FaceTime over cellular speaks loudly. Sprint (S) announced that it won't charge for FaceTime over cellular, and while Verizon Wireless (VZ) hasn't announced anything, they have no current plans to limit FaceTime on existing or new plans, we've been told from a source.
It means that the majority of AT&T's iPhone users won't have access to FaceTime — the most reliable system-integrated video calling service on mobile devices — on AT&T's network because they won't want to switch to pricier mobile share plans.
FaceTime over cellular should have happened long ago, but now that Apple is finally introducing it, AT&T goes and fucks it up for everyone — just like it messed up tethering, and just like it screwed people over on SMS plans. Well guess what? I cannot wait to buy a next-generation iPhone on Verizon with LTE and tell AT&T to go screw themselves after being enslaved to them, and spending way over $50,000 with them in service fees since I originally signed up. Peace.