The upcoming Netflix animated series Agent Elvis — in which the King of Rock 'n' Roll has a side hustle as a secret agent who fights evil — is as good a reminder as any, for those of us from Memphis, of the outsized influence that Elvis still has on the rest of the world.
And that's true whether we're talking about the tens of thousands of people who flock here each year to commemorate Elvis' death, or celebrities like Apple's late co-founder Steve Jobs. He was brought to Memphis in secret in 2009 for a liver transplant, and during his recuperation period here, as soon as he was strong enough, he made a quiet visit to Sun Studio — the recording facility where Elvis turned out his first thrilling hits. The once and future King never ceases to enthrall.
Agent Elvis on Netflix
Elvis himself was reportedly obsessed with superheroes and comic books as a boy, and his former wife Priscilla Presley has worked with Netflix to turn that childhood fascination into a Netflix series (coming next week, on March 17), from Sony Pictures Animation — the same studio behind Spider-Man: Into the Spider-Verse.
The resulting show's visual style is slick and reminiscent of old Batman cartoons, and Elvis is voiced by another famous son of the South, actor Matthew McConaughey. Priscilla Presley worked to bring this show to fruition along with musician John Eddie, who tweeted in recent days: "That's Alright Alright Alright Mama! After so many years of being sworn to TCB secrecy I can't believe I get to finally tell the world what was in all those classified documents … Academy Award-winning actor Matthew McConaughey is Agent Elvis!"
Meanwhile, the streaming giant describes the show thus:
In the series, Elvis Presley trades in his white jumpsuit for a jet pack when he is covertly inducted into a secret government spy program to help battle the dark forces that threaten the country he loves — all while holding down his day job as the King Of Rock And Roll.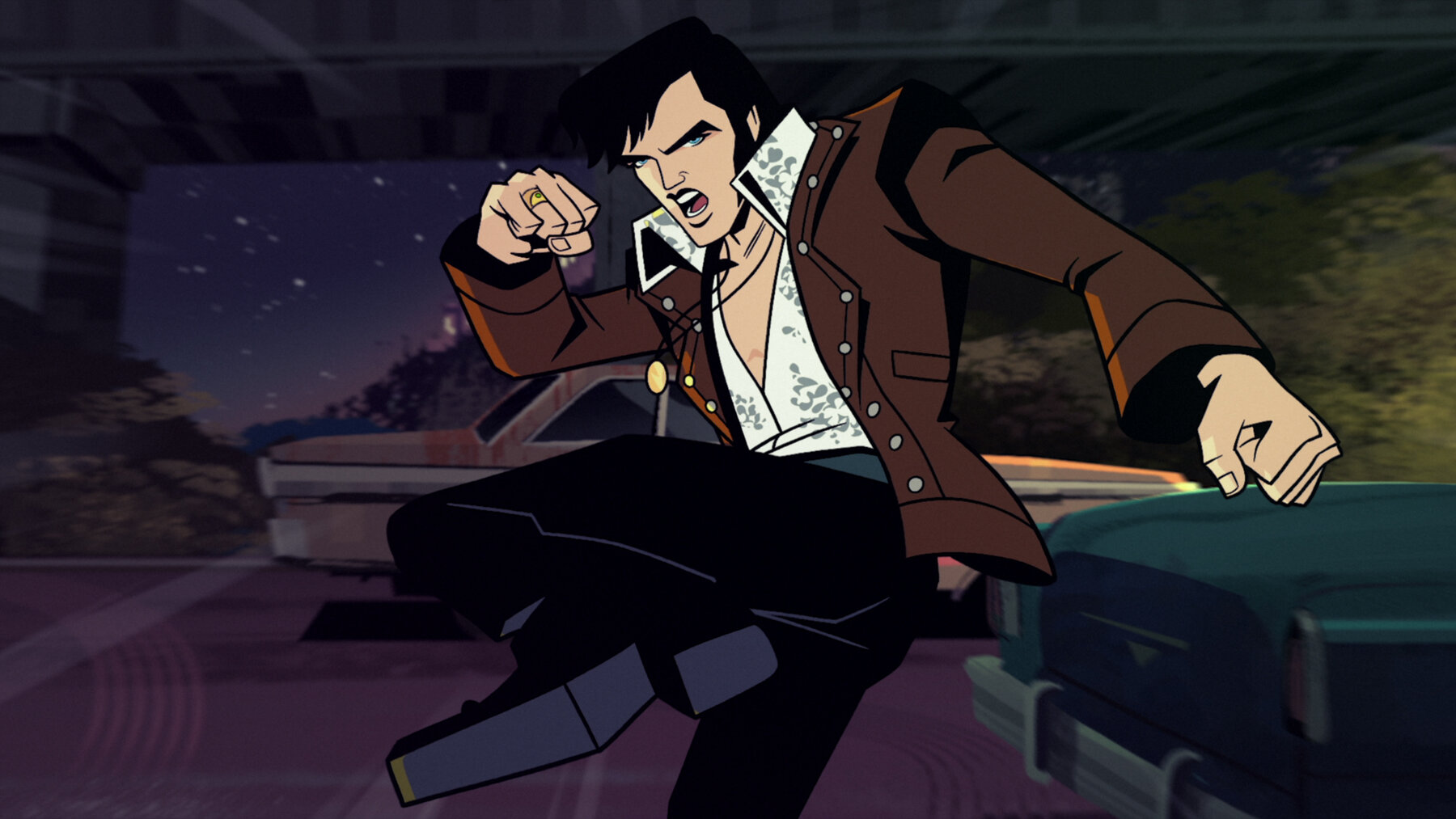 Long live The King
As for the show's cast, here's a quick snapshot, courtesy of Netflix, of all who have lent their voice talent to the series:
Matthew McConaughey as Elvis Presley
Kaitlin Olson as CeCe Ryder
Johnny Knoxville as Bobby Ray
Tom Kenny as Scatter, Agent Elvis' chimpanzee sidekick
Don Cheadle as Commander
Niecy Nash as Bertie
Priscilla Presley as herself
Jason Mantzoukas as Howard Hughes
Story-wise, Cheadle's "Commander" and Olson's "CeCe Ryder" belong to a secret US government crime-fighting agency called The Central Bureau. The bureau recruits Elvis to be a secret side-hero, and in each episode of Agent Elvis, he gets to fight bad guys and be a rockstar while living in the series' revisionist history of the 1960s and 70s.
The Netflix show will no doubt add a renewed degree of excitement and interest around the late music icon, perhaps even introducing him and his music to a new generation of fans. Below, meanwhile, check out more images from the upcoming show.