Six years after The Legend of Zelda: Breath of the Wild launched alongside the Nintendo Switch, the long-awaited sequel is finally here. This Friday, May 12th, The Legend of Zelda: Tears of the Kingdom will release exclusively for the Nintendo Switch. But before it arrives, we want to make sure you know everything you need to know about the highly-anticipated game.
What is it about?
Here's the synopsis of The Legend of Zelda: Tears of the Kingdom from Nintendo:
In this sequel to The Legend of Zelda: Breath of the Wild, you'll decide your own path through the sprawling landscapes of Hyrule and the mysterious islands floating in the vast skies above. Can you harness the power of Link's new abilities to fight back against the malevolent forces that threaten the kingdom?
If you want to catch up on the story of the first game, Nintendo released a helpful recap video:
Although Tears of the Kingdom is a direct sequel to Breath of the Wild, there are some important differences. Most notably, Breath of the Wild was designed from the ground up for the Wii U, and was ported to the Switch relatively late in development. The Switch might not be a powerhouse, but TOTK should take full advantage of the hardware this time around.
Hyrule has also expanded vertically in both directions. Link will have access to islands in the sky as well as a sprawling underground cave system, neither of which appeared in BOTW. Link also has some new powers — most notably "Ultrahand," which gives him the ability to move, rotate, and merge objects found in the world. There are seemingly countless ways to combine objects in order to create new weapons, vehicles, and more.
TOTK also ditches the Divine Beasts in favor of dungeons that are "huge and each carry their own regional look and feel, just like traditional The Legend of Zelda games." This might be the same Hyrule as in BOTW, but it doesn't sound like it will feel the same.
How much does it cost?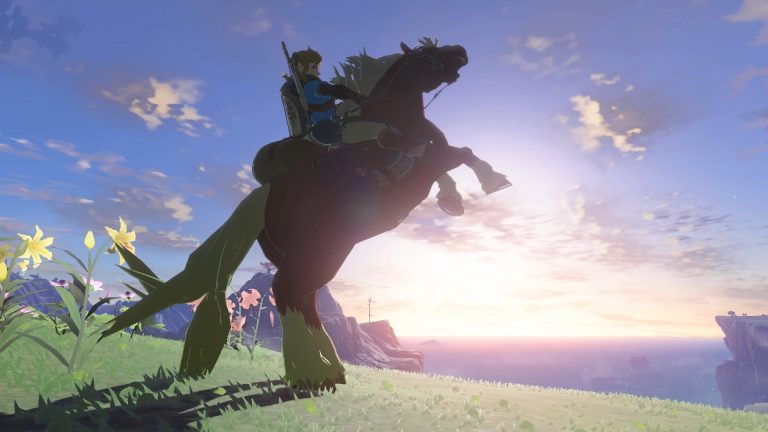 The Legend of Zelda: Tears of the Kingdom is Nintendo's first $70 game.
You can buy a digital copy from the Nintendo eShop, or a physical copy from a wide variety of retailers, including Amazon, Best Buy, Target, and Walmart.
Many of the biggest releases of this current console generation cost $70, including God of War Ragnarök, Redfall, Star Wars Jedi: Survivor, and Call of Duty: Modern Warfare II. Nintendo says that this won't be the new normal for first-party Switch games (via Game Informer), as it decides "the suggested retail price for any Nintendo product on a case-by-case basis."
One of the easiest ways to get a discount on Tears of the Kingdom is to bundle it with another game you want. Nintendo Switch Online members can buy a pair of Switch Game Vouchers for $99.98 and then use them on any two games from this list. I bought the new Zelda ($70) and Kirby and the Forgotten Land ($60), which saved me $30.
What time does Tears of the Kingdom release?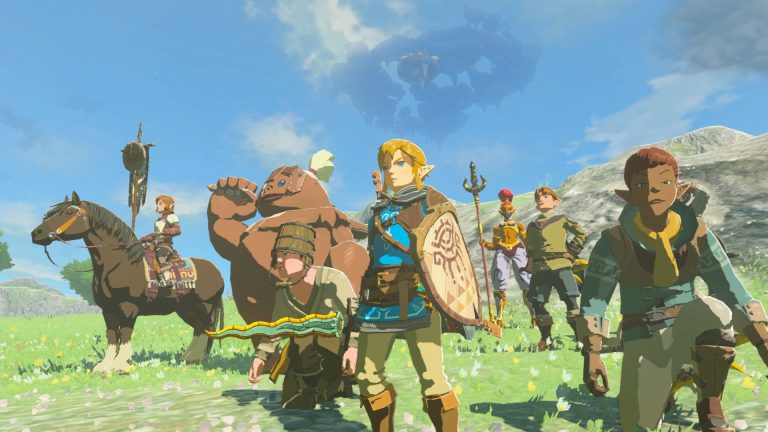 If you bought a digital copy of Zelda: Tears of the Kingdom, you will have to wait until the game officially goes live to start exploring Hyrule again. According to Nintendo, the game will unlock at midnight around the world, with one notable exception. If you live in the United States, the game debuts at 12:00 a.m. ET on Friday, May 12th, regardless of whether or not you live on the East Coast. Here's a list of release times to show you what we mean:
9:00 p.m. PDT on May 11 in North America (Pacific Time Zone)
10:00 p.m. MDT on May 11 in North America (Mountain Time Zone)
11:00 p.m. CDT on May 11 in North America (Central Time Zone)
12:00 a.m. EDT on May 12 in North America (Eastern Time Zone)
12:00 a.m. BST on May 12 in the UK
12:00 a.m. CEST on May 12 in Mainland Europe
12:00 a.m. JST on May 12 in Japan
Americans on the West Coast have it easy, as they don't have to stay up until midnight to start a new save file. Everyone else might want to call out of work on Friday.
Is there a collector's edition?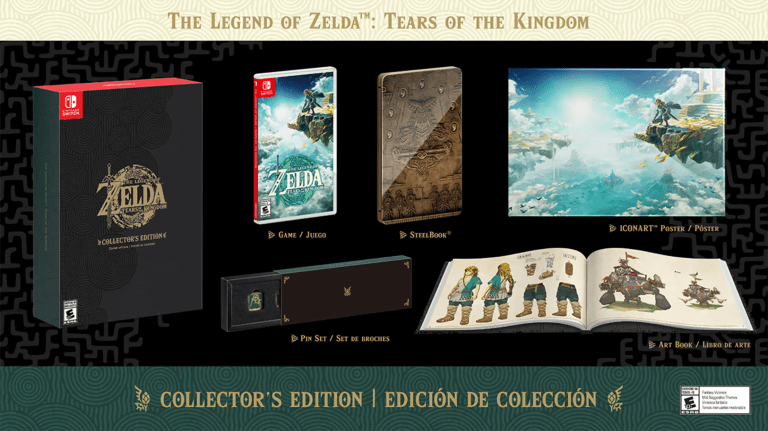 Of course Nintendo made an even pricier version of what's sure to be its biggest game of 2023.
The Legend of Zelda: Tears of the Kingdom Collector's Edition comes with a physical copy of the game, a SteelBook game case, a poster of Link overlooking Hyrule, a set of four pins, and an art book. It will run you $129.99, but if you haven't already secured a copy, you might be out of luck. It has sold out everywhere it's gone on sale almost instantly.
If you want to set up an alert, it has previously been available at Nintendo, Best Buy, and Target.
What about a special edition OLED Switch?
If you don't own a Switch or are ready to upgrade to an OLED Model, you might want to consider grabbing The Legend of Zelda: Tears of the Kingdom Edition console. The Zelda-themed Switch features a glossy white charging dock with Hylian illustrations, a mysterious pattern on the back of the Switch, and Joy-Con controllers with a green and gold color scheme and symbols and patterns from the game. Unfortunately, the game itself is not included.
Nintendo Switch – OLED Model — The Legend of Zelda: Tears of the Kingdom Edition is already available for $359.99 from Nintendo, Amazon, Target, and Walmart.