If you put stock in such things, the third and final season of Ted Lasso on Apple TV+ (which we're three episodes into now) is currently tracking lower than the previous two on Rotten Tomatoes in terms of audience scores. How much lower? Well, the show has slipped from a near-perfect 95% audience score on the review site for Season 1 — the season which brought everyone a much-needed dose of positivity during the pandemic year of 2020 — down to 84% for Season 2 and, now, down even further to 74% for Season 3.
Granted, we've only gotten three episodes so far of what will ultimately be a 12-episode season, so that score is almost sure to change. Nevertheless, as massive as this show's fanbase is — and how oriented the show is toward optimism, hopefulness, and mental health — it is striking to me that some of you, strange as it might sound to the show's passionate fanbase, seem kind of over Ted Lasso.
Has Ted Lasso overstayed its welcome?
That goes for both a subset of fans, as we've seen via the data above, as well as some critics. "Nauseatingly nice 'Ted Lasso' doesn't work without COVID," the New York Post opined this week. And this headline, from Rolling Stone:
"'Ted Lasso' Season 3 Coasts on Good Vibes and Little Else."
What gives? "It's as cheerful as ever," one Rotten Tomatoes reviewer opines, "but Ted Lasso's formula is starting to wear thin as every issue is resolved with understanding, compassion, and love — it's 'feel-good' but not especially realistic when this sunshine pervades through every character regardless the setup we've been given as viewers."
Adds another: "Season three is struggling. The… magic of the first two seasons is missing."
Those commenters have a point, even if I don't agree with it — or with the assertion that the show has somehow overstayed its welcome. I do acknowledge, however, that I want to see Lasso finally come to terms with the darkness in his life. With the shortcomings and mistakes that he hides with a smile. The show added a therapist to the mix of characters last season, and she's still around in Season 3 while also feeling vastly underutilized.
And on a related note: It did not escape my attention in Episode 1 of the new season that Jason Sudeikis' Lasso asks not one but two different characters a version of the same question ("What the heck (am I) still doing here?") — a question that very much deserves an answer.
#RichmondTillWeDie
AFC Richmond owner Rebecca Welton, remember, hired him initially as a joke, hoping that the bumbling, fish-out-of-water American would ruin her ex-husband's team — not realizing that Lasso had (and still has) exactly what that team needs. He succeeded in spite of himself, disabusing everyone of the fallacy that it's "the hope that kills you." Notwithstanding his aw-shucks demeanor, he helped Richmond work its way back into the Premier League. He reminded everyone that it's better to be curious than judgemental. And he made everyone believe.
That said, the show's emphasis on goodness and on mental health, especially now that we've come out of the teeth of the pandemic, arguably makes Ted Lasso (both the character, as well as the show) feel just a little bit incongruous relative to the rest of the current TV landscape. There are no backstabbing families here a la Succession, or a zombie apocalypse along the lines of The Last of Us. If you're on Team #RichmondTillWeDie, though, you're not here for anything like that, anyway. You came for the heart. For The Lasso Way.
Snarl like Roy Kent all you want, but it's crystal clear — to me, at least — where this season is heading. If you weren't paying attention when Ted moved Nate's Lego piece closer to the rest of the team at the end of the first episode, then shame on you.
Give the new season time. It'll get there.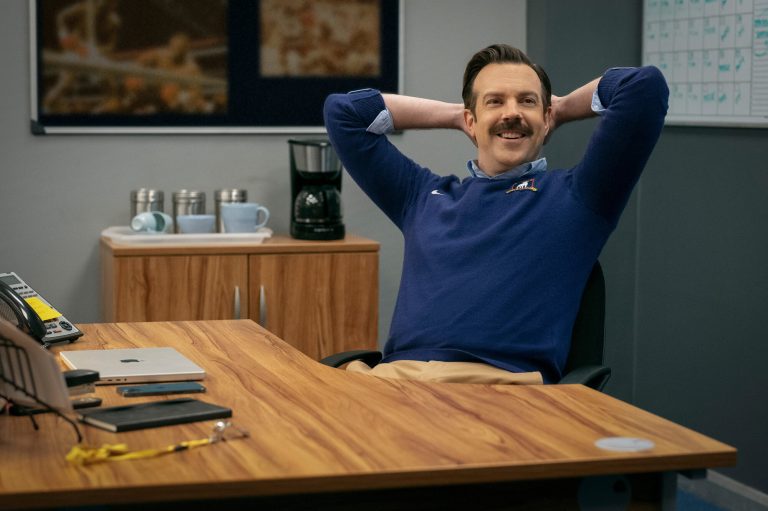 Two months to go
Sudeikis took over as the showrunner this season, and one of his many talents is putting you through an emotional wringer, even when you can see the ending coming from a mile away. Watch Kodachrome on Netflix if you don't believe me.
And can we also just stop and appreciate how we got here in the first place? Sudeikis originally created a silly bit for a TV promotion, tied to NBC Sports having the streaming rights to the Premier League. Next thing you know, he built a heartfelt, three-dimensional character and story out of it. The resulting gem of an Apple series was a small antidote to the misery of the pandemic. It encouraged us all to be a goldfish. And the cast eventually ends up at the White House, for a chat with President Biden about the importance of mental health.
We've got two more months to go, before the arrival of the series finale at the end of May. If there ever was a show you don't want to give up early on, it's Ted Lasso.