I don't think I fully grasped the passion of the global fandom around BTS until April of last year, which is when I accompanied my wife (who adores the group and is a hardcore member of the BTS "Army") to Las Vegas. We were there, at Allegiant Stadium, for the final show of the group's Permission to Dance US concert run — and it was, to say the least, a night to remember. Listening to 65,000 or so fans singing the chorus to Fake Love at the top of their lungs, for example, is not a sound I'll soon forget.
I've since learned there's a term for people like me who have a significant other who's a BTS fan. I'm apparently part of the BTS ARMY Reserve — which is to say, I may not be able to do the fan chant, and I don't own any merchandise, but I can say that I tackled a new BTS-related interactive feature that Spotify released today with considerable ease. That feature, called "My Top 5: BTS Songs," lets fans curate their personal favorite songs on Spotify from the vast — and I do mean staggeringly vast — BTS song catalog.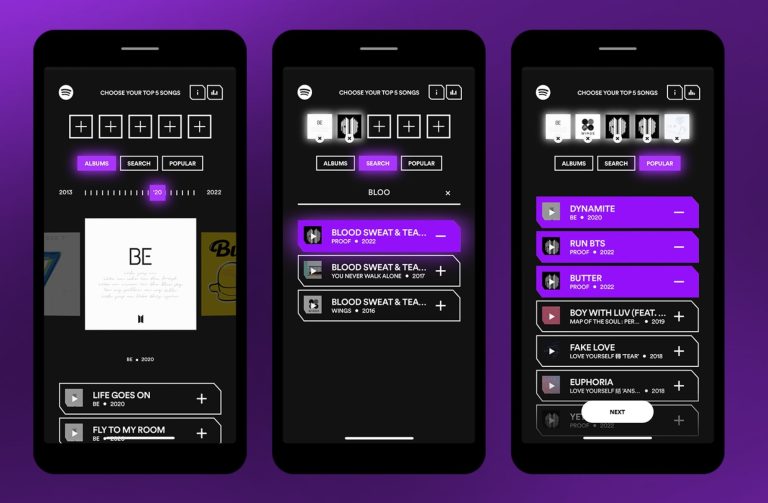 BTS worked with Spotify on the feature, which also makes it easy to share your picks with friends on social media. "Each step of our journey together has been unique and has sounded different along the way," the band shared in a statement. "We hope many people enjoy this new experience with Spotify's 'My Top 5: BTS Songs' and share their favorites with us."
Here's how you use the new feature:
If you're in one of the 48 markets where the experience is live (the full list is here), make sure your iPhone is running version 8.8.40.x. of Spotify.
Visit Spotify's page for the BTS Top 5 feature.
The experience presents you with a curated selection of BTS' songs. Choose your Top 5, then drag and reorder them in the visual display to create your list.
You'll receive your picks in a visual sharecard. Then, choose a sharecard backdrop with the option to highlight your BTS group 'bias.'
Finally, fans are encouraged to share their personalized digital card with their selections on social media, using #spotifymytop5.
As I type these words on Monday, it's already the early morning hours on Tuesday, June 13, in South Korea — the 13th marking the day that one of the biggest pop groups of all time debuted, back in 2013. Since then, BTS has given the world 10 years of Dynamite songcraft; proudly declared that they can't be held down; that life goes on; that when they fall they know how to land; that there's always a spring day, when morning comes again; and that you can decide for yourself what it means to be happy.
My own personal picks for Spotify's My Top 5: BTS Songs list, by the way, are as follows:
I might need to rethink my list, though, in light of Take Two — the emotional new song that BTS just released in time for the group's annual "Festa" celebration for fans: