I told you I had low expectations for the Secret Invasion finale. I couldn't see how the show could deliver a great ending to an otherwise unexciting story. And it turns out the finale isn't great. While I was expecting episode 6 to be underwhelming, I didn't expect Marvel to add two more mind-bending plot holes to Secret Invasion.
One of them can be easily explained but suggests that Marvel has stopped paying attention to detail. The other is so significant that it could ruin the MCU. At this point, I wish Secret Invasion had never happened, and I actually fear what Marvel has in store.
Before I get to that, I'll tell you that big spoilers follow below. Normally, I'd also say that you should watch Secret Invasion before you read on. I'll make an exception this time around and tell you that you're not missing anything if you skip the finale. Or the whole series.
Remember Thanos's Garden?
We learned early in Avengers: Infinity War that Thanos (Josh Brolin) had a retirement plan after obliterating half of life from the universe. He would retire to a planet uninhabited where he would live his life in peace, and you probably see where I'm going with this.
Also, in Infinity War, we learn that the planet has no defenses and that the Avengers can intervene. That included Carol Danvers (Brie Larson) and War Machine (Don Cheadle). The former shares the same guilt as Nick Fury (Samuel L. Jackson) for the secret invasion. They promised the Skrulls a home in Captain Marvel, and for nearly three decades, they failed to deliver it.
Obviously, the Garden is one place where the Skrulls could have gone. Carol Danvers could have taken them there after the Infinity War events. And we know from the previous Secret Invasion episodes that Talos (Ben Mendelsohn) called up all the Skrulls from the universe to Earth at some point after Infinity War.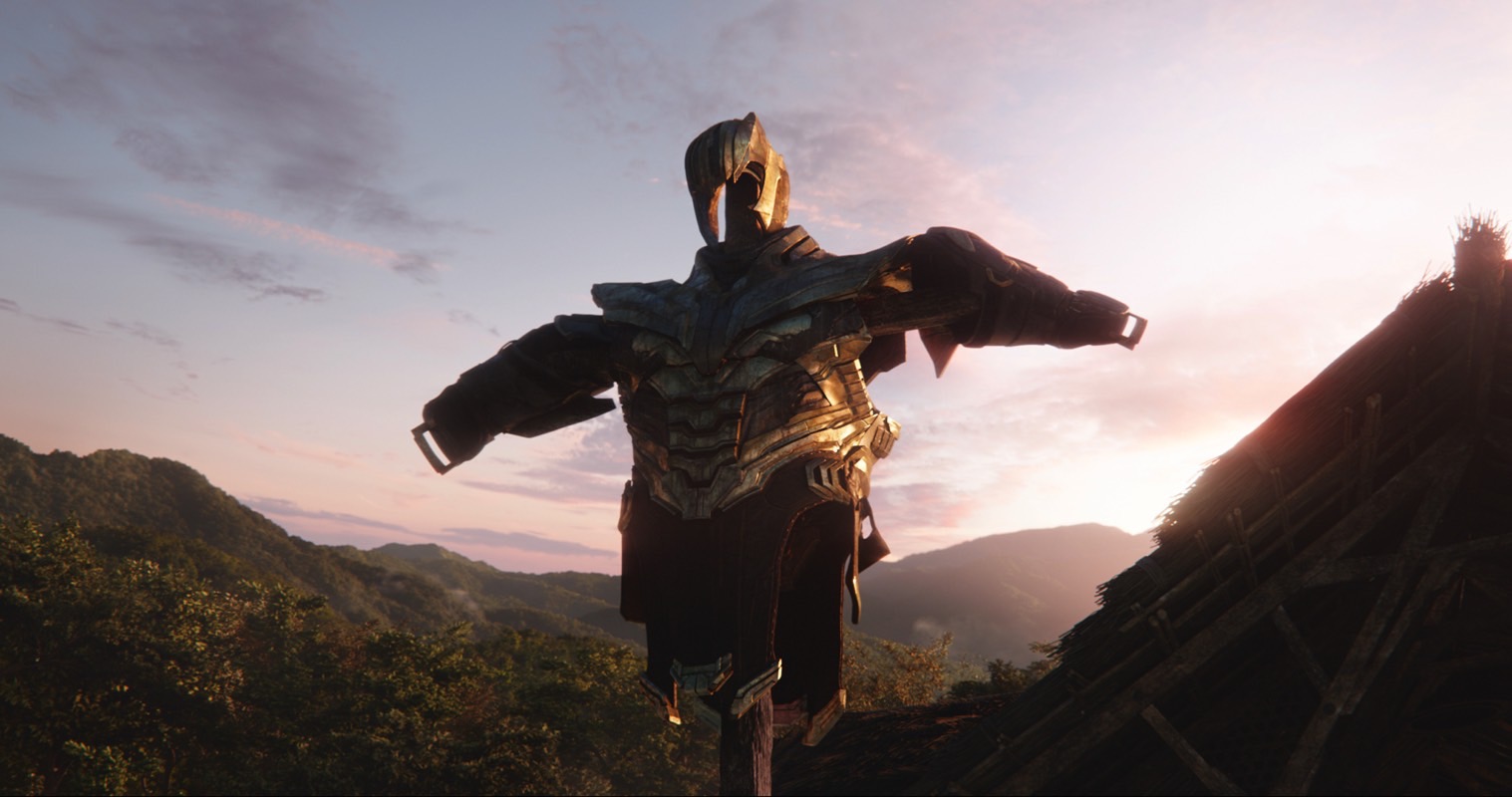 How does the finale tie into all of this? Well, first, we see G'iah (Emilia Clarke), masquerading as Fury, tell Gravik (Kingsley Ben-Adir) that the Skrulls did not get a new home because Fury couldn't find one. And that trying to give them a home on Earth wasn't possible because humans aren't that open to aliens.
The latter point somewhat fixes a Secret Invasion plot hole I pointed out previously. The Skrulls never tried to integrate peacefully with humans. But the Secret Invasion producers have forgotten that Asgarians inhabit the Earth. So humans aren't that unprepared to embrace alien races that are peaceful.
Having the Garden and not using it for the Skrulls is a plot hole so big it can potentially ruin the MCU. But there's a way out. First of all, it was G'iah talking to Gravik, not Fury. She might not have the whole story.
It's still a problem that Danvers never considered bringing the Skrulls to that planet. If she did, we need a reason why that planet might have been destroyed since the events early in Endgame.
By the end of the finale, humans rescue James Rhodes and Everett Ross (Martin Freeman). Someone tells Rhodes he's been a prisoner for a long time but doesn't say how long it was. Rhodey is in a hospital gown, which prompts speculation that the Skrulls might have taken him after Captain America: Civil War.
If that's the case, as a Redditor pointed out, Skrull-Rhodey went to the Garden, killed Thanos on a planet with no other inhabitants, returned home, and minded her own business. Helping Gravik covertly take over the Earth. Skrull-Rhodey is a female Skrull, an otherwise interesting twist for Cheadle's performance.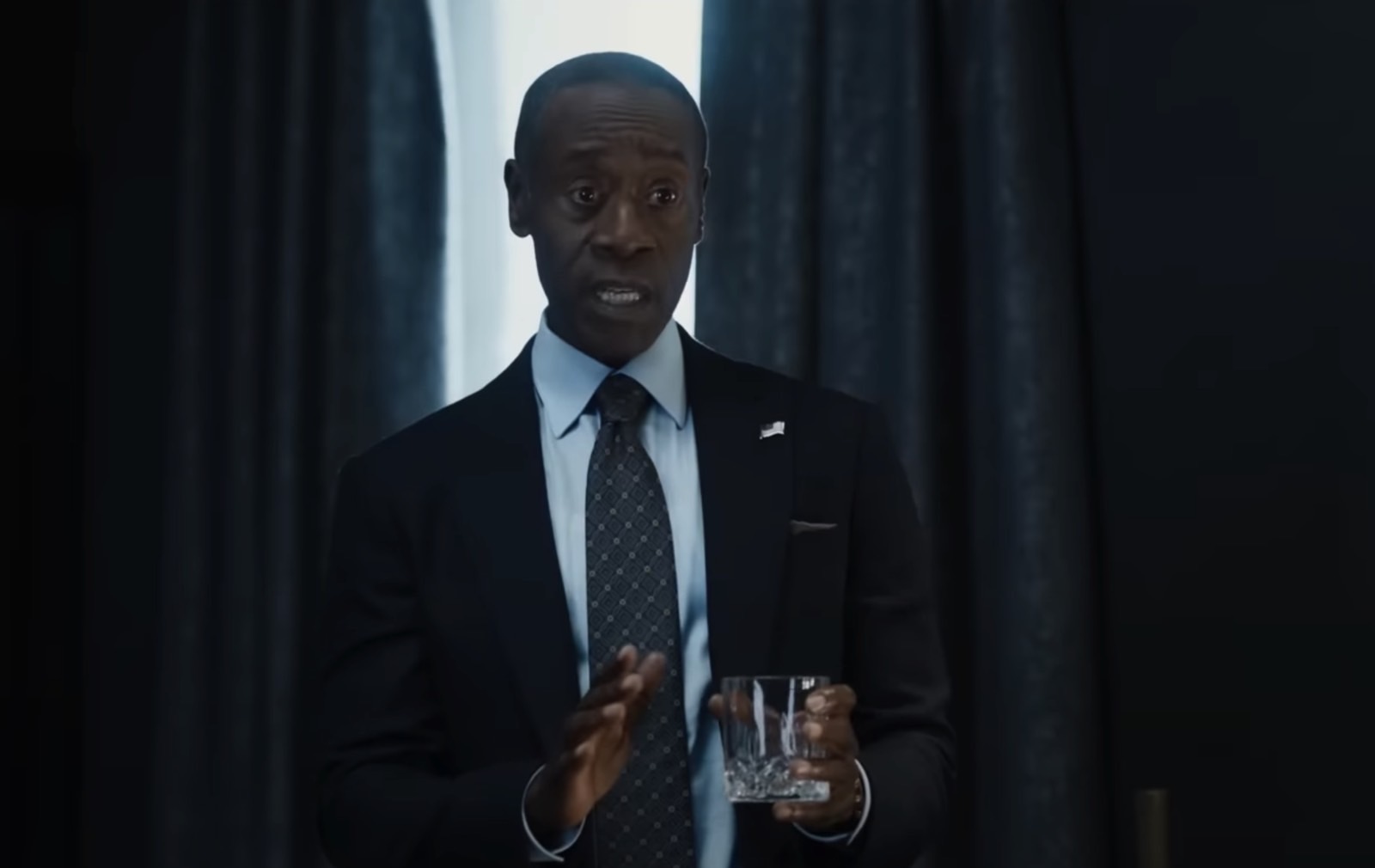 Marvel went too far with G'iah's powers
I will point out that the Secret Invasion finale doesn't reveal any other Avengers as being Skrulls, and I'm disappointed Marvel took this route. I also hate the fact that the resolution of the conflict with the Skrulls is an all-out public war. President Ritson (Dermot Mulroney) declared war on an entire alien race, despite Fury, G'iAh, and Sonya Falsworth (Olivia Colman) essentially stopping the invasion.
Does he not know that a million Skrulls live undercover on Earth? And that you can't really detect them, as he lies on TV?
Does he not know what Fury just did? And this is, by the way, the Secret Invasion plot issue that annoys me the most. Fury gave the vial containing the Avengers' DNA to G'iah. In turn, she pretended to be Fury to beat Gravik. In the process, G'iAh-Fury gave Gravik the vial, and he turned them both into Super-Super-Skrulls that have all the powers of the Avengers, Thanos, and other aliens.
Back to Sonya for a second, why didn't she just shoot Skrull-Rhodey faster to show the President that's not the real War Machine? She was a lot faster at pulling the trigger in previous episodes.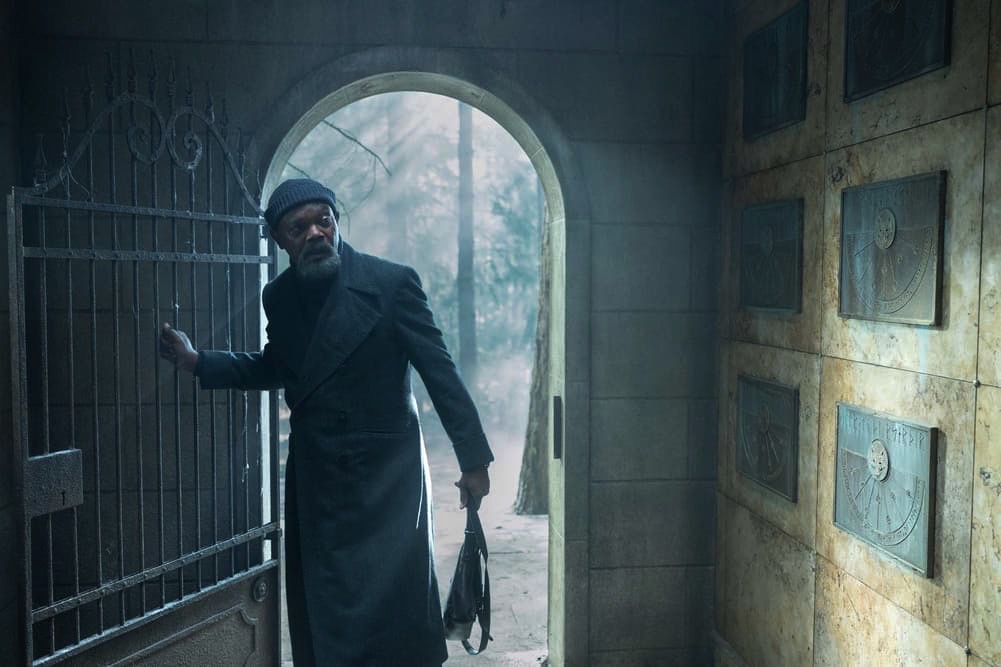 The resulting G'iah vs. Gravik battle would have been amazing if all of this had been done right. Instead, I was too busy being angry at what I was witnessing. Just like that, G'iah became the most dangerous superbeing in the universe. She's more powerful than Captain Marvel and can do magic without any training. What the hell, Marvel?
How do you kill G'iah if she goes rogue? Apparently, you fire Captain Marvel's energy at her torso and hope to make a hole in it to kill the other super-super-powered individual. That's how G'iah kills Gravik. But I don't buy that death for a second, considering that Gravik had the exact same all-Avengers-and-Thanos powers as G'iah. You should have a much harder time killing these beings.
Also, how do these Skrulls know how to use these Avengers' powers now that they have all that DNA? I get that health regeneration and strength would come naturally. But it's not so with magic or Mantis's (Pom Klementieff) mind-control powers. Those need getting used to.
And how stupid of Fury and G'iah to take the gamble. They couldn't have known that Gravik would transform both himself and G'iah into this mighty Super Skrull. They risked Gravik killing G'iah-Fury before she also got her powers.
As for Gravik, he risked turning the person he thought was Fury into a superhero capable of healing himself immediately. This Super-Fury would have been an incredible adversary, so why did Gravik turn on the mutation machine with Fury in it?
Speaking of stupid, how does Gravik know that he has the right vial? How does one detect the various DNA samples in that vial if you don't already have access to the Avengers' DNA? You need to compare that sample against something. And if you already have the Avengers' DNA, then you'd be a Super Skrull already.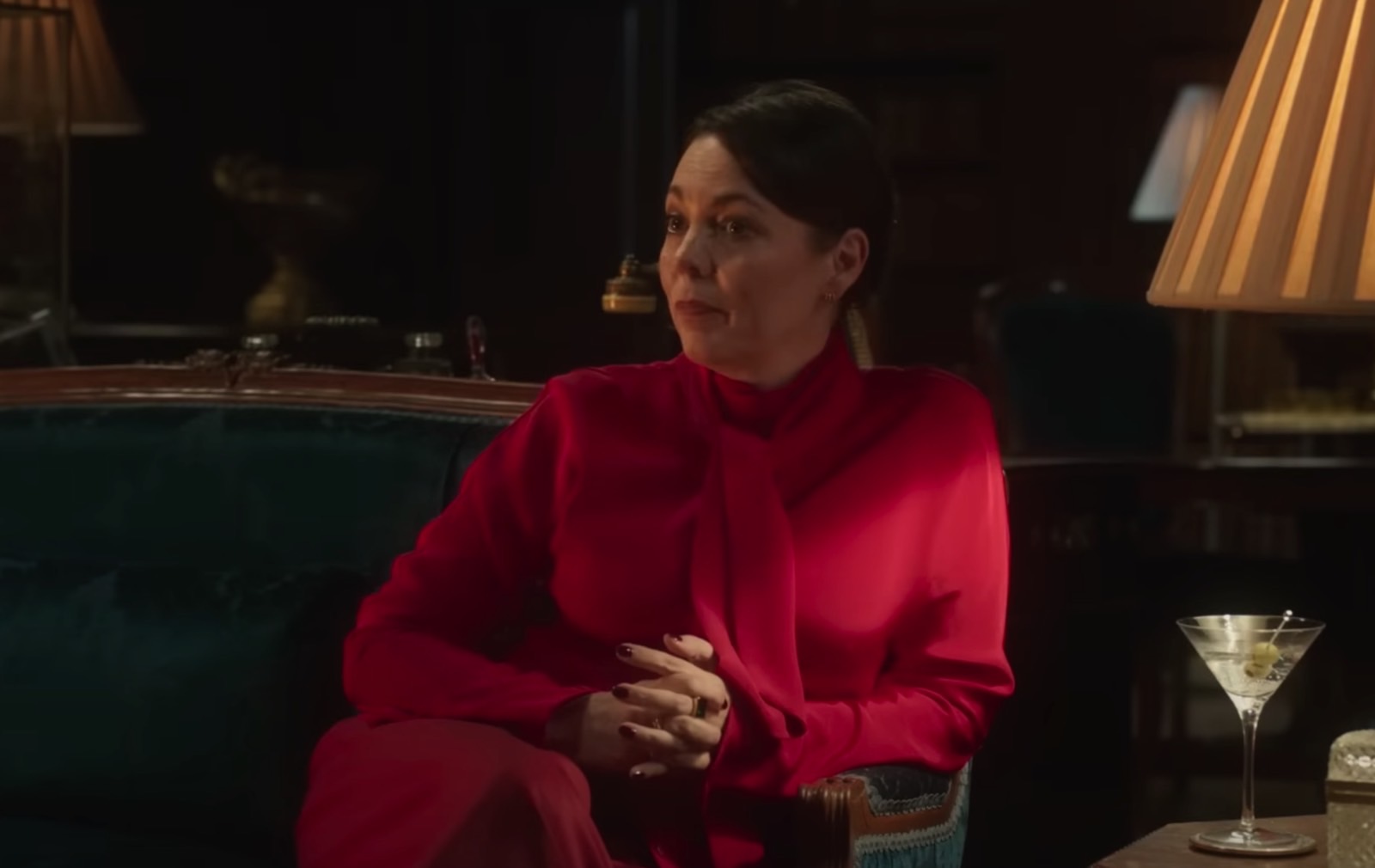 The problem with super-superheroes in the MCU
On that note, did the US military just intervene in Russia to save all the prisoners? And did Val (Julia Louis-Dreyfus) steal the Skrulls' data, Avengers DNA included? This whole thing seems to lead to Thunderbolts, where we'll get a Sentry superhero that should be about as powerful as G'iah.
I don't mind overpowered Marvel heroes, but they just become a problem for crossover shows, and Marvel has to nerf them, like Hulk (Mark Ruffalo) being out for most of Infinity War. Or Captain Marvel conveniently showed up at the end of the Battle of Earth, or she would have single-handedly destroyed Thanos's entire army. Or for Wanda (Elizabeth Olsen) becoming so powerful in WandaVision that Marvel had to quickly reverse course in Doctor Strange in the Multiverse of Madness.
Unless Marvel nerfs G'iah soon, I'll now always have this MCU plot hole in my mind. Forget the Avengers; why won't G'iah intervene if something bad happens? You know, on her own. With or without the help of Sonya, who is clearly interested in becoming a Fury-like character of her own. I do like the idea of Falsworth sticking around in the MCU, however.