Sony has been busier than ever this year, cranking out several critically acclaimed titles for its PlayStation 4 console, which has just passed the five-year mark — and racked up some impressive statistics along the way.
In honor of the console's fifth anniversary, Sony has revealed that it's sold more than 86 million units of the popular gaming system to date, along with almost 778 million software units worldwide. Both figures, we should point out, are current through September, so those have no doubt climbed in the two months since.
By way of putting more of the console's history into context, Sony says it's also pushed out 11 major software updates to the PS4 since its launch back in 2013. And to top it off, the gaming giant is releasing a special console bundle later this month in honor of the milestone.
The Call of Duty: Black Ops 4 PS4 bundle will be available November 27 at participating retailers nationwide for $299.99 in the US. It includes a jet-black 1TB PS4 system, a matching DualShock 4 wireless controller, and Call of Duty: Black Ops 4. As part of a fun look back, Sony put together this infographic of key stats which also reveals the console's best-selling titles: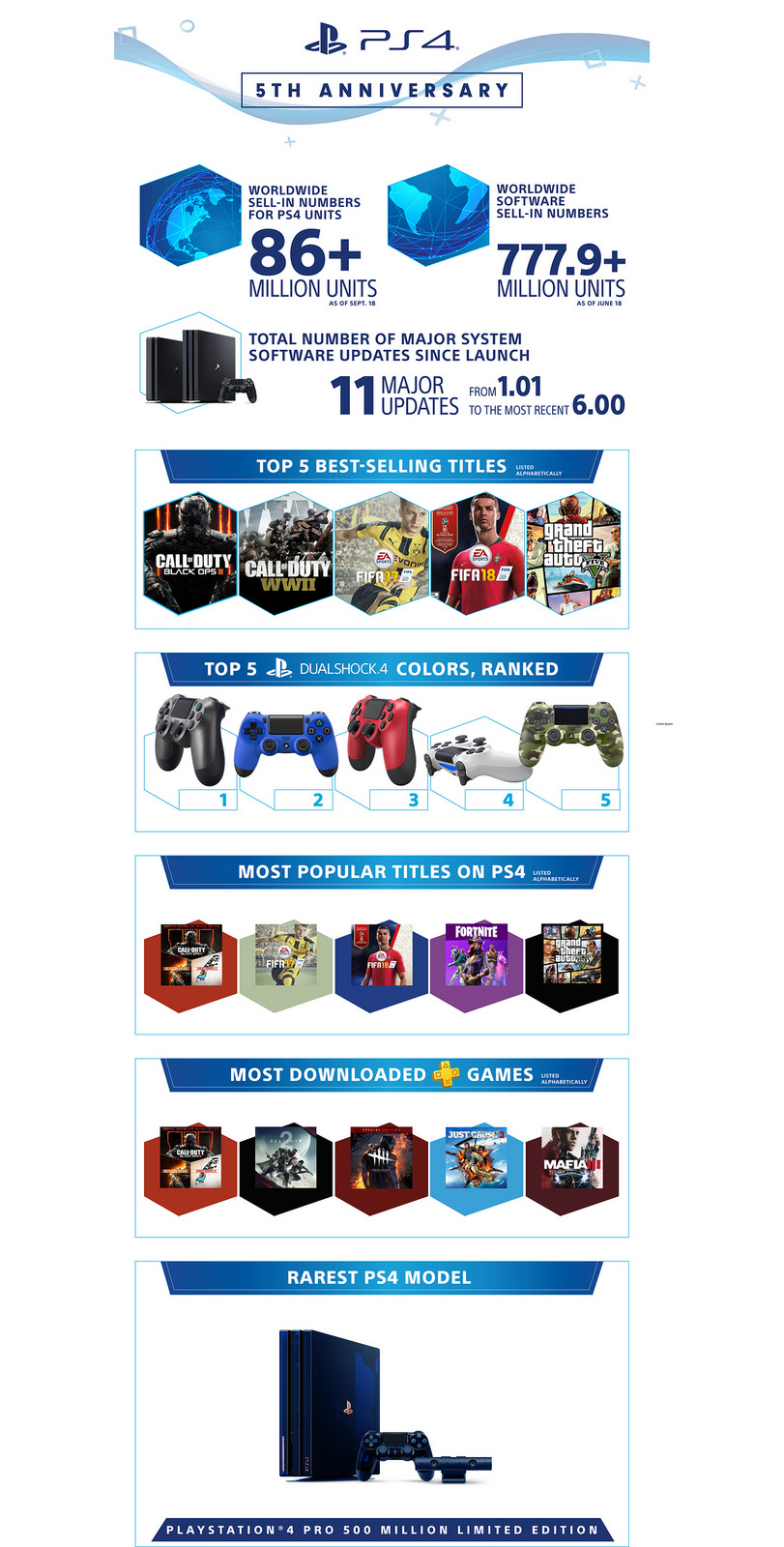 In honor of the console's birthday, Polygon decided to re-review the system. Five years in — and in an age when we keep hearing that question over and over, about whether the console era has passed — you might be surprised at where this review lands: "In an age of affordable PCs and ubiquitous smartphones, you can certainly argue that dedicated video game consoles have become less relevant. But as a machine for playing the best games, the PlayStation 4 has gotten better and better over the course of the generation, to the point where even PC snobs have to pay attention to its swath of high-quality exclusives.
"For someone looking for a bit of everything on a console, PS4 is the best place to find it."