After watching the premiere episodes of Ahsoka, I was more baffled than disappointed or upset. The pace was slow, the dialogue was stiff, and it failed to properly introduce its characters to the viewers who weren't caught up on The Clone Wars and Rebels. Over the course of the next five episodes, hardcore Star Wars fans were treated to plenty of fan service as Hayden Christensen returned as Anakin Skywalker while Thrawn and Ezra Bridger made their live-action debuts, but it wasn't until the finale that I felt like Ahsoka really found its footing.
The biggest reason The Mandalorian has been so successful is that it felt fully baked right from the jump. The same is true – perhaps even more so – of Andor. But Ahsoka never really picked a lane, and it ended up accomplishing far too little in eight lengthy episodes.
Over the course of the animated series, Ahsoka not only became a fan favorite but also one of the most complex and interesting characters in Star Wars history. Sadly, in her own show, she is given short shrift, reduced to crossing her arms, spouting out pointless platitudes, and struggling to take down foes that should be pushovers for her.
The lack of character development was by far the biggest letdown for me. Even though I haven't watched all eleven seasons of The Clone Wars and Rebels, I do know a bit about Ahsoka Tano, Sabine, Ezra, Hera, and Thrawn. I was excited to see how Ahsoka creator and writer Dave Filoni would explore their growth since the end of Rebels, but the show was more interested in easter eggs and callbacks than adding a new dimension to these once-cartoon characters.
By the end of episode 7, I was rapidly losing interest as it became increasingly clear that Ahsoka had no plans to wrap up any of its storylines, but the finale did manage to salvage the series by making a crucial adjustment: Remembering Star Wars should be fun.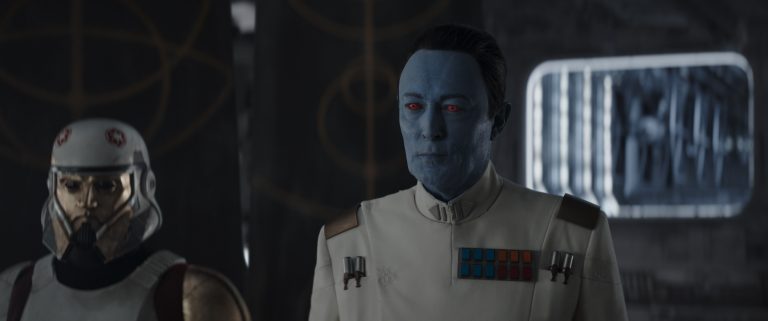 In "Part Eight: The Jedi, the Witch, and the Warlord," Filoni remembered that he had access to a whole collection of Jedi, lightsabers, lasers, spaceships, soldiers, and witches. And, at long last, he emptied the box of toys and had them go to war with each other.
Ezra built a new lightsaber, Sabine combined her Mandalorian fighting prowess with her Jedi training, and Ahsoka reminded us she's one of the most powerful Force-wielders in any galaxy. Meanwhile, Grand Admiral Thrawn exhibited his tactical brilliance, Morgan Elsbeth was granted the Blade of Talzin, and the Great Mothers used their powers to repeatedly raise Thrawn's army of Night Troopers from the dead. It was a thrill ride from start to end, which only made me more confused about why this needed to be a series in the first place.
More so than any other Star Wars series, I think Ahsoka should have been a movie. This story needed more focus and urgency. Of course, this is all leading up to Dave Filoni's movie, which will merge and conclude the stories of all the Mandoverse shows, but it didn't need to be such a chore to get there. I can only hope that Filoni and Lucasfilm learned a few lessons while making Ahsoka that will help to put the franchise on a better footing in the future.