The Coachella Valley Music and Arts Festival has streamed on YouTube since 2011, but for this year's edition of the festival, YouTube is upping its game with even more content. For the first time, YouTube will stream from every stage across both weekends with six live feeds. No matter which artist you want to watch, YouTube has you covered.
How to watch Coachella 2023 on YouTube
There will be double the number of feeds available on Coachella's YouTube channel this year, so you can jump between several stages at will and try to catch as many live performances as possible. In between sets, the streams will feature "on-the-ground coverage of the art, artists, installations, behind-the-scenes Shorts moments and more."
The weekend one livestream kicks off at 4 PM PT / 7 PM ET on Friday, April 14 and runs until Sunday night, April 16. The livestream for weekend two will begin at the same time on Friday, April 21 and run through Sunday, April 23. The streams are already up on YouTube, and you can hit the "Notify Me" button on any of the videos to set a reminder for yourself.
Here are the links to all six of the Coachella 2023 livestreams for the first weekend:
Some of the top artists attending this year's festival include Bad Bunny, Gorillaz, BLACKPINK, Frank Ocean, Björk, Burna Boy, boygenius, Kali Uchis, and Charli XCX.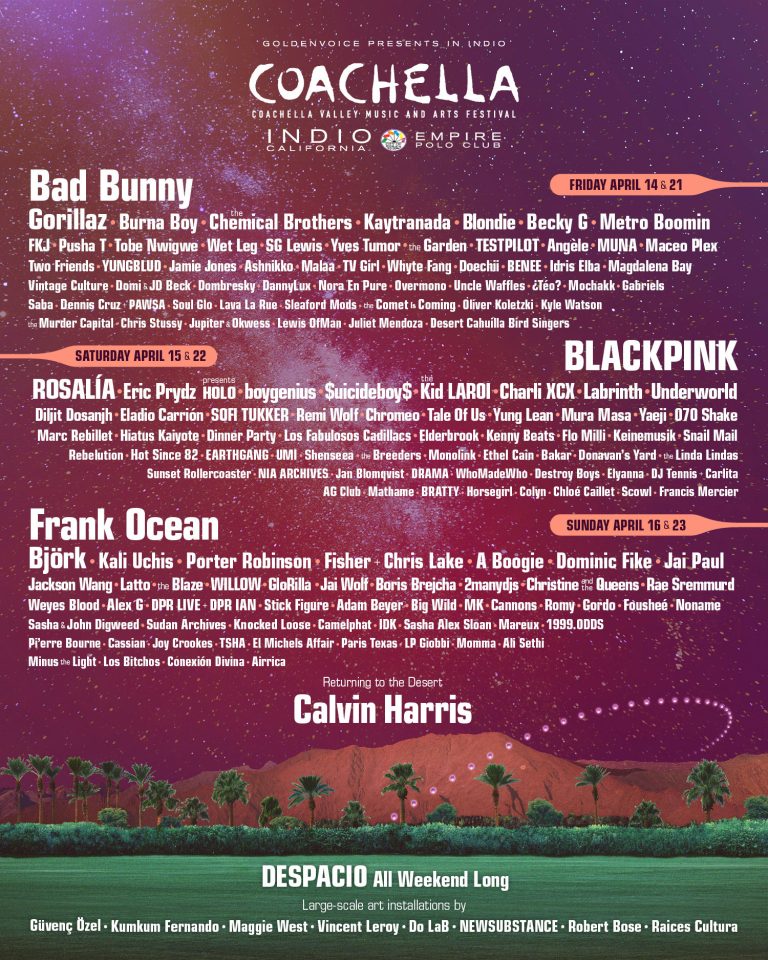 If you miss any artists, the festival sets will be on repeat from the time the last performance of the night ends until the show picks up the next day. There will also be highlights from the sets made available on demand over the course of the two weekends.
"We will be there capturing all the can't miss moments and sharing them with fans around the world via YouTube Shorts and across the platform so everyone gets the chance to experience the fun," says the YouTube team. "From high-quality performances and exclusive merch drops on Coachella's YouTube channel, to on the ground actions with Artists, Creators and fans – exclusively on Shorts -and so much more…. it's all happening on YouTube!"