Almost a month ago, we heard speculation that Deadpool 3 might see another release date delay due to the actors' strike. The writers' strike did not significantly impact production. But once the actors went on strike, it meant that Marvel could not continue shooting the sequel.
Disney has now seemingly confirmed that a Deadpool 3 release date delay is in the cards. The company released its earnings report for the third quarter of the fiscal year 2023. There's no release date for Deadpool 3 in it, even though it was just months ago that Disney and Marvel announced the movie.
Before we go any further, I'll warn you that some spoilers might follow.
Deadpool 3 has been quite a rollercoaster ride when it comes to a firm release date. Initially, Ryan Reynolds announced a September 6th, 2024 premiere. But soon after that, Marvel pushed it back to November 8th.
In a surprising development, Disney and Marvel changed the Deadpool 3 premiere date again about two months ago. They settled on May 3rd, 2024, which had been the release date for Captain America: Brave New World.
It's the strikes
I said at the time that Deadpool 3 has to be a major Multiverse Saga story for Marvel to push up the release date. Either that or VFX work on the Hulks that might show up in Captain America 4 would require additional time.
Back in mid-July, reports said that Marvel could afford a break of about a month before having to delay the Deadpool 3 premiere. After seeing the Secret Invasion Disney Plus TV Show, I realized that a longer break might work in Marvel's favor. We need Deadpool 3 to be a great story for the sake of the franchise and the entire MCU.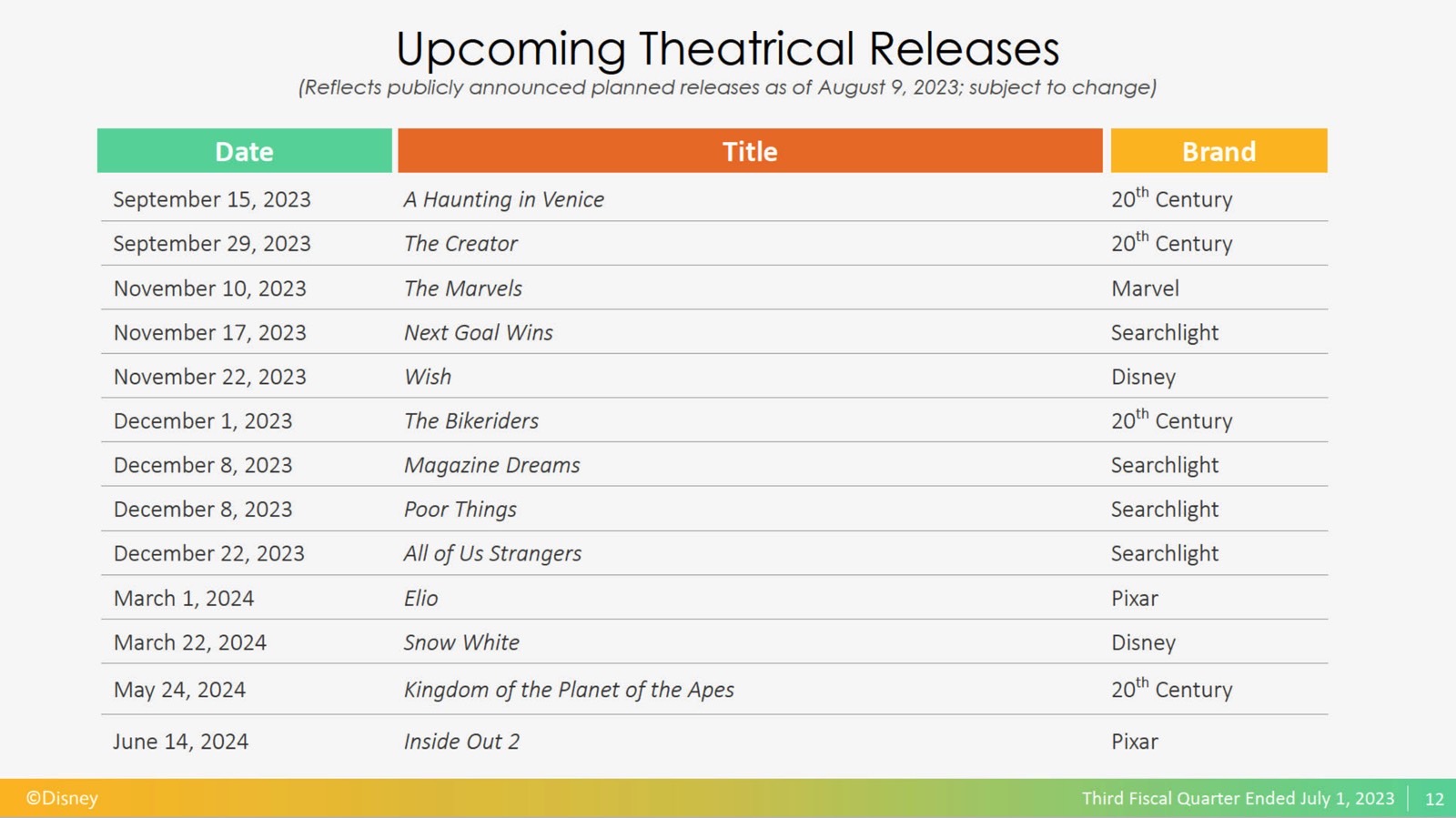 Fast-forward to Disney's earnings report this week, and we got the slide above. There's only one Marvel picture in the schedule, The Marvels, which will keep its November 10th, 2023, release date.
I did see speculation that Disney might want to push back the Captain Marvel sequel if the strikes go unresolved for several months. It appears Disney isn't considering it just yet, but that might always change.
Other than The Marvels, there are no Marvel projects listed above. There's no Deadpool 3 or other MCU movie set to premiere next year.
The slide says the information "reflects the publicly announced planned releases as of August 9th, 2023." But that's not quite so. The schedule covers 2024 releases from Disney, Pixar, and 20th Century. But not Marvel.
What about Disney Plus Marvel shows?
The slide does note that the schedule is subject to change. That means Deadpool 3 could still make its May 3rd, 2024, release date. But, at this point, it might be better for Disney to focus on offering writers and actors better deals. And then give the Deadpool 3 team all the time it needs to finish the project.
I'll also note another somewhat troubling update from the same Disney schedule. The following slide has no release date for Loki season 2. Disney already announced an October 6th release for the project, so this is troubling. And there aren't any other Marvel releases listed on the slide.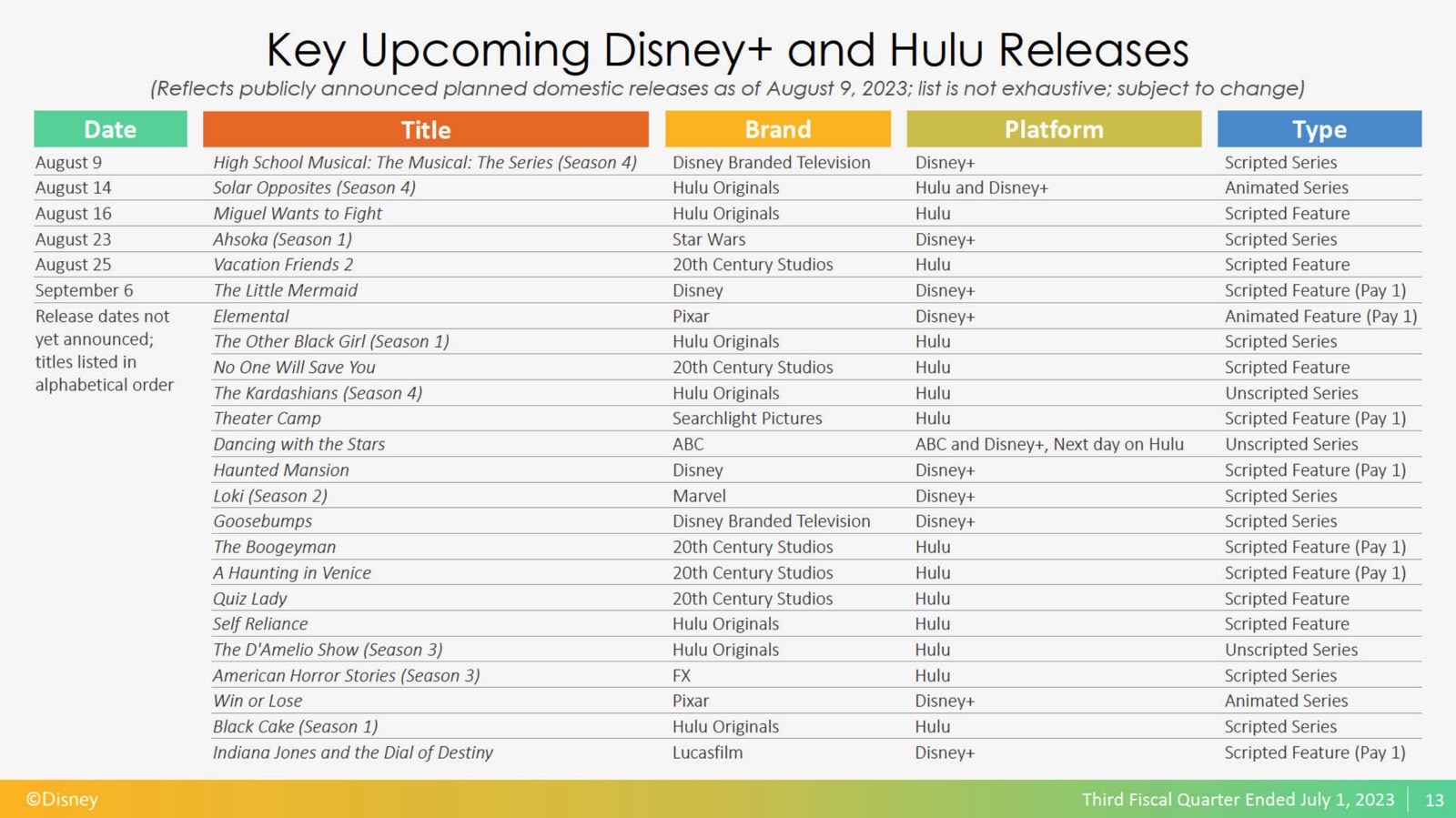 This schedule is also subject to change, and there's no indication that Loki will see additional delays. I say additional because we were initially told that season 2 would premiere this summer. Clearly, that's not the case.
A Deadpool 3 release delay seems more likely than a Loki season 2 delay. But we'll just have to wait and see whether Disney makes any new announcements.