It wasn't very long ago that we told you how Disney let a huge Captain Marvel spoiler slip out, and that's the identity of Jude Law's character in the movie. Soon after that, we saw a second leak on the matter that seemed to explain why Disney and Marvel are trying to keep this particular secret. Now it appears as though Marvel slipped up as well, and fans are definitely going to be interested in this big spoiler.
Captain Marvel will be released in less than a month, and Marvel just set up an incredibly annoying mini website for the movie that also happens to be perfect. This monstrosity looks just like an old '90s website, and there's a good chance it will hurt your brain right as you scroll around. But those of you who happened to have been online back in the '90s will understand and appreciate where Marvel is coming from. As I said, it's a brilliant idea meant to further make it clear to fans that the film is a prequel to almost everything that has happened in the Marvel Cinematic Universe so far.
The website is also a great resource for fans, as it offers all the information you need about the film and the plot. What's interesting about the site, however, is that it also includes a big spoiler: The identity of Jude Law's character. As eagle-eyed Jeremy Conrad from MCU Cosmic observed by accessing the site's source code, a GIF file for Jude Law had the name "marvell," but the alt-text labeled the image as "Captain Mar-vell," as seen in the following image:

Previously, Disney identified him as "Mar-Vell, the leader of Starforce," before removing Mar-vell from that caption. A subsequent leak said that Yon-Rogg is the leader of the Starforce team. Now, Law's character is referred to as "Captain Mar-vell." It looks like the reference has now been removed from the site's code, but the little GIF is still there if you follow the path above, and it looks like this: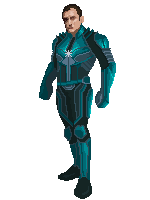 Conrad speculates that "Captain Mar-vell" may be the title for the leader of the Starforce. That's how Jude Law may be playing both roles, as was previously speculated. He's Yon-Rogg, whose title happens to be Captain Mar-vell. Once he's exposed for who he really is, Carol Danvers will assume the Captain Marvel title, under the new spelling.
This is just speculation, of course, but it makes plenty of sense. The film will explain everything on March 8th when it launches in theaters around the world. Meanwhile, Captain Marvel's IMDB page says that Jude Law plays Walter Lawson and Mar-vell, but almost anybody with access could alter that page.