Barring a couple of exceptions, next week represents quite a dry patch in terms of new Netflix releases worth getting excited about — which is something I suppose we can chalk up to the effects of the protracted Hollywood strikes that resulted in significant delays and even cancellations for streamers across the board. Whatever the reason, though, once you're finished bingeing the previous week's biggest Netflix releases (like Scott Pilgrim Takes Off and part one of The Crown's sixth season), there's almost nothing new from the streaming giant over the next several days worth getting excited about.
Unless, that is, you were a Squid Game fan, in which case next week's 10-episode Squid Game: The Challenge definitely ought to be high on your watch list. For the rest of you, Adam Sandler also has a cute animated Netflix movie out next next week in which he voices an adorable lizard named Leo (it's coming on Nov. 21, and you can read more about it in our separate post here).
The Squid Game series, meanwhile, is a reality competition version of the hit Korean drama — minus all the, ah, gruesome killing. And we'll walk through everything you need to know about it below.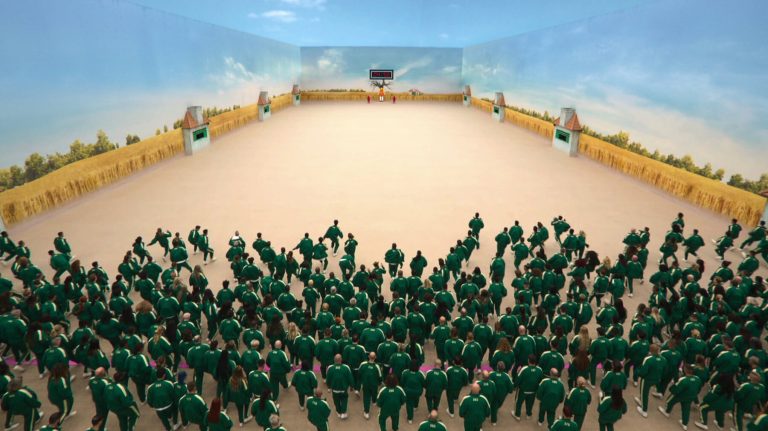 Four hundred fifty-six players begin the competition in pursuit of a reward equivalent to $4.56 million, which we should point out is the largest cash prize in the history of reality and game show TV. "As they compete through a series of games inspired by the original show — plus surprising new additions — their strategies, alliances, and character will be put to the test while competitors are eliminated around them," explains the official Netflix synopsis.
The show will include games that are familiar to Squid Game fans — such as Red Light, Green Light, ushered in by the animatronic doll Young-hee — as well as new surprises that are deployed and which lead to eliminations. It should also be noted, however, that as Netflix releases go, Squid Game: The Challenge has also been among the streamer's more controversial. Former contestants told Rolling Stone, for example, that the game was filled with "trauma" and was "inhuman," also accusing it of being rigged in favor of the influencers among the contestants.
The original show, Netflix goes on, consisted of a "brutal premise, but it's one that forced everyone who watched to consider what they might do if faced with the same dilemma. Friendships are betrayed, enemies emerge, and the characters reveal themselves to be complicated individuals with a series of impossible choices to make.
"In other words, it kind of sounds like a great reality show."
The Squid Game: The Challenge episodes are rolling out as follows:
Batch 1 is coming on Nov. 22nd (5 episodes)
Batch 2 is out one week later, on Nov. 29 (4 episodes)
Batch 3 consists of the final episode, coming on Dec. 6
This is such a big release for Netflix, by the way, that it's opening a new immersive experience in Los Angeles (on the same day as the finale drops). "Squid Game: The Trials promises to transport you to the high-stakes Squid Game universe for a thematic IRL competition, complete with cutting-edge technology like no other," the company says. "After greeting the iconic Front Man himself, you will tackle a series of escalating challenges, accumulating points as you advance. The ultimate winner needs nerves of steel, cunning strategy, and a touch of luck. Are you up for the challenge?
"After conquering Squid Game: The Trials, you can unwind and celebrate at the Night Market, offering a wide array of Korean and international sweet and savory food items along with enticing beverages curated by Chef Katianna Hong, of award-winning Korean-Americana restaurant, Yangban."
The Squid Game experience opens for a limited-time run at 200 N. Fairfax Ave., and tickets start at $39. They can be booked at squidgamethetrials.com.