Secret Invasion episode 5 is now streaming, providing key answers ahead of the finale. While it delivers a few big reveals, including explanations for potential plot holes, episode 5 does little to improve the show's overall quality. Not that I expected Secret Invasion to get any better after the first half.
On top of that, the way that episode 5 ended, coupled with what we know about the MCU's immediate future, makes me think there's nothing in the Secret Invasion finale that can save the show or make it have any lasting impact on the greater MCU.
That aside, episode 5 is imperfect, and I find some of the plot choices Marvel made absolutely annoying. Before I explain, you should know big spoilers follow below.
Avengers DNA
Ok, this is the biggest reveal from Secret Invasion episode 5. The item that the Skrulls have been trying to get all along is a vial containing the DNA of all Avengers.
Long story short, Nick Fury (Samuel L. Jackson) came back after the blip, and the first thing he did was to reactivate his secret cell of Skrull spies to collect the DNA of all the Avengers that were hurt during the big Battle of Earth at the end of Endgame.
Wait, what? Why did Fury do that? And then he just left the planet for the better part of the three years that followed because the events in Infinity War and Endgame shook him to the core?
I'd love Marvel to explain to me like I'm a five-year-old how you collect blood samples from Avengers from a terrain that's so contaminated with all sorts of blood and residue of extremely dangerous weapons. Remember that Thanos (Josh Brolin) rained so much fire on that battleground.
Rather than show us a Skrull transforming into James Rhodes (Don Cheadle) after three episodes that provided clear evidence that he's a Skrull, we could have used an episode that would focus on all that.
Sure, there must be alien technologies that will let you extract DNA like that. Maybe human tech from Tony Stark (Robert Downey Jr.). But you can't just drop this Incredibly-Super Soldier Serum and not explain more.
Also, who was Fury working for in Infinity War and Endgame? Clearly, he was an employee of the US government.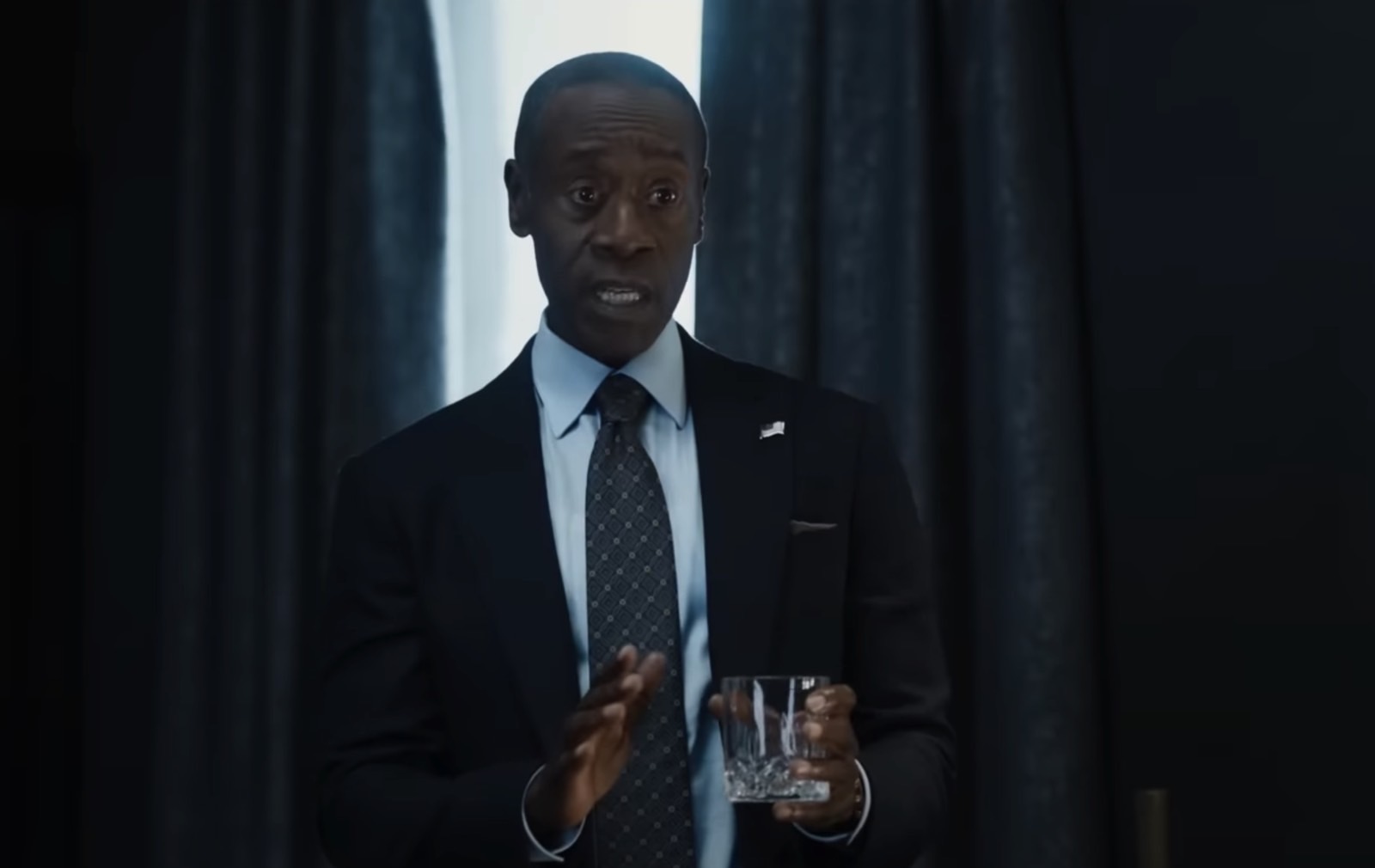 Why did Skrull-Rhodey let Fury go?
Fury saved the life of the US President in episode 4, but he's about to be framed for Maria Hill's death in episode 1. Rhodey made sure of that on new orders from Gravik. The Skrulls no longer want to kill Fury, as they realize only he knows the location of the Avengers DNA.
But Rhodey's staff has Fury at gunpoint early in Secret Invasion episode 5. About a dozen Secret Service agents point their guns at Fury, yet they let him go. They might all be Skrulls, of course. In this case, the scene makes sense.
If they're not all Skrulls, how would you justify letting Fury get away to the human Secret Service agents? When he just put a gun to Rhodey's head. And when he is the main suspect in the murder of Maria Hill in Russia.
Why don't the Skrulls replace the president?
Say all the Secret Agents around Rhodey are Skrulls in that hospital scene, which is the only reasonable scenario for Fury walking away free. Why aren't they imitating the president of the US? President Ritson (Dermot Mulroney) is injured, and he's easy prey.
Instead, we have Skrull-Rhodey trying to convince the president to nuke a place in Russia. A Skrull-President could just do it. This is a bigger plot issue of the entire season. The Skrulls fail to replicate several key officials. And they could also have replaced Fury early on as well.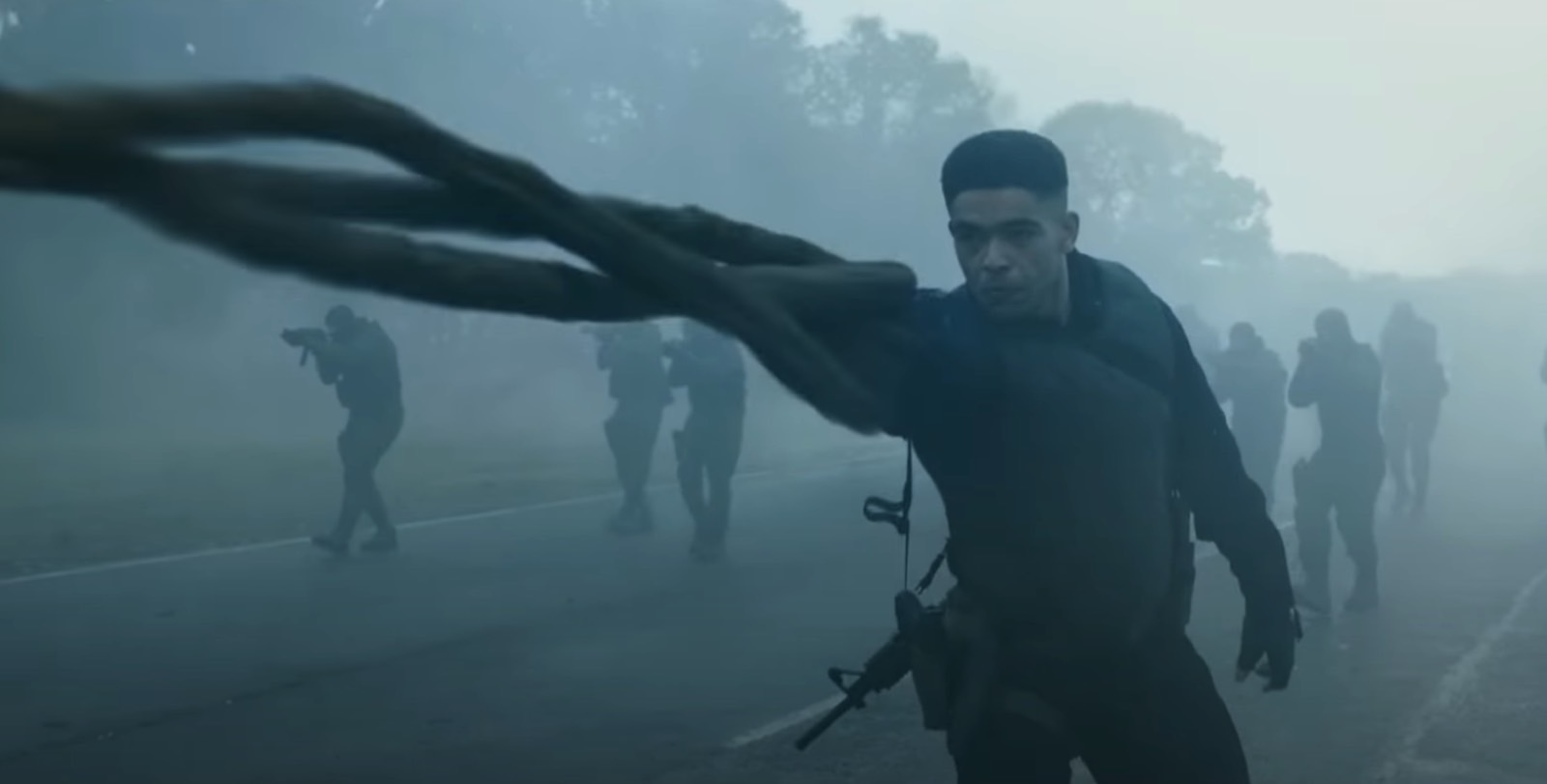 The instantaneous travel
The events in Secret Invasion happen over the course of a few days. And the thing I hate most about it is the ability of the Skrulls to seemingly travel from Russia to the UK and back instantaneously.
Episode 5 is the last proof of that. Gravik (Kingsley Ben-Adir) faces a mini-Skrull mutiny at home as he returns from the failed mission in episode 4. And the previous episode, G'iah (Emilia Clarke) quickly traveled to meet her now-dead dad, Talos (Ben Mendelsohn).
Do the Skrulls have access to their own jets? It would make sense if they did. It would also make sense if they had access to lots of cash to fund this human habit of quickly traveling between Russia and the UK and back.
How does one steal dead aliens?
Talos dying in the attempt against the US President means everyone saw him turn into a Skrull. Once dead, you'd expect the US government to take that body to some secret facility where they'd get to study him. After all, the world is on high alert about aliens since the events in Infinity War and Endgame.
But no, Fury somehow managed to get Talos's body so G'iah could bury her father. Marvel could have provided an explanation that could have made sense. No matter how logic-defying it would have been.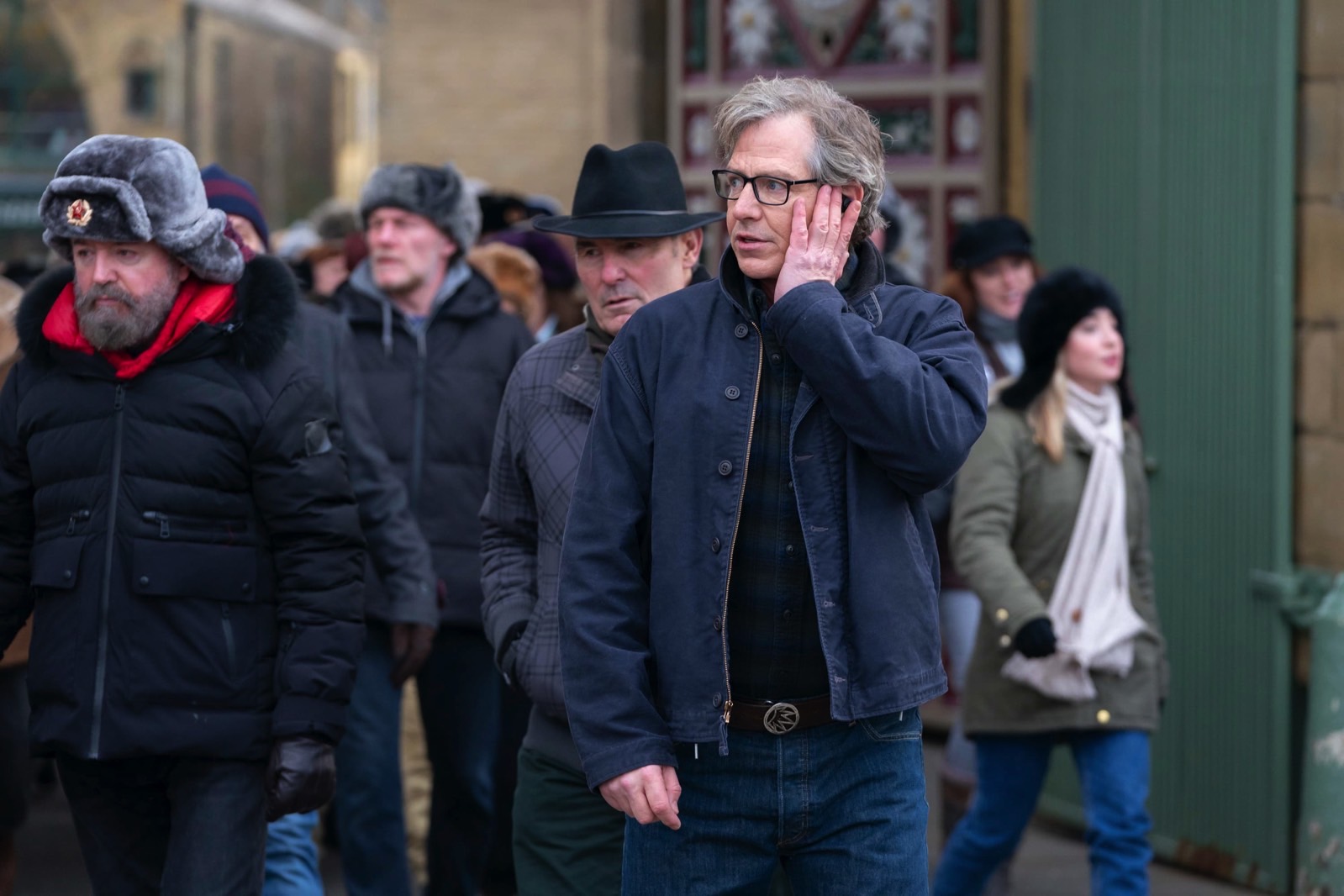 The Skrull counter-rebellion
Gravik has a big disagreement with his soldiers after the failed attempt on the US President's life. This is a great development for the story, showing that not all Skrulls are that sympathetic to this cause. That they're not so radical as Gravik.
But it would have been a lot better to see this dissent growing since episode 1. It would make the imminent defeat of Gravik easier to swallow. And that defeat is coming during the Secret Invasion finale.
After all, Fury put on his patch, which means he's back to the good old Fury. And Fury will totally beat Gravik and end the secret invasion come episode 6.
Fury's embarrassing hiding place
I get that Fury is paranoid about the Avengers DNA vial to hide it in a fake tombstone protected by high-tech biometrics authentication. But using the same sort of tech to hide his iconic coat, patch, and guns is overkill.
Yes, symbolically, this has tremendous value. Fury is getting back to his former self to fight Gravik head-on. But one would think Fury could have had his costume stored anywhere else in the world. And that a sophisticated safe would contain more advanced spy stuff. Like the kind of weaponry that you could use against alien invaders. Not Skrulls, necessarily.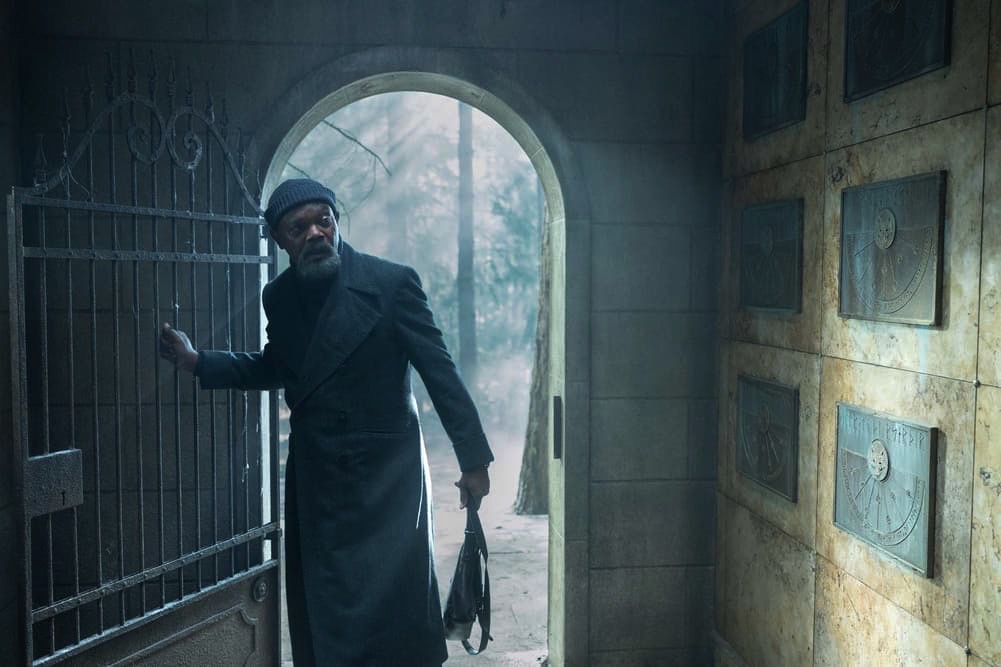 How do you identify Skrulls infiltrators?
Five episodes in, and we still don't have some sort of understanding between the good guys on how to identify themselves as humans. Or how to detect shape-shifters.
How did Sonya Falsworth (Olivia Colman) know that her service was infiltrated at the top? How does Fury trust her when they meet? And if Fury trusted her before, why not inform her that Rhodes is a Skrull?
Why isn't anyone brainstorming ideas on how to identify Skrulls? It would be pretty difficult to do it, of course.
Where are the Avengers?
Secret Invasion episode 5 again addresses the Avengers via dialogue, which is done well. It's a great day to address the elephant in the room and avoid plot holes. Fury doesn't want to call the superheroes because he thinks this is his fight.
But there is no Avengers team anymore. What we do have are superheroes that are very powerful. Heroes that could intervene on their own when seeing Fury on TV, potentially being framed for murder when they learn of Maria Hill's (Cobie Smulders) death.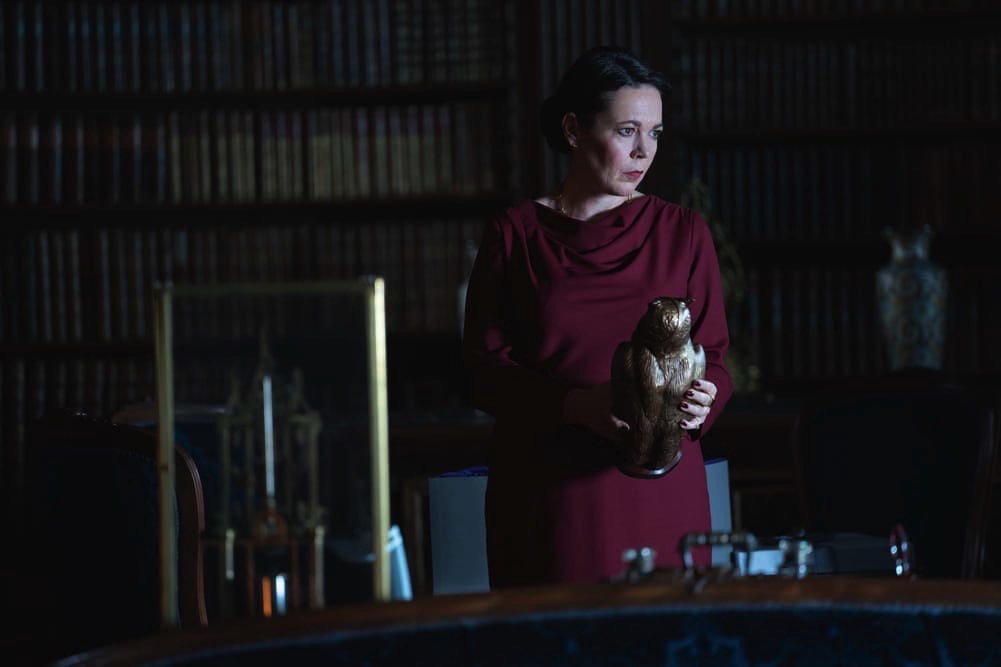 One might use a second dialogue to convey the interest of these superheroes to intervene. Maybe Sam Wilson (Anthony Mackie) calls Rhodey, especially after the attempt on the president's life. To ask whether he should come to Europe and bring some friends.