If you purchase an independently reviewed product or service through a link on our website, we may receive an affiliate commission. Learn more.
Look, we're going to cut right to the chase on this one because there's a very good chance it's a big mistake. As with all mistakes like this, Amazon will honor the price if you get in on the action before it's fixed. In this particular case, a $30 on-site coupon you can clip slashes the Nintendo Switch with Gray Joy-Con to $269.99, and then the promo code D3E2CDJ6GB6S gets you another $30 credit.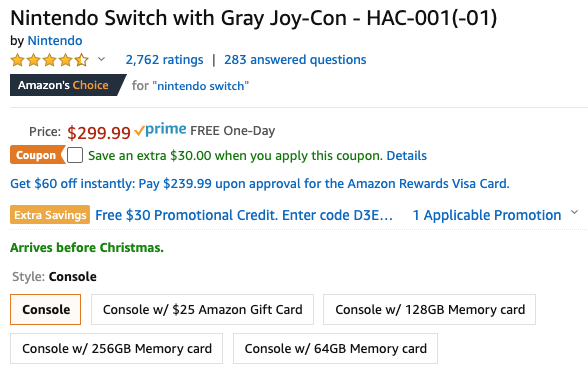 That effectively drops the price of the Switch to $239.99, which is completely unheard of. One of two things are about to happen: either Amazon will fix the mistake and one of those $30 promotions will disappear, or the Switch will sell out within an hour or two. Either way… HURRY!
Once this deal inevitably sells out or the mistake is fixed, you can still get a $30 Amazon credit on this Switch or the Nintendo Switch with Red and Blue Joy-Con, and both models are the new and improved versions of the Switch with better battery life.
Here's more info from the product page:
Play your way with the Nintendo Switch gaming system. Whether you're at home or on the go, solo or with friends, the Nintendo Switch system is designed to fit your life. Dock your Nintendo Switch to enjoy HD gaming on your TV. Heading out? Just undock your console and keep playing in handheld mode

This model includes battery life of approximately 4.5 to 9 hours

The battery life will depend on the games you play. For instance, the battery will last approximately 5.5 hours for The Legend of Zelda: Breath of the Wild (games sold separately)

Model number HAC 001(01)