If you purchase an independently reviewed product or service through a link on our website, we may receive an affiliate commission.
Nobody has ever lived in a home and not wanted other people to think it was a nice place. Taking pride in your home is what it means to be a homeowner and there are plenty of ways to do that. You can put new coats of paint on your walls or you can redo the floors or carpets. While some tasks are going to be more involved than others, there are things you can do to add to the aesthetic of your home quickly. When it comes to your windows, you can get blinds, curtains, and you can also add valances. A valance is a decorative piece of fabric that you put at the top of your window for some more flair. This adds a little bit of extra style to your windows and can even block out some sunlight. Everyone's taste is their own but if you like the look of a valance, there are options on the market. We've highlighted five of our favorites to provide you with more decoration choices. Let's take a look at our picks for the best valances for your windows.
Match your valance to your home aesthetic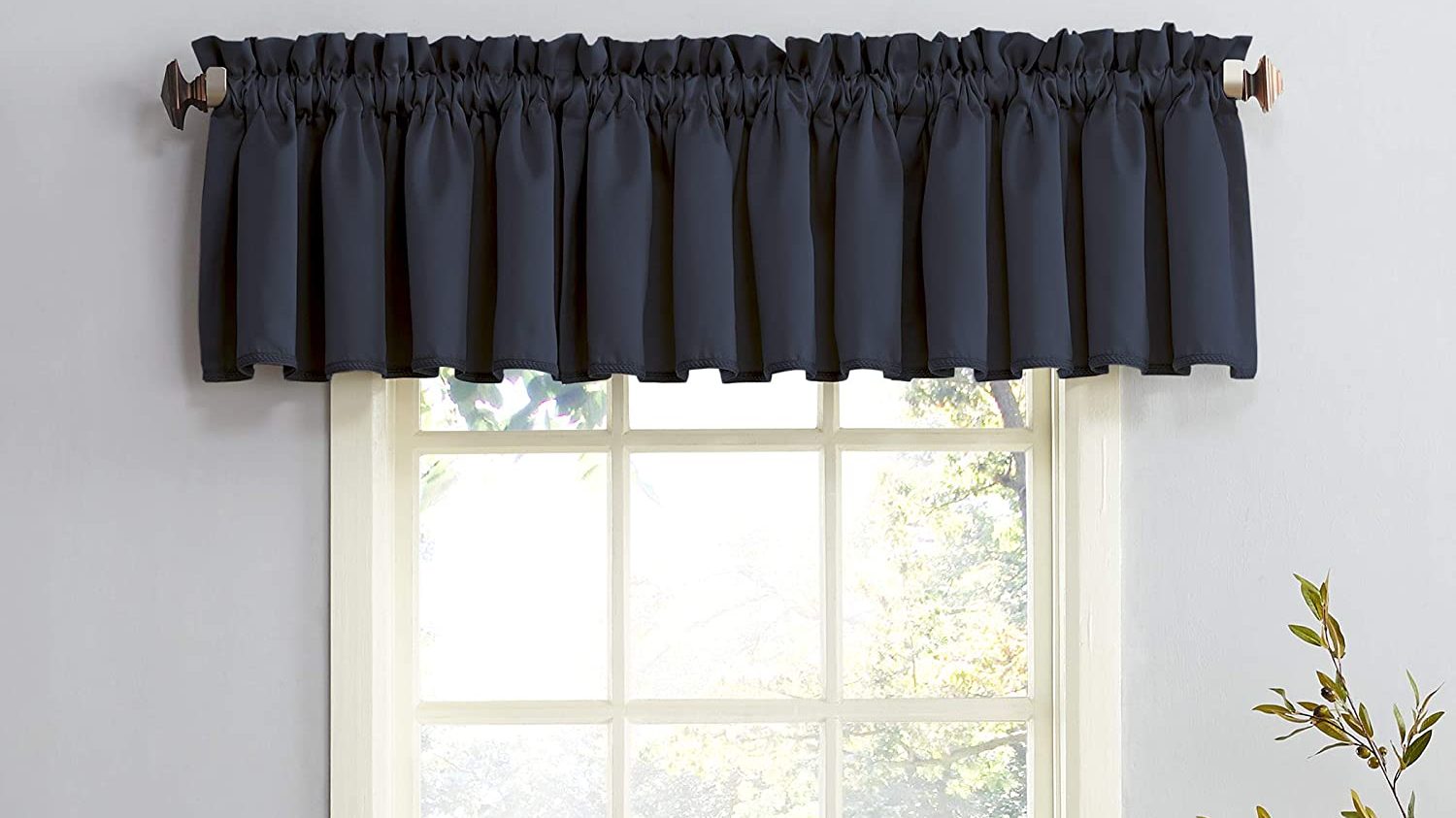 In order to have a valance that looks nice in your room, you're going to need one that matches the color scheme. With 19 options to choose from, the Sun Zero Barrow Energy Efficient Rod Pocket Curtain Valance is a good buy. These are made from 100% polyester and they are imported. The different colors you can pick are black, blush pink, brick red, chocolate brown, everglade green, flax yellow, mineral green, navy blue, plum purple, sage green, steel gray, stone beige, taupe brown, vintage blue, pink, mocha brown, gray, coral, and purple. The valance has room darkening technology to block out some unwanted light while enhancing privacy while also boasting an energy-efficient design that reduces energy lost through windows by 25%. This will fit windows that are 54″ x 18″ and the built-in rod pocket fits curtain rods 1.5″ in diameter.
Sun Zero Barrow Energy Efficient Rod Pocket Curtain Valance, 54" x 18", Navy Blue
List Price:
$19.99
Price:
$5.99
You Save:
$14.00 (70%)
Available from Amazon, BGR may receive a commission
Fit your wider window
Offering extra reach, the Achim Home Furnishings Darcy Window Curtain Valance comes in a grey/white color. This is made of 100% polyester for a strong and durable feel. This will last a long time in your window and provide you with some blocking of sunlight. It stretches 58″ wide and 14″ downward, allowing you to cover more of your window. It only weighs 8.8 ounces and the rod pocket is almost 2″ in diameter. You'll need to purchase a curtain rod on its own.
Achim Home Furnishings, Grey/White DRVL14GW12 Darcy Window Curtain Valance, 58" x 14"
List Price:
$17.49
Price:
$10.60
You Save:
$6.89 (39%)
Available from Amazon, BGR may receive a commission
Keep out any unwanted looks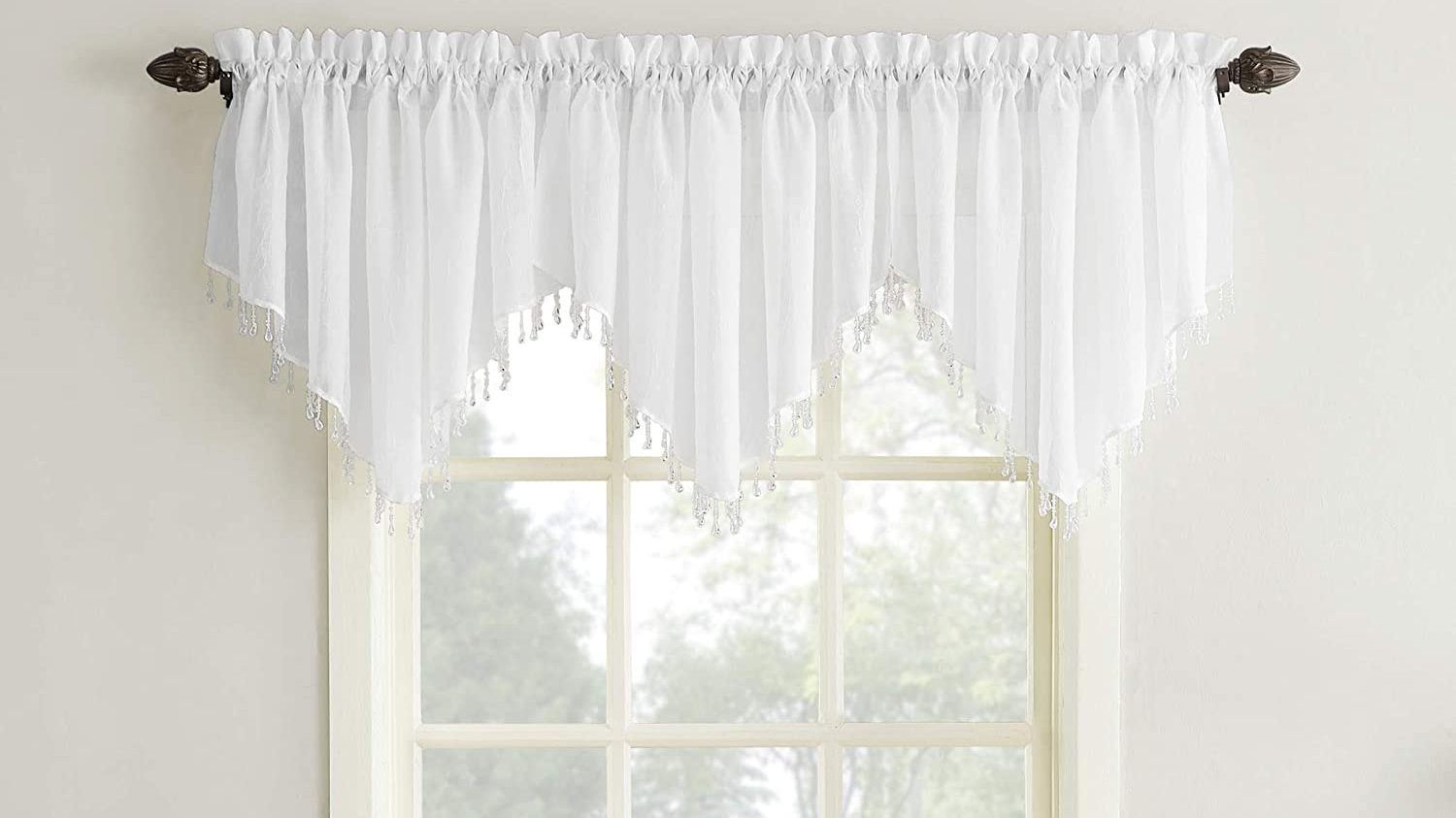 Draping down more than our previous valances, the No. 918 Erica Crushed Texture Sheer Voile Beaded Ascot Rod Pocket Curtain Valance hangs a little lower. Made from crushed sheer voile fabric, it has a lovely texture to it that's designed nicely. It measures 51″ x 24″, so you'll get some more coverage than other ones. This gently filters light while enhancing privacy in your rooms. You can choose between 15 colors to better match your scheme and interior decoration. The rod pocket design allows for easy hanging on a standard curtain rod. It is machine washable, so if it's getting dirty, you can wash it.
No. 918 25909 Erica Crushed Texture Sheer Voile Beaded Ascot Rod Pocket Curtain Valance, 51" x…
List Price:
$19.99
Price:
$9.99
You Save:
$10.00 (50%)
Available from Amazon, BGR may receive a commission
Hide the sun and keep it darker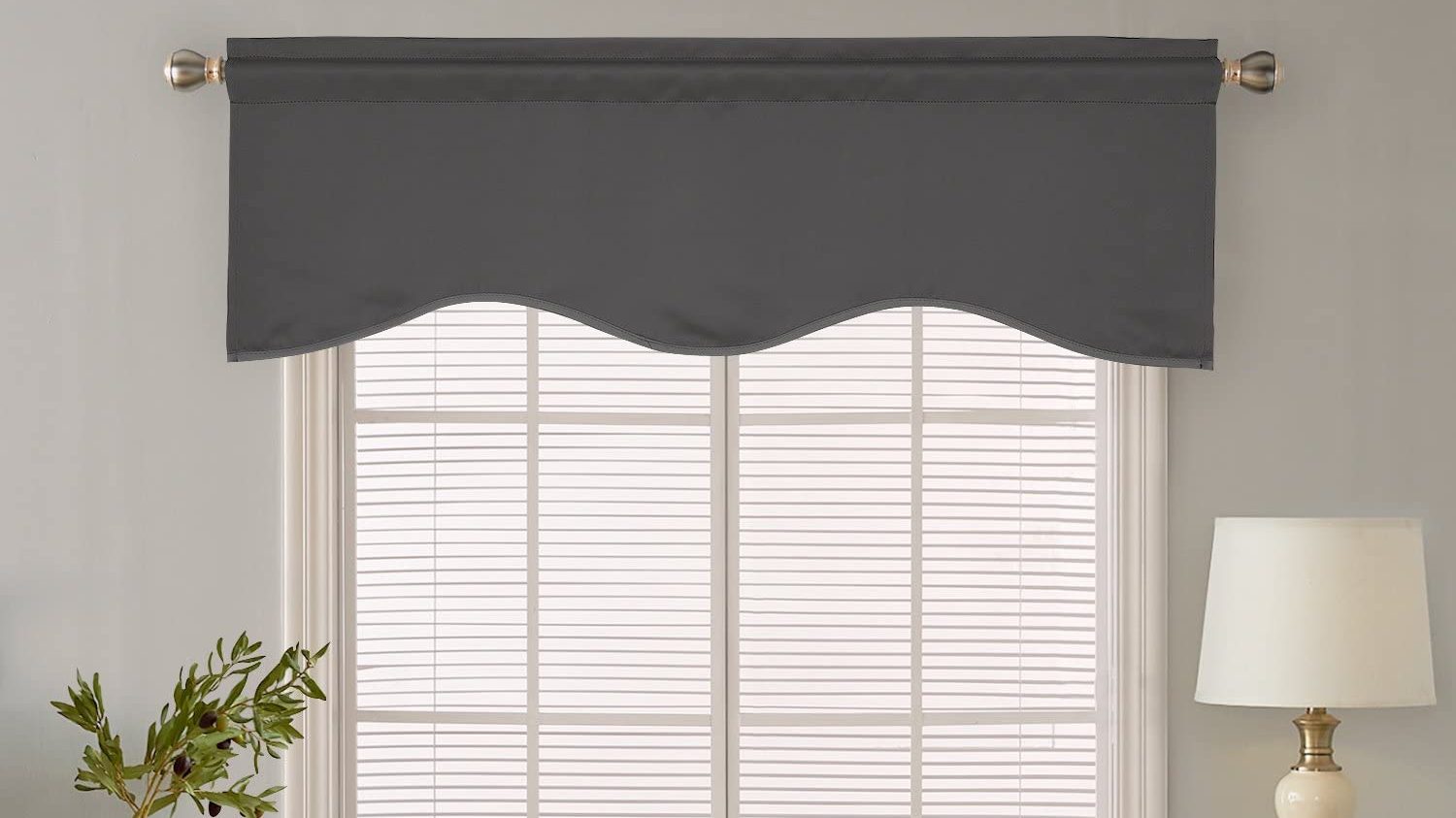 Keep unwanted light out of your home with the help of a Deconovo Scalloped Valance. These feature a classic design as the short, scalloped panels of drapery give a new look to your windows. You can choose between 42″ x 18″ or 52″ x 18″. The window valances are made from 100% high-quality polyester that blocks light from coming in. These will match your curtains perfectly and add to the coziness of the atmosphere. They have rod pockets to ease the panel hanging on and removing from standard or decorative curtain rods. There are 17 colors to choose from to easier match your rooms.
Deconovo Scalloped Valances for Living Room, Blackout Window Valances for Kitchen, Rod Pocket S…
Price:
$11.99
Available from Amazon, BGR may receive a commission
Give your room some flair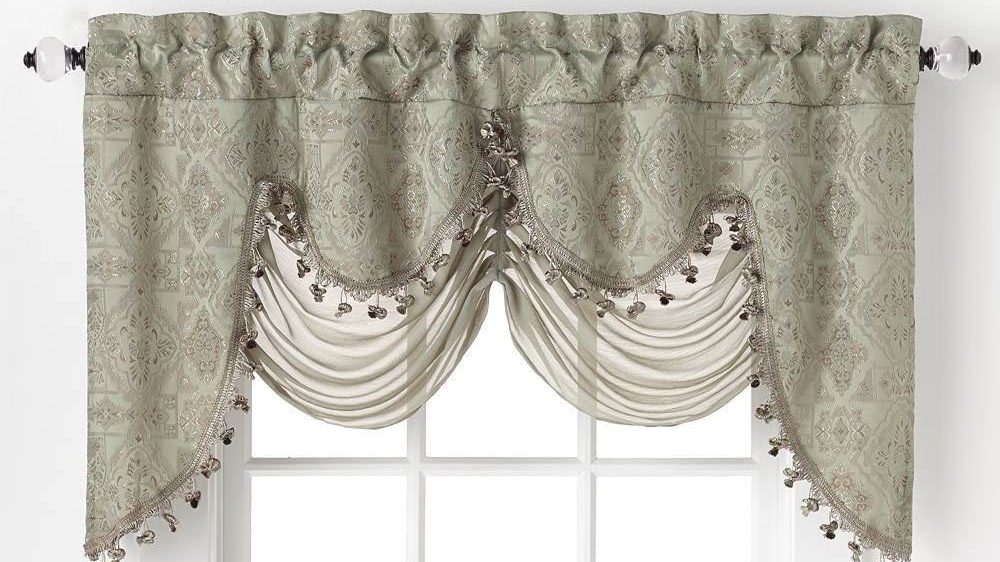 Adding more elegance to your home, the GoodGram Ultra Elegant Clipped Jacquard Georgette Fringed Window Valance is excellent for decorations. It measures 52″ x 28″ because of the beads and fringed design. It is made from 100% polyester and comes in 10 different color variations: beige, blue, burgundy, gold, purple, sage, silver, spice, turquoise, and white. These are dry clean only, so you would need to be extremely careful with the beads and tassels. You'll get one valance per package, so if you need more than one, you'll need to buy another.
GoodGram Ultra Elegant Clipped Jacquard Georgette Fringed Window Valance with an Attached Sheer…
List Price:
$24.99
Price:
$17.99
You Save:
$7.00 (28%)
Available from Amazon, BGR may receive a commission