If you purchase an independently reviewed product or service through a link on our website, we may receive an affiliate commission.
It's probably not in your best interest to grab a piping hot pot or pan without any sort of protection. While you could opt for a classic oven mitt, oftentimes you just need something quick and easy to slip on — something you don't have to repeatedly take on and off. In this case, a potholder is best. All you have to do is simply grab said pot holder and you're free to pick up anything that would be otherwise too hot to handle. While you might be inclined to just grab a simple dish towel, they oftentimes don't have the same level of protection a potholder possess. After all, they're literally made for this type of thing. As such, we decided to look at some of the best potholders on the web, so that you can get the proper protection when cooking, baking, or simply reheating food. Check out what we managed to scrounge up.
Best Overall Potholders
For starters, you can't go wrong with the Ritz Royale Collection 100% Cotton Terry Cloth Pot Holder Set, which we believe is the best overall potholder set currently on the market. These potholders are made from high-quality 100% terry looped cotton that can adequately protect your hands and kitchen surfaces from any sort of high heat. They're so adept at heat protection, in fact, that you will barely feel any sort of heat at all when you grab your pots and pans. They're also pretty versatile, as they come with a pocket that allows you to slip them on like you would oven mitts, and they're also super easy to wash and maintain. All in all, these standard 8.5" x 8.25" holders are a convenient and safe option for any of your cooking needs.
Ritz Royale Collection Terry Pot Holder/Hot Pad Set, Dew, 2-Piece, 2 Count
Price:
$11.99 ($6.00 / Count)
Available from Amazon, BGR may receive a commission
Best Potholders for Grip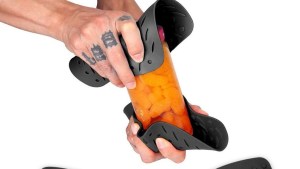 If grip is your number one priority, then you should opt for the Aibrisk Premium Silicone Pot Holder, which allows you to easily pick up a large number of hot kitchen items. This is more of a multipurpose kitchen tool than it is an actual potholder, as it's intense grip strength allows it to be used as a jar opener, spoon rest, Trivet or even as a garlic peeler. These 7″ x 7″ potholders are made from premium-grade silicone that is heat-resistant up to 450° F. They're sleek, flexible, and ultra-durable, giving you a versatile tool that you can use for all types of cooking needs — especially, grabbing hot pots and pans.
Aibrisk Silicone Trivet Mat Hot Pot Holders Hot Pads for Kitchen Non-Slip Heat Resistant Jar Op…
Price:
$11.99 ($3.00 / Count)
Available from Amazon, BGR may receive a commission
Best Potholder Coasters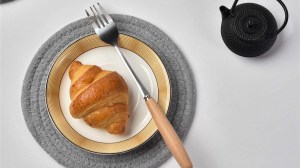 If you're looking for a set of versatile potholders that can also serve as "coasters" of sorts for your dishes and other dining materials, this 100% Pure Cotton Thread Weave Hot Pot Holders Set from Jennice House is an excellent choice. The full set includes three unique coasters with a 7″ diameter. They're made of a stylish and durable 100% cotton thread weave that's woven by cotton strings with eco-friendly colorization. Plus, these coasters are super thick and feature advanced heat-insulation so you can gran any sort of pan by without worry. And of course, they're super decorative on the kitchen table for any occasion, big or small.
Potholders Set Trivets Set 100% Pure Cotton Thread Weave Hot Pot Holders Set (Set of 3) Stylish…
Price:
$9.98
Available from Amazon, BGR may receive a commission
Most Comfortable Potholders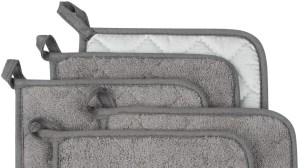 In terms of sheer comfort, these Lifaith 100% Cotton Kitchen Everyday Basic Terry Pot Holders are a home run. These potholders come in a wide array of colors, including basic shades of grey, black, and white, as well as more vibrant colors like Apple Green and brightly-toned Navy Blue. But where these potholders really shine are, again, through their comfort level. They're made from 100% terry looped cotton on one side, a heat-resistant silverstone lining on the other, and they're strategically quilted for advanced grip and texture. So for a set of potholders that are both effective and ultra-comfortable to the touch, these are the kitchen tools for you.
Lifaith 100% Cotton Kitchen Everyday Basic Terry Pot Holder Heat Resistant Coaster Potholder fo…
Price:
$10.99 ($2.20 / Count)
Available from Amazon, BGR may receive a commission
Most Stylish Potholders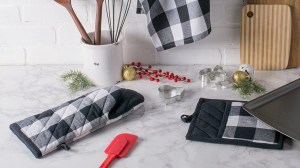 For something a little more decorative and stylish, you can't go wrong with a set of these DII Buffalo Check Plaid Pot Holders with Pocket. This set of two is available in an array of different color schemes, including black and white, light blue and white, and navy and cream, amongst others, which allows you to effectively match them with any type of modern kitchen interior. Plus, they work perfectly in conjunction with other parts of DII's kitchen collection, including dishtowels, aprons, and oven mitts. These checkered potholders contain convenient pockets and are a bit bigger than most of its competitors, with sizable dimensions of 9″x 8″.
DII Buffalo Check Kitchen Collection, Classic Farmhouse Kitchen Set, Potholder, Black & White,…
Price:
$8.90
Available from Amazon, BGR may receive a commission