If you purchase an independently reviewed product or service through a link on our website, we may receive an affiliate commission. Learn more.
We're going to help you wrap up the month of July on a positive note, with nine paid iPhone and iPad apps that you can download for free for a limited time. There are some great options on today's list, so be sure to check the out as soon as you can. The last thing you want to do to close out the month is miss out on some apps that you might have really enjoyed.
This post covers paid iPhone and iPad apps that have been made available for free for a limited time by their developers. BGR is not affiliated with any developers. There is no way to tell how long they will be free. These sales could end an hour from now or a week from now — obviously, the only thing we can guarantee is that they were free at the time this post was written. If you click on a link and see a price listed next to an app instead of the word "get," it is no longer free. The sale has ended. If you download the app anyway, you will be charged by Apple.
Pluskey
Normally $1.99.
Use Mini Calculator Keyboard to SAVE TIME !
*** No more swapping between apps to calculate! ***
for everyday math, super easy and fast.
Custom keyboard with a big and intuitive numpad for iPhone and iPad users only!

A must have keyboard

Percentage calculations in 1-click
Mathematical equations solved easily
The perfect calculation widget for you iPhone and iPad

Quick math calc for kids

+Plus Emoji icons merged into keypad

Simple easy to use calc

Easy keyboard features make operation an intuitive breeze:
– Swipe down to HIDE the calculator
– Swipe right to CHANGE to next keyboard
– Tap on black line to INSERT numbers
– Back button ERASE last digits from calculation

Now your iPhone doubles as a full power keyboard calculator.
Great for work, school, or just being super fast calculator.

Pluskey is your calc app
CamCard
Normally $0.99.
* Apple App Store 2014 Top Paid App
* Must-Have Apps for Salespeople – Inc.com
* Bringing Order to the Chaos of Business Cards – The New York Times
* The business cards just jump into your phones – CBS TV

CamCard is the easiest app to manage and exchange business cards, the perfect fit for sales people, entrepreneurs, business developers or marketing experts, and anyone who want to be one.

Features
* Scan and store your business cards, never miss a card
* Exchange e-cards when running out of paper cards
* Add notes & reminders to contacts
* Get contact updates. Be the first one to say congrats
* Enrich your profile to tell people more about yourself
* Search contacts' company news to start a good conversation
* Navigate to contact addresses in Map
* Access contact information across multiple devices
* Manage contacts from all over the world with 17 recognition languages

Recognition languages: Traditional Chinese, Simplified Chinese, Danish, Dutch, Finnish, Korean, Norwegian, Japanese, English, French, German, Spanish, Portuguese, Hungarian, Italian, Swedish, and Russian.
Fonta
Normally $0.99.
Fonta is a Little Design Studio that allows you to create unique images with special effects.

"Fonta Can Add Stylish Text To Your Favorite Photographs" – Appadvice

Add Text Behind a Photo, Masking (Put your photos inside text), Collage, Frames,
Vintage Filters, Color Layers, Artworks, 3D Geometric Shapes, Blur Effect,
Various Font Style, Chat pack & More…

Use Fonta to :
– Put stylish text on anything! (Food & Travel & Friends Pics)
– Caption your pics for Instagram Direct or Christmas Greeting Cards
– Make your own stylish Photo Text Design Image for blog & website
– Turns Your Words into Beautiful Photo Text Design Pieces.
– Share on Instagram, Twitter and Facebook #Fontaapp

How to use :
1. Choose a photo from photo libarary or take a photo
2. Resize your photo and add various of filters.
3. Select Fonts [T] and add Artworks [A1] [A2]
4. Masking [M] on your Font add filters to make unique design.
5. Erase the parts of text & artworks to make unique images.
6. Share with your friends as Christmas cards or Instagram direct message.
Speedy Journey
Normally $0.99.
Love knowing details about your travel or you are a fitness freak and want to record your running sessions.

Speedy Journey is the app for you. Traveling by car or running for fitness, now you can track every session with this simple and amazing app. Amazing UI and simple usage.

You will never miss any detail now.

iOS 9 Ready. Universal support.

Features :-

– Current Speed , Max Speed and Avg. Speed.
– Total Time
– Altitude
– Live Map View to track your journey.
– NC widget to view Live speed and Altitude.
– Select your Activity Type in Settings.

Save your Journey for later reference with this app.

More Features and Updates coming soon(Apple Watch).

Please don't forget to give your feedback as it's really important for us.
Doc Scanner Kit
Normally $0.99.
Doc Scanner Kit is very fast and easy to use. Simply set your document on the table and then frame it up on the screen. If lighting is bad in your room, tap on the light OFF icon to turn on your device camera flash. Then tap on the save icon. The document will be converted to a PNG format and save on your Phtoto Library

This free app is very Easy and simple to operate and scanning the documents clearly and quickly.

Key and Document Enhancement Feature

– Make the document black and white.
– Change scanning document color.
– Come back original document.
– Resize the scanning document.
– Making gray scale document.
– Rotating the scanning document clock or anti-clock wise direction.
– Page edges are detected automatically.
– Smooth user interface
– Let the super fast operation of Swift Document Scanner.

– Share this scanning document with Facebook , twitter.
– Share by email.
– Turn those old documents into digital files.
– Use the crop button to illuminate your document.
– Save the document with Photo Library.
Star Rover
Normally $1.99.
Do you love the starry night? Do you want to know everything in the sky? Star Rover is the fantastic planetarium for your iPhone and iPod touch. Just hold up your iPhone and Star Rover will tell you exactly what you are pointing at.

Star Rover determines your location automatically. You'll see the stars, moon, planets, constellations in their proper place from your current location. As you move your iPhone, the star map updates in real time.

Star Rover makes the virtual sky a gorgeous view. You can see star twinkling, beautiful nebulae, occasional meteor and even sunset glow in the evening.

Star Rover is very easy to use. You can simply change the sky view in settings and use Quick Find for everything you want to know in the night sky.

Features

– Over 120,000 stars.
– All 88 constellations with beautiful artworks.
– Planets and their moons with stunning graphics.
– Moon phases.
– Real images of Messier objects.
– Sky objects information.
– Realistic Milky Way.
– Star twinkling.
– Equatorial and azimuthal grids.
– Realistic atmosphere, sunrise and sunset.
– Eclipse simulation.
– Sky view underneath the horizon.
– Time setting and animation.
– Manually location setting.
– Sky view sharing.
– Quick Find.
– Point and view (iPhone only, compass support required).
LAN Scan Pro
Normally $3.99.
=== The fastest and most through WiFi LAN Scanner available! ===

See whats all connect to your favorite public WiFi network or your home network. Are your home network and connected devices secure? This all-in-one information application is an extremely fast and thorough security solution for every user. LAN Scan is an application developed for Network Administrators and IT Managers but presented in a format targeted for non-professionals. This application allows you to view information about all the devices on a local network. Network devices are displayed in a very logical and convenient format for displaying the most pertinent information about each device.

Features include:
• Scan your network to identify all attached devices and security risks.
• ARP table Scanning: The ARP table is scanned for any devices attached to the network that doesn't respond to a TCP connect.
• Net Service browser showing all network services present.
• Device info for all devices connected to your network
• Reverse DNS Lookup
• Complete history of WiFi scans and devices added and removed.
• Complete support for NetBIOS.
• Portscan – Check which ports each device has open.

All information gathered is presented to the user in a easy to understand user interface including dictionary look-ups for known MAC addresses, common port addresses and many bonjour services. This App is designed to give the user a complete understanding of all the devices connected to a local network and network services they are running.
Archipelago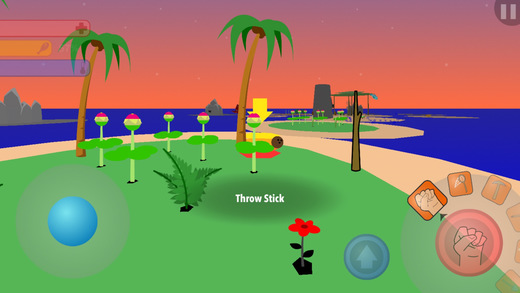 Normally $0.99.
What would you do if you woke up on an island in the middle of the ocean?

Archipelago pits you against the forces of nature as you grow crops, fend off animals, and create your own islands to survive. Archipelago's engaging gameplay, creative possibilities, bright color palette, and challenging achievements will keep you returning for more well after you've finished your first game.

FEATURES:
– Create your own islands
– Construct huts, campfires, and other objects
– Innovative thumb-wheel inventory system
– Day/Night system
– Dangerous, reclusive night creatures
– Dual-wielding (Use tools while simultaneously carrying objects)
– Dynamic weather with storms and rain
– Wildlife and detailed mob AI
– Randomized terrain and topography
– Fishing
– Blueprint-based tool crafting
– Motion-capture cutscenes
– Original soundtrack
– Smoky Bay Engine (advanced physics, uniform gravity, dynamic lighting, liquid viscosity simulation)
– Non-intrusive autosave
– Experience-based learning system
– Farming & crops system
– Climactic underworld boss battle
– Challenging achievements
– Unlockable options
– Optional hints during gameplay
Photo Blender 2
Normally $0.99.
The app is the best image blending tool that lets you create superimposed, silhouetted, and double-exposed photos.
You can totally follow your passion to create artworks with great ease!
---
Our deals and product reviews are picked by BGR's expert editors and team.

Follow @BGRDeals on Twitter to keep up with the latest and greatest deals we find around the web. Prices subject to change without notice and any coupons mentioned above may be available in limited supply.