We're kicking off the new week with a great roundup of Monday's best paid iPhone and iPad apps that are currently on sale for free. There are 10 different apps in today's roundup, and they span a wide range of categories. As always though, these are limited-time sales that could be over at any second.
This post covers paid iPhone and iPad apps that have been made available for free for a limited time by their developers. BGR is not affiliated with any developers. There is no way to tell how long they will be free. These sales could end an hour from now or a week from now — obviously, the only thing we can guarantee is that they were free at the time this post was written. If you click on a link and see a price listed next to an app instead of the word "get," it is no longer free. The sale has ended. If you download the app anyway, you will be charged by Apple. Subscribe to our feed to be notified as soon as these posts are published, and you'll avoid missing the sales we cover.
Ibbleobble Googly Eye Stickers
Normally $0.99.
Who doesn't like ANIMATED GOOGLY EYES? Stick them on anything! We mean anything! Photos of your friends, dogs, cats, cars or even a photo of your feet! Just do whatever it takes to make someone laugh! It will be hilarious!

Includes:
• Multiple pre-built googly eyes
• Fully customisable
• Mix and match colours and sizes
• Jazzy backgrounds
• ALL EYES ARE ANIMATED!
• Now includes 34 monster mouths!
Download Ibbleobble Googly Eye Stickers
Spiner.io
Normally $1.99.
Spiner.io the new mode to play with a fidget spinner
You have to battle with your fidget spinner the other enemies.

How to play:
Control with your fidget spinner
Shot the other spinners
Eat Coins
Save Your Spinner
unText it
Normally $0.99.
Ever regret sending a text? Maybe you texted the wrong person. Now you can have a second chance to take back your words.

* unText It will not show up on the Home Screen, It will only show up in iMessages. For more information on how to use iMessages apps please visit my website there is a link to Apple's website that shows you how to use iMessage apps.

* Use finger to drag stickers over text bubbles, pinch to resize stickers.
Orderly – To-do Lists
Normally $0.99.
— Featured by Apple 2017 'New Apps we Love', and now over a million satisfied users of our Apps —

"Orderly is designed based on how the human-mind visualizes to-do lists !" It is a nice and incredibly easy to use to-do list app, that features a breath-taking interface, seamless cloud sync, and comes with "Location Based Reminders", so that the users never miss a to-do task at a particular location.

It is now updated with great features like unlimited categories or folders, and powerful search.

Orderly displays the to-dos using the APPLE's bookshelf metaphor, so that you get a glimpse of your to-do lists without having to open them individually.

THE BEST part of the App is:

* Orderly automatically prioritizes your to-do list items by moving around those sticky notes between various priorities *

Key Features

1. Visual interface and layout, provides absolute ease for managing errands and chores.
2. Location based reminders, alerts you of a to-do at a particular location.
3. Auto prioritizing of to-dos.
4. Recurring to-dos.
5. Cloud sync across devices
6. Unlimited categories for to-dos.
7. Powerful search within a category or across all folders.

* * * Highlights * * *

* Create multiple folders and categorize the todo lists in it.
* LOCATION based Alerts, reminds you of the to-do or task at the place you are in !
* Sync across multiple devices with DropBox sync
* Complete to-dos with simple gestures.
* Undo a completed item
* Automatically prioritizes your todo based on the time and day.
* Search through Archives of completed to-do lists.
* Store in archive for any number of days.
* Optional manual prioritization

* * GESTURES * *

# Pinch to zoom out.
# Swipe right to mark to-do tasks as completed
# Swipe right again to undo a completed task
# Swipe left to delete to-do task
# Long press to delete or drag and drop to move a to-do list to a different priority
# Drag and Drop on the "New" icon to create a copy.
# Drag and drop on the "Flip" icon to move it to another folder.
Download Orderly – To-do Lists
Delete Contacts + Duplicates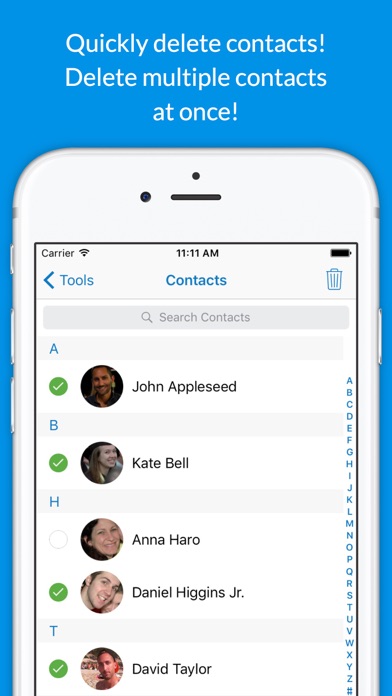 Normally $0.99.
This app is best way to quickly delete contacts from your address book and merge all the duplicate contacts automatically!

Moreover, you can backup and restore all your contacts directly from your iPhone!

Key Features:

-Delete multiple contacts of your address book at once
-Merge all the duplicate contacts of your address book with one tap
-Backup all the contacts of your address book with one tap
-Share backup files via text message, email, Dropbox, iCloud Drive, ..
-Restore contacts at any time directly from the app!
-Choose contacts to backup
-Choose contacts to restore
Download Delete Contacts + Duplicates
Eventail
Normally $1.99.
Eventail is the missing calendar widget for your iPhone.
It displays the events of the next few days in a compact, yet readable manner.

The app shows a mini-view for three to five days that fits nicely in one row. You can bring a detailed view of a specific day to see its full title, start and times by tapping on it.

Eventail's simple interface makes it easy to select the calendars to display, how many days to display and the number of events per day. You can also choose to see the start time of the first event for each day.
FlyveCam – Drag & Drop Camera
Normally $2.99.
Want to get rid of all the bad, blurry and duplicate photos/videos in your camera roll?!
Join thousands of FlyveCam users around the world and enjoy junk-free, intuitive and addictive camera, that changes the way we take and collect photos and videos forever. Literally!!

And it works like this:
> Choose camera mode – standard or video
> Touch and hold anywhere on screen for live preview
> Break the hold to dismiss the photo/video
> Drag n' drop to selected album to keep
> Create unlimited albums
> Capture your photos/videos into ready-made albums and sort your media in real time

NO REGISTRATION NEEDED!
Download FlyveCam – Drag & Drop Camera
Easy Spending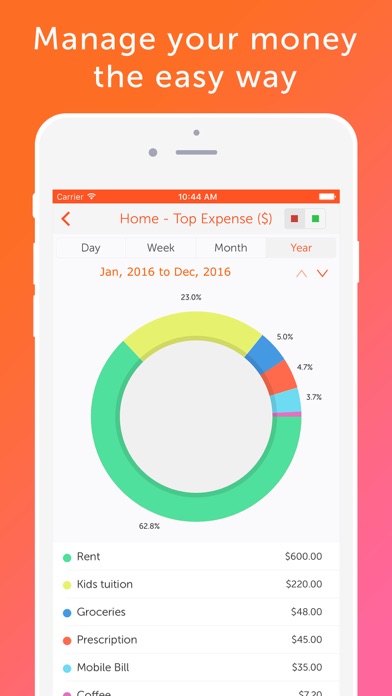 Normally $0.99.
Over a Million satisfied users agree that Easy Spending is the way to go easy on your spending, reduce debt, and grow your wealth. Easy Spending is an easy way to grow your wealth on a daily basis, by improving spending habits.

Its excellent reports and spreadsheets saves lot of time during tax filing.

The Easy Spending money tracker, is the most powerful and convenient daily money management App on the GO for iPhone and iPad, that neatly tracks all your cash flow between different accounts that you can budget,

It is now, all the more secure, with the addition of Automatic Backup Service in addition to the free email backup. With this feature you never have to worry about losing valuable financial data, either through accidental deletion or change of device. You can restore it on any iOS device with this App installed.

Comes with easy gestures with well spaced layouts and large fonts, for easy viewing and readability.

Great for maintaining monthly recurring bills with reminders, it has the convenience of an Finance Tracker and BILL reminders at one place.

HIGHLIGHTS

@ Never loose your valuable financial data either with the free email backup or the All new Automatic Backup Service, (available as an In-App purchase)

@ Excellent and seamless cloud sync of all your transaction data. (available as an In-App purchase)

@ BILL Reminders.

@ Recurring income/expense tracking

@ MULTIPLE ACCOUNT(S) Summary in a single screen, and nice reports.

$ Passcode LOCK.

$ NOTIFICATIONS added to Default calendar for recurring transactions as an option. Using this option, NEVER forget to pay your BILL on time.

$ See future bills/payments and income using, "UPCOMING TRANSACTIONS" view.

$ Fast Search based on category and notes

$ Allows transactions to be emailed as CSV, and also uploaded to your Google Drive account

$ Store data for MANY MANY years

$ Preview comments in History while drilling down the transactions.

$ Use MULTIPLE accounts like Checking, Savings, Credit card, Cash flow, Mortgage accounts etc.

*** REPORTS ***

$ Powerful reports, timeline reports

$ Doughnut chart reports gives a clean break up of where your money is going.

$ Email csv file of all your data for single or all of your accounts, saves a lot time during tax season.

$ Upload csv file also to your Google Drive account
AllPass Pro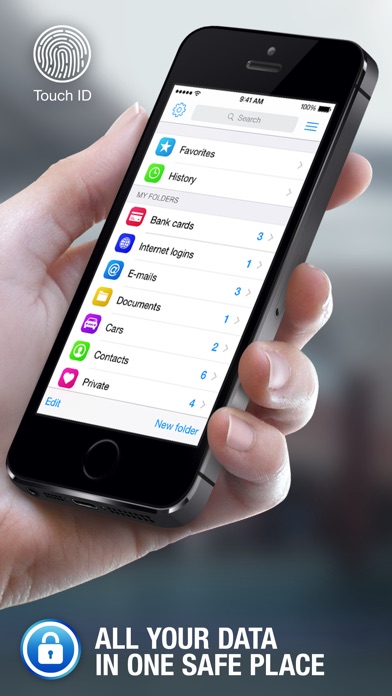 Normally $1.99.
AllPass is an app that keeps all your vital information in one secure vault.

• Quick opening of data using Touch ID
• Store your logins, credit cards, identities, and secure notes
• Log in to websites without having to remember any of your passwords
• Fill credit cards and identities without typing
• Quickly access your most used items using Favorites and History
• Fast search to find what you need
• Support Folders for better file organization.You can select a template for any folder to create records as fast as possible
• Unlimited number of databases
• Encrypts all your data using best and most reliable AES 256-bit encryption
• All protection mechanism is offline on your device only
• Auto-lock protects your vault even if your device is lost or stolen
• Syncs securely with your other iOS devices
• Backup & Restore your data via iCloud, Mail or iTunes
• Export and import via Mail, iTunes and CSV text files
• 180 icons to personalize your records
• 5 standard templates for fast data entry with the ability to create or edit custom templates with unlimited fields
• Integration with iOS
• Optimized for all types of devices and screen resolutions

Choose the AllPass for storing important information and your digital life will become more comfortable and safe.
Remote Pad for Mac
Normally $2.99.
Turn your iPhone or iPad into the wireless extension of your Mac keyboard. Add dedicated numbers, arrows and other blocks to your Mac keyboard. Why buy additional hardware that you have to carry around with you if you can have it almost for free?

AT A GLANCE
– Numeric block for Numbers, Excel, and your calculation needs;
– Music block for Sibelius, Finale, and other composing needs;
– Arrows block for your presentations and navigation;

WORKS WITH
– Numbers
– Excel
– Calc
– Keynote
– Powerpoint
– Sibelius
– Finale
– Many more

SYSTEM REQUIREMENTS
– Mac with macOS 10.9 or above and Helper app installed;
– iPhone, iPad or iPod touch with iOS 9 or above;
– Shared wireless network connection between your computer and iOS device.