If you purchase an independently reviewed product or service through a link on our website, we may receive an affiliate commission. Learn more.
Welcome to the start of a brand new week. And of course, there's no better way to kick off a fresh week than by browsing through the best paid iPhone and iPad apps of the day that are on sale for free for a limited time. We've rounded up eight such apps for you on Monday, and they all have one thing in common: They're only free for a limited time, so you'd better grab them while you can.
This post covers paid iPhone and iPad apps that have been made available for free for a limited time by their developers. BGR is not affiliated with any developers. There is no way to tell how long they will be free. These sales could end an hour from now or a week from now — obviously, the only thing we can guarantee is that they were free at the time this post was written. If you click on a link and see a price listed next to an app instead of the word "get," it is no longer free. The sale has ended. If you download the app anyway, you will be charged by Apple.
Pods – Podcast Player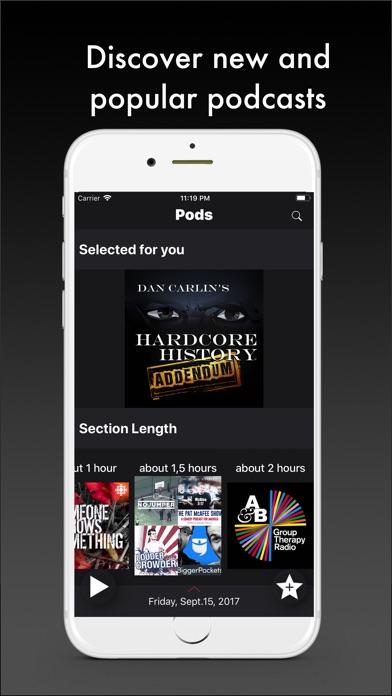 Normally $2.99.
Simple and fast Podcastplayer

Key features
– Save episodes to favorite list
⁃ Discover: Subscribe to any podcast in iTunes and more.
⁃ Browse by charts, networks and categories
⁃ Share quotes from any podcast, unique feature
– Save episode to play later
⁃ Spread the word with podcast and episode sharing
⁃ Search on episode names
– Start and stop player using 3Dtouch
⁃ Search on episode or podcast descriptions
⁃ Supports dynamic links share and open podcasts within the app
⁃ Lista and edit locally downloaded podcasts
⁃ Play podcasts in different speeds 1/2,x 1x and 2x
⁃ Control the player from your headphone
⁃ Download podcast episodes from all views
⁃ Stream podcasts
⁃ Saving your last played episode
⁃ Displaying time left of any started podcast episode
⁃ Works on iPhone and iPad

Stream from over 450,000 shows with over 15 million episodes. • Save your cellular data and listen anywhere.

"The player works great with iPhone 's 3D touch interface"
"You can search your favorite by episode names. It also displays time left of any started podcast. It automatically save your last podcast. You can also control the podcast by your headphone." /reviewtheapps.com
Download Pods – Podcast Player
OfficeSuite PRO Mobile Office
Normally $14.99.
OfficeSuite is the best way to work with office files on iPhone and iPad. With a familiar desktop-inspired interface it's easy to work with and feels like you have been using it for years.

Do you have work to do?
Spreadsheets, Documents, Presentations, PDF files. OfficeSuite has these packed in one Powerful Mobile Office Workstation. Now, your deadlines are easily met on the go and your work & life balance is one tap away.

Do you have a project or homework to work on?
Write, edit, fill, share, annotate, design, present, send – from anywhere you want. You don't need a laptop all the time, you have a fully packed office workstation at your fingertips.

FILE MANAGER
• Easy access to your Favorite and Recent files
• Templates to help you create beautiful documents
• Manage multiple files – copy, move or delete
• WiFi file transfer – access your iOS device files from a web browser
• Search for document or file types in the entire app and all connected cloud services
• Connect to the cloud services – support for Dropbox, Google Drive, OneDrive, OneDrive for Business or Box
• Work with common file types – .ZIP, .PNG, .JPG, .TIFF, .MP3, .MOV, MP4, .M4A and more

OFFICE DOCUMENTS
• Compatible with Microsoft Word office formats – .DOC, .DOCX, .DOCM + .RTF, .TXT
• Support for common formats like OpenDocument – .ODT, .ODS and .ODP
• Rich text and paragraph formatting features
• Insert tables, pictures, text boxes, shapes, bookmarks and special symbols
• Create and edit headers & footers, footnotes, page numbers
• Format page setup, page print options, margins, orientation, page size and more
• Create notes and read large documents in web view mode
• Support track changes, comments and spell check
• Font package with 70+ fonts for maximum compatibility
• Save as .doc
• Track changes with multiple authors
• Set document passwords
• Snap and insert camera pictures

PRECISE SHEETS
• Compatible with Microsoft Excel office formats – .XLS, .XLSX, .XLSM + .CSV
• Use 250+ functions or edit formulas
• Create and edit charts
• Format cells with cell styles, font & border formatting or use format painter
• Filter and sort data or use data validation
• Freeze panes, hide and resize rows & columns
• Save as .xls
• Protect sheets and cells
• Set document passwords
• Save spreadsheet files as .csv
• Work with conditional formatting
• Create and edit comments
• Set document passwords
• Insert and edit hyperlinks
• Snap and insert camera pictures

BEAUTIFUL SLIDES
• Compatible with Microsoft PowerPoint office formats – .PPT, .PPTX, .PPS, .PPSX, .PPTM, .PPSM
• Sync your iPhone with Apple Watch to deliver more engaging and interactive presentations
• Insert tables, pictures, text boxes and shapes
• Draw on slides even during presentations
• Change slide theme, layout, slide size or background
• Add, edit and manage slide transitions
• Save as .ppt
• Create and edit animations
• Add notes to your slides
• Snap and insert camera pictures
• Set document passwords

SAVVY PDF EDITOR
• Open PDF files
• Manage multiple reading options
• View Table of contents and annotations
• Work with Fillable PDF forms
• Set document passwords
• Create and edit annotations and markups
• Add a handwritten signature with Quick sign
• Night mode to ease your eyes
Download OfficeSuite PRO Mobile Office
Multi Translate Voice
Normally $12.99.
Multi Translate is a professional translator and interpreter app able to translate any language into 3 others at the same time.

Just speak with your own voice, Multi Translate will convert it into text then translate/interpret, after which you can listen to the pronunciation for each language, even when your device is mute!

Powered by Google Translate, Multi Translator is a very handy yet powerful professional translator/interpret app including:

* Object Recognition
With Multi translate, you can just put your camera in front of an object and it will translate the name of it to other language instantly.

* Free Apple Watch translator App
Just talk to your watch and it will translate to 3 languages as well, where you can also change the source and target languages, review translator history.

* Free iMessage translator app
Leverage the dictionary and translator functions while messaging with people speaking different languages. Multi Translate will translate your voice into different language and then send via iMessage. You can also just send the origin text from speech recognition.

* Native UI designs for both iPhone and iPad

Main Functions
* Smart Interpreter: help you talk to anyone while travel
* Speak & Translate: convert any voice into text with Speech Recognition
* Translate any language to any three other languages with one tap
* Support 1 to 1 translation
* Share the translate results via Facebook, Twitter, email or SMS.
* Pronounce result of translation
* Listen to Voice Over of translated results even when your device is mute.
* Translated history is collected automatically
* Search translated history via Spotlight
* Instance adjustable voice speed and volume while listening.

Other Features:
* Translate both text and voice/speech
* Support for 100+ languages
* Supports 3D Touch preview and shortcuts.
* Custom source and target languages within settings.
Download Multi Translate Voice
Trick Shot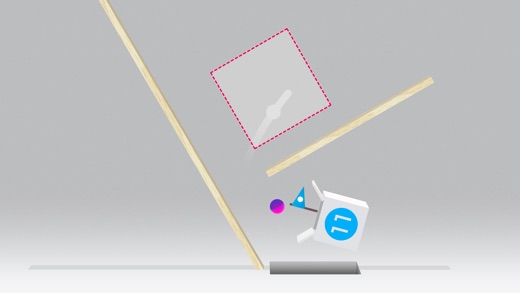 Normally $1.99.
A game where all you do is throw a ball into a box, simple?

Trick Shot is a minimalist physics puzzler with 100 levels and an infinite supply of bouncy balls to get that perfect shot.

** Editors Choice in more that 80 countries **
** iTunes best of September 2015 **
** iTunes best of 2015 *
PhotoSynthesis
Normally $1.99.
【PhotoSynthesis】 allows you to composite several photos into one photo to create the effect similar to repeated exposure. It's easy to operate; what's more, you'll definitely find lots of fun along the way!

Product Feature:

*Just by simply smearing the screen to keep the part that you'd like to highlight and combine with another photo of your choice.

*Level of transparency of every photo can be adjusted.

*Synthesized photos can be mailed out or can be saved in the photo album

*Synthesized photos can be use as the new base picture and then can be composited with another photo

*Synthesized photos allow you to Move,and resize the upper photo

1. First select a photo to be the base picture
2. Then select another photo, smearing the screen to keep the part you'd like to keep highlight
3. Adjust the level of transparency of both pictures

Ability to move, to zoom in/out, and rotate the upper photo !

Operation is fast and easy by just three simple steps. Repeat the process if you'd like to add a third photo

[Filters]

Filters: Hue, Saturation, Contrast , Brightness, Blur, Sharpen, Transparency
12 Styles filters: Black and White, Sepia, Pencil drawing…etc.
Mood Diary – thought Journal
Normally $1.99.
Are you happy? Mood Diary empowers you to track your mood over time.
Download Mood Diary – thought Journal
Polar Mission 2
Normally $0.99.
Enemies launched attack. Captain,get ready for the battle. Do not miss any hostile plane .Try your best to kill the boss,and get the highest score !
5 Enemy types with unique attack patterns and shooting abilities.

1 Intelligent enemy that will try and dodge your bullets by moving left or right.

3 different types of bullet mech includes single shot, rapid fire and super bullet.
Eggz – A Kitchen Timer
Normally $0.99.
Eggz – A Kitchen Timer

Remember: 9 out of 10 chicks choose Eggz!
So don't stay behind and buy your chick this lovely handcrafted kitchen timer.
With Eggz your eggs will be perfect now every morning. Chicks love this!

Enter the size of your eggs and then choose your favorite grade. The timer start immediately and will notice you when the process of boiling is finished. Simple and easy – try it yourself now!

Please support free chicken and don't buy cheap eggs!
Download Eggz – A Kitchen Timer
---
Our deals and product reviews are picked by BGR's expert editors and team.

Follow @BGRDeals on Twitter to keep up with the latest and greatest deals we find around the web. Prices subject to change without notice and any coupons mentioned above may be available in limited supply.