We didn't have time to squeeze in a free apps post on Tuesday, so we're making up for it on Wednesday with a roundup of 10 paid iPhone and iPad apps on sale for free. As always, these sales will be over before you know it so be sure to hurry if you want them for free!
This post covers paid iPhone and iPad apps that have been made available for free for a limited time by their developers. BGR is not affiliated with any developers. There is no way to tell how long they will be free. These sales could end an hour from now or a week from now — obviously, the only thing we can guarantee is that they were free at the time this post was written. If you click on a link and see a price listed next to an app instead of the word "get," it is no longer free. The sale has ended. If you download the app anyway, you will be charged by Apple. Subscribe to our feed to be notified as soon as these posts are published, and you'll avoid missing the sales we cover.
Aero Fish
All character upgrade in-app purchases are currently free.
Life – Alternate reality productivity. to-do & reminders
Normally $0.99.
Life is a powerful to-do list & game app that rewards you for completing tasks. Your progression in the game is directly dependent upon things that you do in real life.

Actionable reminders
Since so many of the reminders we set on our phone are about things that we have to 'do on our phone', Life allows you to set actionable reminders. Got a reminder notification to 'Pay the phone bill'? just slide to go to the website. 'Call mom for cheese cake recipe'? just slide the notification to call. Works with Calling, messaging, Email and URL links.

Unified powerful list
All tasks and reminders are unified in one single main list which can be as big as possible but the data you need is still instantly reachable with an innovative sort and scroll slider that takes you to the tasks you need.

Sublists
Independent lists can also be created which appear as a single entry in the main list and can be sorted along all other tasks.

Archive
A lot of to-do apps in the appstore clutter your list with completed tasks that you are not sure you want to delete. With a single pull up of the list, archive all your your completed tasks be it sublists, actionable tasks, reminders or just plain list items. When you need them back simply swipe them back into your main list.

Game
All the hard work you do through the day completing tasks on your list are rewarded as points which are used in the game. Use points to strategise attacks on alien infested continents of earth while managing defenses, resources, economy and your fighters as aliens attack back. The more things you get done in real life, the faster you get rid of the alien invasion.
Download Life – Alternate reality productivity. to-do & reminders
baeList
Normally $0.99.
Welcome to BaeList! We are a free service designed to Catch Cheaters and Stop Players!! It works like this… When 2 Girls Search The Same Phone Number, We Let Them Know "He May Be Up To No Good!"

Q: Why would you search someone on BaeList?
A: To see if they have given their number out to other people.

Q: How do we know if they have been cheating?
A: Our service is used exclusively by registered users like you, if your bae gets searched you know.

ALL SEARCHES ARE FREE!! 100% ANONYMOUS!! SAFE & EASY TO USE!!
Brackets!
Normally $1.99.
An intriguing new puzzle game in which you pair brackets to make rectangles. Each rectangle adds its area to your score. The objective is to find the combination of rectangles that maximizes your score. As your skills develop, unlock new mind-blowing pieces to make the puzzles even more challenging. Stuck? Buy a hint using the tokens that you've earned or by watching an ad.

Unlock a free play mode for endless challenges. Once you get to free play mode, the games adapt to your skill level. How high can you get?
underline-easy line manage
Normally $0.99.
Have a hard time managing underlines from your books?
underline App allows you to add underlined content from books, papers, professional books and references along with page information and corresponding photo
underline App will help your reading life more enjoyable

FEATURES:

[underline]
Input additional information with underlines
– Underlined book information
– Page number of the book
– Available to attach an existing photo with underlined content or take a photo
– Available to add user's location information when adding underlines(able to turn on/off)
– Available to adjust text size of underlines

[Book]
– Available to search or directly input underlined book information
– Information users can input: Title, Author, Publisher, Publication date, Category
*CAUTION* underline is not an eBook reader!

[Export/Backup]
– Available to create a PDF file
– Available to send though email(able to attach photos)
– Available to sync with iCloud
Download underline-easy line manage
Monotasking
Normally $0.99.
Monotasking makes it so much easier to focus on your most important tasks. Do you want to prioritize better? Do you want to complete more? Do you want to reduce stress? Based on research, the Monotasking method puts you back in charge of your day.

The basic of monotasking:

1. List no more than 5 important todos to the short list.
2. Enter panorama session, choose the import task at that moment.
3. Set the alarm to the next minute hand vertical, and no less than 25 minutes (10: 00,10: 30) now, then go to single-core to fully perform the current task.
4. When the time is up. Take a break or start next.
5. Save temporary task to grass catcher's list.
6. Clean up the grass catcher's list weekly.

So, App provides these functions to support monotasking:

1. Provide a short list.
2. Click to start a monotasking, the clock is auto-configured.
3. Provide the grass catcher's list to record temporary idea or task.
Clear Translation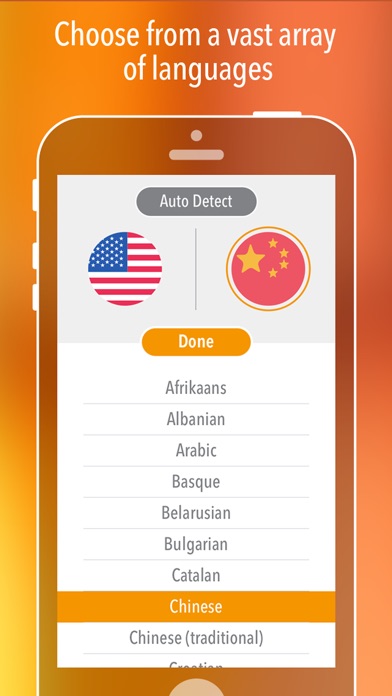 Normally $9.99.
Clear Translation provides a very simple and effective way of translating both voice and text. Its intuitive interface and impressive list of supported languages make it an amazing tool for getting accurate translations on-the-go.

:: :: MAIN FEATURES :: ::
* Translate text in 30 world languages
* Listen to your translations being read out loud
* Send your text as an email or text message
* Access your previous translations offline
* Optimized for all devices including iPhone 7 and 7 Plus

SUPPORTED LANGUAGES:
Arabic, Bulgarian, Catalan, Chinese,Czech, Danish, Dutch, English, Finnish, French, German, Greek, Hindi, Hungarian, Indonesian, Italian, Japanese, Korean, Malay, Norwegian, Polish, Portuguese, Romanian, Russian, Spanish, Swedish, Thai, Turkish, Ukrainian.
Fontmania – Write on Photos
Normally $4.99.
Featured in "Best new apps" on the App Store in 36 countries!

Let your photos speak! Fontmania is a great typography app that will turn your photos or pics into inspirational images, greeting or love cards which are so easy to share right from the app!

The app provides a vast collection of unique artworks and handpicked fonts as well as a variety of customization options for all the creative bits you add to your pics. Enrich your photos in an artistic way!

Use hashtag #Fontmania for Instagram posts to share your art with the community and your photos might get featured on @fontmania.

With Fontmania you can:
– make personalized pics that will stand out your Instagram, Facebook, Twitter posts;
– create unique images with inspirational, wise or funny quotes and sayings;
– design greeting cards;
– sign your memorable photos;
– make memes;
– combine image and text and create exclusive wallpapers for your screen;
– add quick notes and comments for any occasion;
– compose any other image that needs some stylish text on it.
By adding captions you can even change the entire meaning of your photos.

Fontmania is simple & fast! Here's how to use it:
1. Choose from existing photos or take a new one. Scale or crop it. Enhance it with a filter right in the app.
2. Add text and choose the best font for it or select an artwork from a collection.
3. Customize your art by applying color, opacity and shadow options.
4. Edit it: manually change size, position and tilt, choose alignment for a text.
5. Save or share it via Instagram, Facebook, Pinterest, iMessage or any other social network and messenger.

No more dull pics or texts! Give free play to your sense of creativity and share the result with your friends!

For complete access to all Fontmania features, you will need to allow access to the following:
*Photos – to import your pictures, customise them and save your artworks;
*Camera so that you can capture pictures and apply artworks to them right in the app;
*Notifications to keep you informed when new artworks, captions and fonts are added to the app.
Download Fontmania – Write on Photos
Infinity Dungeon! VIP
Normally $0.99.
Gold Mine Dungeon RPG!
A game that players of all ages can enjoy! Fun guaranteed!
A hidden dungeon is discovered at last.
What is happening in the dungeon?

Conquer the dungeon with special attacks and magic and become rich!

Various enemies and dungeons…
Witty dialogues, engaging story… and a twist!
Endless gold…

You can enjoy this awesome game with your one hand at any time!
The best kill-time game ever!

Infinity Dungeon will keep you satisfied as long as you have your smartphone with you.
Download Infinity Dungeon! VIP
Secret Bank – Safe Manager
Normally $0.99.
Secret Bank is create for the people like me to always forget lots accounts and passwords. If your also the similar pain,why not download this app and try it?

**** Description *****
[ Features ]
* Simple and clean app
* Free, Free!
* Security! Security!!, Security!!! All data store locally, No network access to store your account informations.

[ Functions ]
* Unlimited create account box, add or modify account&password informations.
* Multiple security protection settings. Gesture password, Fingerprint unlock, Manual password unlock.
* Support WIFI backup & iCloud Sync.
* You can add custom attribute rows.