If you purchase an independently reviewed product or service through a link on our website, we may receive an affiliate commission. Learn more.
Apple fans, our gift to you on Valentine's Day is to ensure that not a single Valentine's Day-themed app makes it into our roundup today. Instead, we've got eight paid iPhone and iPad apps on sale for free that you might actually use. Grab them now while you can, because these sales could end at any moment.
This post covers paid iPhone and iPad apps that have been made available for free for a limited time by their developers. BGR is not affiliated with any developers. There is no way to tell how long they will be free. These sales could end an hour from now or a week from now — obviously, the only thing we can guarantee is that they were free at the time this post was written. If you click on a link and see a price listed next to an app instead of the word "get," it is no longer free. The sale has ended. If you download the app anyway, you will be charged by Apple. Subscribe to our feed to be notified as soon as these posts are published, and you'll avoid missing the sales we cover.
RANE° – Minamalist Weather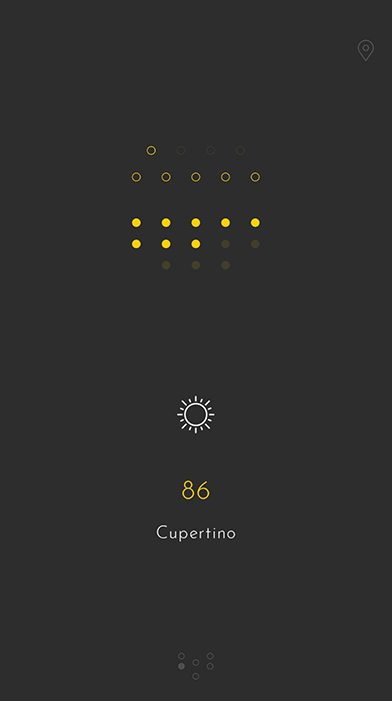 Normally $0.99.
A unique weather app with a simple and beautiful interface without all the distractions.

What is minimalism?
In a nutshell, minimalism is freedom. Basically it's reducing your life to what is only necessary. That is why we built RANE°, to reduce the clutter found in most weather apps.

About RANE°
RANE° is a beautifully minimal Weather App like no other. Each sphere represents your temperature and is beautifully animated. Icons and text change depending on the forecast. Swipe down to refresh, swipe up to access settings. Tap each icon to see additional information about weather conditions including the forecast. RANE° is designed with minimalism in mind yet offering you the features that are important to you.

Powered by Dark Sky, RANE° uses location information to display your current city and the following weather conditions:

– Temperature
– Cloud conditions
– Wind Speed
– Ozone
– Sunrise
– Sunset
– Humidity
– Forecast
– Dew Point
– High and low current temperature
– Chance of Rain
– Feels Like conditions for temperature
– Current and 5 day weather forecast
– Hourly Forecast
– Multi city weather Location with local time, temperature and weather conditions
– Displays in both Fahrenheit and Celsius.

RANE uses an auto-renewable subscription
Subscriptions can be cancelled at any time

Yearly subscriptions apply as follows:
o The duration period of the subscription is 1 year.
Free Trial period apply as follows:
o The duration period is 7 days

All subscriptions apply as follows:
o The length of the Free Trial Period is shown in the purchase pane updated to the time of purchase
o Subscriptions automatically renews unless it is cancelled at least 24 hours prior to the end of the current period.
o Payment will be charged to the iTunes account at confirmation of purchase or at the end of the Free Trial period if any.
o Your account will be charged for renewal within 24 hours prior to the end of current period, with the same amount as the first period.
o Any unused portion of a free trial period will be forfeited when a purchase is made for the annual subscription.
o Subscriptions are managed by the user and auto-renewals can be changed by going into the setting page after purchase.
Download RANE° – Minamalist Weather
PxBeats
Normally $0.99.
A perfect mix of RPG and music games
* The most rhythmical RPG game and the most adventurous music game
* Marvellous heroes rivalling evil lords
* Attacking and defensing at the rhythm beat
* Fabulous experience of hitting, striking, and beating

Multifarious power-ups
* Unique and well-defined feature for each power-up
* Overwhelming force by using power-ups
* Real-time power-ups upgrading

Appealing chiptune music
* Ultimate auditory feast
* Rich, clear, powerful chiptune music
* Unchained melodies coming from your fingertips
* Ears will be burning with the spectacular sounds and high quality music

Nostalgic pixel art style
* Elaborately crafted visual effects
* Exciting and real gaming experience like breaking a siege in the dark dungeon
* Bringing back childhood memories of pixel games

Multiple game modes
* SURVIVE Mode: Hit notes quickly to play a flawless music
* BATTLE Mode: Utilize power-ups to beat evil lords
The Exact Metronome
Normally $1.99.
This is exact Metronome app.

◇ Feature ◇
– No Advertisement
– High accuracy
– Tempo(BPM) change
– Beats change
– 9 kinds of Rhythms
– Background play

◇ Rhythms ◇
– Quarter Note
– Eighth-Note
– Eighth-Note Offbeat, Backbeat
– Eighth-Note Triplet
– Shuffle, Swing, Bounce
– Sixteenth-Note
– Sixteenth-Note Offbeat, Backbeat
– Clave
InviteUnite Address Book Sync
Normally $0.99.
Sharing contact info with others can be a tedious task. Do you have more than one contact to share? You might find yourself in a bind. Luckily, InviteUnite is here to save the day. Easily sync, share, edit or contact multiple contacts at the same time. Create shared groups where users can quickly share or merge their own contacts with yours.

InviteUnite app features:
– Import and organize contacts into unlimited custom groups.
– Share or sync contacts with those from other Contributors.
– Automatically merge contact info for duplicate contacts.
– Quickly send texts or emails to all group contacts and Contributors.
– Search all synced and shared contacts.

Invite others to Contribute contacts to your groups:
– Invited Contributors can "Unite" and share any contacts they choose.
– Gain instant access to all shared contacts across numerous groups.
– Get notified every time someone joins your groups.

Create custom groups of contacts to share or use personally:
– Automatically sync new contact details from your address book to the app.
– Tim has new number? New contact info is automatically synced to the app.
– Set default contact details for each contact.
– Call, email or text individuals or groups.

Say goodbye to sharing contacts one-by-one and hello to InviteUnite. Download the app and take contact sharing beyond your address book.InviteUnite – contact sharing app with upside potential. App allows users to easily share contacts with other users via groups.
Download InviteUnite Address Book Sync
QooKey – Keyboard
Normally $2.99.
QooKey is an innovative, one-handed, full-pitched, touch-typing keyboard on iPhone and iPad.

You see a half of the regular QWERTY keyboard. The other half has gone, and the letters of the missing half are on the remaining half.

As a result, each key has many letters. But, you do not need to differentiate between them. QooKey will figure them out the user intended to type.

Put and rest four fingers of your hand on the home row of the keyboard (G/F, D, S, A buttons). After typing your words, return to the home buttons to prepare for the next typing.

Confusing? Don't worry! If you are the two-hand touch typist, your muscle memory remembers all. The mirror-image symmetry makes it perfect with one hand.

Trust your fingers! Your fingers are smarter than you would think. They will set your eyes
free and make your life easier.
eXtra Voice Recorder
Normally $1.99.
eXtra Voice Recorder is a combination of a high-quality audio recorder, a multi-functional audio editor and an easy-to-use audio files manager. With eXtra Voice Recorder all your recordings will be fully organized and available whenever you need them. You can add notes and photos to each recording, bookmark important parts for ease of navigation, continue recordings and save them directly to the cloud for universal accessibility. Moreover, the app offers a host of handy features for instant file sharing, so sharing your recordings will only be a matter of a couple of taps.

eXtra Voice Recorder offers the following:
• Multi-level file manager to keep your recordings organized
• Resume previously created recordings
• Supply your recordings with comments
• Bookmark the most important parts of recordings
• Add photos to your recordings
• Keep photos synced with audio
• Edit recordings with split, trim, and delete features
• Keep your recordings synced across your iPhone, iPad and Mac
• Keep your recordings synced with Dropbox
• Share recordings via Wi-Fi, AirDrop, Messages, Email or iTunes File Sharing
• Keep notes in recording Meta tags that are available for other apps
• Adjustable quality of recording
• Audio scrubbing with variable speed
• The ability to change the playback speed
• Built-in search to find recordings by title or comments
• Record in the background mode even when the device is locked
• Import recordings from other apps
• Upload your recordings to Google Drive, Evernote and other apps
• Record directly to high-quality m4a (AAC) files
• 3D Touch Menu support
• Designed for iPhone, iPod touch and iPad
• It's also available on Mac
Gravity Orange 2
Normally $1.99.
Gravity Orange 2 – Help the orange to get all the stars, then the window would open. Pass the orange through the window to go to the next level. Keep it away from the spikes because they are dangerous.

How to play:
– Cut off the ropes to drop the orange.
– Collide with the green or red buttons to build rope.
– Collide with the buttons which containing arrows to change gravity direction.
– Move the red buttons in the board.

Features:
1. 6 chapters, 48 levels, more soon.
2. 4 characters and 8 ropes available.
3. Provide 'HINT' for each level.
4. Support multi touch.
5. Awesome physics.
6. Game Center supported.
DogMoji -My Dog Emoji Stickers
Normally $2.99.
Have fun sending emoji & Stickers to your friends and loved ones with iMessage, WhatsApp, Facebook and any other messaging app!

The emoji are compatible across devices so the receiver doesn't need to have the app installed (or even an iPhone) to see them.

No one knows your dog's personality better than you. DogMoji is the first emoji stickers app that lets you share your love of Dogs with friends.

No matter what your dog's personality, share it with all new Dog stickers and emojis. There's a Dog sticker for everyone!

Features:
– 7+ emoji packs emoji and stickers
– 200+ high-quality, hand drawn Emojis and stickers
– Husky , shepherd , Husky , Pug , corgi , Yorkie and more breeds
– Activate the emoji and stickers pack you want to use & ignore the rest
– Easily switch between emoji packs
– Tutorial included for quick & easy installation
– Also works with Facebook comments!
Download DogMoji -My Dog Emoji Stickers
---
Our deals and product reviews are picked by BGR's expert editors and team.

Follow @BGRDeals on Twitter to keep up with the latest and greatest deals we find around the web. Prices subject to change without notice and any coupons mentioned above may be available in limited supply.