We had a great roundup of paid iPhone and iPad apps on sale on Monday, and a few apps we listed there are still free downloads right now. Today is a new day, though, so we of course also have a fresh roundup for you to check out on Tuesday. These are all limited-time sales, of course, and we have no idea when they'll end. If you see something you might like, grab it quick!
This post covers paid iPhone and iPad apps that have been made available for free for a limited time by their developers. BGR is not affiliated with any developers. There is no way to tell how long they will be free. These sales could end an hour from now or a week from now — obviously, the only thing we can guarantee is that they were free at the time this post was written. If you click on a link and see a price listed next to an app instead of the word "get," it is no longer free. The sale has ended. If you download the app anyway, you will be charged by Apple. Subscribe to our feed to be notified as soon as these posts are published, and you'll avoid missing the sales we cover.
This Way – auto rotating map
Normally $0.99.
This Way is a map app that rotates by itself to match where you're heading, so it's easier for those who can't read maps.

As you get closer to your destination, the map zooms in automatically, so you can check confirm where you are by comparing it to your surroundings.

You can specify your destination by the following ways
– Type address or coordinates manually
– Copy address or coordinates and the app recognizes automatically
– Use address in address book
– Choose where a picture was taken.

The app shows:
– Direction to the destination*
– Distance to the destination
– Travel time* based on average speed

*The app has below LIMITATIONS.
– No turn by turn direction
– Cannot calculate time based on traffic condition or routes
Download This Way – auto rotating map
Weather Now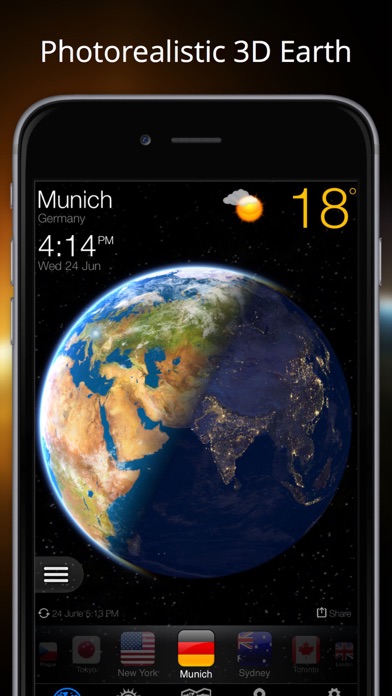 Normally $4.99.
Amazingly beautiful 3D images of our planet draws your attention for so long that you may forget that the application has other useful features that allows you easy access to precise, global weather information.

Features:
• Easily select different cities using the city carousel with national flags
• Chic 3D "home screen" with high-quality real-time image of the earth, atmosphere, the stars and the sun
• 15-day forecast chart with detailed daily weather conditions, independent day and night temperature charts
• 48-hour hourly forecast with detailed information with real-time changing of chart step
• Database of 80 000 cities with weather information, quick look-up and automatic detection of location
• Temperature on the icon badge
• Customized Weather Widget
• Weather Maps

The main features of "Weather Now" are the "home screen" and the forecast page with a unique way of scaling the charts. On the "home screen", you can get information on the selected location such as local time and current weather with detailed weather conditions, and, of course, an incredibly beautiful three-dimensional image of the globe with realistic-looking atmosphere, the sun and the stars. You can manually turn it, increase and decrease its size, run the slow spinning animation or stop it. Installed in a cradle or dock station, the application can run as a screensaver, attracting your friends and fellows.

The weather forecast is provided by CustomWeather, Inc, an American weather provider of global weather information for over 15 years. CustomWeather is a leader in technology and meteorological innovation, providing local weather information to companies and application developers around the world.

The current weather data is gathered from thousands of professionally installed and maintained weather stations installed mostly at airports. WeatherNow only shows current weather from stations that have reported local weather conditions within the past hour. Current weather data is refreshed every 30 minutes; that is twice as frequent as most other weather providers can offer. Unique 48-hour forecasts from over 80,000 locations around the world provide a level of coverage and detail that simply cannot be found elsewhere.

Current weather information includes: description, air temperature, wind direction and force, humidity, dew point, pressure, visibility, as well as comfort index with reference to current weather conditions.
Detailed weather forecast information includes: description, day and night air temperature, wind direction and force, humidity, UV index, probability of precipitation, and comfort index with reference to current weather conditions.
Planett: Simple daily & weekly todo list
Normally $1.99.
Planett is a simple planner/todo-list app!

◊ Week-at-a-glance interface makes it easier for you to keep track of your plans ◊

The top bar shows all your plans in that week with abbreviated tags. Too lazy to create a tag for each plan? No worries! We will automatically create tags for you! Of course, you could also customize it yourself!

◊ No confusing options and complicated instructions ◊

Frustrated with planner apps that have too many unnecessary options that only confuse you? Planett is here to save you! Planett gives you the same feeling of simplicity as writing with a paper planner. With the minimum input, Planett plans your day with the most user-friendly designs like no other app does.

◊ Decorate your daily list by posting a picture of the day ◊

Make your lists extra special by uploading a memorable photo each day! By clicking on the default picture, you could change the picture and display a photo of your own. All your pictures are saved locally, which gives you a private place to record your day!
Download Planett: Simple daily & weekly todo list
Emoji Smash
Normally $0.99.
Drag anywhere on your screen to move the emoji so that it smashes into emojis of the same type in oncoming, and increasingly faster waves. Unlock rare emojis, upgrade your perks and skills, and compete with your friends in this awesome new emoji game.

Unlock different emojis with all-new abilities and special features.

Show your friends your glorious emoji smashing skills. Download Emoji Smash now, and see how much better you are than your friends!
AR Remote Car
Normally $0.99.
IMPORTANT: App uses new AR functionality. Please check if your device supports it before download.

Photo real 11 cars, real time shadows and reflections with beautiful effects. You can not distinguish what is real or not. Witness the augmented reality…

Do you want to drive-control cars remotely in your home or at street without having a real one? Augmented reality makes this possible.

This application does not contain levels or missions. It is just pure control of a simulated vehicles which can be seen on the screenshots. If you do not want to pay hundreds of dollars to a remote control enabled car; this application is just right for you.
Fonti – Font Keyboard
Normally $1.99.
New !
Fonti – the first keyboard app with genuine fonts.

From now on writing messages is even more fun !
Write your messages in unique fonts & colors that will add a new meaning to your text.

The Fonti keyboard contains 50 special fonts.
You can match different colors and backgrounds to decorate your text.

You have amazing fonts to choose from:

TV & MOVIES FONTS: VIDEO GAMES FONTS:
Harry Potter, Matrix, Super Mario, Minecraft,
Star Wars, Mickey Mouse Pokémon, Pac-Man, Halo

FOREIGN STYLE FONTS: OLD STYLE FONTS:
Russian style, Chinese style, Medieval, Typewriter,
Japanese style, Roman style Old newspaper

DECORATIVE FONTS: TECHNOLOGY FONTS:
Brush, Graffiti, Hacker, Top secret,
Cartoon, Romantic Old computer.

HANDWRITTEN FONTS: CELEBS FONTS:
Several handwritten styles, President Donald Trump
from classic to artistic.

Fonti works on all messaging apps: Mail, iMessage, Messenger, Whatsapp, Hangouts, Kik, Viber, Line, Telegram, WeChat, Tango, GroupMe.

Express yourself with style and enjoy.
Download Fonti – Font Keyboard
Klondike Solitaire
Normally $0.99.
If you like Solitaire, you're going to love this app!

The same classic Solitaire game plus the ability to control card movements naturally by just swiping or tapping the cards on your iPhone/iPod touch/iPad.

With tap-to-place, you simply tap the right card and it magically does the right move, or when you prefer you can also use our assisted drag-and-drop to move a card anywhere it creates a valid move.

This is a universal app, playable in the best resolution available for each Apple device.

Key Features:
-Klondike
-Unlimited Hints
-Draw 1 card
-Draw 3 cards
-Multiple moves hinting
-Portrait
-Landscape
-Game state saved when interrupted
-Unlimited undo
-Auto complete to finish game
-Unlimited number of free games
-Tap to place cards
-Drag and drop cards
-Scores, moves, and times
-Awesome graphics and animations :)
MetaReader – Unofficial Client For MetaFilter
Normally $2.99.
MetaReader is an unofficial client for MetaFilter, with the included features:
• Browse wonderful content on MetaFilter, Ask MetaFilter, and MetaTalk with a beautiful, native interface
• Add/reply to posts and questions
• Advanced search functionality (search posts/comments, site filters, and sorting)
• Browse several different feeds (Recent, Popular, Feed, Tags, Categories & Favorites)
• Sort comments/answers by popularity or recency
• Discover new content by simply shaking your device
• Customize the app through fine grained settings controls
• Several different themes
• Built in web browser
• Multiple device and orientation support
• Universal app (iPhone and iPad), for iPhones, optimized up to iPhone 6/6+
• And much more!

You can access these features and more with a few intuitive gestures, some of them including:
• Double tapping to favorite any comment/answer
• Swiping left on any post/question from any feed to view the full post
• Swiping left on any post/question/comment to quickly leave a reply
• Shaking your device to view a random post/question

But don't take our word for it, launch the app and experience for yourself! In order to access favoriting and reply functionality, you must have a paid account through their website. Browsing is free!