If you thought yesterday's post covering paid iPhone and iPad apps on sale for free was a good one, just wait until you get a load of today's batch. We've got eight fresh apps for you to check out on Tuesday, but don't waste any time or you might miss some of these sales.
These are paid iPhone and iPad apps that have been made available for free for a limited time by their developers. There is no way to tell how long they will be free. These sales could end an hour from now or a week from now — obviously, the only thing we can guarantee is that they were free at the time this post was written. If you click on a link and see a price listed next to an app instead of the word "get," it is no longer free. The sale has ended. If you download the app, you will be charged.
SpeedyKey Keyboard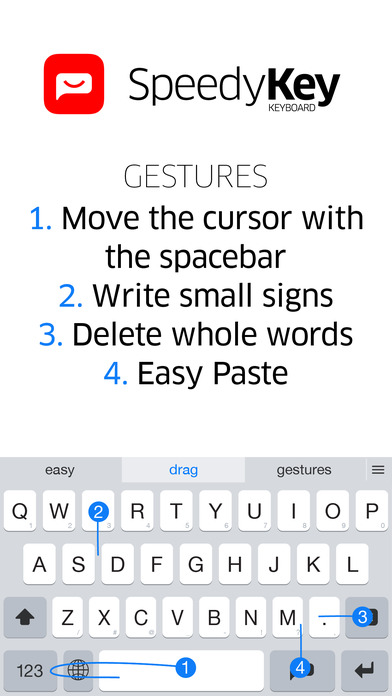 Normally $1.99.
Write faster, move the cursor, insert pre-written signatures and messages with reminders attached to them and much more with the new and groundbreaking SpeedyKey Keyboard.

Groundbreaking features:
• Pre-written Replies. Never forget to write or call someone back with pre-written SpeedyReplies with reminders – perfect when you don't have the time to type a message. Just select your pre-written message, and a reminder will pop-up later. SpeedyReplies are also perfect for inserting text, like your signature, address, email etc.
• Move the Cursor. Press the space-bar and drag the cursor where you want it.
• Smart suggestions and auto-correct.
• Write numbers and signs like "@", "?", or "," faster.
• Delete a word with a single gesture.
• Paste gesture.
• Gorgeous themes.
• Smileys.
• Hide the suggestion panel for more space.
• Speedy-Letters: if the selected language has some special letters, then you can quickly access them with one click. This makes it much faster to write in these languages.
• Speedy-Menu to quickly change the keyboard settings or language.

The following languages are available – more will soon follow:

• Danish
• English UK
• English US
• Faroese
• Icelandic
• Norwegian
• Spanish
• Swedish

Read more about the keyboard on: http://www.speedykey.com
Lists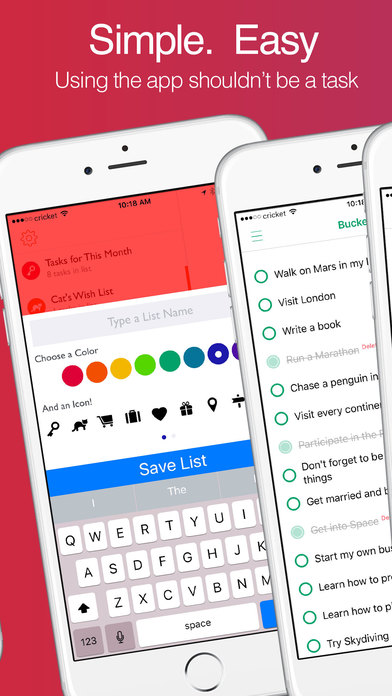 Normally $2.99.
Lists is a fun and colorful little task and checklist app. A lot of todo apps are pretty intense, but sometimes the easiest way to get stuff done is to keep things light and easy. If you need a productivity tool that doesn't take itself too seriously, Lists is your app! It's perfect for condensing and focusing in on the 10 or so things that actually matter, and getting them done. All lists and items you create in the app are synced in real-time to all of your devices, and are available offline.
SelfieX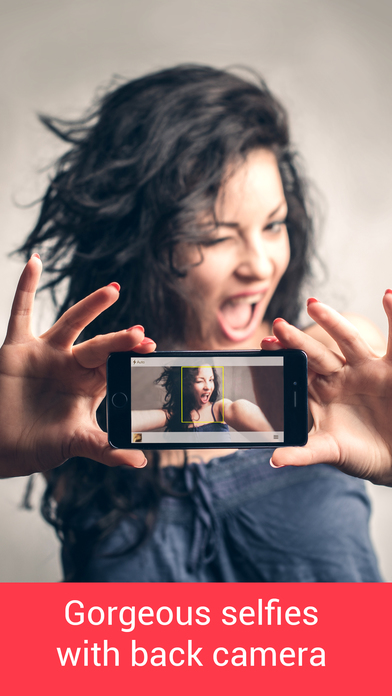 Normally $0.99.
The app lets you take selfies with the better rear camera of the iPhone. The problem is, when you turn the screen away, you can't see if your face is framed the way you want it to be. This app voices directions to guide your framing: right, left, up or down.

When you aim the iPhone at your face at the right angle, the app automatically takes a photo.

Turn your phone back to make quick edits (crop and tune brightness, contrast, saturation) and share.

How it works:

1. Aim your iSight camera at yourself
2. Listen to the instructions while catching the angle
3. Turn your device back
4. Edit, save and share
Dual Browser
Normally $3.99.
Dual browser in one display!

Browsing web becomes easier and more efficient!

Features:
1. Simultaneously display Dual Web browser.
2. Previous / Next page button.
3. Share Screen button.
4. Dual Window Extend Mode.
5. Previous / Next URL button.
6. URL Save button.
7. Lightweight UI design to reduce memory usage can increase performance.
8. Use iPad, which has an independent ability to display video on one of dual web browser.
If you have any question or problems please contact
hanchanglin@gmail.com.
We are committed to fixing bugs as soom as possible.
Touch Search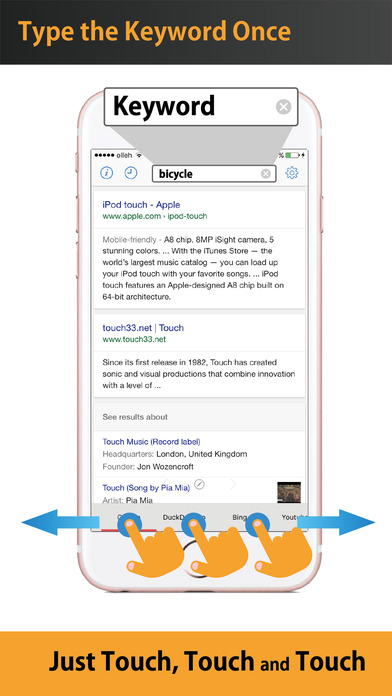 Normally $0.99.
* Before "Touch Search" – Tedious & inefficient
– Open Web Browser.
– Type keywords
– Open another tab for another search engine
– type keywords
– again, again

* With "Touch Search" – Type once & Just Touch
– No retyping same keywords on every search engine

* Special functionality
– Customizable Search engines(Search engines, Dictionaries, Shopping sites and more)
– Reorder Search engines and former search engines displayed first.
– Widget & 3D Touch support
– iPad & iPad Pro compatible

* When you read books or news paper, you can use dictionary
* Copy Text, open Widget, Touch "Clipboard" and just Touch, Touch, Touch.
* Long Press appicon, type keywords once, and just Touch, Touch, Touch
The Forgotten Treasure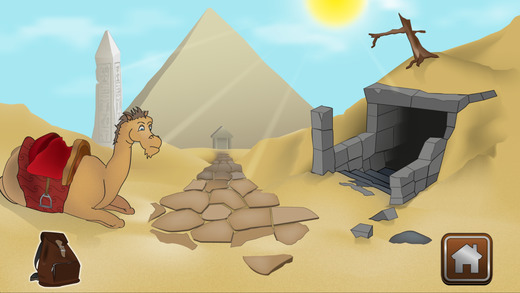 Normally $0.99.
Adventurer, are you ready? There is a forgotten treasure waiting for you somewhere in the world and it is your job to find it. Grab your trusted crowbar and explore both an ancient Egyptian pyramid and a desolate Mayan temple for clues.

The Forgotten Treasure is an exciting but rather short game (1 hour's worth of puzzles, 40 minutes if you are a sharp one). It is a fun drag-n-drop adventure game with cartoonish, razor-sharp graphics, interesting objects to interact with and nice sound-effects. There is a camel (and a couple of other animals), an obelisk, a mysterious stone, lots of sand, priceless urns and much more to poke around with. You have to use that brain of yours a little but most of all this game aims for an overall feeling of good old-fashioned fun.
System Requirements
This game is thoroughly tested and runs smoothly on iPhone 5 and newer devices. It also runs fine on iPad Air if you can abide with letterbox mode. We would not recommend buying it for anything with less memory than an iPhone 5 because it will not run smoothly or not at all.
This indie game is inspired by late Terry Pratchett's Discworld, Tim Schafer & Ron Gilbert's Monkey Island and Joe Kauffman's The Lost City. It is produced by a small team of dedicated individuals who enjoy their coffee black and their mobile games unpretentious and fun.

So without further ado:
Peeking Peacock presents: The Forgotten Treasure.
Download The Forgotten Treasure
Alizarin
Normally $2.99.
Download Free free the Mac App Store

Alizarin is your on-the-go solution to high-def, unlimited music with no strings attached. Enjoy the perfect music streaming service without the need for subscriptions or reoccurring payments of any sort. No limits, just pure audio.

Nowadays, even with premium music services, you are still restricted to certain limitations. You can only download a certain number of songs, you are limited to a number of playlists and you are only allowed to extend that service to just 5 devices. Why limit yourself when you can get unlimited everything, for free, on all of your devices – no strings attached.

SEARCH
Search amongst one of the world's largest music databases. Any premium song, remix or mixtape – we have it.

PLAYLISTS
Organize your music into playlists for non-stop listening. Enjoy unlimited playlists, as well as unlimited songs per playlist.

SAVE & SHARE
Save any song to your music library and share it with friends. Never worry about sharing a song again. It's as simple as the click of a button.

CLOUD LIBRARY
Each song that you save is stored in your music cloud library for easy streaming. No need to worry about how many songs you save, your cloud library storage is unlimited.

Download Alizarin and start listening now!
Gymster Pro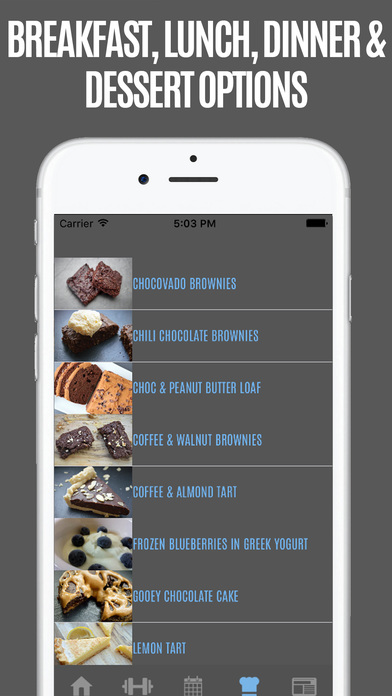 Normally $0.99.
– 2 workout modes – randomise or manual
With randomise mode simply choose the number of exercises, muscle groups to target, which gym you're at then Gymster will return totally unique workouts for you. Much like a WOD generator except based on equipment available!

– 500+ weightlifting and cardio exercises (new exercises added weekly)

– 70+ pieces of equipment to add to your gym (Updated monthly or upon request)

– 170+ IIFYM recipes with full nutritional macros breakdowns (new recipes added weekly)

– GIF tutorials

– News section with the latest articles from around the world regarding health and fitness

– Save multiple gym presets such as home gym, local gym or even body weight only gym. If you travel a lot you can even save a gym for hotels you regularly stay at.
– Updated regularly so you can rest assured that you will get value for money!

– History section for logging your workouts, the perfect exercise journal to monitor your progress – Available only on Gymster Pro
Gymster is the only fitness app that allows you to save your gym's equipment as a preset. Simply input what equipment is available, save it by giving it a name and let Gymster do the rest. If you simply only have a set of kettlebells and dumbbells available then let Gymster know and rest assured knowing you'll only see exercises you can perform!

As well as the exercises Gymster doesn't stop there, it features a recipe section with a full range of IIFYM (If it fits your macros) diet recipes. With delicious recipes such as protein peanut butter dark chocolate swirl flapjacks!
Don't be afraid to get in touch if you would like to say specific IIFYM recipes, equipment, workouts or exercises added. We are here 24 hours a day!
We look forward to hearing from you.