If you purchase an independently reviewed product or service through a link on our website, we may receive an affiliate commission. Learn more.
As the year draws to a close, there's just enough time to squeeze in one last list of the day's best paid iPhone and iPad apps that are currently on sale for free. Just like 2016, these deals won't last much longer, so be sure to take advantage while you still can.
These are paid iPhone and iPad apps that have been made available for free for a limited time by their developers. There is no way to tell how long they will be free. These sales could end an hour from now or a week from now — obviously, the only thing we can guarantee is that they were free at the time this post was written. If you click on a link and see a price listed next to an app instead of the word "get," it is no longer free. The sale has ended. If you download the app, you will be charged.
File Manager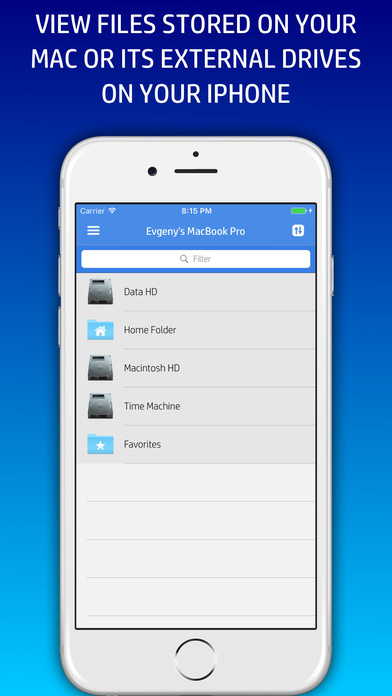 Normally $1.99.
Remote • Drive turns your iPhone or iPad into virtual USB drive, and allows you to easily transfer any file between it and your Mac.

Use Remote • Drive to utilize constantly increasing storage space on your iPhone or iPad. Take photos, videos, documents and other files anywhere you go. Using built in document and photo viewers, and video player, you can view files directly from your Mac, or download them to your device for offline usage. Stop loosing and buying new USB drives, and stop worrying about your sensitive information getting to the wrong hand.

FEATURES:
– Photo viewer for all photos stored on your Mac or any of its external drives
– Video player that supports virtually all popular video formats
– File vault with passcode protection for your sensitive files, photos or videos
– Transfer files to and from your Mac using Wi-Fi with no limits
– Document viewer that supports Microsoft Office documents, PDFs and more
– "Open in" feature allows you to open files in other apps on your iPhone or iPad
– Super easy setup

TRY BEFORE YOU BUY:
Free version is available that allows you to try it before you buy it.
http://tiny.cc/free-drive

REQUIREMENTS:
– Mac computer with macOS 10.7 or newer (Mac Mini, Macbook Air, Macbook, Macbook Pro or Mac Pro)
– iOS device with iOS 8.0 or newer (iPhone, iPad or iPod touch)
– WiFi connection shared with your computer (Wi-Fi or Personal Hotspot of your iOS device)
– Helper app installed on your Mac (Instructions in the app and here: https://bit.ly/mac_helper)
Bantay
Normally $0.99.
Bantay is a time lapse watchdog for home security:
Have a spare iOS device? Use Bantay to watch over your home. Using your device's cameras, Bantay will monitor changes in images taken over a set time interval pointed to hot spots like your front and back doors. Images with changes can then be saved to your Photo Library. The sensitivity and resolution of image change detection can be calibrated for different situations. Alternatively, images with human faces can be detected using face detection features that come with iOS and saved. A Device Motion option also allows for instant capture of photos with the front camera if the device is moved for additional security.

Remotely access images over wireless:
If wireless is available on all devices and iCloud Photo Library with automatic "Upload to My Photo Stream" is enabled, then images can be monitored remotely and securely with any device logged into your iCloud account. No subscriptions or additional access is required. Please note images cannot be uploaded to iCloud if connected over wireless to a GoPro.

Bantay is also a time lapse camera:
Bantay can be used in time lapse photography with intervals as short as 5 seconds just up to 24 hours. It can intelligently save only images with significant changes, such as a flower blooming or snow falling. Saved images can then be played back and saved to a movie file. Bantay can also connect to and control a GoPro Hero 3/3+ over wireless to take pictures at specified intervals, as well as alternate with cameras on your iOS device. Please note the GoPro Hero 4 is currently not supported.

Bantay as an automatic camera:
Have no one nearby to take a picture of you? Use Bantay with the front camera as your automatic photographer. Group jump shots are simple with Bantay.
Fractal Space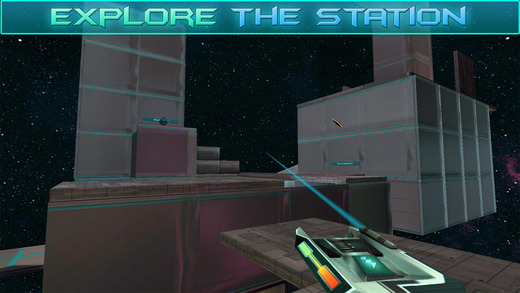 Normally $0.99.
Live the memorable experience of Fractal Space, a unique first-person adventure & puzzle game by the French indie developers team Haze Games!
Will you solve the mysteries of this station and get out alive? This, my friend, is up to you…

Jump over lasers, avoid terrible moving saws, dodge giant crushers and use your jetpack and taser gun to think your way through the puzzles of this mysterious space station.

KEY FEATURES
—————
– Control your Jetpack to fly freely around space!
– Use your Taser Gun to activate switches remotely
– Find lost recordings to solve the mystery that lead you to this station
– Observe and act upon your environment to move forward
– Full Gamepad support

SOLVE BRAIN ENGAGING PUZZLES
————————————-
While surviving the adventure through the space station of Fractal Space, dexterity is not the only challenge; activate switches, complete 2D minigames, use cubes to reach higher grounds, go through portal teleporters, orient light mirrors, search for clues to guess access codes… Your brain and mental resources must constantly be stimulated if you want to solve Fractal Space's puzzles!

TASER-GUN: PRECISION IS PRECIOUS
————————————-
Shoot your taser-gun to power-up electric devices remotely. When you're alone in the universe, this weapon is your best friend!

JETPACK: ENJOY FLYING
————————-
Defy laws of physics and gravity by firing up your Jetpack to fly freely through space and avoid deadly traps in the station. You cannot risk falling into the void of space, so use it wisely and make sure you have enough fuel to make your journey!

SPACE EXPLORATION AWAITS
——————————
Explore and pick up hidden recordings throughout the station – they will help you solve certain puzzles, recall what happened to you and solve mysteries about your past, present and future.
Pick up health and ammunition packs as you explore space to help you get through this adventure.

ACHIEVEMENTS & LEADERBOARDS
———————————–
Show the entire world what a puzzle mastermind you are by unlocking achievements, and sharing your Fractal Space speed run scores with your friends!

FULL GAMEPAD SUPPORT
————————–
Play this game as if you were on console! Compatible with most wired & wireless gamepads!
LEDhit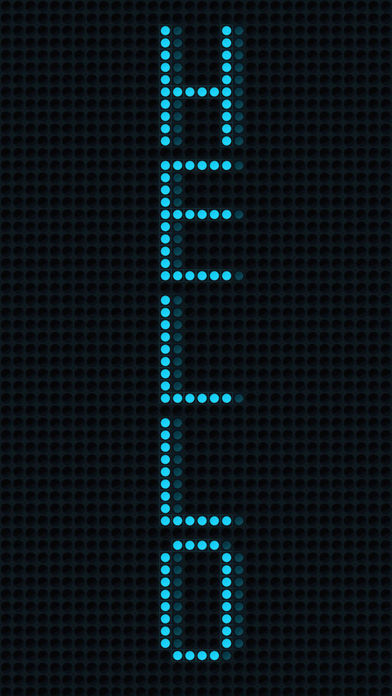 Normally $1.99.
LEDhit converts your iPhone, iPod Touch and iPAD into a dot-matrix L.E.D. display.

LEDhit is great to SMS a LED greeting card such as "Happy Birthday" or "I Love You", say something to people when they can't hear you, such as at the disco, in class, in business meetings etc. All you have to do is type your message and hit the 'Display Message' button and LEDhit will scroll your message on the screen.

What makes it even better is that if offers the possibility of vibrating when the message has finished scrolling, so you know when it's done (vibration is replaced by a beep on the iPod Touch).

LEDhit enables you to SMS & Text your messages in seconds, share your messages with friends and family via Social media, YouTube, Email and you can now translate your message into over 40+ languages to always impress your audience.

FEATURES:

– Original language translation (New)
– SMS or Text in seconds
– Share to Social Media and email (New)
– Colour selection
– Speed selection
– Vibration. Know when your message has finished scrolling
– Repeat. Leave your message scrolling, over and over again
– Font style selection. Plain, bold, italic
– L.E.D. shape and resolution selection
– No message length limits
– Easily save and load messages
– Customise your background theme and selection buttons (New)

USAGE EXAMPLES

– Announcing that you're engaged on social media
– SMS with Emoji's just to be different
– Flirting – Use it to talk to that cute girl or guy at the disco
– Speak to your friends in class without the teacher noticing
– Chat with your co-workers while in a business meeting
– Display your message to the crowd in their language
– Send a birthday card or message on Facebook, Twitter, YouTube, iCloud or Instagram

Languages: English, Arabic, Dutch, French, German, Hindi, Italian, Japanese, Korean, Portuguese, Russian, Simplified Chinese, Spanish, Swedish, Traditional Chinese
Silly New Year's Wishes 2017
Normally $0.99.
Wish Happy New Year 2017 to your friends with this silly stickers pack!

Make messaging fun with 20 animated stickers! You can use it anywhere in your iMessage chat! Customize your conversation, make it awesome and show your emotions!

WHERE TO FIND THE STICKERS AFTER INSTALLATION:

1. Open a message with a friend in iMessage app and tap the ">" button to the left of the text box.

2. Tap the app button (this icon looks like a letter "A") and then tap the button that looks like four circles in the lower left of your screen to open the iMessage app drawer.

3. Tap 'Silly New Year's Eve Wishes 2017' icon and send stickers to your friends!
Download Silly New Year's Wishes 2017
just SPENT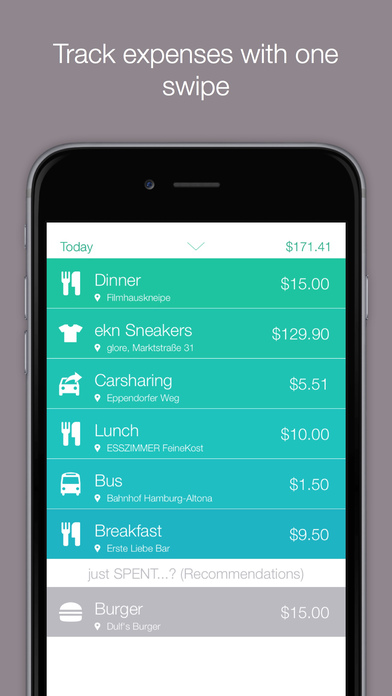 Normally $1.99.
The housekeeping book app just SPENT is the quickest and simplest way for tracking your expenses.

Create and manage costs the most intuitive way you can think of.
Always know how much money you've spent today, yesterday, the month or the year with our smart bookkeeping tool.

We've built just SPENT on the assumption that people are regularly buying the same stuff at the same places. For example every morning Sarah grabs a cup of coffee at the same coffee shop on her way to work. Whenever she is close to the shop, just SPENT suggests her to add the past expense.

FUNCTIONS
– Add subject, category and amount of your financial spendings
– Edit preset categories
– Mark the location of your expense
– Financial statistics about day, month and year
– Analyse your expenses via categories
– Home-Screen Widget
– Export your data as excel sheet and send it to yourself via email
– Heat map: Where do you burn your money?

IN-APP-PURCHASES
– Enter past expenses
– Currency converter

DATA SECURITY
Your data remains untouched and stays on your mobile device. We do not collect any financial information. There is no connection to your bank account needed.

LOCATION BASED FUNCTIONALITY
Activate suggested location related expenses with a single swipe.

REVIEWS
Please support us with giving us a review. Let us know if you like just SPENT or how we can improve the app.

UPDATES
We are constantly developing the app and integrating new features to generate an efficient finance management. Please send us your suggestions to hello (at) justspent (dot) com.

NO ADVERTISEMENT
We are not planning to have any adds on just SPENT
Clear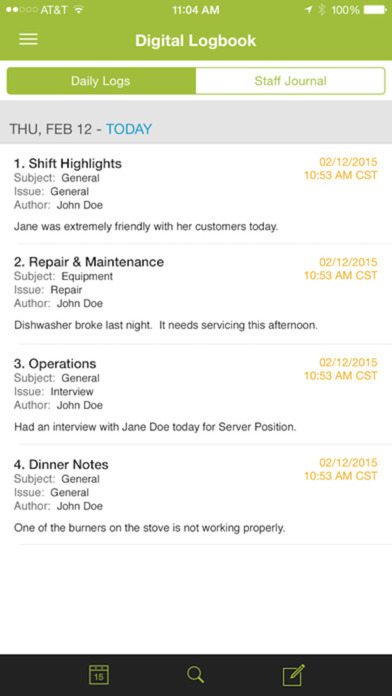 Normally $0.99.
1. REAL PRODUCTIVITY. Unlike lightweight, freebie or cutesy list tools, Todo 7 is useful when you have a deadline, NEED to focus, prioritize and get things done quickly–from home or school projects to dozens of detailed work tasks.

Includes: Projects, Sub-tasks, Start Dates, Due Dates, Recurring Tasks (with detailed recurring options), Multiple Task Alerts, Overdue Tasks, Drag and Drop, Search, Print Lists, Folders, and much more.

2. PROVEN GTD METHODOLOGY. Todo uses the popular Getting Things Done approach with Focus To-do Lists, Starred Tasks, Multi-level Priorities, Quick Entry, Context, and Projects with Layered and Prioritized Sub-Tasks—all recommended GTD approaches.

3. BUILT-IN SYNCING. Sync automatically in the background with Microsoft Outlook, Dropbox, iCloud, Toodledo, Todo Cloud 7 and to-do apps installed on your other devices. Keep everything in sync and never be locked into a specific service—your data remains yours.

4. COOLNESS

-Geotagging. Reminds you of tasks when close to task location. This way you will remember the milk when you get near a grocery store.

-Contacts Integration. Link your task to a contact and call, text, or email "John" with one tap.

-Context. Organizes your task by activity or location (i.e. home, work, errands…) so you won't be distracted with your "home" tasks while you are at work.

-Email Task Sharing. Share your tasks via email with your contacts. Keep everyone updated.

Subscribe to Todo Cloud (The KING of Collaborative To-Do App Services ) and get:

-Shared list, shared projects, assignments, comments, notes, multiple team support and email notifications.

-Add tasks with Siri, plus use email Task Creation (send email to add to your task list).

-Advanced Synchronization. Supports synchronization of EVERY Todo feature within the Todo Cloud service.
Caramel
Normally $3.99.
Caramel is photo editor. It's will change normal photo to be gorgeous and beautiful photo.
Emoji Monsters
Normally $1.99.
What can iMessage louder than words? MONSTERS!!!

Monsters say it the LOUDEST!

Express yourself with Emoji Monster stickers!

Watch out for more monsters to come.

We truly appreciate your choosing Emoji Monsters over all of your other iMessage sticker options and would love to receive a 5 star rating from you. If you feel you've received anything less than a 5 star experience from our Emoji Monsters iMessage sticker pack, please please please email us at support@wayupgames.com to help us continue to improve and provide the best animated monster sticker experience possible. We look forward to hearing from ya!
Shadow Samurai Fight:Fatal Fight
Normally $2.99.
Samurai Fight-Fatal fight is a really classic but addictive arcade fighting game,combine the features of Action Fighting, Stage Complete and Role Playing Game, together have this exciting action fighting game!You can experience the thrilling sensation with deadly Combos! Come and fight with thousands of ninjas and monsters right now!

A cool mobile fighting game in the style of Samurai Shodown and Shadow Fight, but also suitable for anybody looking for a casual fighting game
The fighting game is rich in different types of martial arts such as kung fu, ninja fight, karate and etc.
High-quality graphics! Stunning special effects! Fatal Fight present you the best gaming experience!
Our game is free to download and play

BACKGROUND:
Become the mysterious, blood thirsty warrior, Samich, owner of the legendary yet forbidden sword. The sword contains godly powers as it drinks and indulges in the blood of its enemies and its wielder. By slaying the ninjas that disrupt your deep stasis and uncovering the mystery that caused them to brawl, you will satisfy the sword.
Download Shadow Samurai Fight:Fatal Fight
---
Our deals and product reviews are picked by BGR's expert editors and team.

Follow @BGRDeals on Twitter to keep up with the latest and greatest deals we find around the web. Prices subject to change without notice and any coupons mentioned above may be available in limited supply.