If you purchase an independently reviewed product or service through a link on our website, we may receive an affiliate commission. Learn more.
Cleaning up is something nobody actually enjoys doing. Okay, there are probably people out there who do like it, but that's not the majority of the population. Cleaning around the house is a part of keeping up with personal hygiene, as the more spills and mess you leave, the more germs there are in your surroundings. If you flake some crumbs on the carpet or the floor, you want to pick those up right away. But you may not want to take out the vacuum for smaller messes and there are places that a broom isn't good to use. In those instances, a floor and carpet sweeper can be used to solve your problem quickly. Perfect for families that have pets, a sweeper is ideal for small spills and messes. Leaving your carpets and floors dirty isn't an option, so take a look at our picks for the best floor and carpet sweepers.
Best Compact Sweeper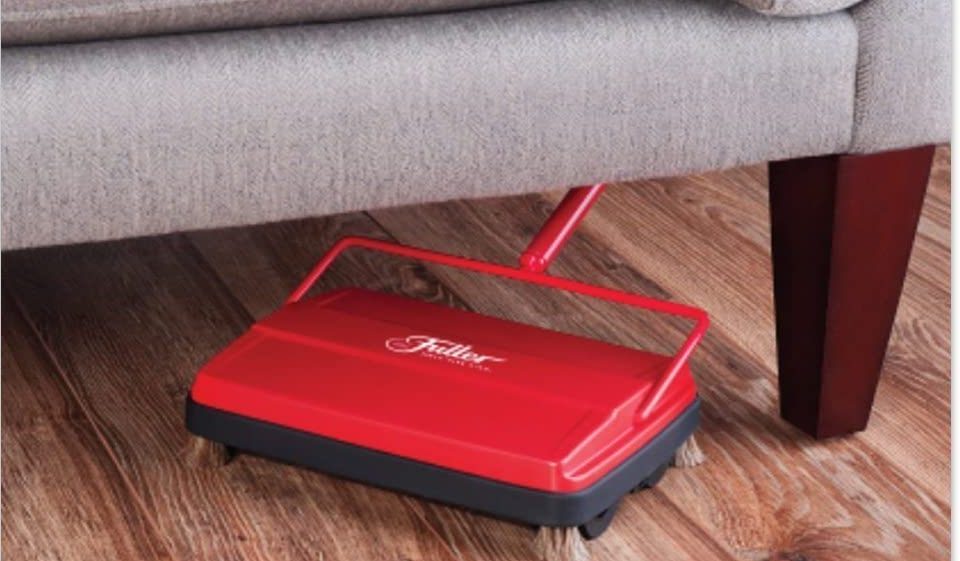 Kids inherently make messes and they're bound to leave crackers, cookies, and crumbs pretty much in a trail showing you where they've been. Clean those up fast with the Fuller Brush Electrostatic Carpet & Floor Sweeper. If you need a quick touch-up, this is an ideal machine to handle your mess. The natural Fuller Quality bristle rotor brush has the power to deal with fibers, pet hairs, crumbs, dust, debris, paper clips and even glass. You can move it from room to room without moving a muscle, as it's extremely lightweight and can fit in small areas. This is great to use on tile, low pile carpet, and all hard flooring. This uses electrostatic charges and it folds flat for compact hanging. The metal housing and four section metal handle goes along with the soft, vinyl bumper to protect your furniture.
Fuller Brush 17052 Electrostatic Carpet & Floor Sweeper - 9" Cleaning Path - Lightweight - Idea…
$79.99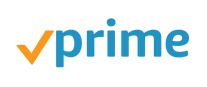 Best Sweeper / Vacuum Cleaner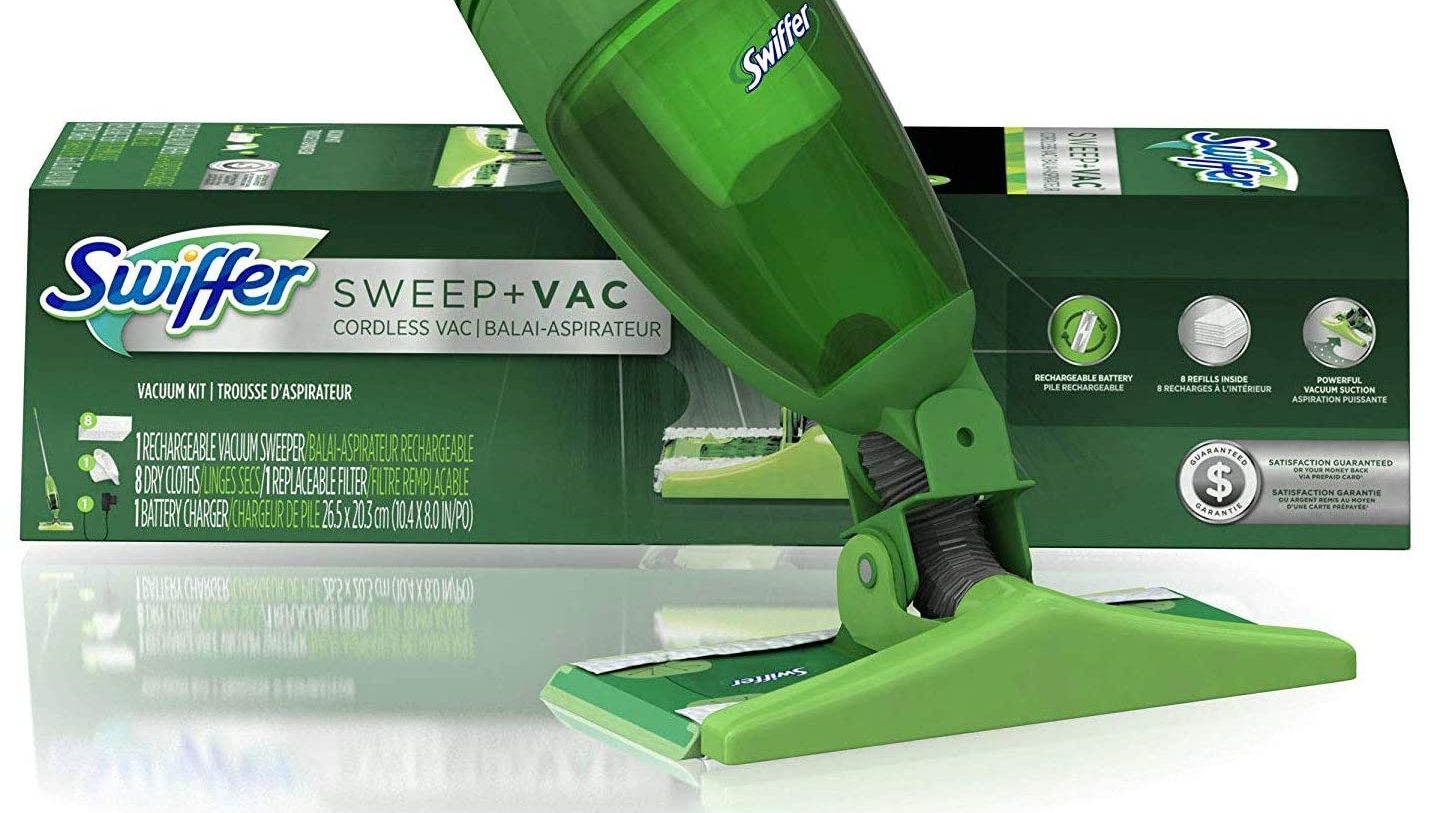 Giving your home more during a quick cleaning, the Swiffer Sweep and Vac Vacuum Cleaner for Floor Cleaning can handle all kinds of spills. This includes a long-lasting rechargeable battery as well as a charger to keep it ready to use. This cleaner provides three times the cleaning action on dirt, dust, and hair. The Dirt Cup collects dirt with no bags, so it's easy to empty out. This combines the powerful suction of a vacuum with the Swiffer sweeper dry sweeping cloth. You'll get eight dry sweeping refills with your purchase as well, so you're set for a while. This is backed by a satisfaction guarantee, or you'll get your money back.
Swiffer Sweep and Vac Vacuum Cleaner for Floor Cleaning, 11 Piece Set Includes: 1 Rechargeable…
$76.99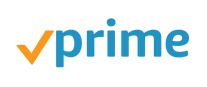 Best Multi-Surface Sweeper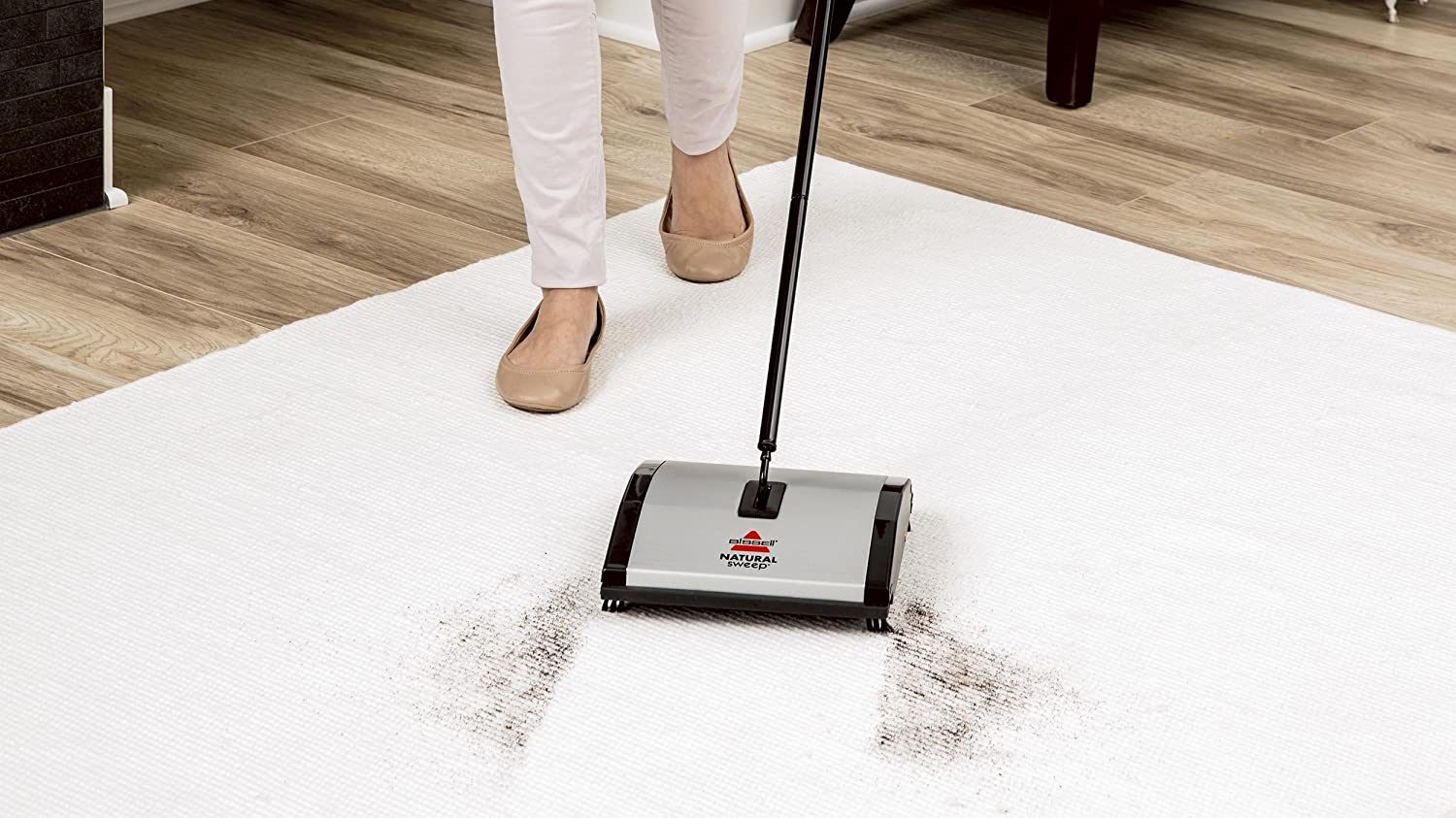 Plenty of houses have tile in the entryway, hardwood in the kitchen, and carpet in the bedrooms. For a sweeper that will all of those surfaces, reach for the Bissell Natural Sweep Carpet and Floor Sweeper. This is great for quiet cleanups of everyday messes like crumbs, pet hair, cereal, dirt, and more. This is safe for multiple surfaces like carpets, rugs, hardwood floors, and tile. The compact and lightweight design makes it super easy to store. This features dual rotating brush rolls to pick up large and small debris while you're rolling forwards and backwards. It is PVC-free and designed from 100% recycled plastic.
Bissell Natural Sweep Carpet and Floor Sweeper with Dual Rotating System and 2 Corner Edge Brus…
$31.46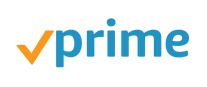 Best Sweeper to Get Under Furniture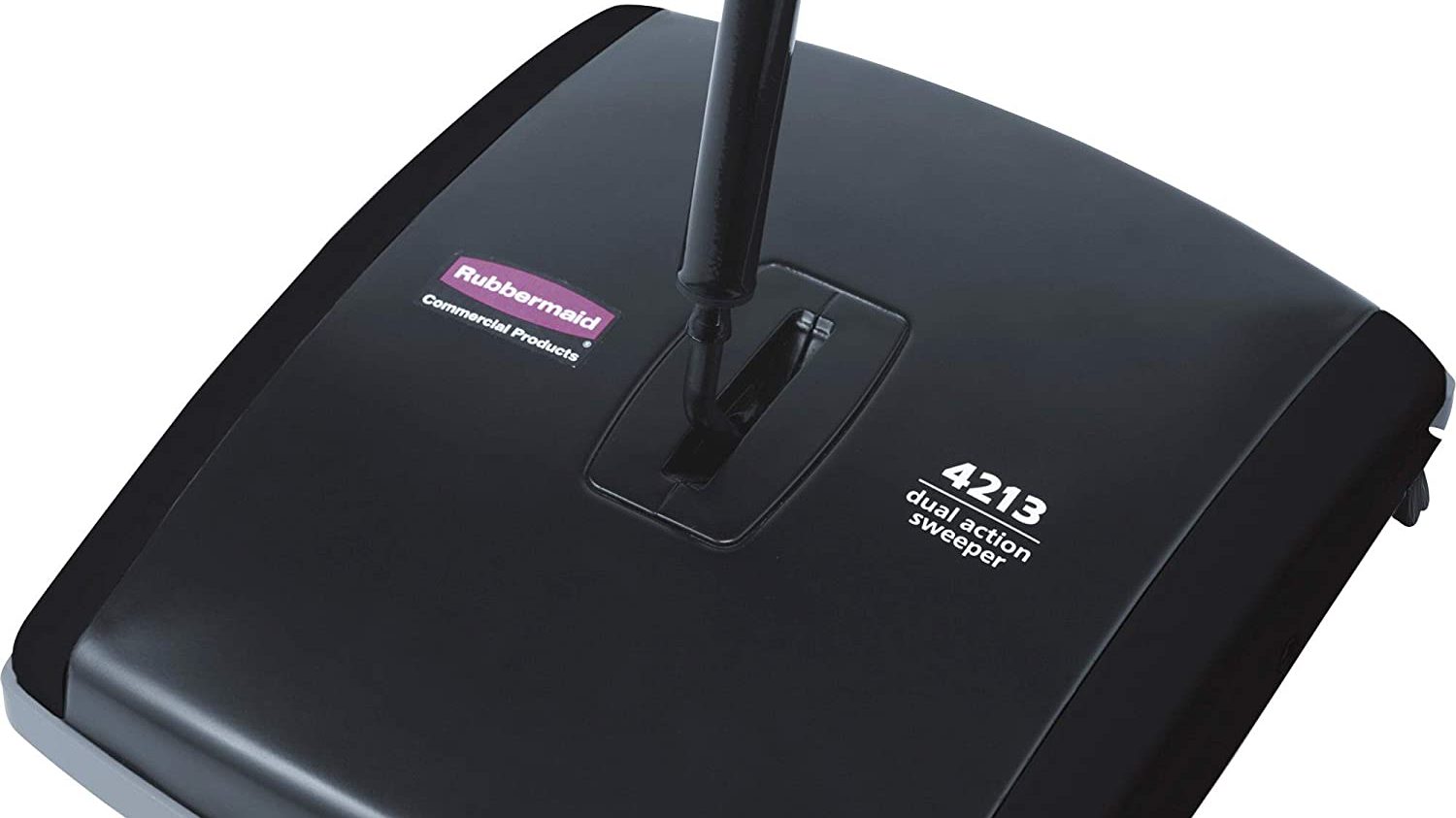 With a sleek design that isn't tall, the Rubbermaid Commercial Dual-Action Mechanical Sweeper is great for collecting that long-germinating dust. This is made from galvanized steel and ABS plastic, so it's sleek and easy to work with. The low-profile design provides easy access around and under furniture, allowing you to pick up dust bunnies or even those Christmas tree pine needles that fell underneath during the end of the year. It measures 11.2″ x 9.6″ x 2.5″ and it works on low-pile carpet and bare floors. There are two types of bristle brush rolls to collect your dirt and debris.
Rubbermaid Commercial Dual Action Mechanical Sweeper, Black, FG421388BLA
$104.52
$70.19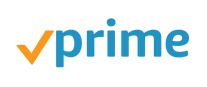 Save up to 33%
Best Triple Brush Sweeper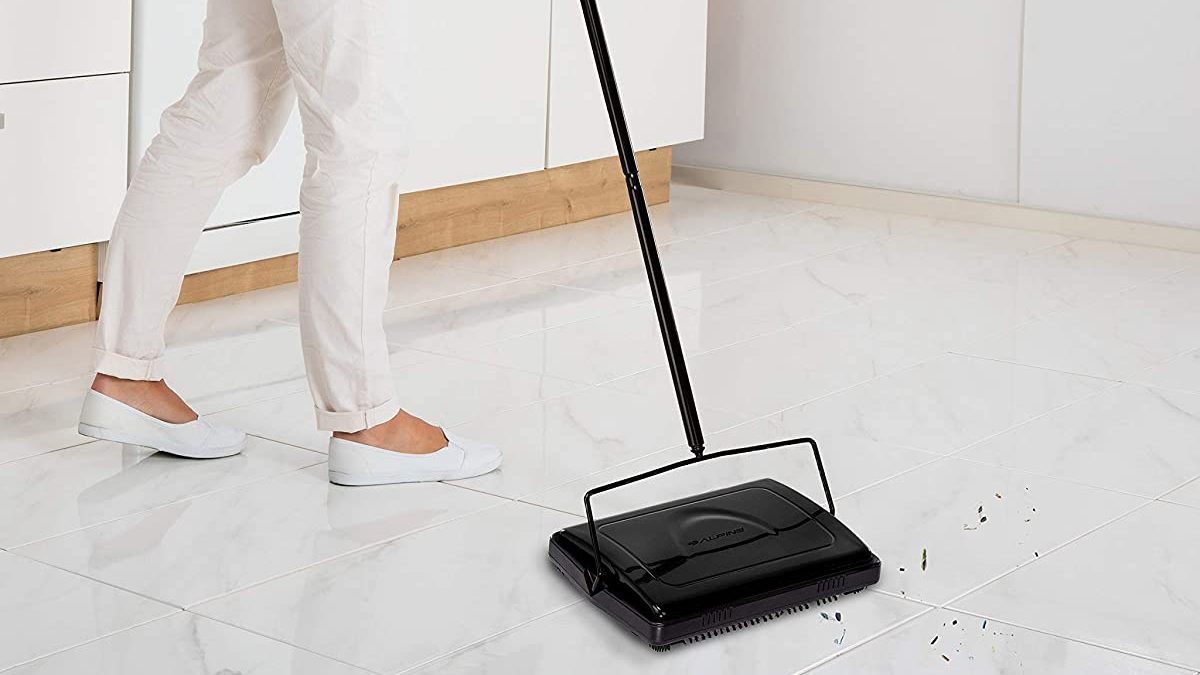 The Alpine Industries Triple Brush Floor and Carpet Sweeper provides quick and efficient cleaning. It's lightweight and easy to maneuver to clean around chairs and table legs. It includes a comb to help you clean out the bristles of the three brushes on the bottom. This operates quietly so it won't disturb your housemates or even the neighbors below you if you live in an apartment. The combination of steel and plastic construction is guaranteed to last a long time. It works on vinyl, tile, hardwood, and carpeted floors.
Alpine Industries Triple Brush Floor & Carpet Sweeper – Heavy Duty & Non Electric Multi-Surface…
$37.97