If you purchase an independently reviewed product or service through a link on our website, we may receive an affiliate commission.
Settling in on a cold night, sitting by the fireplace makes the evening that much cozier. During certain seasons of the year, a roaring fire can really lift the spirits in your home and the temperature in it too. Providing a rustic feel to any building, a fireplace acts as an unintentional decoration that looks great. But if you're actually using your fireplace to build fires and add logs to them to keep them going, you're going to want to protect your house from said fire. That's why you need a fireplace screen. A screen in front of your fireplace won't suffocate your fire but instead will keep your home safe and allow you to enjoy the fire and the heat. Adding another touch of decoration to your family room, living room, or bedroom, a fireplace screen is a smart decision for your home. We've come up with our picks for the best fireplace screens on the market to help you enjoy your cozy nights even more. Let's take a look.
Best Glass Door Screen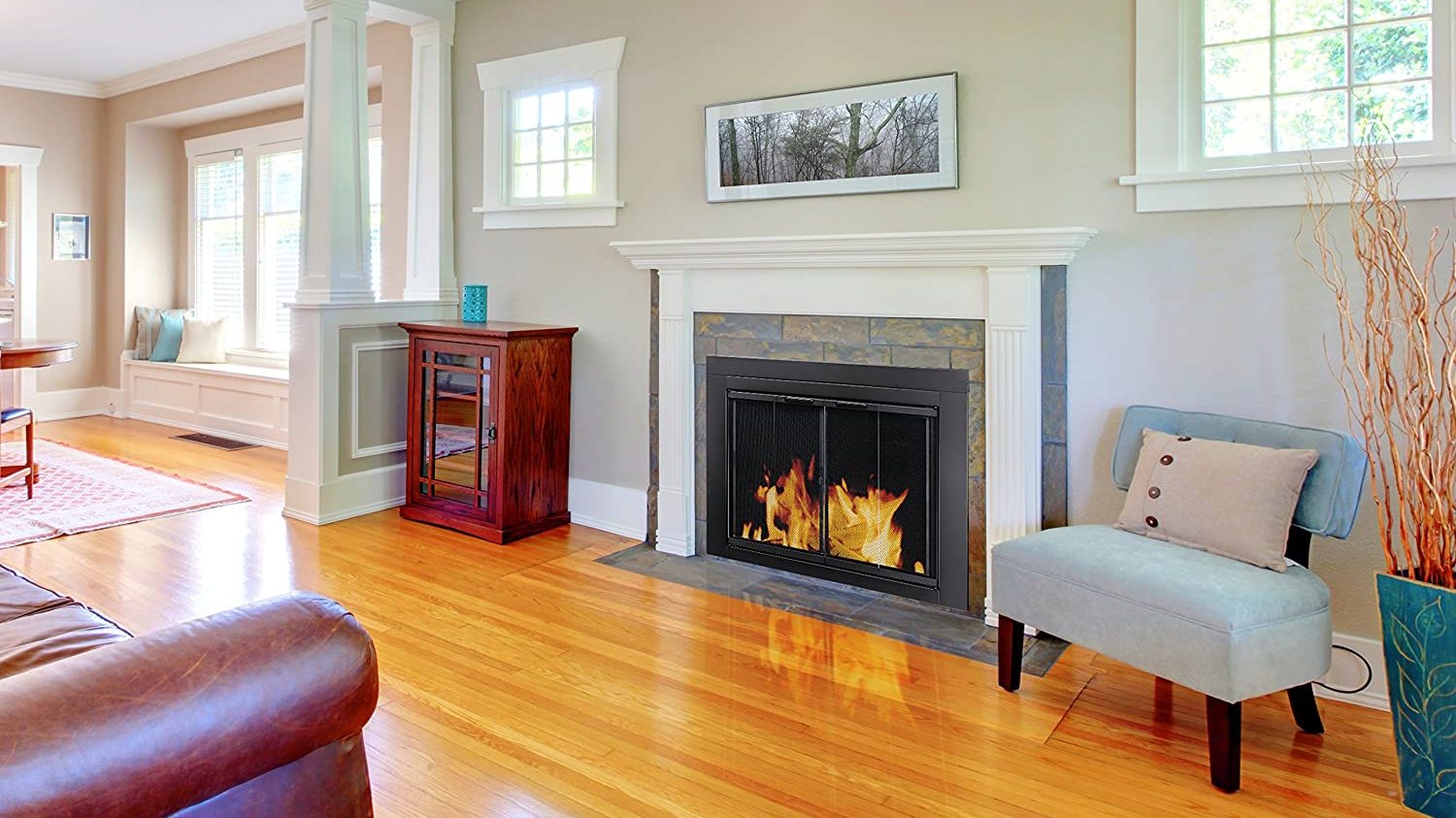 With the translucent look that lets you see the fire clearly, the Pleasant Hearth AT-1001 Ascot Fireplace Glass Door is a great purchase. This comes in a small, medium, or large size, but we were able to test out the medium size. The medium one measures 30″-37″W of firebox opening, 25.5″-32.5″H of firebox opening and 37.5″-33″ overall frame dimensions. This has a black finish that's extremely sleek with clear glass to see through. It comes fitted with standard mesh paneling that is made from one-inch thick welded construction. The doors are bi-fold, meaning they fold into themselves and pull outward, so you can keep them open and them slide them closed quickly. The safety glass is 3/16″ thick and tempered. The handles are comfortable to grip for when you need to open and close the screen. Make sure to measure your fireplace before making a choice on size.
Pleasant Hearth AT-1001 1111 fireplace screen, Black Medium
List Price:
$279.00
Price:
$264.98
You Save:
$14.02 (5%)
Available from Amazon, BGR may receive a commission
Best Flat Guard Screen
Rather than sticking out into your room, putting you at risk of potentially bumping into it, the Plow & Hearth Large Crest Flat Guard Fireplace Screen is flush to the fireplace. This offers you maximum protection and coverage as it fits to the hearth. Not only does this keep you safe, but it's beautiful to look at, as it has an elegant scrollwork design. The wrought iron detail allows it to complement any decor from classic to modern to rustic. The large scroll font feet and smaller back feet support the screen. It's functional and decorative, making it a great piece for your home. You can get this in many different sizes and the large fireplace screen measures 44″ x 33″. It has a tubular steel makeup and is lightweight and durable. The screen is mesh with a powder-coat finish. This will keep your family safe from popping embers and will deter children and pets from contacting the fire. Plow & Hearth is a known company who has been trusted for over 40 years.
Large Crest Flat Guard Fireplace Screen, Solid Wrought Iron Frame with Metal Mesh, Decorative S…
Price:
Available from Amazon, BGR may receive a commission
Best Leaf Design Screen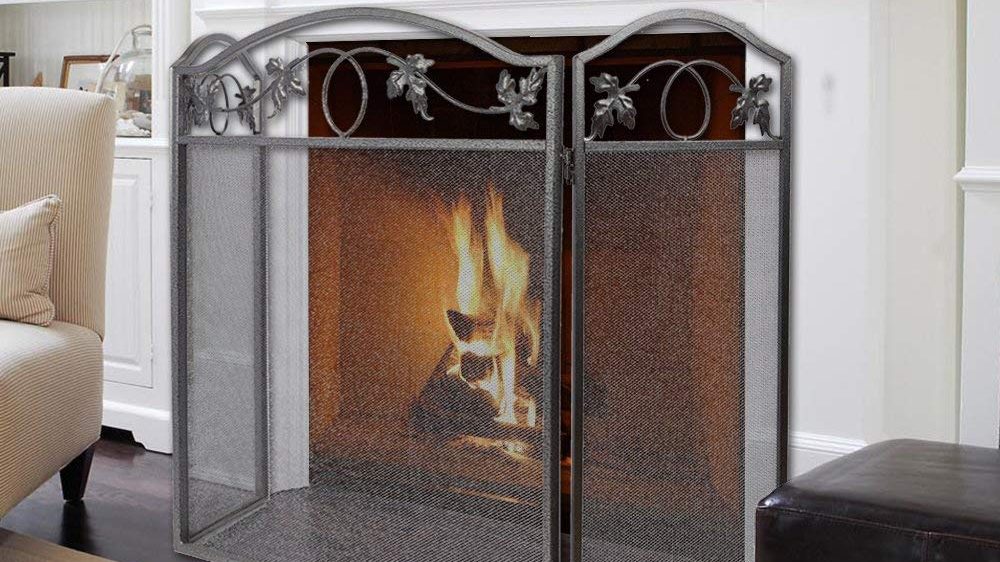 Adding a little more class to your home, Amagabeli 3 Panel Pewter Wrought Iron Fireplace Screen has a fantastic design. This is a baby safe, fireplace screen that has a leaf design at the top for an added portion of elegance. This measures 28.9″ in height and 50″ when it's fully expanded. The large curtain cover matches with home decor, gas fireplaces, wood fireplaces, fireplace tools, grate, or other accessories. These come with two hinges in an arch design and can stretch to fit different openings. The powder-coat finish ensures a long-lasting use. You can use this indoors, outdoors, near a fire pit, or even in portico fireplace areas. This is a solid fireplace cover to guard against popping embers and will help keep children and pets away.
AMAGABELI GARDEN & HOME 49.6 x 28.9 Inch Fireplace Screen 3 Panel Pewter Foldable Wrought Iron…
List Price:
$62.99
Price:
$57.99
You Save:
$5.00 (8%)
Available from Amazon, BGR may receive a commission
Easiest Screen to Fold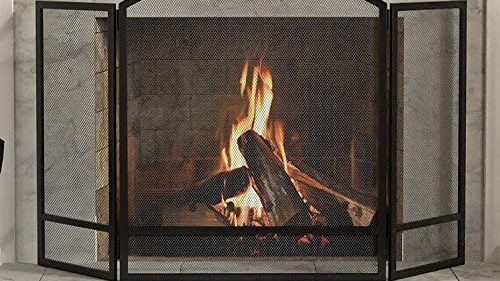 Making it easy to move aside when you're not using it, the Panacea Products 15951 3-Panel Arch Screen with Double Bar for Fireplace is simple to use. This has two hinges in the three panel design that allows you to stretch it to match different openings. The front panel is two feet wide and the side panels are a foot wide apiece. The entire thing is 27″ tall to cover bigger fireplaces. You can unfold it and secure the back feet for stability. The hinged doors make it easier to move the screen aside. The frame is a square tubular steel construction that has evenly balanced weight. You'll be able to just sit back, relax, and enjoy the fireplace. This holds up for daily use, so you don't need to worry about it each time you use it. It only weighs one pound, so moving it around is made simple.
Panacea Products 15951 3-Panel Arch Screen with Double Bar for Fireplace, 29 Inch
Price:
$38.82
Available from Amazon, BGR may receive a commission
Best Four Panel Screen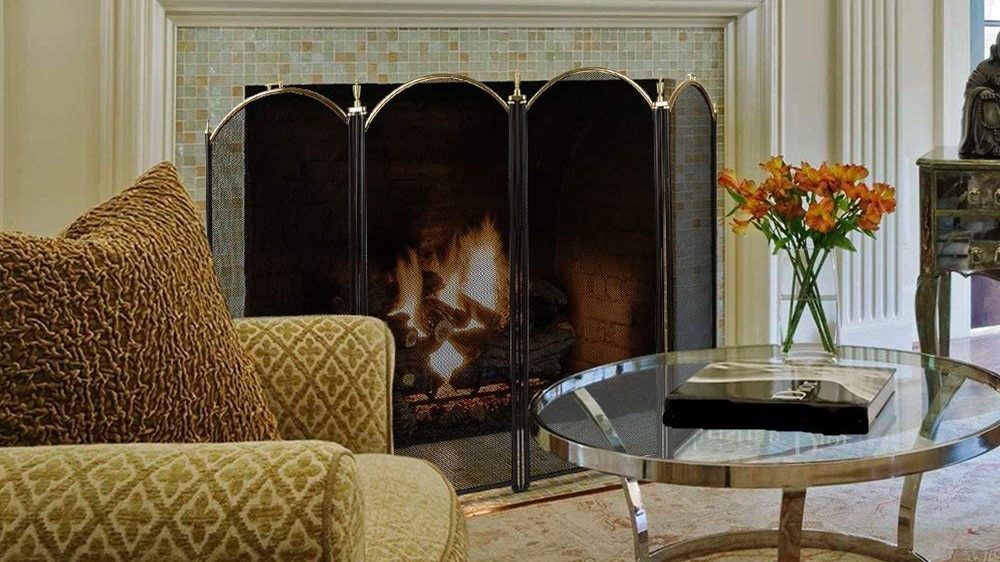 Giving that extended look of added decor, the Amagabeli Garden and Home Large Gold Fireplace Screen 4 Panel Ornate Wrought Iron Black Metal Fire Place Standing Gate protects your home more. The screen is made from mesh and measures 32 inches in height and 51 inches fully stretched out wide. This matches with home decor whether you have a wood-burning fireplace or a gas one. The top portion is gold and made from wrought iron for a durable and solid product. There are four single hinged panels in arched designs that can stretch to fit different openings. The screen holds firmly in front of the hearth, even outdoors. This also acts as a fireplace guard around the holiday season, protecting your trees. Popping embers are not a problem.
Amagabeli Large Gold Fireplace Screen 4 Panel Ornate Wrought Iron Black Metal Fire Place Standi…
Price:
Available from Amazon, BGR may receive a commission