If you purchase an independently reviewed product or service through a link on our website, we may receive an affiliate commission.
When it comes to competitive and casual outdoor games, few compare to cornhole. Whether you're playing in a competitive cornhole league or just enjoying some brewskis with your friends in the backyard, there's really nothing like the feeling of throwing a beanbag into a small hole at the top of a 2′ x 3′ board. It's inherently satisfying, to say the least. So for those looking to spice up their parties, beach trips, or any casual warm-weather hangouts, in general, one could argue that a cornhole set is more of a necessity than an actual "want." As a result, we decided to check out some of the best cornhole sets for your own backyard — or anywhere else you want to bring it, for that matter — so you can get as many games in as your heart desires. And we have a feeling that's quite a few.
Best Overall Cornhole Set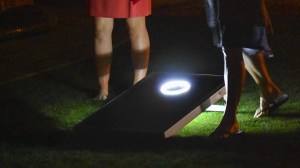 All things considered, the GoSports Cornhole Bean Bag Toss Game Set is probably your best all-around option. For starters, it's made with a tough aluminum frame which allows for prolonged use and increased durability. Despite its strength, each board is lightweight and easy to carry, making it totally portable, as it also contains a custom carrying case. But what really separates this set from the others is the fact that it can be used both during the day and into the night, as each board features a ring of 38 long-lasting and brightly colored LED lights to illuminate your game board to play at any hour. So for those who never want the party to stop, this is certainly an intriguing option, to say the least.
GoSports LED Light Up Cornhole Set, Tailgate Size, Black (CH-01-LED)
Price:
$107.99
Available from Amazon, BGR may receive a commission
Best Wooden Cornhole Set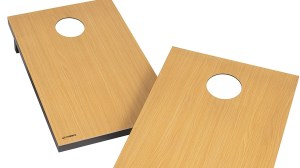 On the other hand, if you're looking for a more traditional wooden set, the Triumph Premium 2×3 Cornhole Set is a no-brainer. While it isn't made out of strong aluminum like the aforementioned set, it's still made out of ultra-durable wood that's both sleek and sturdy. Each board contains foldable and sturdy wooden legs that allow for easy transportation. They're also covered in scratch-resistant melamine laminate surface, which is instrumental in preserving them for the long haul, especially considering they're being used primarily outdoors. Each board locks together and contains a convenient carrying handle for easy transportation. The set comes with eight total beanbags — four blue and four red — for two separate teams.
Triumph Premium 2x3 Cornhole Set - Includes 2 Portable, Scratch Resistant Bag Toss Boards and 8…
List Price:
$79.99
Price:
$53.20
You Save:
$26.79 (33%)
Available from Amazon, BGR may receive a commission
Best Cornhole Set for Parties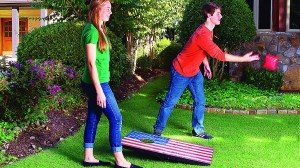 If you're looking for a vibrant, fun-looking board for summer parties and get-togethers, this Wild Sports 2'x3′ Wood Stars & Stripes Flag Cornhole Set is the way to go. The full set comes with two MDF boards that Velcro together along with eight 12-oz regulation beanbags. The boards feature a unique American flag design, making them great for America-centric holiday parties in the warm weather, like Independence Day, Memorial Day, etc. They also come in a couple of different designs — "Wood" and "Stars" — so you certainly have a few options to choose from.
Wild Sports 2'x3' Wood Stars & Stripes Flag Cornhole Set, Red/White/Blue
Price:
Available from Amazon, BGR may receive a commission
Best Value Cornhole Set
From a value standpoint, the EastPoint Sports Cornhole Game Set Bean Bag Toss MDF is another great option. This iteration is travel-friendly, as it includes convenient handles to carry the boards with ease, and it comes with eight 16-ounce blue and red regulation size bean bags for dueling teams. The wooden boards are smooth to the touch, allowing the beanbags to slide with ease for seamless game play. Plus, each board is reinforced with metal corners and frames for superb durability and longevity. Perhaps best of all, the boards come with inner storage compartments, which make for easy travel, easily making this the best bang-for-your-buck purchase you'll find.
EastPoint Sports MDF Cornhole Game Set 2x3 with Built-in Storage, Convenient Carry Handles –…
List Price:
$79.99
Price:
$75.30
You Save:
$4.69 (6%)
Available from Amazon, BGR may receive a commission
Best Compact Cornhole Set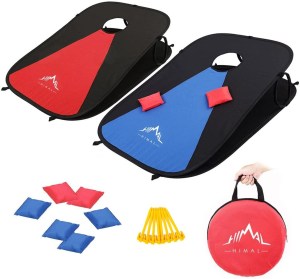 If portability is your main concern, whether it's taking it to a friend's house, the beach, or on vacation, these Himal Collapsible Portable Corn Hole Boards With 8 Cornhole Bean Bags have your name written all over them — figuratively, at course. While most cornhole sets are portable in their own right, this comprehensive package takes it to the next level, as each board is made from highly elastic flat wire, which allows you to fold them multiple times over. The two 3′ x 2′ cornhole boards and eight accompanying bags can all easily fit into the convenient carrying case, which is no larger than a classic handbag. They're strong, ultra-compact, and super inexpensive, giving you a high quality cornhole set that you can bring to and fro without worry.
Himal Collapsible Portable Corn Hole Boards With 8 Cornhole Bean Bags (3 x 2-feet)
Price:
$33.98
Available from Amazon, BGR may receive a commission