If you purchase an independently reviewed product or service through a link on our website, we may receive an affiliate commission.
Watching TV shows, movies, documentaries, and any sort of live content has become more immersive than ever before. Of course, this is due to the influx of technology we've seen over the last couple of decades. But in the past couple of years, however, we've really seen the landscape of content consumption change, thanks to the advent of streaming platforms, a juxtaposition from traditional hard copy iterations. Still, there's no denying there's still a place for Blu-ray copies of your favorite movie, television show, or docu-series — especially if it's in high-quality UHD/4K. From a psychological standpoint, those who are "old school" typically prefer to physically own a copy of what they're buying to feel like they've actually made a worthwhile purchase. But from a sheer technological standpoint, owning a 4K Blu-ray player is essentially the only way to get the latest film and television content in stunning Ultra HD. There's only so much content on streaming services like Netflix that are available in 4K, so if you're looking for a specific title — especially one that's just been released — you're likely going to need to make an individual purchase. Fortunately, there are some pretty sweet deals on the web that can nab you a 4K player without necessarily breaking the bank. So if stunning picture quality is a must for you, check out some of the latest bargains on 4K Blu-ray players.
Best Overall 4K Blu-ray Player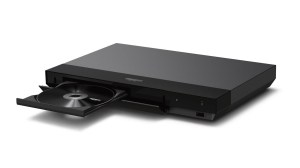 When it comes to 4K Blu-ray players, you'll be hard-pressed to find something that, overall, provides you with an immersive visual and audio experience like the one you'll be getting from the Sony UBP-X700 4K Ultra HD Blu-ray Player. With this device, you're getting ultra-clear picture quality that contains four times the picture resolution of a traditional Blu-ray player. Plus, you can watch Blu-ray discs and still stream in 4K off of streaming services, giving you a ton of viewing options. And even when you're not viewing 4K content, the UBP-X700 features an advanced upscaling system that enhances the picture for sharper images and super high resolution. You can even watch HDR films on non-HDR TVs, thanks to the device's HDR-SDR conversion technology which enhances colors, shadowing, and accentuates details. You can play nearly any disc or file on this versatile device. And from an audio standpoint, you're not going to find something much better than this — the device's Hi-Res audio and dual HDMI outputs for A/V separation make for clearer, sharper sound whether you're simply streaming music or watching a feature-length film. All things considered, this Blu-ray player is a top-notch and relatively inexpensive way to consume both traditional and downloaded digital content in a fully-immersive way.
Sony UBP-X700 4K Ultra HD Home Theater Streaming Blu-Ray Player
List Price:
$249.99
Price:
$188.95
You Save:
$61.04 (24%)
Available from Amazon, BGR may receive a commission
Best 4K Blu-ray Player for Stunning Picture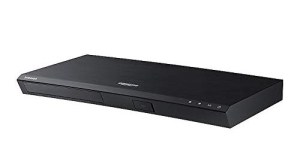 For the best overall picture quality — from stunning contrasts to beautiful, vibrant colors — the Samsung UBD-M8500/ZA 4K UHD Blu-ray Player is your best bet. This device is best used in conjunction with a Samsung UHD/4K TV, but it's certainly not a necessity. The UBD-M8500 automatically recognizes HDR content and instantly optimizes it on your Samsung TV settings, allowing you to forgo some potentially annoying steps. Samsung, of course, is known for its advanced picture quality, so it should come as no surprise that this Blu-ray player provides viewers with true 4K UHD playback, allowing you to consume 4K content like you've never seen before. For starters, the player's dynamic range is insanely impressive. In fact, it contains twice the color range of existing conventional Blu-ray players, as well as 64 times the color expression, which is actually even higher quality than digital cinema standard. It also contains an upscale feature, which provides you with a range of color contrast and brightness, turning classic, standard definition movies into near 4K-quality visuals. And thanks to built-in wireless connectivity, it's super easy to sync and stream all your favorite TV shows, games, apps right from the jump.
SAMSUNG UBD-M8500/ZA 4K UHD Blu-Ray Player
Price:
Available from Amazon, BGR may receive a commission
Most Versatile Device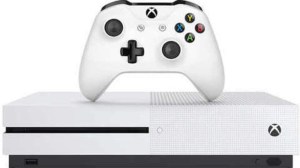 Obviously with so many different streaming services and platforms available, finding a device that can serve as a versatile home theater can be a total game-changer. And while one might not view a gaming system in that light, the Xbox One S Two Controller Bundle is actually a great way to consume high-res, 4K content on the regular. If you don't already have an Xbox One — or you have an older iteration that can't stream in high-quality 4K — this bundle deal is a great way to get started. If you're a hardcore gamer, obviously, this purchase speaks for itself, but it really stands out for those who want a comprehensive entertainment system that essentially doubles as a means to play video games at your leisure. Not only does it have the ability to increase the picture and sound in gameplay, but the console's High Dynamic Range technology lets you to seamlessly watch 4K Blu-ray movies and stream 4K video on Netflix, Amazon, Hulu, YouTube, HBO Now, and more. Spatial audio also gives users immersive sound through Dolby Atmos and DTS — perfect for any home theater setup. The entire bundle comes with the Xbox One S 1TB console, two Xbox Wireless controller, a free one-month trial of Xbox Game Pass, and a 14-day trial of Xbox Live Gold.
Price:
Available from Amazon, BGR may receive a commission