The key security feature of WhatsApp is that you need a phone number to log into the chat app. Your phone number is what authenticates you as a user. That makes account takeovers more complicated than someone guessing your username and password. Also, it makes it impossible to sign up for WhatsApp without a phone number and a smartphone. On the same note, you can't use two or more WhatsApp accounts on your iPhone and Android, as each one of them needs its own SIM card.
The latter is changing soon, as Meta CEO Mark Zuckerberg announced that WhatsApp users will be able to switch between two different accounts on the same phone without replacing the SIM.
Meta already lets you access WhatsApp from multiple devices, which is an upgrade from the previous experience. You can chat with family and friends from a computer or a tablet, not just a smartphone. And you can extend your WhatsApp account to a different smartphone. Considering these developments, support for dual WhatsApp access on the same device is the natural evolution of the functionality.
Support for logging into two WhatsApp accounts simultaneously will benefit those people who rock two phone numbers. Maybe you have a work phone and a personal phone, and each of them needs its own WhatsApp access. That's the example Mark Zuckerberg offered when posting about the new WhatsApp feature on Facebook. It's also the example WhatsApp uses on its blog, as seen below.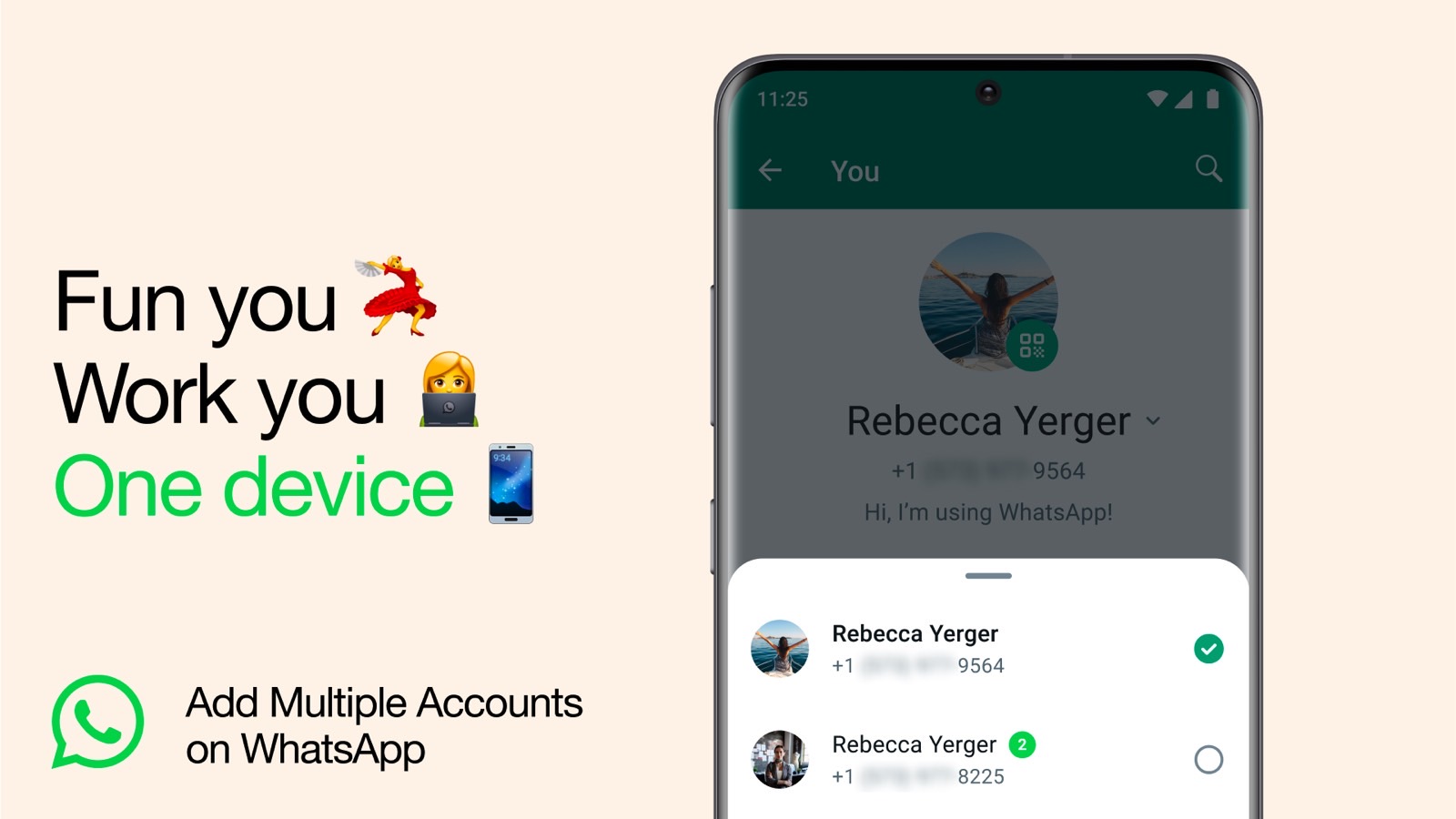 The CEO featured a screenshot similar to the one above. It shows you how you'd switch between a personal and work phone inside WhatsApp when chatting with people. There's no telling whether you can have more than two WhatsApp accounts running on the same phone concurrently. The Meta CEO only mentioned simultaneous access to only two accounts.
You'll need both when activating the new feature, whether you use two smartphones or rely on a dual-SIM device to manage the two phone numbers. That is, you'll have to have both SIM cards active at the same time when moving your second WhatsApp account to your primary phone.
That's because Meta will send you a one-time passcode to that second WhatsApp account to ensure the request for access is genuine.
Again, Meta has to ensure the security of WhatsApp accounts and prevent abuse. Without such checks, someone could attempt to take over a target's WhatsApp account by knowing their phone number. Once the verification is over, you won't have to pay attention to that secondary phone's WhatsApp app.
That's all coming from the official WhatsApp blog. The company says the feature is available today, starting with Android. That's Meta's preferred platform for rolling out new features. It's unclear when the iPhone app will get it, but it'll probably happen soon.