Last week, the European Union (EU) announced the first set of gatekeeper tech companies and gatekeeper services, and we've already discussed what it means. For example, iMessage isn't a gatekeeper yet, so it doesn't have to support Google's RCS.
But Apple's iOS and App Store are gatekeepers, so sideloading support must be coming in a future update to iOS 17. Similarly, Meta's WhatsApp and Facebook Messenger are gatekeeper chat apps that will have to support third-party instant messaging apps.
I explained recently why the latter scenario will be a nightmare, considering the EU's rules. Conversely, it would be just as confusing to see Apple have to open iMessage to third-party chat apps. But while Meta has six months to comply with the the Digital Markets Act (DMA), it looks like it already started the work. A future version of WhatsApp might support third-party apps, but don't get too excited.
Popular WhatsApp enthusiast WABetaInfo found evidence that Meta is working on third-party chat app support.
As you can see in the screenshot below, Meta is at least toying with "third-party chats" support in the Android beta version of the app.
That doesn't mean that WhatsApp will actually work with any other popular chat apps out there right now. Again, the DMA's provisions clearly outline interoperability for instant messenger apps that become gatekeeper services.
Companies have six months to comply, so WhatsApp's support for third-party chats might take months to arrive. And when it finally is available, it might not work outside of the EU.
Also, Meta would only have to implement chat support between two users where one of them isn't on WhatsApp initially. More complex features would follow down the road. Group text messages might take two years, and audio and video call support might only happen within four years. That's all according to the DMA rules the EU has laid out.
Also, the DMA protects encryption, and WhatsApp is end-to-end encrypted. That means any third-party chat app that's not encrypted wouldn't work with WhatsApp. Even those offering encryption might not be easy to implement in WhatsApp.
Importantly, it's up to third-party chat apps to request support from Meta. The WhatsApp developer has to support third-party apps, but third-party apps won't get WhatsApp support without explicitly asking for it.
Finally, it's up to the actual WhatsApp user to want to take advantage of these interoperability features.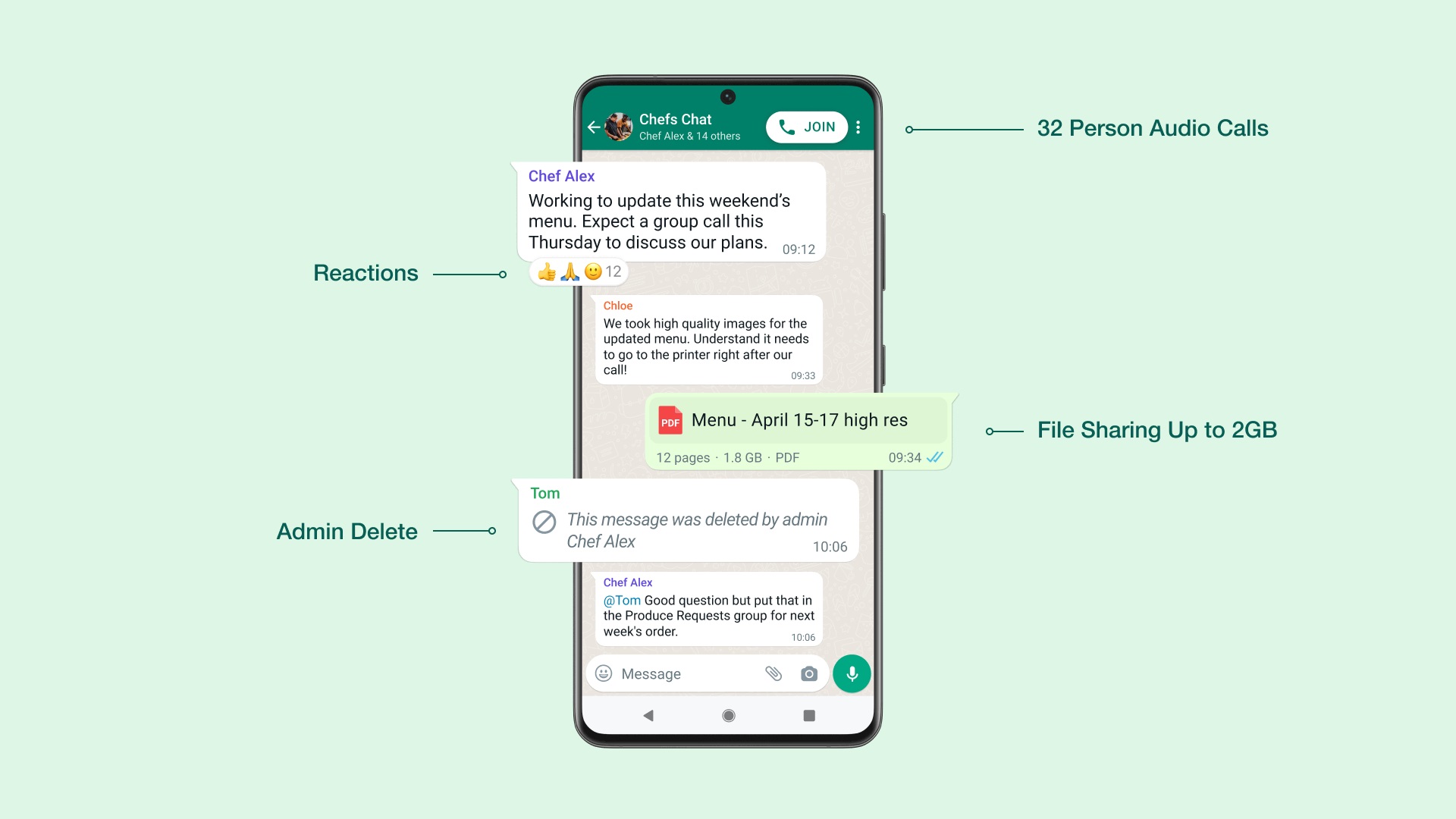 As I explained before, I have no problem adapting my chat habits to incorporating other apps. However, I do not appreciate the idea of mixing chat apps as the EU proposes. I intend to keep using iMessage-to-iMessage and WhatsApp-to-WhatsApp conversations no matter what the EU's DMA brings. And for those third-party chat app users who want to talk to me, I'll just download the apps they use.
What I'm trying to get at is that Meta might take its time deploying these interoperability features in WhatsApp and Facebook Messenger.
Then again, Meta is also looking to take advantage of the DMA. The gatekeeper designation for Apple's App Store means the iPhone maker has to support third-party app stores and third-party payment systems in the EU. And Meta might want to release its own app store alternative on iPhone, where it could publish apps that do not have to stick to the strict App Store rules.
In such a case, Meta would want to ensure that rivals can't complain WhatsApp and Facebook Messenger aren't ready to support interoperability. Put differently, it's likely that Meta is also already working on making Messenger work with third-party apps.