The iPhone is great at protecting your privacy as long as you take advantage of its features. That means locking the iPhone screen with a PIN code or password and employing Face ID or Touch ID to secure the data on the handset. That's what encrypts the phone and protects your privacy.
But people don't have to unlock your handset to snoop on you. There is one iPhone feature that would let them briefly spy on you, as long as they have physical access to it or can glance at the display: The iPhone notifications.
The good news is that you can take measures to reduce your exposure by changing a few notifications settings.
The simplest thing you can do to reduce the risk of someone seeing your notifications is to disable the Always-on display, a feature that's available on iPhone 14 Pros and iPhone 15 Pros. This will improve battery life, but it'll also reduce the risk of someone glancing at the screen.
Secondly, you should ensure that the contents of notifications is shown only to you. That way, others won't be able to read text messages from various apps. To enable the protection, go the Settings app, tap Notifications, and then go for the Show Previews menu.
Rather than Always or Never, pick the When Unlocked option. That way, you can still see previews when you handle the phone, as long as you have Face ID enabled. The phone will authenticate you passively while you look at the notifications.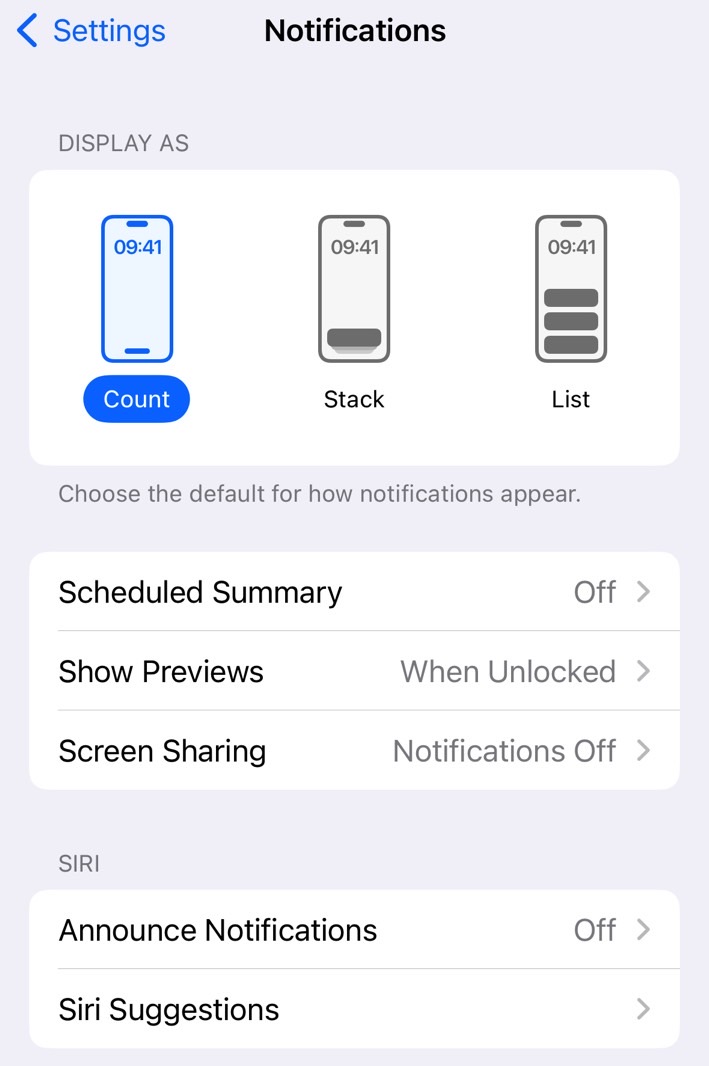 But even if they can't see previews, snoopers will be able to see where the notifications are coming from. To further improve your privacy, you can go to the same Notifications menu and choose Count in the Display as section. This option will only display the count of notifications.
I'd also advise to turn off Siri's ability to announce notifications, as seen in the screenshot above. Similarly, if you do a lot of screen sharing from your iPhone, you might want to prevent notifications from showing up on the screen. Again, check out the screenshot above.
Finally, I'll also point out the obvious solution to preventing notifications snooping on your iPhone. Just scroll past the settings above to see a list of all the iPhone apps you have installed. You can pick and choose which ones to show notifications and how to display them. You can select whether the app can notify you and how the notifications look and sound.
On top of that, some apps have their own notifications settings. Especially messaging apps like WhatsApp, for example. Check those settings as well, to further customize notifications behavior on your iPhone.
If you do share your iPhone's password with other people, they will be able to get into your phone and access the contents of apps. If you want to prevent that, you might want to change your password.
It's also a good practice to change the screen password periodically and to back up your iPhone data. Notifications snooping aside, there's always a risk that you'll lose your iPhone. Or maybe someone steals it.