If you're managing your contacts with Google Contacts, you're probably aware of one of the downsides of the web version. Unlike the phone app, Contacts doesn't let you edit contacts on the web. That's a huge problem for anyone managing work and personal contacts from the web via Gmail, which should be a lot more convenient than using a mobile device.
But Google has always been aware of this problem with Google Contacts. And now, the issue has quietly been fixed.
Google covered an update on its Workspace blog in mid-February that improves contact management on the web. The company announced the roll-out of a new feature in the Contacts sidebar that you can summon in apps like Gmail. That's one place where Google Contacts works best, as you often interact with people via email.
The sidebar lets you create contacts and edit them in a single place. That's the feature many people have been asking for.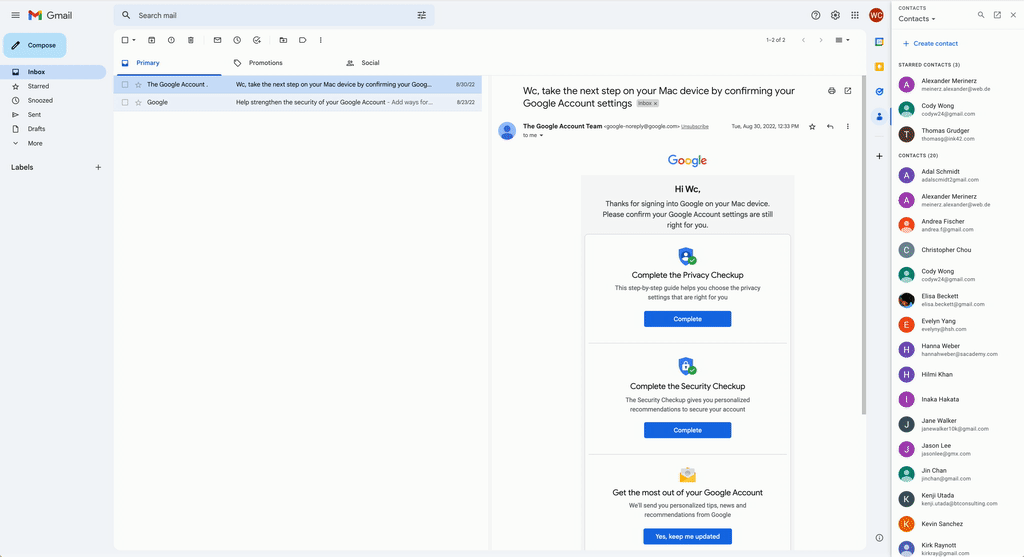 How to create and edit contacts in Gmail via Google Contacts
Google explained how to edit existing contacts using the new Contacts sidebar:
Expand the side panel in Google Workspace and open the Contacts app
Click on a contact
Click the Edit icon at the top right
Edit the information
Click "Save"
The following steps let you create a new contact with the Google Contacts sidebar:
Open the Contacts app from the vertical App bar on the right
Click "Create contact." Note: "Create contact" will only be available while in "Contacts" mode, not "In this thread" when opening a contact's detailed view through Gmail
Enter the contact's name and add any contact information
Click "Save"
Finally, you can use search to create a new contact:
Open the Contacts app from the vertical App bar on the right
Click the Search icon at the top right
Enter a contact's name
If there is no existing contact, click on the "Create contact" button at the top of the search results to automatically create a contact with the name you entered
Add additional information to the contact
Click "Save"
The Google Contacts update started rolling out on February 17th, beginning with Google Workspace customers, legacy G Suite Basic and Business customers, and regular personal accounts. Google said the feature might take around 15 days to become available to users, as noted by GizChina. That means it should be fully rolled out at this point.