Will.i.am of The Black Eyed Peas is a jack of all trades. Aside from his many music related ventures, the popular recording artist has a knack for showing up everywhere and, over the past few years, has dabbled in acting, fashion, smartphones and an array of other varied ventures. You might even remember, for example, that the singer back in 2014 released a widely derided smartwatch that many quickly proclaimed was the worst tech gadget of the year.
While such a failure might have ruined lesser men, it's hard to keep Will.i.am down. After all, with an estimated net worth of $75 million, Will.i.am is certainly capable of handling a few business missteps here and there.
DON'T MISS: The worst thing about yesterday's big iPhone 7 specs leak
Suffice it to say, Will.i.am is a modern day renaissance man. Indeed, another one of the musician's many interests lies in customizing luxury and rare cars. Most recently, a YouTuber spotted a custom Tesla Model S belonging to Will.i.am outside of a restaurant in Beverly Hills. Complete with custom suicide doors, red trim and a comically large fake air intake, Will.i.am's Model S is a thing to behold.
I mean, check out those wheels.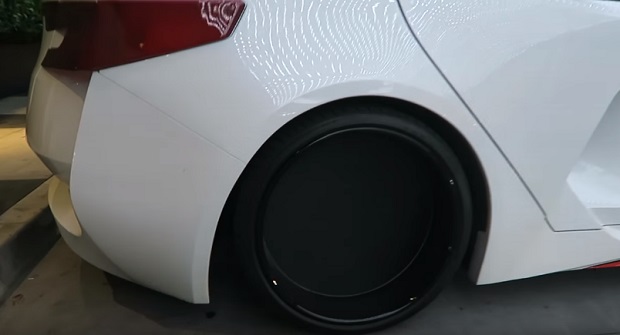 We've seen Tesla mods before, but this one definitely takes the cake. In fact, the modifications to this Model S are so extreme it's essentially been transformed into another car entirely.
We have no clue as to how much money Will.i.am spent on tricking out his Model S, nor can we figure out what to make of the finished product, but you can check out the shenanigans for yourself via the video below.
If you're thirsty for more ridiculous footage of this ridiculous car, we've got you covered.