When Tesla unveiled the Model 3 a few months ago, it showcased a few different models with varying colors and a few different rim designs. And sure, the silver Model 3 looks pretty sleek, but the real head-turner at Tesla's March 31 event was the matte black Model 3 prototype.
DON'T MISS: Elon Musk to deliver Tesla's 'Top Secret Masterplan' later this week
In fact, once pre-orders for the Model 3 got underway, Tesla CEO Elon Musk took to Twitter and declared that demand and interest for the all-black Tesla Model 3 was unexpectedly high and that the design would likely make it to production. Recall, first deliveries for the car are slated to begin in late 2017, but given Tesla's penchant for product delays, you might want to take Tesla's production timeline with a grain of salt.
@jeffrey @neutyp Matte black was surprisingly popular. Probably makes sense to bring it to production.

— Elon Musk (@elonmusk) April 3, 2016
Recently, a few new photos of Tesla's black matte Model 3 have surfaced online and, suffice it to say, we can definitely see what all the hype is about. The following photos (via Electrek) were originally taken in Tesla's Palo Alto headquarters.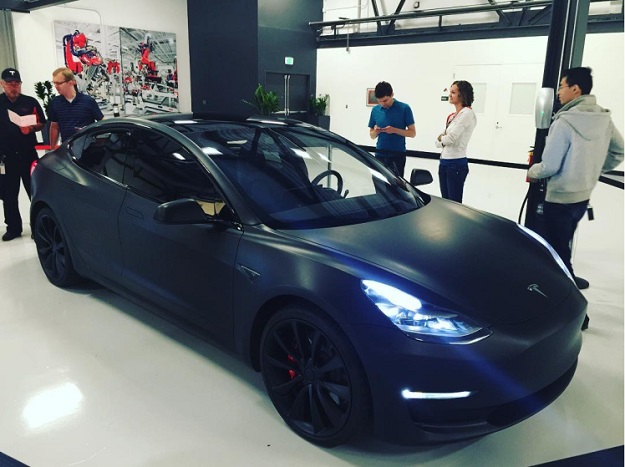 And for anyone who wants just a little bit more, feast your eyes upon this video (captured just a few weeks ago) which features footage of a black matte Model 3 cruising down a highway in Palo Alto.