Reviewing the Galaxy Note 8 feels a lot like deja vu. The new flagship phablet looks so much like Samsung's Galaxy S8+ from earlier this year that the two could be mistaken for each other from afar, or even up close. The same can be said of the last three generations of iPhone, of course, but there's a key difference when it comes to Apple's phones. Each new iPhone includes major component upgrades that bring huge performance upgrades and new features, but the Note 8 features almost exactly the same internal components as Samsung's last two flagship phones. It is a step up from the Galaxy Note 7 — well, anything that doesn't explode is a step up from the Note 7 — but it's quite curious that Samsung chose to release a new smartphone with specs that are eerily similar to a phone that was unveiled six months ago.
If the Galaxy Note 8 basically just a Galaxy S8+ in terms of specs, what differentiates Samsung's new flagship phablet? And is it really worth almost $1,000?
I'm not going to spend too much time in this review discussing the Galaxy Note 8's design or much of its hardware features. You can read my Galaxy S8 and S8+ review for those details. Long story short, the Note 8 is stunning, the Infinity screen is gorgeous and immersive, and Samsung's Galaxy Note 8 design truly is a cut above everything else out there, iPhone 7 and 7 Plus included. But all that is old news, considering how similar the Galaxy Note 8 is to earlier Samsung flagships.
The new Note 8 and old Galaxy S8+ are so similar that this review will focus on what makes them different — and why the new Galaxy Note 8 might be worth an asking price close to $1,000 when the Galaxy S8+ can now be had for under $750 unlocked.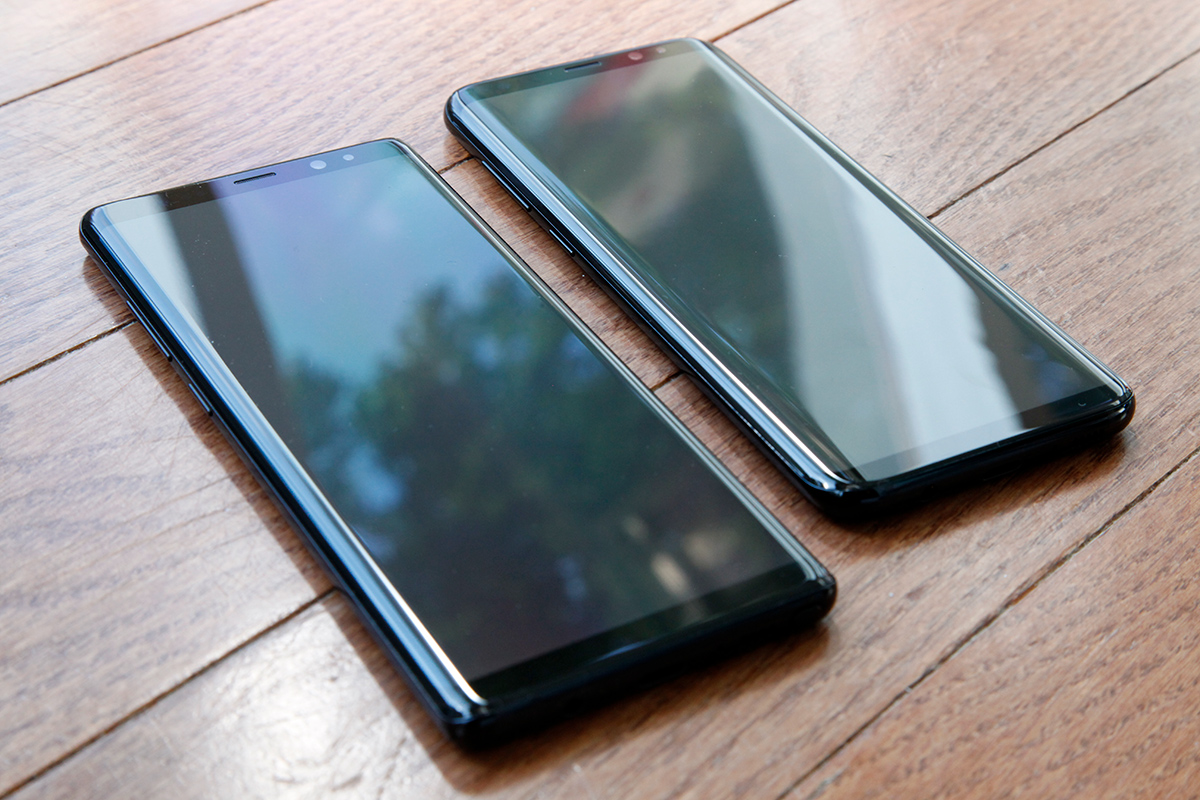 First, the hardware. Both the Galaxy Note 8 and Galaxy S8+ are powered by a Qualcomm Snapdragon 835 processor in the United States, and they share a number of other specs that are similar as well. There are also some important differences though, and you'll find a quick rundown below.
Note 8: 162.5 x 74.8 x 8.6 mm, 195 g
S8+: 159.5 x 73.4 x 8.1 mm, 173 g
Note 8: 6.3-inch Super AMOLED display (1440 x 2960 pixels, 521 ppi)
S8+: 6.2-inch Super AMOLED display (1440 x 2960 pixels, 529 ppi)
Note 8: 6GB of RAM
S8+ 4GB of RAM
Note 8: Dual 12 MP rear camera
S8+: Single 12 MP rear camera
Note 8: 3,300 mAh battery
S8+: 3,500 mAh battery
There are a few other differences here and there, such as the overall shape. Like the Galaxy S8, Samsung's Galaxy S8+ is much more rounded in the corners than the Galaxy Note 8. Also, the slope of the curved display and curved back are more gradual. As a result, the Galaxy S8+ fits a bit more comfortably in one hand, but there's method to the madness. The sides of the Galaxy Note 8 are sloped more sharply in order to give the user as much flat space as possible on the phone's face.
Why does Samsung want the front of the Note 8 to be flatter than the S8+ despite the fact that sloped sides have become Samsung's signature? Well, that brings us to the other key difference between the Galaxy Note 8 and the Galaxy S8+: Samsung's S Pen stylus, and all of the great software features that come along with it.
Nestled inside the Galaxy Note 8 along the right side of the device is an S Pen stylus, which is common to all Samsung phones in the Note lineup. The Galaxy Note 8 features the most advanced S Pen yet, with a number of enhancements to Samsung's software as well as a writing experience that comes even closer to replicating a real pen.
One of the new S Pen features Samsung seems most proud of is called Live Message. Similar to Digital Touch on Apple's iOS devices, Live Message allows users to draw a message by hand that is then sent as an animated GIF file. Drawings or handwritten notes can be created on a blank canvas, or users can choose a photo from the gallery as the background and draw on top of the image.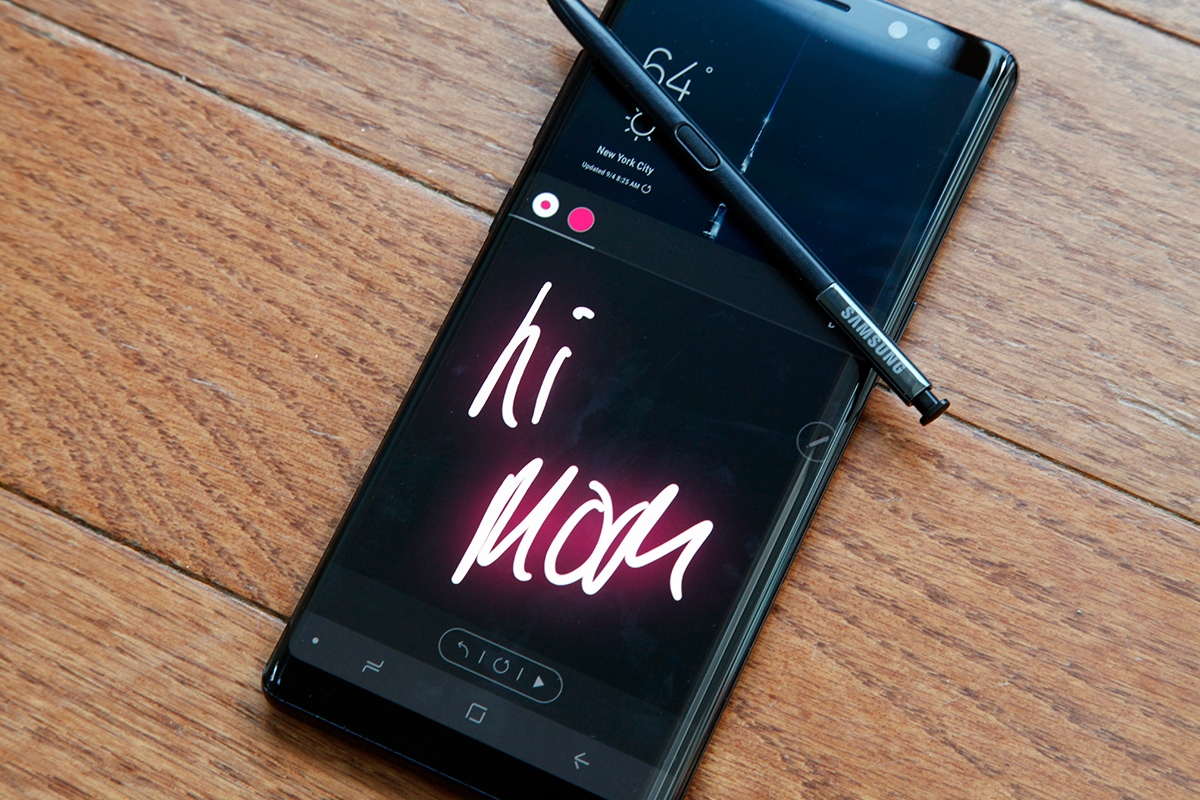 Other noteworthy — no pun intended — S Pen features include a translate function that can instantly translate highlighted text in 71 different languages; a convert feature that can convert units or currencies; a magnify feature; Screen Write, which lets users capture a screenshot and write or draw on top of it; and Smart Select, which allows the user to draw a box around a portion of the screen to capture a screenshot.
My personal favorite S Pen feature is still Screen off memo, which allows you to instantly jot down a memo without unlocking the phone. Simply remove the S Pen while the Galaxy Note 8 is locked, and you can write out a note right there on the black screen. On the Note 8, users can add up to 100 pages of notes, and Screen off memos can now be pinned to the Always On lock screen, or even edited. This way, for example, the user can write out a shopping list, pin it, and then check items off as they're added to his or her shopping cart.
All of the aforementioned features aside from Screen off memo can be accessed using Air Command, the nifty floating menu that can be accessed on any screen while the S Pen is out by pressing the button on the side of the stylus. These new features will definitely be appreciated by Note users; according to Samsung, more than 60% of the notes created on Galaxy Note smartphones are created using the Screen off memo feature.
The other big differentiator between the Galaxy Note 8 and the Galaxy S8+ is the new camera. The Galaxy Note 8 gets Samsung's biggest camera update in years, which might be considered a bit odd considering the Galaxy S series typically gets the big updates related to multimedia content creation. Rumors earlier this year suggested Samsung had wanted to introduce its new dual-lens camera on the Galaxy S8, but the hardware wasn't ready in time.
Whatever the case, the Note 8 is the first Samsung smartphone to feature a dual-lens rear camera, as well as all of the nifty features that come along with it.
The new Galaxy Note 8 packs the first dual OIS camera ever to be included on a smartphone. That means both rear lenses feature optical image stabilization, which uses special hardware to stabilize the cameras and reduce motion blur as well as noise. Dual-lens cameras on phones like the iPhone 7 Plus only include OIS on the main wide-angle lens.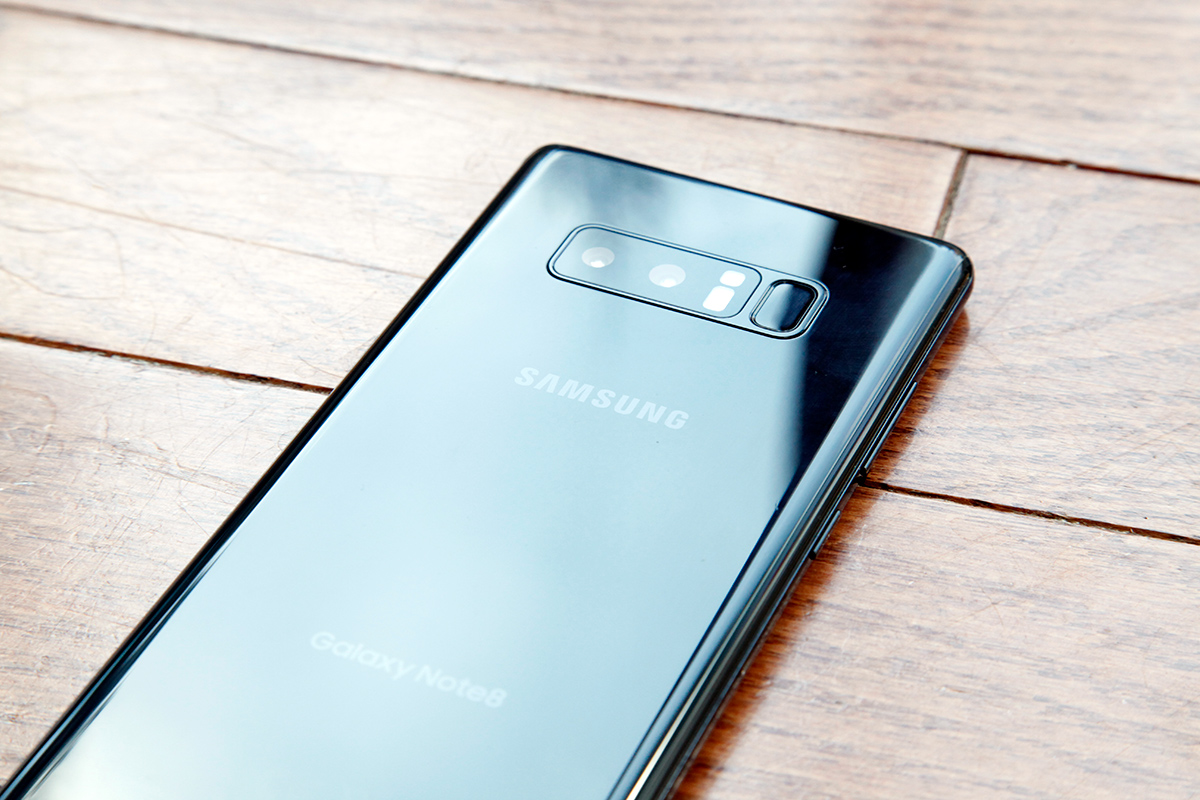 Just like the iPhone 7 Plus, the Galaxy Note 8 features one wide-angle lens and one telephoto lens beside it. And just like the iPhone 7 Plus, there are two main features enabled by the secondary telephoto lens: 2x optical zoom and a background blurring effect called "bokeh" that mimics portrait photos captured with a DSLR (though on the Note 8, the bokeh effect can be adjusted after a photo is captured). Also just like the iPhone 7 Plus, the camera can be set to capture a normal wide-angle photo along with a portrait mode photo using the "Dual Capture" option.
Samsung's updated dual-lens rear camera is impressive, as was its old single-lens rear camera on the Galaxy S8, Galaxy Note 7, and Galaxy S7. In fact, all of those phones use the same rear cameras, so the Galaxy Note 8 marks the first significant change to a flagship Samsung phone's camera in a year and a half.
I find that low light performance is still Samsung's biggest weakness, in terms of the camera. When the I'm outdoors or in good indoor lighting, the Galaxy Note 8's camera is phenomenal. Photos are crisp and clean, and colors really pop. In low light, however, Samsung's cameras tend to generate a bit more noise than I'd like, and colors are more muted than they are in photos captured using other leading camera phones like the iPhone 7 Plus and HTC U11.
In the end, the Galaxy Note 8 is a fantastic phone. It's probably the best Android phone money can buy right now, and it will likely wear that crown for the rest of 2017… provided it doesn't start spontaneously exploding like its predecessor.
Samsung's Galaxy Note 8 packs all of the power and performance that make flagship Galaxy phones great, and the phone's Samsung Experience 8.5 software (formerly TouchWiz) is cleanest and smoothest iteration yet. All of the Note features users have grown to love can be found on the new Note 8, and a number of them have been enhanced. Then there are a few additions like Live Message and some must-have Screen off memo features that I have already grown to love.
Battery life during my time with the Galaxy Note 8 has been good. I find that the phone seems to last about as long as the Galaxy S8+ despite having a smaller battery. The S8+ might have a slight edge, but either phone should carry its owner through a full day of normal usage with ease. Neither phone even approaches the battery life of Apple's iPhone 7 Plus, but the Note 8 and S8+ support much faster charging standards as well as fast wireless charging. You can even get a fast wireless charger for free when you preorder the Note 8.
The Galaxy Note 8 is far from perfect, and there are still a few things that range from minor annoyances to infuriating missteps. In the former category we have things like performance, which still tends to hiccup every now and again under heavy usage. In the latter category with have things like the Note 8's fingerprint sensor.
Samsung once again chose to position the fingerprint scanner on the back of the phone, and rear-mounted fingerprint sensors are terrible in terms of usability. The Note 8 is particularly bad because the phone is so large that reaching the scanner with your pointer as you pick up your phone is awkward and uncomfortable. The increased size and dual-lens rear camera make it even worse than it already was on the Galaxy S8+. Also, be prepared to wipe the glass over the rear camera lenses clean every single time you go to take a photo or record a video, because they'll be smudged with grease from constantly fumbling around to unlock the phone.
And speaking of grease, the back of the Galaxy Note 8 is still a grease trap, just like every glass Samsung phone before it.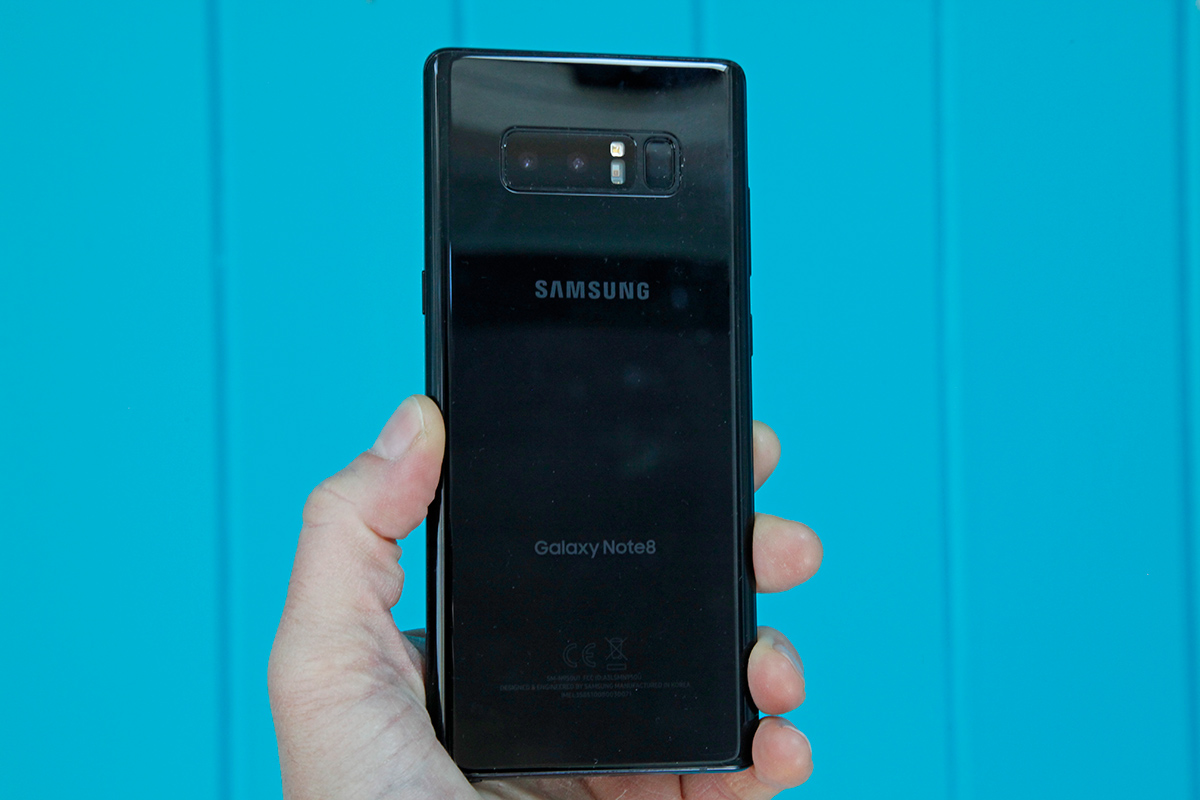 Two other biometric authentication features are supported on the Galaxy Note 8. The first is the iris scanner, which is surprisingly fast but not very convenient for unlocking the Note 8. In order to keep the lock screen usable, the screen has to be swiped to the right in order to activate the iris scanner, adding an extra annoying step. By comparison, Apple's upcoming iPhone 8 is expected to instantly unlock with its new facial recognition feature, but the lock screen will continue to be displayed until the user swipes to the home screen.
Samsung's Galaxy Note 8 also features facial recognition, though it's not quite as advanced as what we're expecting from Apple on the iPhone 8. It uses the Note 8's standard front-facing camera, so it also some issues in the dark because there's no infrared component. The phone's display does illuminate a bit to help light the user's face in low light, though I found in my testing that facial recognition does take a bit longer in dark settings.
Apart from issues in low-light settings, the Galaxy Note 8's facial recognition feature appears to be wildly unsecure. Definitely watch the video in the tweet embedded below before deciding to enable facial recognition on your Note 8.
Samsung Galaxy Note 8 Facial Recognition Test: pic.twitter.com/dVooMPMgfh

— Mel Tajon (@MelTajon) September 2, 2017
$1,000 is a lot to ask for the Galaxy Note 8, but that's approximately what this phone costs when you include taxes. It is by far my favorite Android phone on the market right now and monthly payment plans make that sky-high price tag a bit less painful. It's still a tremendous amount of money though, especially when the Galaxy S8+ can be had for $745 unlocked. Monthly payment plans from carriers are also much cheaper for the S8+, of course.
What do you get for that extra $200? A slightly bigger Super AMOLED display, a slightly different form factor, an extra 2GB of RAM in the US, a dual-lens rear camera, and the S Pen stylus. Is all that worth $200? If you ask me, the answer is yes. The S Pen alone adds so much to the user experience that I can't picture myself using a Samsung phone without it. In fact, one time I even caught myself reaching for the S Pen while using my iPhone.
Samsung's new Galaxy Note 8 will be released next week on September 15th, though preorders may be delivered long before the official release date rolls around. The phone comes with premium AKG in-ear headphones in the box, and preorders also include the buyer's choice of either a free Gear 360 camera ($229.99 value) or wireless fast charger and a 128GB microSD card ($189.98 value).
Complete Galaxy Note 8 specs can be found below.