When Samsung and a few other companies first began releasing oversized smartphones playfully referred to as "phablets," I wrote about how uncomfortable they were to use and how the trend wasn't likely to last very long at all. Well, here we are six years later and it's pretty safe to say I was wrong. Of course, it didn't take me six years to eat crow; later that same year I discussed why I was wrong. Also it's worth noting that the current "all-screen" design trend in smartphones suggests an element of truth in my initial predictions, since it's clear that many people want larger screens but don't like using larger smartphones. But I was still wrong and I won't make the same mistake twice.
That brings us to Wednesday, November 7th, when Samsung will give the world its first look at the hotly anticipated Galaxy F. We're not expecting a full announcement during the keynote presentation at the Samsung Developer Conference on Wednesday. Instead, Samsung will reportedly preview the device's user interface as well as the hardware design, which features an OLED screen that folds in half like a wallet, and then a second OLED panel on the outside so the Galaxy F can still be used when it's folded shut. Does the world really want a tablet that folds in half so that its bulky build can be stuffed into a pocket? Well, we're about to find out.
Samsung's performance over the past three quarters has been repeatedly dragged down but its smartphone division. The Galaxy S9 and Galaxy S9+ are on track to be Samsung's worst-selling Galaxy S phones since 2012 because they're so boring, and the Galaxy Note 9 doesn't appear to be doing much to help. Samsung still ships tens of millions of mid-range and entry-level devices each quarter so it has managed to retain the top spot on worldwide smartphone vendor charts, but its uninspired 2018 flagship phone lineup has clearly had a big impact on performance. Fortunately for Samsung, its components business is soaring, thus picking up the slack for lackluster mobile performance.
Thankfully for Samsung fans, it appears as though Samsung's boring 2018 flagship phone lineup will give way to the most exciting year of Samsung phones we've seen in a long time. In fact, 2019 might end up being Samsung's most exciting year ever. The Galaxy S10 and Galaxy S10+ will start things off in the first quarter of 2019, featuring a bunch of exciting new tech like an in-display ultrasonic fingerprint sensor, a brand new camera system with as many as five cameras (three on the back and two on the front of the S10+), and a fresh new all-screen Infinity Display design with a hole cut out for the camera instead of a notch like Apple's iPhones.
While the Galaxy S10 will indeed be the first flagship phone Samsung releases in 2019, it won't be the first 2019 flagship Samsung unveils. That distinction goes to the Galaxy F that will be previewed on Wednesday.
Samsung and Huawei have been in a race to see which company can be the first to show off a foldable smartphone. The both ended up losing when a no-name brand from China showed off a foldable phone last week. That phone will never make it to most markets though, leaving Samsung as the first company to show off a smartphone with a folding display that will actually be widely available. Of course, it's likely that we'll only get a small taste of the Galaxy F on Wednesday, and more details will be made available next year.
The company is smart to show off the phone well in advance of its release next year. The 7.3-inch foldable screen makes the Galaxy F more of a tablet than a smartphone, and it has a custom user interface that Samsung and Google reportedly created especially for this device. In order for most people to even consider taking the Galaxy F seriously, it'll need serious developer support. In other words, it's no coincidence that Samsung chose it's annual SDC developer conference to debut the device and its new UI.
But the Galaxy F is expected to have some big drawbacks regardless of whether or not Samsung can get enough developers on board. For one thing, the device will be huge — when it's folded in half, the Galaxy F is obviously expected to be about twice as thick as a normal flagship phone. Beyond that, the Galaxy F is expected to be incredibly expensive. Some reports suggest it might carry a price tag of close to $2,000. Long story short, even a "successful" Galaxy F release likely won't involve huge sales numbers.
Now, it's important to put all this in perspective. This is what phablets looked like when they first hit the market: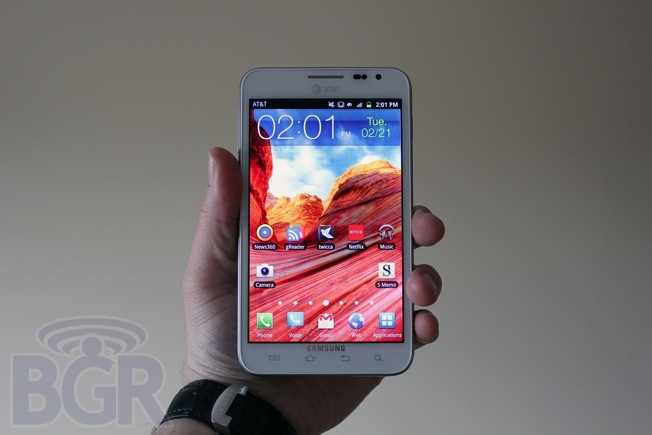 This big ugly thing with almost as much bezel as display is the first-generation Galaxy Note. It was an ugly, buggy, plasticky piece of junk. But it was also a first-generation device hindered by the technology that was available at the time. Because Samsung and other companies saw demand for phones with larger displays, investments were made over the years in tech that allowed smartphone makers to improve upon the concept of a phablet. Now, we have fantastic devices like the Galaxy Note 9 and iPhone XS Max.
If Samsung finds a market for foldable smartphones, the Galaxy F will likely fit the same mold. It's a first-generation device that will be big and bulky. It'll fit in your pocket, but it's not going to be comfortable. Instead, it'll be too thick and too heavy. But if there is indeed demand, the Galaxy F will pave the way for foldable smartphone designs of the future that are thin and sleek. Or, if there's still no demand after a few years of iterations, at least the company will have tried.
Samsung's SDC 2018 event begins with a keynote at 1:00 PM ET / 10:00 AM PT on Wednesday, and we expect to see the company's upcoming new foldable smartphone make an appearance during the presentation.