Some call it the Galaxy X, others call it the Galaxy F, and most people think it's going to be the coolest smartphone Samsung ever pulled off. We're talking, of course, about the first Samsung foldable phone in the world, which might just be the world's first real foldable phone if Huawei can't beat Samsung to market with one of its own.
For a few years now, we've heard a lot of details about the phone's specs and features, and, as we get closer to 2019, we get even more reports about the handset. The latest story offers us a few details that were not reported before.
It's Nikkei Asia Review with the scoop, and while the story is focused on how Huawei and display maker BOE have partnered to release a foldable Android phone before Samsung, the report does mention several details about Samsung's own foldable phone.
Sources familiar with Samsung plans said the foldable Galaxy smartphone would be launched in the first half of 2019. The handset should sport a 7.3-inch seamless display, and the folded product will be no thicker than an iPhone 8 or iPhone 8 Plus.
If true that detail is impressive, considering that the iPhone 8 and 8 Plus are 7.3mm and 7.5mm thick.
Foldable phones pose several manufacturing issues that could lead to an increased thickness compared to a regular phone. A foldable phone has a much bigger display, which means it'll eat up a lot more energy. That means the handset should pack a battery big enough to deliver a decent life. But because the screen needs to fold, and other internal components might also need to be flexible, not all the extra internal space will be available for battery cells.
Getting back to Nikkei's report, a source also told the site that "under the durability test, it could be folded for 20,000 times and its price is likely between $1,500 and $2,000." The price isn't a surprise, but the durability test detail sure is. We have no idea what 20,000 times means because there are no foldable phones out there. But it would translate to folding the phone 55 times per day for a year.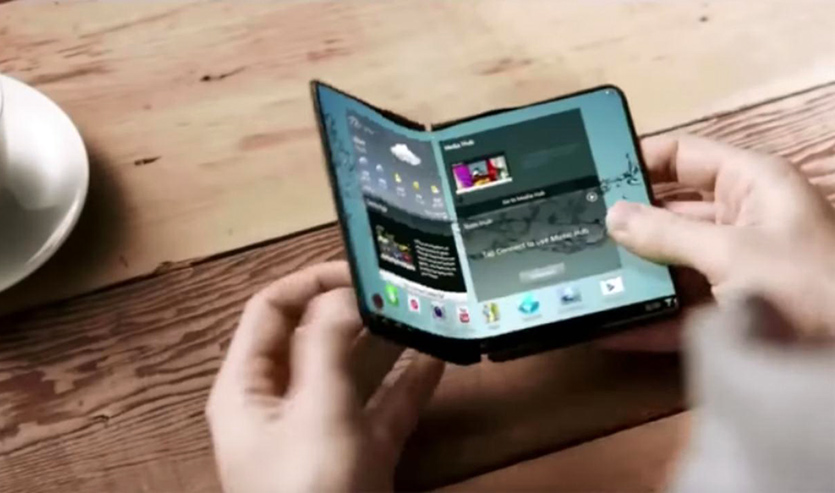 The report goes on to say that Samsung told a small group of analysts that it plans to ship some three millions units next year, although most people expect Samsung to sell one million at most.
Aside from manufacturing issues, there's one other reason to worry for Samsung. A spokesperson told Nikkei that the company is "still concerned if the new foldable phone can really satisfy consumers and create enough demand for it to generate profits."
The one problem that Samsung and everyone else making foldable phones might run into, and not be able to control fully, is Android. No matter how good the hardware is, the software belongs to Google. And while Google just embraced the notch in Android P, it'll be a while until native support for foldable smartphones is built into Android.
When Apple eventually releases its own flexible iPhone, it'll come with a bunch of software tricks that would let users take advantage of the bigger screen. And that's because Apple controls the software, not just the hardware. Maybe that's why Samsung is worried about consumers liking its first foldable Galaxy smartphone.