Aside from the occasional tiny Chinese manufacturer, you really don't see all that many new competitors in the smartphone space these days. There's a couple of obvious reasons for that, of course, not least of which is the fact that Apple and Samsung have swallowed up so much market share it's virtually impossible to actually compete against them. Nevertheless, Razer — the company that made its name a decade ago with flashy gaming keyboards, headsets, and other gear — now has a smartphone of its very own. If that sounds crazy it's because it is, but the even crazier thing is that this huge new venture just might work.
Set to be released on November 17th, the Razer Phone is very clearly a product of Razer's early 2017 purchase of startup smartphone maker Nextbit. It looks and feels almost identical to the Nextbit Robin, though with a few small tweaks to its overall design and some much beefier hardware. As you might expect, it's being positioned as the ultimate gamer's phone, and in that respect it excels. To put it simply, the Razer phone is an absolute beast when it comes to specs.
Inside you'll find a Qualcomm Snapdragon 835 paired with a whopping 8 GB of RAM, a 4,000 mAh battery, performance-minded thermal management, and 64GB of storage along with a microSD card slot. A 5.7 inch LCD display dominates the front at a resolution of 1440 by 2560, and that screen is sandwiched between large stereo speakers with dual amplifiers (it also utilizes Dolby Atmos). Dual 12MP lenses are perched high on the back, one of which is a 2x telephoto and the other a wide-angle, and a front-facing 8MP camera sits above the screen. A fingerprint sensor is built into the power button on one side of the device, and volume controls are positioned dead center on the other side.
The boxy design is sure to put some people off, especially since almost every new flagship is pushing rounded corners and smooth edges. That said, I actually quite liked it, and it feels comfortable and sturdy whether it was positioned in portrait mode or landscape mode for gaming. Also, you can stand it up on its edge, which I haven't been able to do since the iPhone 4s. The placement of the volume buttons is perfect for gaming (duh) and the fingerprint sensor is easily accessible no matter how you're holding the device. It's a very well-thought-out layout.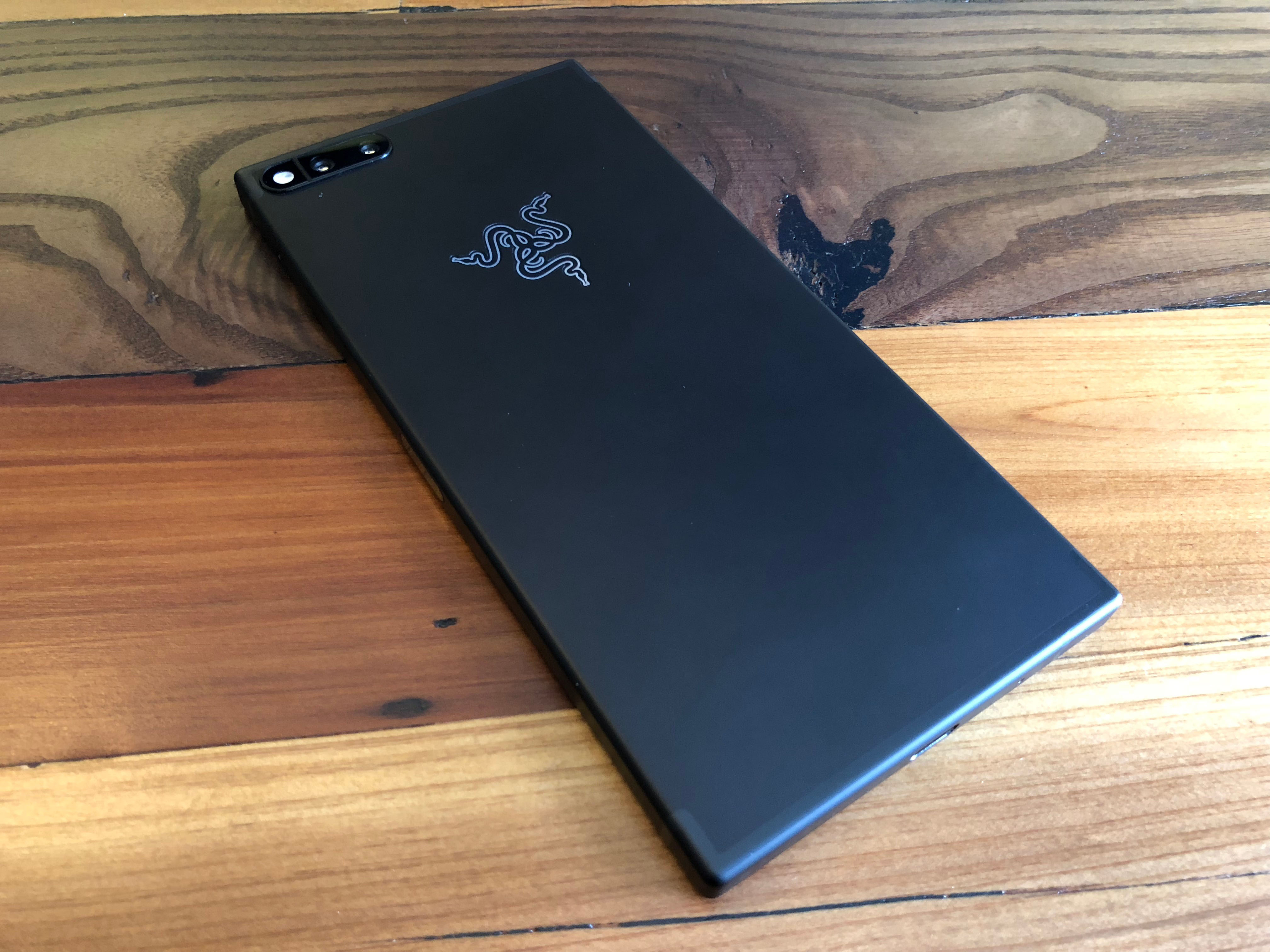 As far as software goes, the phone runs Android 7.1 out of the box but will get an Android 8.0 update sometime in early 2018. Razer made a great decision in using the premium version of one of the most popular Android launchers, Nova Launcher Prime, as the default launcher on the device, and it's free of any obscene bloatware that could hamper the experience.
The real star of the show here is the display, which isn't just extremely sharp and crystal clear, but also has a trick up its sleeve that gamers will adore: a 120 Hz refresh rate. The Razer Phone's "UltraMotion" screen is a real treat whether you're browsing the web or playing games. It's incredibly smooth — and if you've ever played with a new iPad Pro, you know what I'm talking about — and makes even something as simple as catching a creature in Pokemon Go feel like an entirely new experience. The phone also dynamically adjusts its refresh rate based on what you're doing, so it doesn't burn through precious battery life if you're not doing something that would benefit from the added smoothness.
I played a number of different games on the Razer, including Titanfall Assault, Race Kings, the latest Asphalt title, Mario Run, Pokemon Go, and Need For Speed: No Limits. All performed great thanks to the powerful processor and only one title (Asphalt Xtreme) showed any signs of stuttering. Just for kicks, I downloaded all of those same titles on my Note 8 and iPhone X to get an idea of how they compare. They all played pretty much the same, but the 120 Hz display on the Razer phone just made them feel so much more responsive that it's going to be hard to go back. Oh, and Asphalt Xtreme stuttered on the Note 8 and iPhone X, too, so I'm not going to give the Razer Phone a pass on that one.
But as impressive as it is, there are a handful of things that are noticeably missing from such a spec monster, including wireless charging and any level of water resistance. Modern flagships tend to include both of those by default. There's also no headphone jack (a Razer-branded USB-C headphone adapter is included in the box), which seems like an odd decision for a device that is meant to be used for long stretches. And as far as its front-facing speakers go, I can already see a potential problem with dust and dirt getting stuck in the tiny holes on the speaker grills. These are pretty minor concerns in the grand scheme of things, and for anyone considering the Razer Phone for gaming, they're likely to be easily overlooked.
Razer really sees this phone as the ultimate mobile gaming device, and I can't argue with that. Mobile gaming is big in the US and even bigger in parts of Europe and especially Asia. Razer has put itself in a position to be the only company offering a phone that could actually make you better at mobile games thanks to a faster and more responsive display. For hardcore mobile fans who spend huge chunks of time playing MOBA and racing titles, it's going to be very hard to pass up.
The Razer phone is priced at a pretty reasonable $699, and will be available from the company's website on November 17th. Those in the EU and UK can also snag one via wireless carrier Three, which is Razer's exclusive wireless partner for that region.