Razer on Thursday unveiled a pair of new products, including the incredibly affordable Core X eGPU enclosure, but also a brand new gaming laptop. And the new Razer Blade might just turn out to be the best gaming laptop out there right now. As expected for such a device, the Razer Blade doesn't come cheap with prices starting at $1,899.99 and going all the way up to $2,899.99. But when you see what this sleek new laptop has to offer, the high price might be justified.
Unlike its predecessors, the 2018 Razer Blade doesn't come in a 14-inch variant. Instead, we're looking at a 15.6-inch screen that makes the device "the world's smallest 15.6-inch gaming laptop," according to Razer.
The display actually comes in three options, including Full HD (60Hz), Full HD (144Hz), and 4K — the latter also has touch functionality built-in.
The Razer Blade's design has also been streamlined. We've got a cleaner top, where the Razer logo dominates the scratch-resistant anodized black finished, and square corners. The laptop is just 0.66 inches (GTX 1060) or 0.68 inches (GTX 1070) thin, and the chassis is CNC milled from a single aluminum block.
Specs-wise, you'll get the latest hexa-core Intel Core i7 chip paired with 16GB of RAM, and up to a 512GB PCIe SSD. Razer acknowledges the fact that might not be enough for all gamers, so you'll be able to upgrade both the memory and storage to 32GB and 2TB SSD if you so desire. But you'll have to do so yourself because there's no 32GB/2TB Razer Blade from Razer.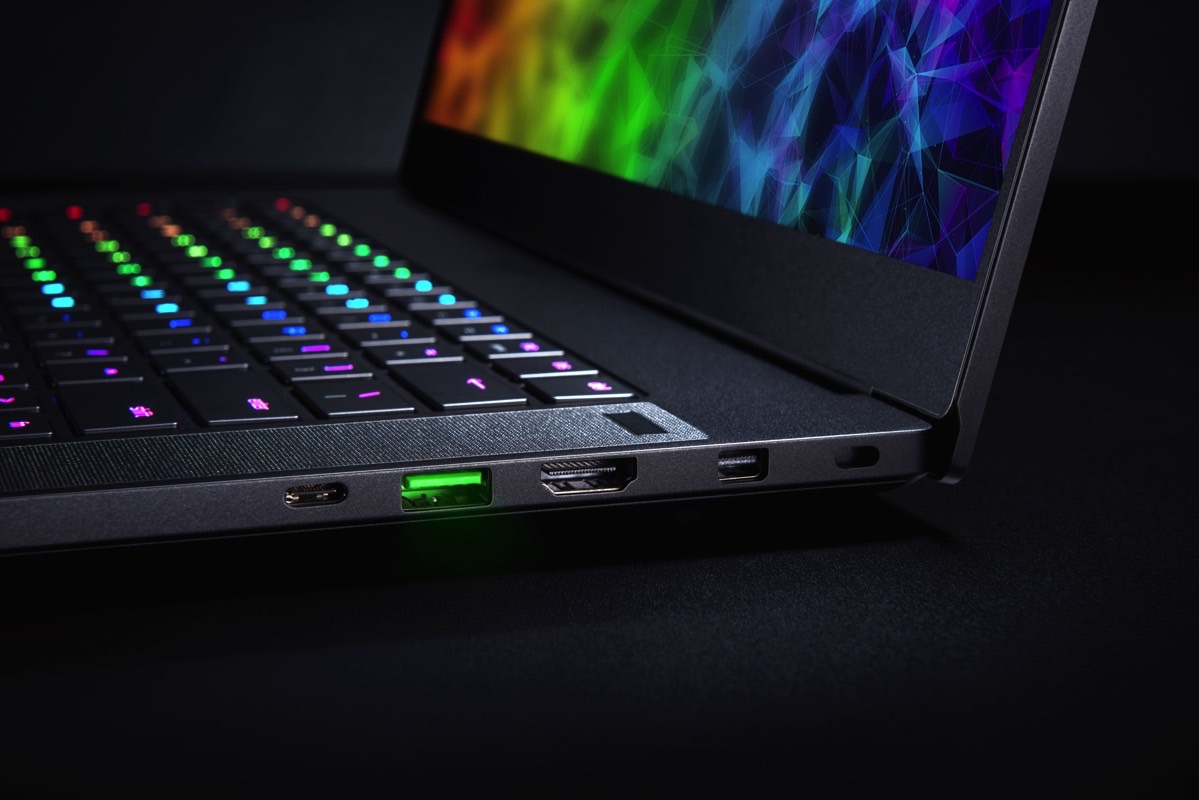 When it comes to graphics, expect GeForce GTX 1060 or GTX 1070 inside, featuring Max-Q design, as well as a new vapor chamber that contains "vacuum-sealed vaporized liquid" that dissipates heat generated by the CPU, GPU, and other components — see it in action in the video at the end of this post.
Other features include a new "large and clickable precision touchpad," Razer Chroma keyboard, Dolby Atmos sound, and 80Wh battery. Plenty of ports let you power up to three external display, including Mini DisplayPort, HDMI, Thunderbolt 3 (USB-C), and you also get three regular USB-A 3.1 connectors. It also has a proprietary charging port of its own.
Early buyers will get access to $420 worth of games and software, including Arizona Sunshine, Cuphead, and FL Studio Producer.
The laptop is available today in various markets around the world — here are the prices:
FHD(60Hz)/i7-8750H/GTX 1060/16GB/256GB – $1,899.99 / €1949.99 / £1699.99 / ¥16,999
FHD(144Hz)/i7-8750H/GTX 1060/16GB/512GB – $2,199.99 / €2249.99 / £1979.99 / ¥18,999
FHD(144Hz)/i7-8750H/GTX 1070/16GB/256GB – $2,399.99 / €2449.99 / £2149.99 / ¥20,599
FHD(144Hz)/i7-8750H/GTX 1070/16GB/512GB – $2,599.99 / €2649.99 / £2329.99 / ¥22,599
4K(Touch)/i7-8750H/GTX 1070/16GB/512GB** – $2,899.99 / €2899.99 / £2549.99