Razer has already started teasing its most significant announcement ever, and it's probably an Android smartphone with focus on gaming Anything else just doesn't qualify.
But we don't have to wait until November 1st to tell you that Razer's Android handset will be a flagship device better than anything else launched this year. At least on paper.
According to a GFXBench listing, the Android Razer Edition phone will have exactly the same kind of specs you expect from a 2017 Android flagship. But it'll also feature 8GB of RAM.
Yes, the OnePlus 5 also comes with 8GB of RAM, but the OnePlus phone only features a 5.5-inch Full HD display, whereas the Razer handset packs a 5.7-inch QHD resolution. However, that 2560 x 1440 resolution tells us the Razer phone will not have an all-screen design like the Galaxy Note 8, Galaxy S8, iPhone X, and many other 2017 creations.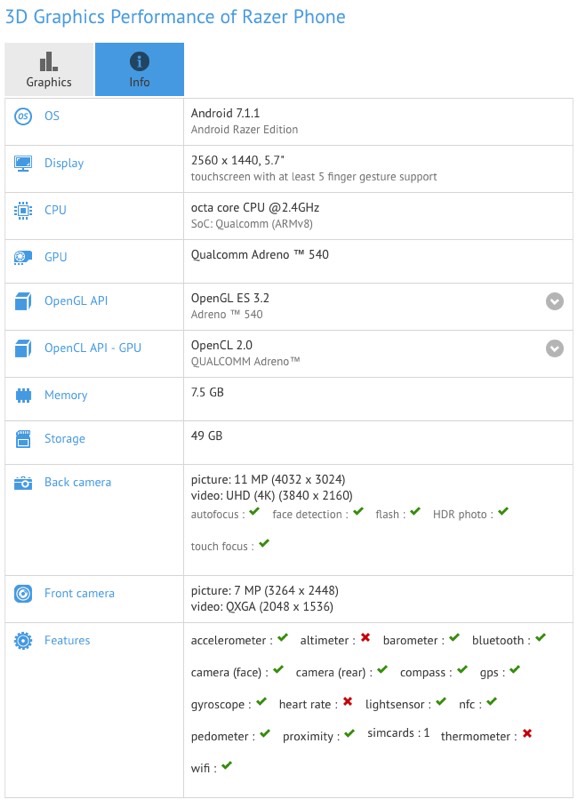 Other specs include the Qualcomm Snapdragon 835 chip found in all of this year's high-end Android handsets, 64GB of storage, 12-megapixel camera, and 8-megapixel selfie camera.
The phone runs an Android 7.1.1 Nougat version, likely customized with Razer/Nexbit features. We have no idea what these customizations are, however, and we'll have to wait for the company to actually unveil the phone. Let's just hope that free cloud storage, the signature of the Nextbit Robin (the phone in the top image), is also included in the package.
Images of the unnamed Razer handset have not been leaked. Razer will unveil the device on November 1st.