The fact that Google's Android P will support iPhone X-like notches isn't surprising, given that most Android device makers out there want to copy Apple's 2017 flagship's design. And it's not just the non-name Chinese companies ripping off Apple this year, some of the more prominent players in the business are doing it too. With that in mind, a Pixel 3 with a notch seems more and more likely.
But the iPhone X notch isn't the only thing Google may be "stealing" from the iPhone X. One of the iPhone X's best features might be coming to Android P as well this year — and it's a feature that Apple swiped from a now-defunct mobile operating system.
Google posted the following image in a blog post detailing Android P's built-in support for DNS over TLS. Forget about the actual purpose of the blog post, which we covered earlier on Monday, and just check out the screenshot.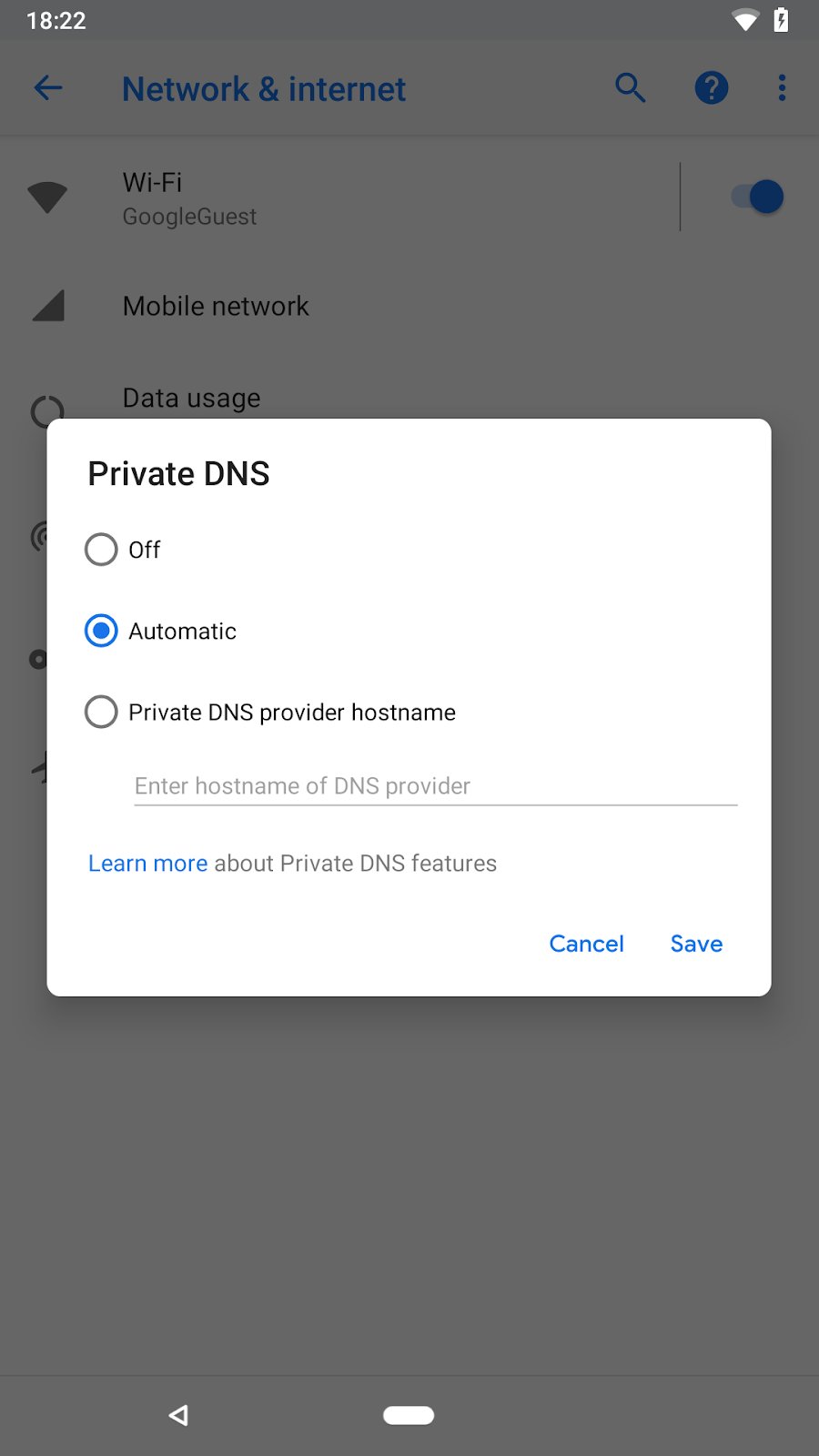 Notice anything different? Yes, the navigation buttons have been slightly altered, prompting ArsTechnica's Ron Amadeo to ask a bunch of questions:
Uh, what is up with this screenshot from Google's latest blog post?

1) Blue Pixel color scheme.
2) Nexus-style hollow back button.
3) Pill-shaped home button?
4) No Recents??

??????https://t.co/NSs6SCIrbv pic.twitter.com/J8Gy1oHQgz

— Ron Amadeo (@RonAmadeo) April 13, 2018
So what's the deal with the pill-shaped home button? It looks similar to the iPhone X's virtual home bar that replaced the physical home button. So it seems logical to assume that Google is about to bake various gestures into its mobile OS, just like Apple.
Apple had to reinvent iPhone navigation when it killed the home button, and that's how it came up with various gestures that allow you to return to the home screen, switch between apps, and multitasking. Yes, it's just like Palm's old webOS platform, and it sure looks like Android is next in line to make use of these gestures.
I fully expect gesture navigation to happen, but calling this gesture navigation is a jump. This looks more broken than anything.

It's a mix of inconsistent new and old button styles. And if you had gesture nav you wouldn't have any buttons.

— Ron Amadeo (@RonAmadeo) April 13, 2018
Replying to Amadeo on Twitter, 9to5Mac's Stephen Hall said that gesture navigation is "100%" included in Android P, according to a source of his.
https://twitter.com/hallstephenj/status/984852663958466560
There was no alternative for Apple, given how central the old home button was to the whole iPhone experience. But Google fixed this issue years ago by going for virtual buttons instead of physical ones. Just look at the Pixel and Pixel 2 phones. I get the need to copy the notch, but why copy the new gestures? Or better said, why didn't we have these gestures in Android before Apple brought them to iPhone?
Why change everything now that Apple has done it? Android P will likely contain many new features, and Apple may end up swiping some of them on the iPhone. But we can't pretend Google isn't copying some major iPhone features with its upcoming release — Apple's iPhone X design and iPhone X gestures — that will have a major impact on the overall Android experience, going forward.
And because the Pixel is Google's flagship Android brand, the device that shows the world the latest advancements in Android, I have little hope the Pixel 3 will be anything but an iPhone X clone. It'll have probably have an all-screen display with notch, no headphone jack, and a brand new gesture-based navigation system, if this leak is to be believed. Google likely won't just introduce notch support and a new gesture-based navigation system without adding them to the Pixel 3 and Pixel 3 XL.
Regardless of whatever else Google adds to Android P, and no matter how great the Pixel 3 might be, it's unlikely that any new feature will be as visible as the notched display design or new navigation. Android fans will quickly notice where the inspiration came from.
Again, copying the competition isn't new in the mobile business. Copying the iPhone, in particular, is what Samsung did for years — and it's what almost every other Android company continues to do today. It worked for Samsung, and it will probably work for others too.
It just feels strange to see some of the most important iPhone X features being replicated by Google so fast. It's like Google is practically admitting that it can't out-design Apple, whether it's hardware or software, and it's not even trying. I wonder what Android P and the Pixel 3 might have looked like if there was no iPhone X to copy.