Google's upcoming Pixel 3 and Pixel 3 XL flagship devices definitely won't be the best-selling Android phones of the year. Not even close. But they will definitely be fan favorites among savvy Android users who want a pure Android experience and instant access to new Android updates the moment they're released.
Millions of gadget fans around the world are waiting anxiously for Google to take the wraps off of its next-generation Pixel phones. The bad news is we still have a long wait ahead of us before Google releases its new Pixel 3 and Pixel 3 XL smartphones. But the good news is leaks have begun to pop up around the web, and we already have a pretty good idea of what to expect from Google's upcoming new flagship phone duo.
Earlier this week, a leaked photo showed a pair of screen protectors that were said to be representative of Google's new Pixel 3 and Pixel 3 XL designs. People were skeptical at first, but then a flurry of subsequent leaks have just about confirmed them as the real deal.
According to that leak and the reports that followed, Google's upcoming Pixel 3 and Pixel 3 XL phones will feature new designs. Both phones are expected to feature typical 2018 flagship specs like a Qualcomm Snapdragon 845 processor and plenty of RAM, and they'll also seemingly have dual front-facing cameras. The smaller Pixel 3 smartphone will sport an older design with wide bezels above and below the screen, while the larger Pixel 3 XL will have narrower bezels up top that copy the iPhone X's notch.
Based on that info and the leaked screen protectors, a graphic designer who goes by Phone Designer on Twitter mocked up his vision of what the larger Pixel 3 XL might look like. It's absolutely stunning. We have no idea what the back of the phone looks like so Phone Designer modeled it after the iPhone X. That's certainly a path Google may decide to take — if you're going to copy the front of the iPhone X, why not also copy the back?
Phone Designer focused at first on the larger Pixel 3 XL phone, since that's the more desirable model each year. After getting such a great response, however, he turned his attention to the smaller Pixel 3 model. You know what? Despite the fact that the big bezels above and below the display aren't ideal, it still looks pretty great. The image at the top of this post shows one of Phone Designer's renders comparing his visions of the Pixel 3 and Pixel 3 XL, and another one can be seen below.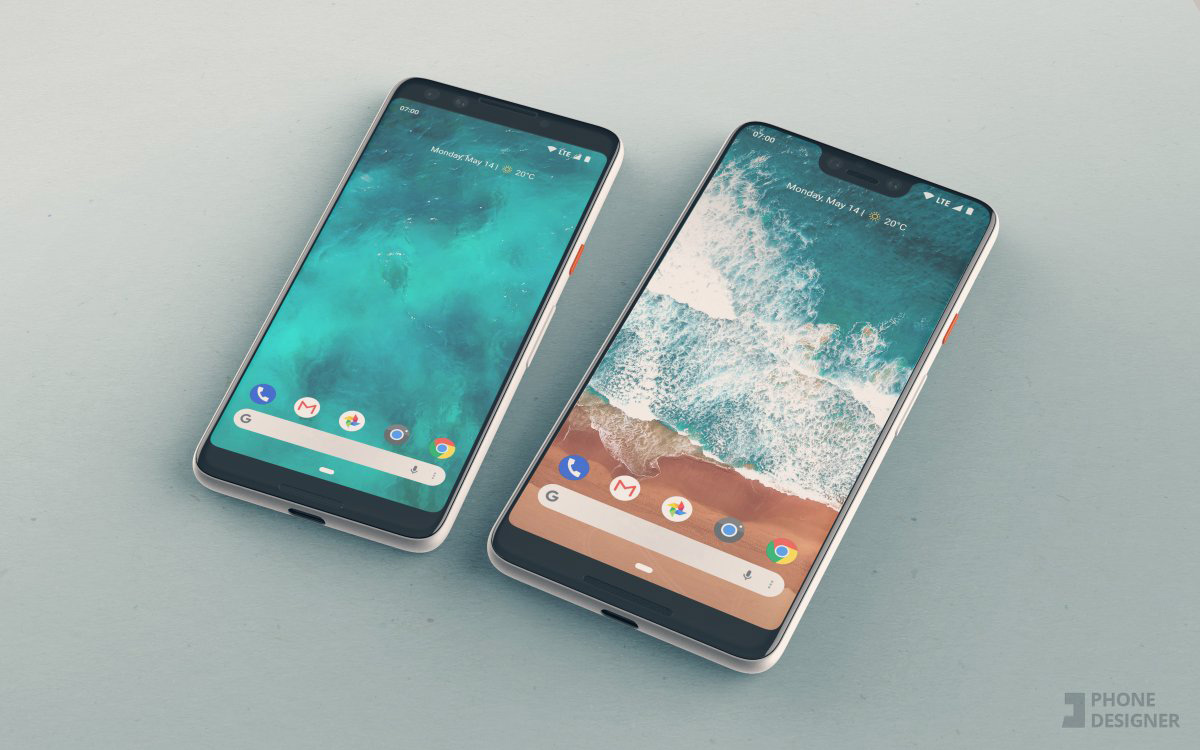 Google isn't expected to unveil its new Pixel 3 and Pixel 3 XL flagship phones until the late summer or early fall. The first-generation Pixel and Pixel XL were released in October 2016 and the second-generation Pixel 2 and Pixel 2 XL hit store shelves in October last year. If Google sticks to its current schedule, we have another four months and change to go before the company takes the wraps off its next-generation Pixel phones.