Google unveiled its Pixel and Pixel XL handsets during a big press conference in October 2016, and it was immediately clear that the company meant business. The company had previously launched Nexus-branded smartphones that were built and marketed in partnership with various Android vendors, but these new handsets were all Google, from top to bottom. Released alongside new Nexus phones, they might have made Google a player at both the high end of the market and in the mid-range market. Instead, Google chose to abandon its Nexus program after the final two Nexus phone models were released in 2015.
But as it turns out, Google may have had a plan brewing all along that would eventually see its Nexus phones reborn as something new. And if recent reports pan out, the Nexus line's rebirth is slated to take place this year.
Android fans absolutely adored Google's Nexus phone lineup for a number of reasons. These sleek phones really did check every important box. They offered a "pure" Android experience in an era when vendors' Android skins had gotten completely out of control. Nexus phones also featured impressive designs and specs while still managing to cost significantly less than comparable phone models released by companies like Samsung, LG, and HTC. The Nexus program was a fantastic initiative by Google, and it seemed like the sky was the limit.
Then, in 2016, Google completely abandoned the program. Rather than continue to build affordable pure Android phones in conjunction with various vendor partners, Google launched the Pixel phone line. The Pixel and Pixel XL were both premium phones with premium price tags, leaving Android users no remaining options when it came to an affordable pure Android experience on a smartphone.
The phone's successors, the Pixel 2 and Pixel 2 XL, were more of the same: premium phones with hefty price tags. But in 2018, it appears as though Google is changing its strategy.
A report from earlier this week suggested that this year, Google will release not two, but three different Pixel smartphone models. The Pixel 3 will succeed the current-generation Pixel 2, while the Pixel 3 XL will step into the shoes currently filled by the Pixel 2 XL phablet. But the report said that Google also plans to launch a third new model with one key feature no other Pixel phone has ever had: An affordable price tag.
Today, a new report offers additional information about this mysterious third Pixel 3 phone Google is rumored to be cooking up. According to a leak on a Chinese tech blog called Qooah, the new entry-level Pixel 3 phone Google plans to release this year is codenamed "Desire." That's interesting, of course, because Google recently acqui-hired a huge portion of HTC's smartphone engineering team, and HTC's mid-range smartphone line is called Desire.
But far more interesting than that tidbit is another piece of the rumor shared by Qooah. A leaked screenshot appears to reveal that Google's upcoming third Pixel 3 phone will run Android One.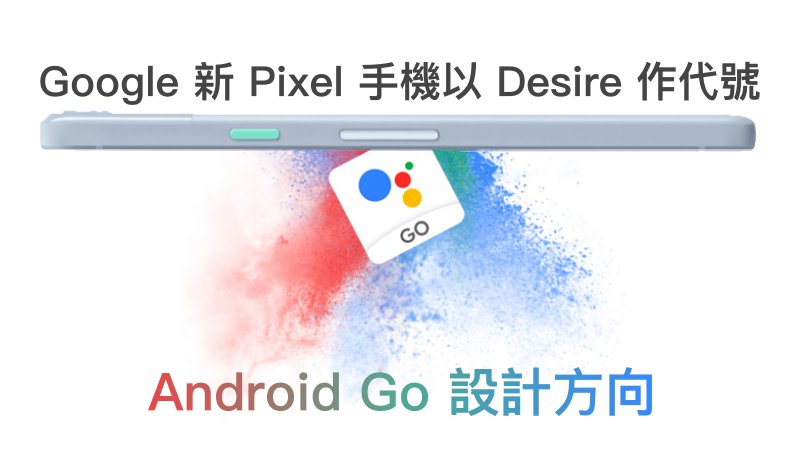 As you'll recall, Android Go is a stripped down version of Android that is optimized to run on entry-level hardware. The goal here is to provide an Android user experience on low-cost phones that is as fast and smooth as the Android user experience on high-end phones. Android Go isn't quite on par with premium phones just yet, but it comes closer than one might expect, considering how well it performs on low-end phones.
Now, for the bad news. The report from earlier this week suggested that this entry-level version of Google's Pixel 3 likely isn't being prepped for a wide release. Instead, it'll be targeted only to certain markets such as India, where low-cost handsets dominate smartphone sales.