OnePlus' second flagship smartphone of 2018 has gotten off to a rocky start, to say the least. First of all, just about everything there is to know about the OnePlus 6T leaked long before the phone was announced on Monday. Of course, that pretty much goes without saying at this point, since details surrounding flagship phones always leak in advance. The real trouble arrived when it came time to schedule the OnePlus 6T announcement event. First, OnePlus reportedly pushed back its planned unveiling to avoid overlapping with Google's Pixel 3 launch. Then, after landing on the date October 30th for its big reveal, Apple announced that its October press conference would be held on the same date. Competing with Apple for media coverage is obviously ill-advised, so the company bumped up its event to today, October 29th.
In the grand scheme of things, none of this should matter very much. Launch coverage in the media is important, but it doesn't typically make or break a product cycle. This is especially true for a company like OnePlus since its customer base consists almost entirely of Android enthusiasts. Needless to say, the overwhelming majority of OnePlus' customer base won't care about anything Apple announces tomorrow. They just want to check out the latest and greatest new Android devices, and there's no question that the new OnePlus 6T should be on every Android fan's radar.
It's been a tough few weeks indeed for OnePlus, but it turns out that the company might have already cashed in its karma chips after everything it had to deal with when scheduling today's press conference. The OnePlus 6T's biggest competition among hardcore Android fans is definitely the Pixel 3 series, and early adopters are having all sorts of problems with Google's brand new flagship phones. Google has its work cut out for it in the coming weeks and months as the company looks to address all of the software issues users have encountered. In the meantime, the OnePlus 6T has emerged as a fantastic alternative to Google's new Pixel phones.
There are a couple of main reasons Android fans buy Pixel phones. One is the class-leading camera, which the OnePlus 6T can't match. But the other is the "pure" Android experience and quick access to Android updates when Google releases them. OnePlus' "OxygenOS" has always provided a user experience that's as close to stock as it gets, and the company has shown that it is committed to providing speedy Android updates moving forward. In fact, it took just 45 days for the OnePlus 6 to be updated to Android Pie earlier this year. OnePlus has also guaranteed at least two years of software updates and three years of security updates for all of its phones.
The OnePlus 6T is fast and powerful just like Google's Pixel 3 and Pixel 3 XL, but it also has some nifty new tech that users will definitely find appealing — namely a smaller notch and an in-display fingerprint sensor. Beyond that, a top-of-the line OnePlus 6T with 8GB of RAM and 256GB of storage still costs $170 less than the cheapest Pixel 3 you can buy. The base OnePlus 6T costs $250 less than the entry-level Pixel 3.
OnePlus didn't supply the press with review units until just a few days ago, which means I haven't yet had time to test it thoroughly enough for a full in-depth review. So, in this abridged review, I'll focus on the 10 best things about the new OnePlus 6T.
New display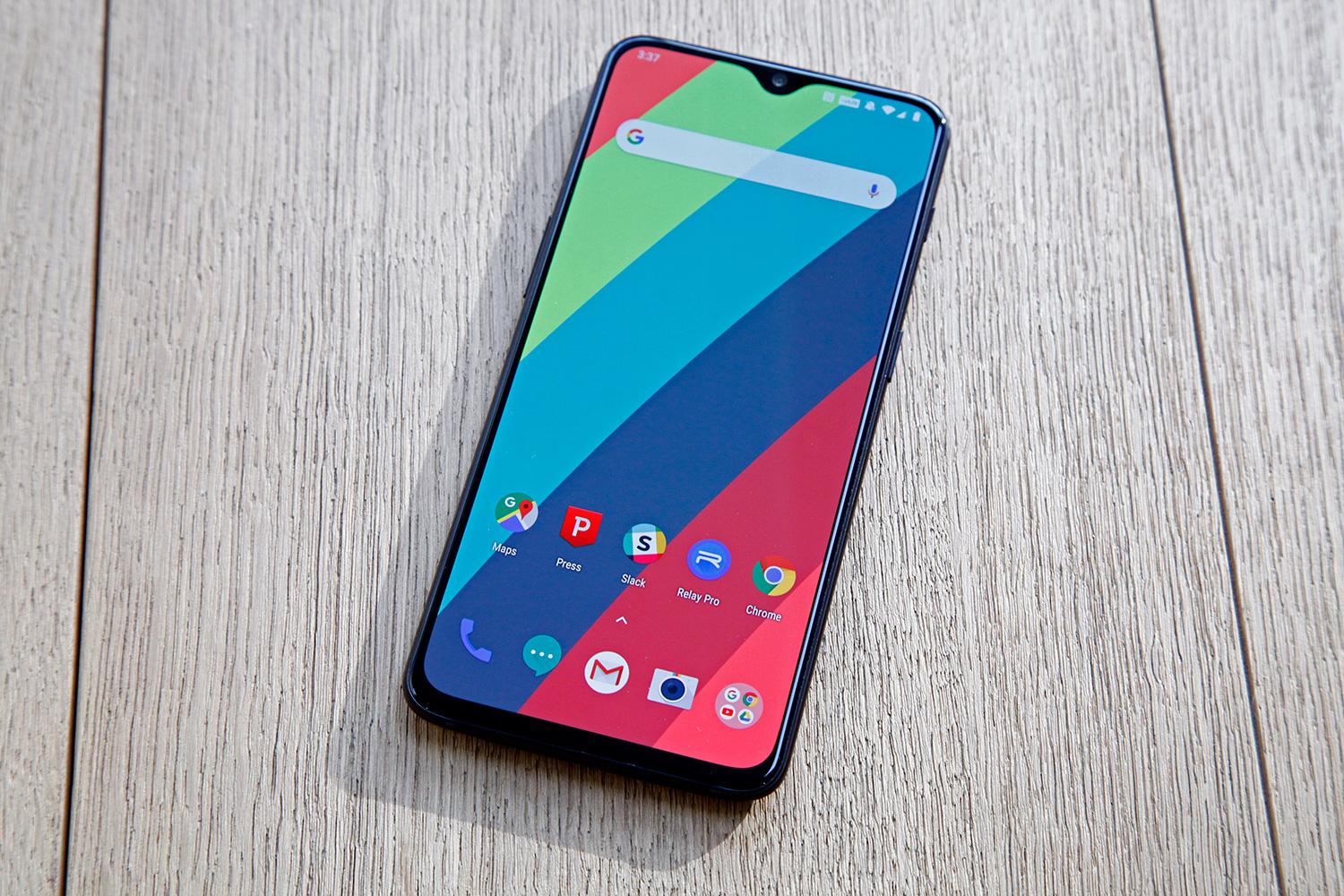 Early OnePlus phones weren't terribly impressive in this all-too-important area, but more recent models have really stepped it up when it comes to display quality. Thankfully, the OnePlus 6T continues the trend.
The new OnePlus 6T is equipped with a 6.41-inch Optic AMOLED screen covered by a sheet of 2.5D Corning Gorilla Glass 6. The screen size is an increase from the 6.28-inch display on the previous-generation OnePlus 6. It's gorgeous. Colors are bright and vivid, and there are now five different screen calibration modes including default, sRGB, DCI-P3, adaptive, and a custom color more that's user-configurable. The panel has great contrast as well, and OnePlus' Night Mode and Reading Mode continue to offer good options for low-light conditions.
The new AMOLED screen on the OnePlus 6T has 2340 x 1080 resolution and a pixel density of 402 pixels per inch, as well as the same 19.5:9 aspect ratio as Apple's recent iPhones. There's one thing that the OnePlus 6T doesn't have from Apple's new iPhones though, and it's something that Android fans are going to be ecstatic about.
New notch
Apple wasn't the first smartphone maker to release a handset with a notch cut out of the display. But there's no question that Apple's design is the one that just about every Android phone maker on the planet decided to copy. That long list included the OnePlus 6 from earlier this year, which had a large notch at the top of the screen just like Apple's 2017 iPhone X and all of this year's new iPhone models.
On its second flagship phone of 2018, OnePlus ditched the iPhone X's notch and used a display design with a much smaller notch. It's far better suited to the phone, and probably should have been the design the company used to begin with.
Apple's iPhone X, iPhone XR, iPhone XS, and iPhone XS Max have large notches because they house the multi-component TrueDepth camera system that enables Face ID. Meanwhile, OnePlus' phones don't have 3D facial recognition, so the OnePlus 6T's notch only houses a selfie camera and a three-in-one ambient light/distance/RGB sensor. OnePlus is often at the mercy of its sister company Oppo, however, because OnePlus phones use many of the same components and designs as Oppo phones. In the case of the OnePlus 6 and the OnePlus 6T, that list includes the displays.
The bottom line here is that the OnePlus 6T's notch is much smaller than it was on the OnePlus 6, and it's not shaped like the notch on the iPhone X. That means avid Android fans won't hate it anymore. And as was the case with the OnePlus 6 from earlier this year, the notch on the OnePlus 6T can be hidden by going to Settings > Display > Notch Display and selecting "Hide the notch area."
In-display fingerprint sensor
There's no question that the OnePlus 6T has a beautiful screen, but the star of the show on the front of the phone has to be the new in-display fingerprint sensor.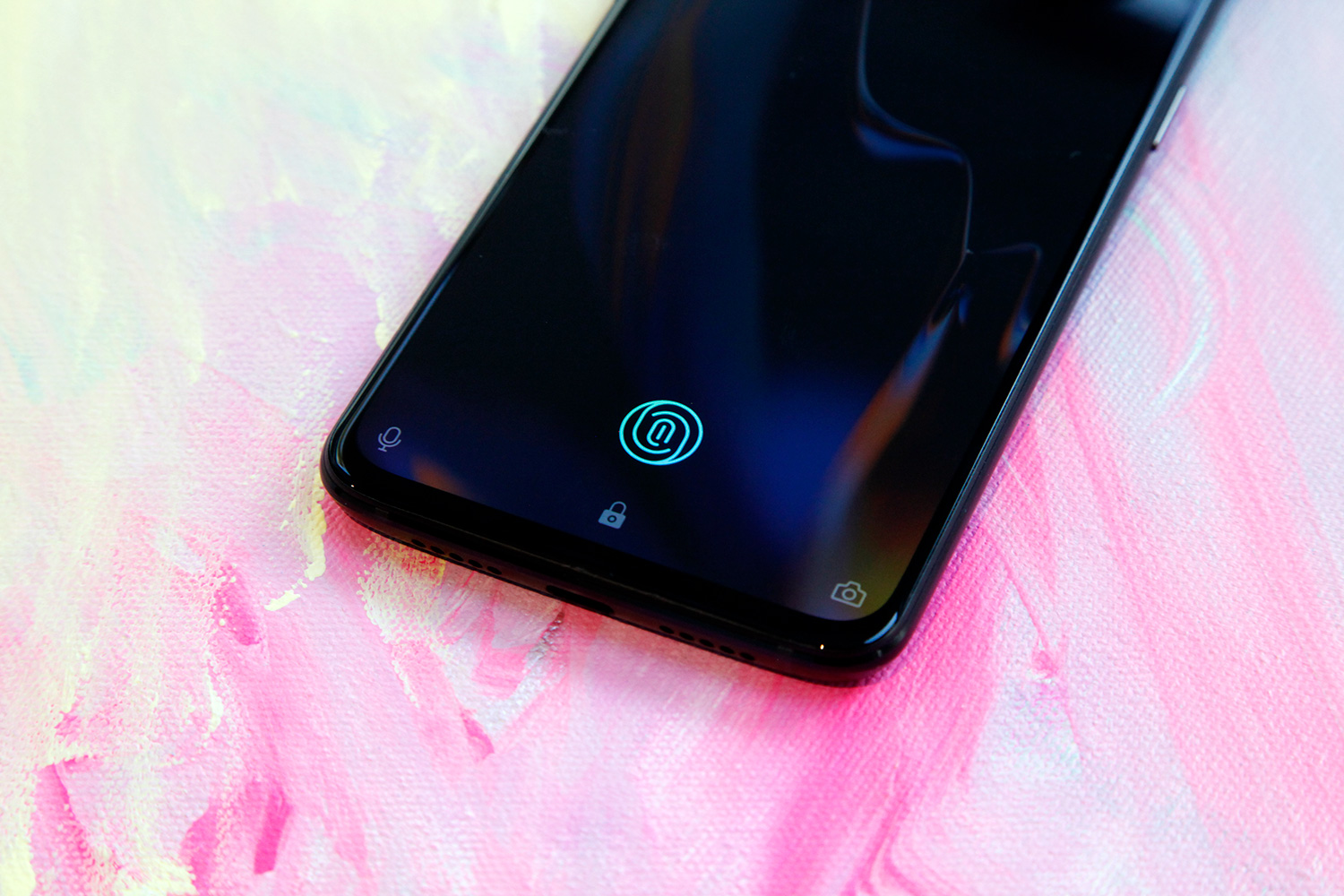 With the OnePlus 6T, OnePlus has actually become the first company to launch a phone with an in-display fingerprint sensor in the United States. And while "first" in the smartphone industry often comes at the expensive of a quality experience, I have found that the OnePlus 6T's fingerprint sensor works quite well. A small area at the bottom of the screen lights up with a fingerprint icon to let you know where to touch in order to scan your print. When you press your finger on that spot, the screen glows green behind it so the optical sensor can read your print. A brief animation is also displayed around your finger as the phone unlocks.
When I first set it up, I did have some issues with performance. Some scans would be lightning-fast — OnePlus says its in-display sensor reads a print and unlocks in 0.34 seconds — while others would be quite slow and take well over a second. After discussing it with OnePlus, I was told that the phone's software adapts over time and can take a day or two to optimize. A company spokesperson's advice was to press a bit firmer for the first couple of days, and I found that unlocks were consistently fast when I took that advice. If you plan to buy yourself a OnePlus 6T, you should do the same.
Hardware design
OnePlus has never really been known for its smartphone designs, and there's a good reason for that: several of its smartphones have merely been copycats of other more popular phones. The OnePlus 5 was likely the worst offender since it was a carbon copy of the iPhone 7 Plus, but the company has also copied HTC's designs on several occasions.
The OnePlus 6T isn't an iPhone copy or an HTC copy. In fact, it might be one of the company's most unique designs if you discount the fact that it's a spitting image of the Oppo R17, since OnePlus has shared hardware designs with its sister company for the past few years. The hardware is high-quality though, with a sturdy aluminum chassis sandwiched between a 2.5D glass front and a curved glass back. The finish of the glass back on the Midnight Black model I got to review is very sharp. It's a matte black that looks and feels like ceramic, and the finish matches the coated aluminum around the edges of the phone.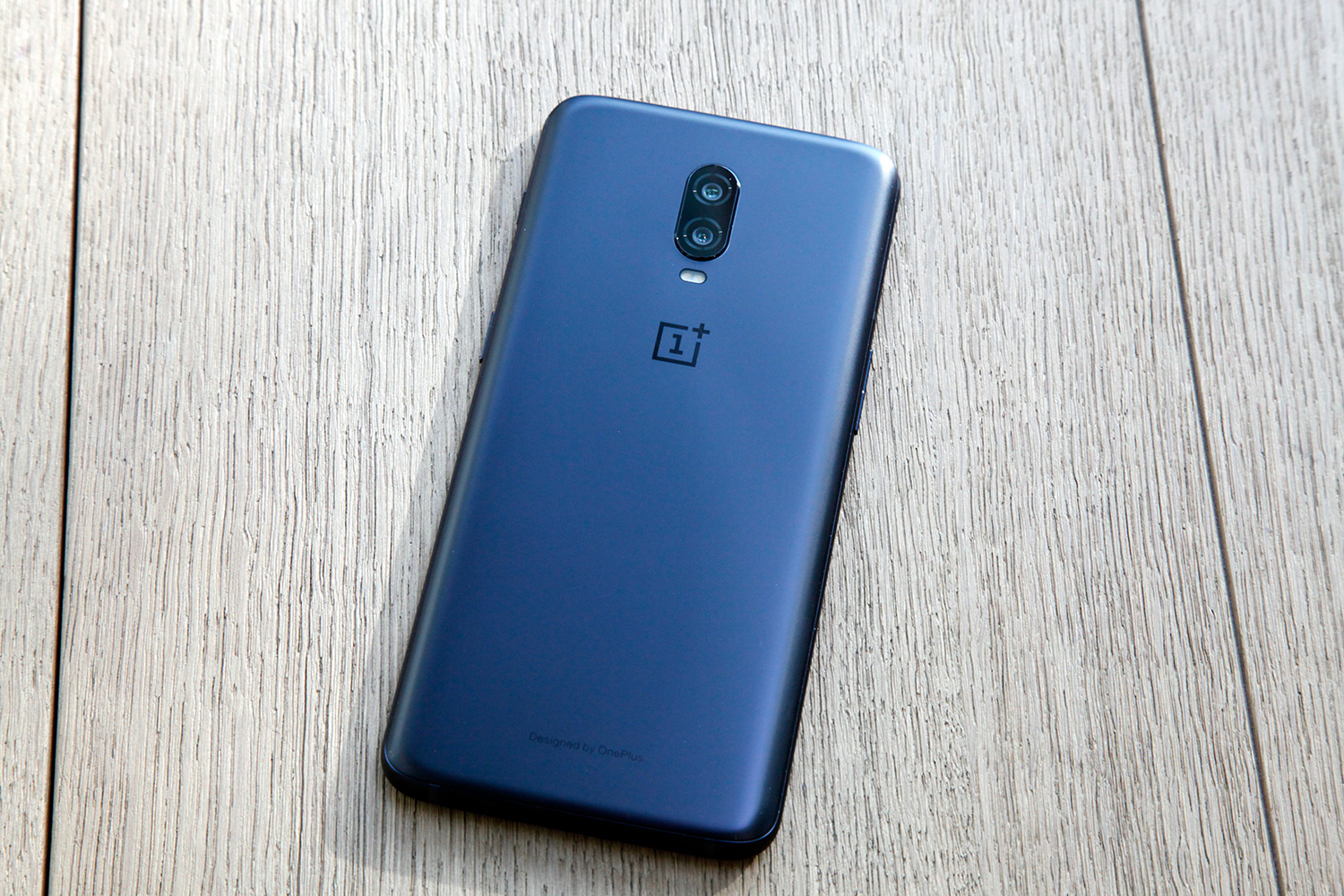 I'm also a huge fan of the new smaller notch, and the thinner chin bezel is much appreciated as well. OnePlus says that despite having a thinner chin bezel than its predecessor, the antenna components that occupy the space behind the chin bezel in the OnePlus 6T actually outperforms its predecessor and every other OnePlus phone. The OnePlus 6T also supports more bands than any OnePlus phone before it, and is the first to be certified for use on Verizon's network.
Specs
Apart from the display and the larger battery in the OnePlus 6T, the specs are roughly the same as they were in the OnePlus 6 from earlier this year. Here's a full breakdown: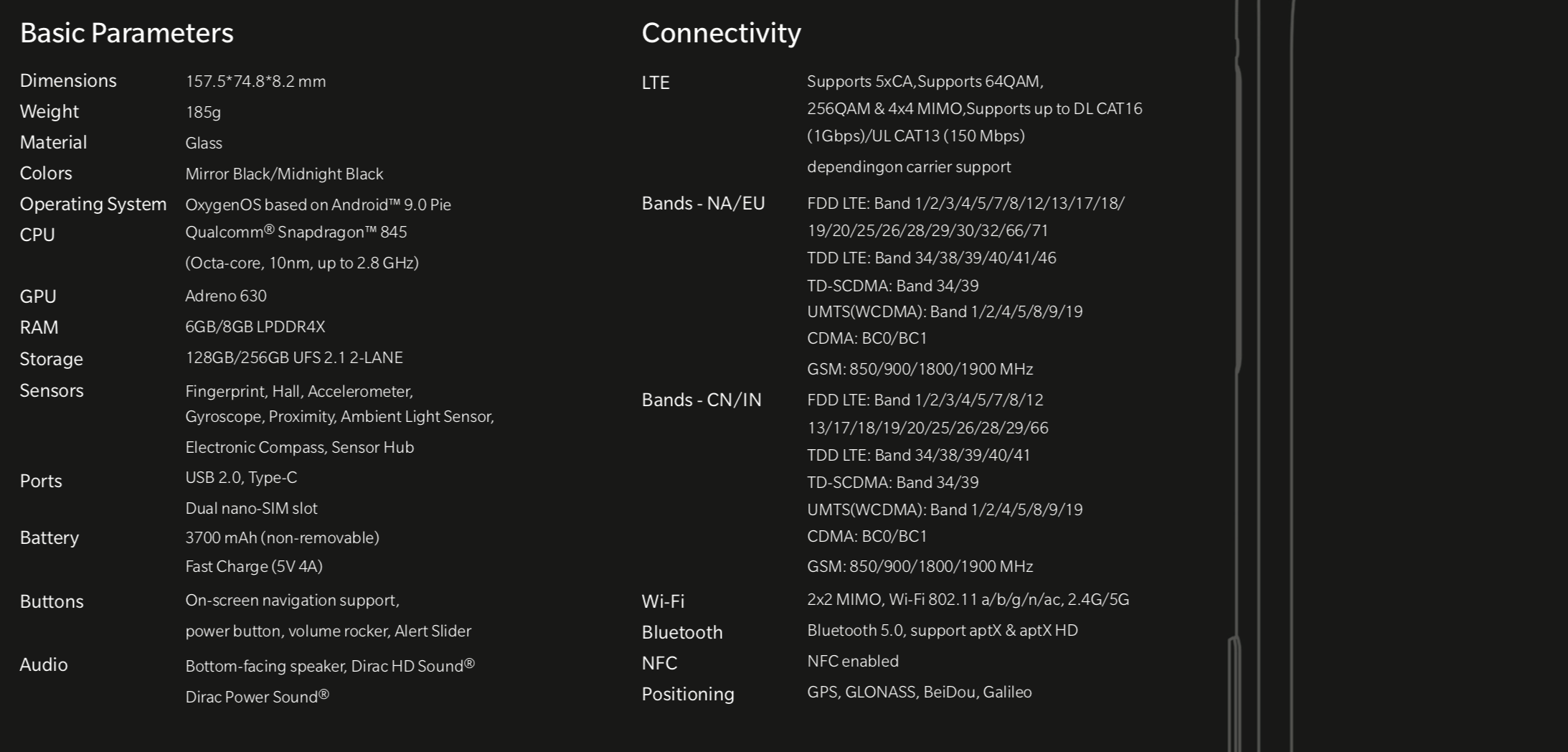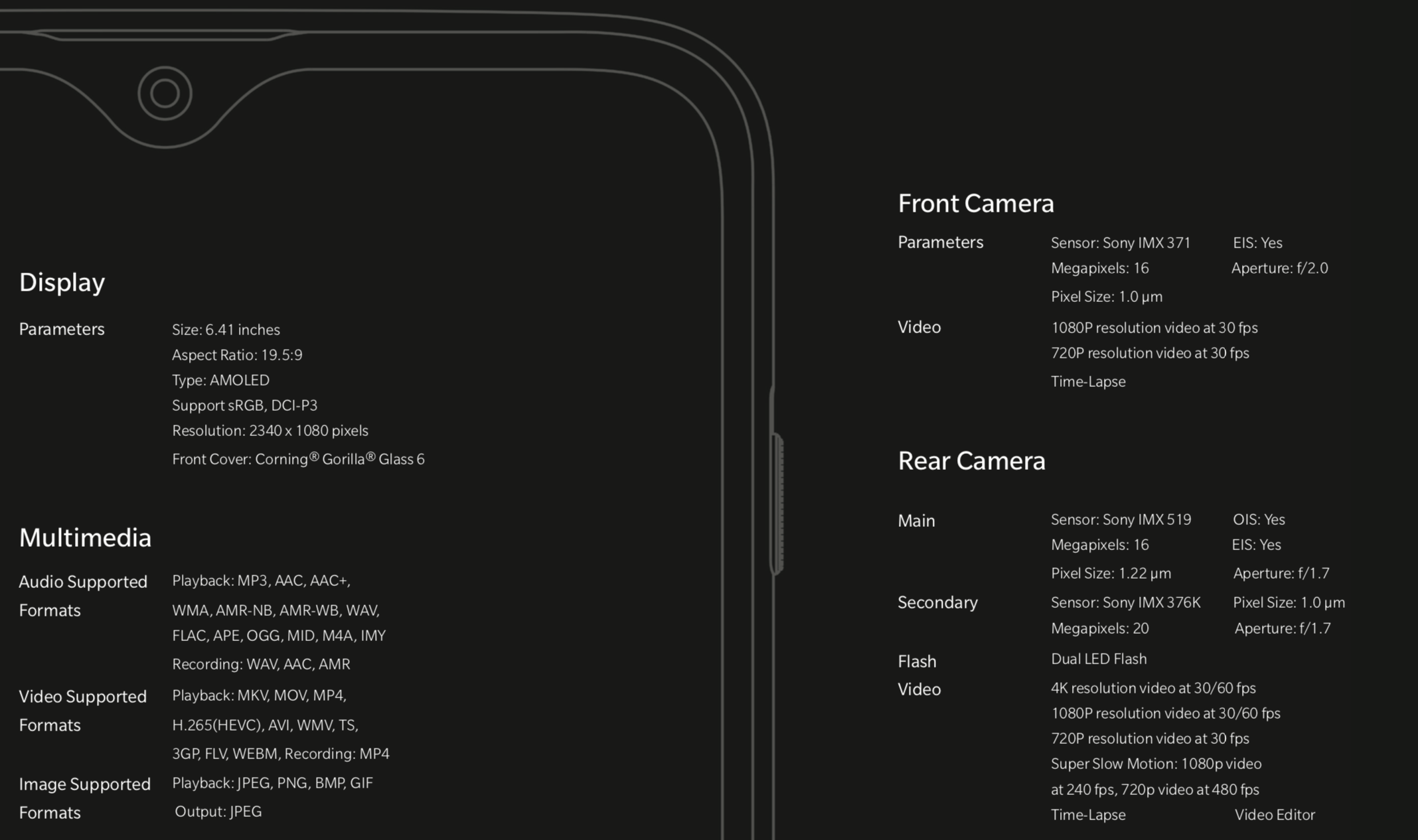 Blazing-fast performance
It might seem odd to release a new phone with specs that are almost the same as its predecessor, but it's definitely less of an issue when said predecessor is already insanely fast.
OnePlus has consistently released some of the fastest and most powerful smartphones year in and year out. 2018 has been no different, with the smoking fast OnePlus 6 having been one of the most powerful phones in the world earlier this year. Thanks to Android 9.0 Pie and hundreds of new software optimizations in the latest version of OnePlus' OxygenOS (version 9.0.3), the OnePlus 6T is even faster and more powerful than its predecessor despite having nearly identical specs. The base model of the phone comes with 6GB of RAM And 128GB of storage, while the upgraded model I reviewed has 8GB of RAM and either 128GB or 256GB of storage.
The OnePlus 6T managed solid GeekBench 4 scores in my tests, with a single core average of 2440 and a multi-core average of 9087. That's good enough to place it among the top Android phones in the world. In fact, it's the highest multi-core score we've ever seen among globally available Android phones. Of course, it obviously still can't touch the A12 Bionic-powered iPhone XS, which racks up a single-core score of 4795 and a multi-core score of 11221.
Benchmark tests performed using AnTuTu told more of the same story. The OnePlus 6T cooked up an average score of 295926 in my tests, which once again makes it the most powerful globally available Android phone out there right now. The iPhone XS still bests it by a wide margin, however, having managed a score of 348581 despite having only half as much RAM as the OnePlus 6T.
Apart from top-notch specs, it also helps that OnePlus has made about 500 different optimizations to the software on the OnePlus 6T, so it's faster and smoother than ever. Of note, each and every one of those optimizations is coming to the OnePlus 6 in future software updates.
Camera
As is the case with most of the OnePlus 6T's specs, the camera hardware on the new model is identical to the OnePlus 6 from earlier this year. Of course, hardware is only half the equation because OnePlus has made all sorts of strides where software and image processing are concerned.
OnePlus says that the OnePlus 6T marks its biggest jump ever where camera software optimization is concerned. In my testing, the camera definitely impressed me. It's not quite on par with the best in the business — namely the Pixel 3, iPhone XS, and Huawei's top flagships — but the margins are narrowing. Photos are wonderfully clear and crisp, color reproduction is accurate, and noise has gotten a noticeable reduction. The phone also has a nifty new algorithm that automatically adjusts certain settings when it detects things like faces or food in order to optimize the shot.
OnePlus says new algorithms give photos captured on the OnePlus 6T more detail in both daylight and in low light settings. Portrait mode has improved edge detection, and Google Lens is now more easily accessible with a button near the bottom-left corner in the camera app. A new Nightscape setting has high dynamic range for nighttime landscape shots where scenes are mostly dark but have some lights, such as in buildings. With this new mode, the OnePlus 6T takes up to 10 shots at different exposures over the span of 2 seconds, stabilizing them with optical image stabilization (OIS) the entire time. Detail from all the photos is then combined to form one shot.
Once again, it's important to note that OnePlus 6 owners won't be left in the lurch here. Since all of the camera improvements on the OnePlus 6T come in the form of software enhancements and optimizations, they'll all be made available on the OnePlus 6 in upcoming software updates.
OxygenOS 9 with Android Pie
As I noted earlier in this review, OxygenOS 9 on the OnePlus 6T features 500 software optimizations compared to the previous version of OxygenOS on the OnePlus 6. The OnePlus 6T also gets all of the new features introduced by Google in Android 9.0 Pie, of course, and all of the new camera features I mentioned earlier.
I've always been a big fan of OnePlus' OxygenOS software. OnePlus doesn't use a heavy hand like Samsung, instead preserving the look and feel of stock Android. OnePlus adds features and settings here and there to enhance the Android experience rather than merely to brand it. It's a refreshing take and the OnePlus 6T carries it forward nicely.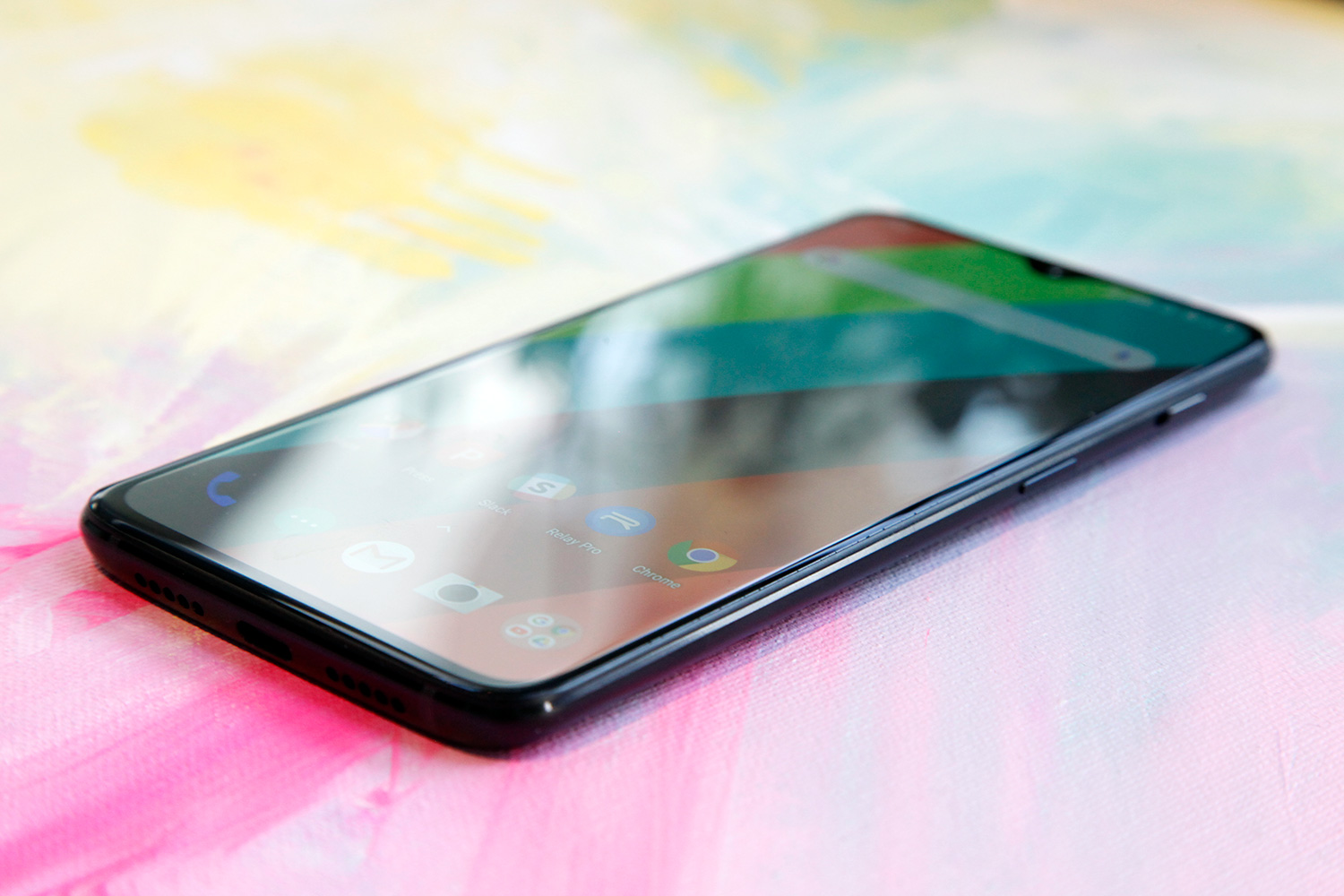 There are a few noteworthy additions to OxygenOS 9 and the most intriguing is probably a new feature called Smart Boost. This feature analyzes the frequency with which apps are used on the phone, and it keeps the most commonly used apps in the phone's memory. This way when they're opened again, they launch faster. OnePlus says Smart Boost results in up to 20% faster app load times, but it's currently only enabled for games. Additional compatibility is coming in future updates.
Battery life
While the bulk of the OnePlus 6T's specs are identical to the OnePlus 6, there are a few things that have been improved. One is the display, which we already covered. The second is the battery.
The OnePlus 6T is a bit taller and thicker than its predecessor, and it's not just to accommodate the new display design. OnePlus also squeezed a much larger battery inside its new phone. The OnePlus 6T has a 3,700 mAh battery where as the OnePlus 6 from earlier this year has a 3,300 mAh battery. That's a 12% increase in capacity, and OnePlus says it results in a 22% battery life increase.
Since I've only spent a few days with the OnePlus 6T so far, I cannot comment on how it compares to the OnePlus 6. But I can say with confidence that it'll carry most users through a full day of average usage without a problem.
Pricing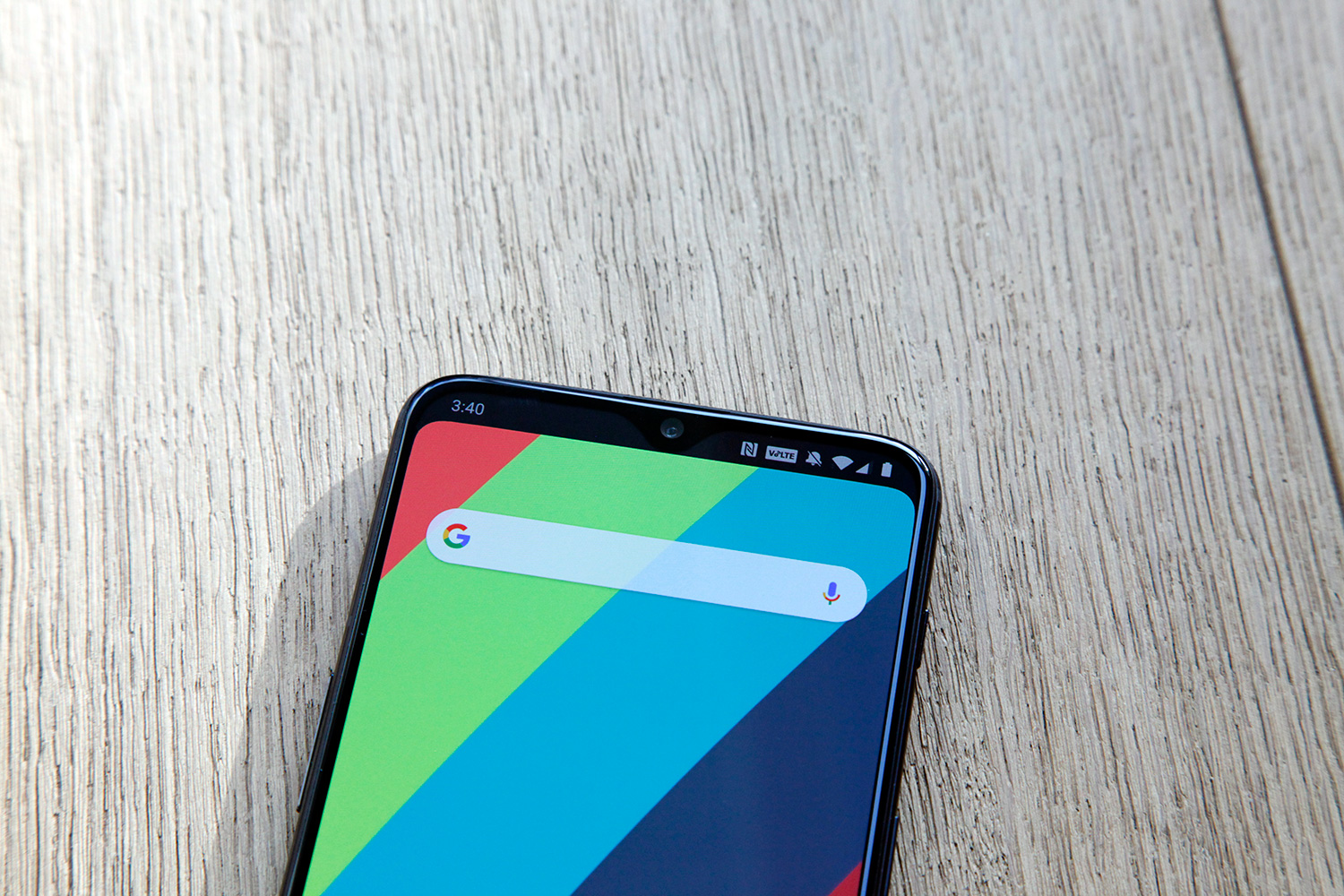 Last but certainly not least, there's no question that pricing is one of the best things about the new OnePlus 6T.
OnePlus phones have steadily gotten more expensive over the years, but they always offer tremendous value compared to rivals. That's as true today as it was when the original OnePlus One was released. The entry-level OnePlus 6T packs 6GB of RAM and 128GB of internal storage for $549. To put that in perspective, a Pixel 3 XL with a similar sized screen, similar specs, and 128GB of storage costs $999. Apple doesn't make a 128GB iPhone XS Max, but the 64GB model costs $1,099. Yes, that means the iPhone XS is literally twice as expensive as the OnePlus 6T. The 256GB version of the iPhone XS Max costs $1,249, while a 256GB OnePlus 6T with 8GB of RAM costs $629.
Here's how pricing breaks down for the three OnePlus 6T models:
6GB of RAM + 128GB of storage: $549
8GB of RAM + 128GB of storage: $579
8GB of RAM + 256GB of storage: $629
The OnePlus 6T will be available beginning this Thursday, November 1st, and can be purchased directly from OnePlus on its website. Also, for the first time ever, OnePlus has secured a US carrier partner for its new phone. The OnePlus 6T also launches on November 1st at T-Mobile stores and online.
Finally, OnePlus fans in New York City can be among the first in the world to get their hands on the new OnePlus 6T. Today only beginning at 5:00 PM ET, the T-Mobile signature store in Times Square will have the new phone on display and a limited number of handsets will be available for purchase.