OnePlus has been doing an objectively terrible job of keeping its upcoming OnePlus 6T a secret. Not only have we been overwhelmed by leaks, rumors, renders, and spec sheets, but the company itself has been teasing details about its new phone for weeks now.
One thing that hasn't really leaked out, however, is the launch date. We've heard rumors and seen one dubious pre-order website that fingered the date as October 16th. Although that came from a Chinese e-commerce site, the date is looking a little more likely thanks to a packaging leak on social media site Weibo.
A Weibo account shared three images, including two renders for the OnePlus 6T and one piece of promotional material, seemingly for India. The promo material looks like an event invite or an image asset for it; it includes a box cut-out the size of a smartphone, with the writing "Unlock The Speed, OnePlus 6T Launch Event, October 17, India."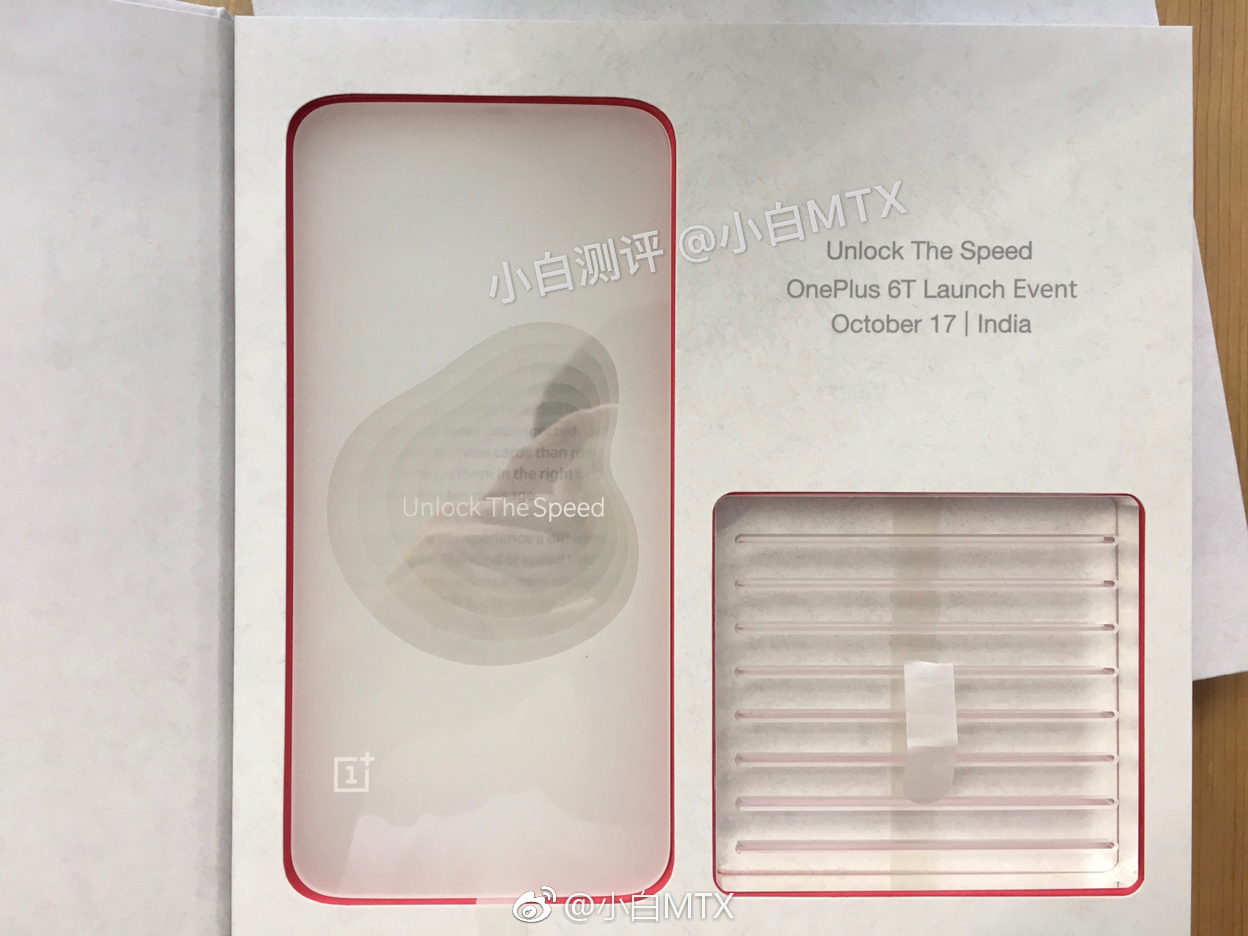 Assuming that the pictures are real — and when we're dealing with leaks coming from Weibo, that is an admittedly sizeable assumption — then the October 16th date still holds up. Given the time difference with India, it's possible that a launch event could be held in China or North America on the 16th, and India's local launch event would only happen on the 17th. Or, it could be that the physical unveiling will happen on the 16th, but pre-orders will only open on the 17th.
Here's what we're expecting to see from the OnePlus 6T specs-wise, based on the leaks:
6.4-inch AMOLED screen, 2340×1080 pixels, 91.5% screen ratio.
Light-sensitive fingerprint sensor under the display.
CPU: Qualcomm Snapdragon 845 Soc, GPU: Adreno 630.
Rear triple cameras: 20MP+12MP+TOF 3D, 25MP front selfie camera.
6GB/8GB RAM, 64GB/128GB/256GB storage.
Oxygen OS base on Android 9.0 Pie.